One of my favorite things about the holidays is decorating. I like starting early – putting away summer and filling my house with fresh greenery, candles and warm, woodsy scents invigorates me for the long winter ahead. Last year I made an oversized eucalyptus wreath, which I absolutely loved, and that lasted me for months and months.
While it could have made it another year, I didn't take good care of it like I should have and I ended up tossing it in the trash come spring. This year, inspired by a beautiful wreath I saw at Terrain, I decided to make a second eucalyptus wreath using flowers and a wooden embroidery hoop.
The good thing about this wreath is that really embraces imperfection and you don't need to spin your wheels trying to make it look perfect. In fact, it only took me 20 minutes (and one try) to make it, so if you're a perfectionist, you can rest easy. Read on to learn how to make one yourself.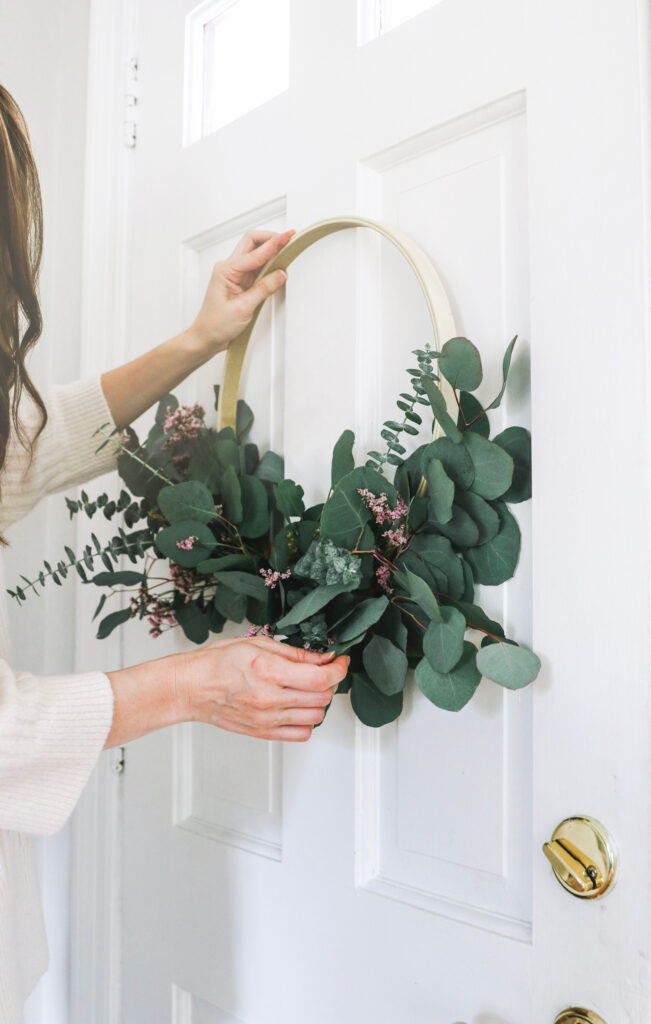 How to Make an Asymmetrical Eucalyptus Wreath
Anyone who has ever shopped for holiday decorations knows how expensive they can be. While I invest in quality decorations I hope will last for years, I also love making some of my decorations by hand. It's inexpensive and fun, but it also adds a bit of charm to otherwise cookie cutter decorations you find at big retailers.
Before I started making this wreath, I felt like it could go either way: either look cute or completely cheesy. But I'm really happy with how it turned out.
Rather than using a wreath form, I purchased a large wooden embroidery hoop for about $5 from the craft store. Then I added a layer of fresh silver dollar and baby blue eucalyptus to hide the wooden block at the bottom of the hoop.
If you want, you can stop there and it would look great, but I loved how wild my inspiration wreath looked, so I went back and added sprigs of dried flowers and some wheat-looking branches at the very end.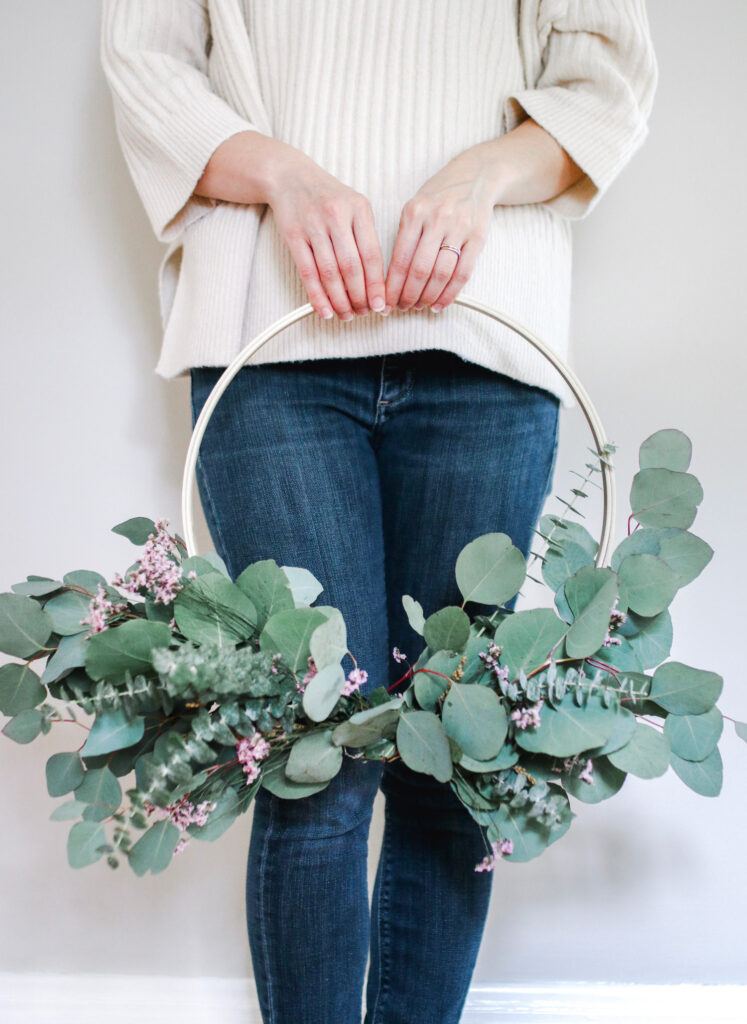 And rather than making it look perfectly symmetrical, I took advantage of its wildness and really played up the imperfections. After tying on all my greenery, I left one side noticeably higher and a tad longer than the other. And I tucked in flowers, wheat and more baby blue eucalyptus to give it some fullness.
While I didn't want it to look perfectly symmetrical, I wanted it to feel balanced. So every so often I would step back and look at it, then in tuck in more greenery until it felt right.
Put simply: just go with your gut and add greenery until it looks good to you. You really can't go wrong.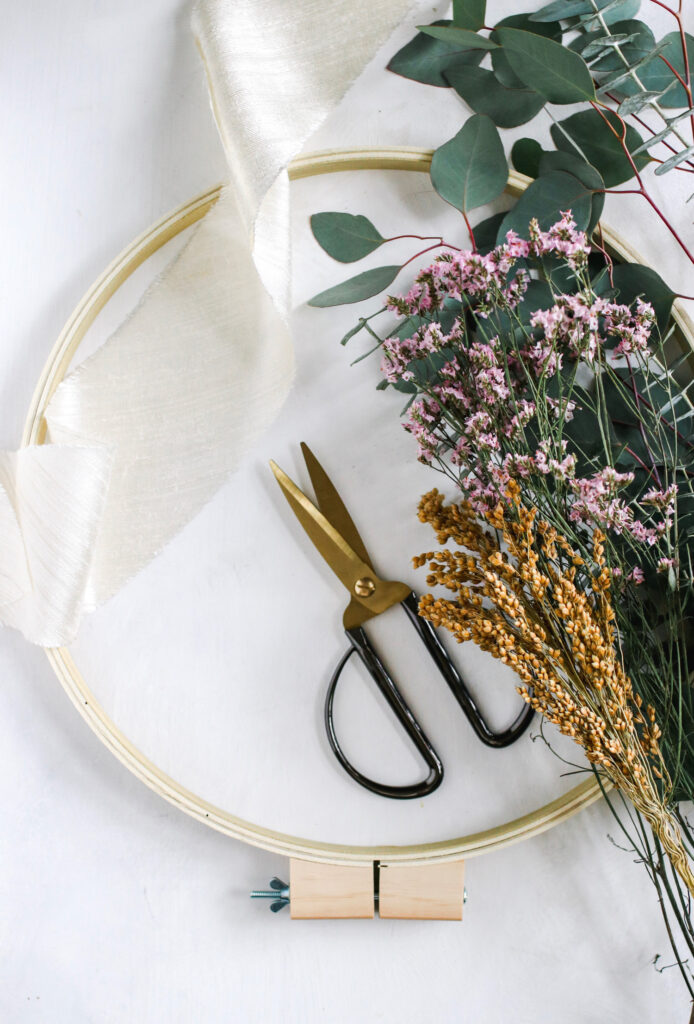 Supplies
14-inch wooden embroidery hoop
Greenery (I use silver dollar eucalyptus, baby blue eucalyptus, dried flowers (daisies, lavender, and heather work well) and flax)
Floral wire
Wire cutters
Scissors or garden sheers
Ribbon (for hanging)
Instructions
1. Trim your greenery into small sections, about 4 to 8 inches in length.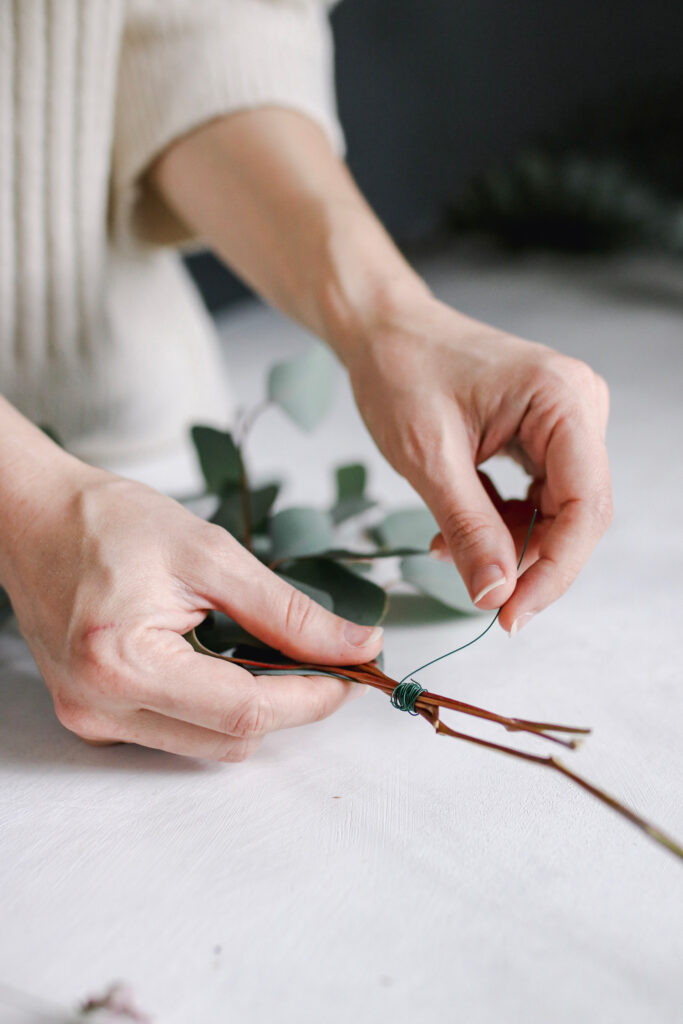 2. Gather your greenery into bundles. I started by making 4 small bundles of various lengths of just silver dollar eucalyptus to start. I wanted those to form the base of my wreath. I also made 4 small bundles of everything to give it a wild appearance.
Once you've planned out your bundles, wrap the base with floral wire to secure them. I only made about 10 bundles in total, but I left plenty of greenery to tuck in at the end.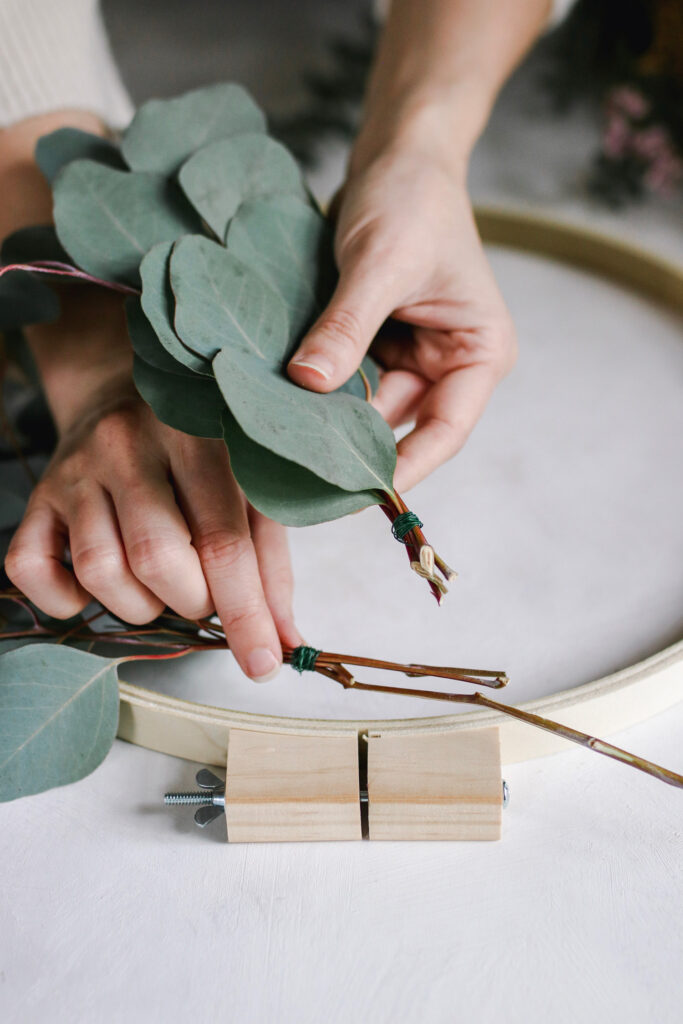 3. Starting on one side, layer a couple bundles of silver dollar eucalyptus followed by a couple bundles of everything. Play around with the placement so that I almost completely covers the wooden box at the bottom of the hoop, but it still sits up at an angle and doesn't droop too much when you pick up the hoop.
Once you've figured out the placement, secure the bundles to the base of the hoop using floral wire. Then do the same on the side.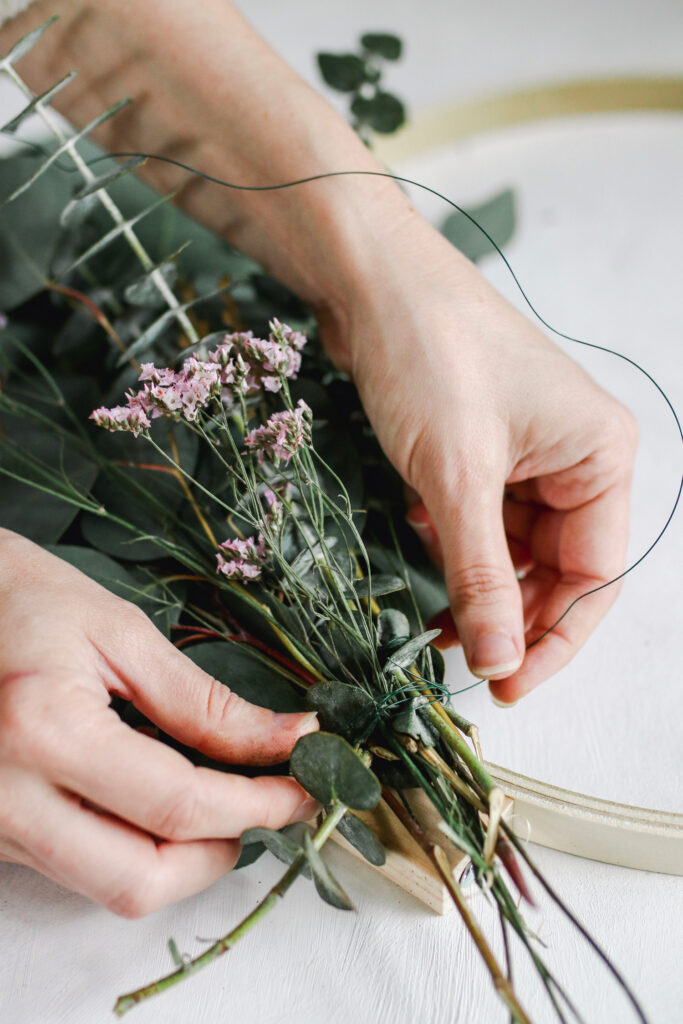 4. Once you're pleased with the general look of the wreath, go back and add small sprigs of flowers, flax and eucalyptus to fill in any bare spots and give it more of a wild look. If either side starts to look droopy, I used floral wire to secure it loosely to the sides of the hoop and give the greenery a little lift.
5. When you're done, trim the ends of the greenery so they're hidden. Then add a ribbon and hang!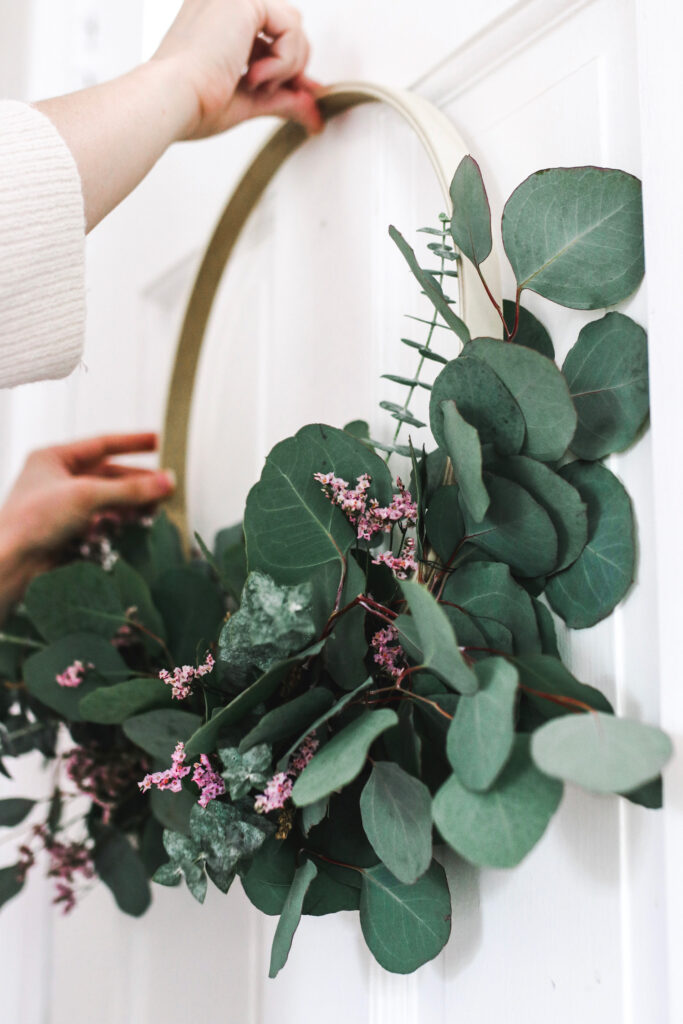 Love eucalyptus? Don't miss the oversize wreath we made last year!
5