The tradition might be to leave Santa a plate of cookies on Christmas Eve, but this year we decided the big guy might be full up on cookies by the time he makes it to our house. So we're starting a new tradition for ol' Saint Nick – homemade peppermint marshmallows and a steaming mug of cocoa!
7 Tips for Perfect Homemade Peppermint Marshmallows
My kids are marshmallow fiends. What is it that's so addictive about the sweet, airy confections? It's time to get the little ones in the kitchen to make a homemade peppermint version to share with Santa.
Tip 1 – Don't be intimidated!
Though they can seem intimidating, homemade marshmallows aren't very hard to make. Our favorite recipe comes from Dorie Greenspan's book, Baking: From My Home To Yours. It uses a meringue base and produces the fluffiest homemade marshmallows imaginable – perfect for a sweet snack or floating in a mug of hot cocoa.
You only need three components – egg whites, a cooked sugar syrup and melted gelatin. Other recipes are egg-free, but contain more gelatin and corn syrup to create the same texture. The only real skill you need is a quick hand when assembling the ingredients.
Tip 2 – Customize with color + flavor
After the syrup and melted gelatin are added to the beaten egg whites and the mixture turns snowy white and fluffy, it can be flavored using different extracts, oils, small amounts of fruit puree, or chocolate. It can also be tinted with food coloring.
You have to work rather quickly because the gelatin starts to set up almost immediately. Both the flavoring and color can be mixed in with the whisk attachment or by hand. I like to leave some streaks of color for a marbled effect if I am tinting it, so I tend to mix that in by hand with a large silicone spatula.
For this batch, we added some peppermint oil and a few drops of red food coloring. When flavoring the marshmallows, keep in mind that a little bit of extract or oil goes a long way. A few drops is usually all you need, especially for peppermint.
Tip 3 – You can't have too much cornstarch
Keep plenty of potato starch or cornstarch on hand for dusting as the marshmallow creme is very sticky. I line a baking sheet with a big piece of parchment paper and liberally sift cornstarch over the entire surface.
Pour the marshmallow cream out over the parchment paper and smooth it out with a spatula. It's hard to get a completely smooth surface because it's just so sticky! Don't worry so much about the edges being super even because they will be trimmed later.
After that more cornstarch is sifted over the top, followed by another piece of parchment. For thinner marshmallows, I flatten it out bit between the layers of parchment with my hands. It can also be left tall and thick. It's your choice.
Tip 4 – The unexpected tool for keeping 'em flat
I like to place a cutting board on top to keep it flat while the marshmallows rest and set up. It just makes them a little more flat and even. The marshmallows need to rest for about 3 hours, or even overnight.
They will really set up and be a lot easier to cut. Remember that you almost cannot have too much cornstarch. It won't be absorbed into the marshmallows and will prevent them from being too sticky when cut into shapes.
Tip 5 – Let the kids help!
Kids can definitely help measure out the ingredients, sprinkle the gelatin powder over the cold water and watch as it swells into a large, spongy mass in the bowl. The funnest (yes, that's a word!) part comes when it's time to cut the marshmallows.
Kids of all ages – even grumpy teenagers – will love this. I keep a bowl of cornstarch handy to dip the cutters into or to dust our hands, and if the cut marshmallows are extra sticky, we use it to give them a quick dunk into the cornstarch to coat the cut sides.
Tip 6 – Getting the right size + shape
We use smaller cutters to make marshmallows that are the perfect size for fitting into a cup of hot cocoa. If you just want squares or rectangles, a pizza wheel or kitchen shears are the way to go.
A sharp knife can also work, but it will need to be rinsed off periodically and dried well in between. You can cut the marshmallows into any shape and size you want.
Tip 7 – Making them last
The cut homemade peppermint marshmallows will keep for about a week, maybe two, in an airtight container. You might need to dust them with more cornstarch to prevent them from sticking to each other.
If you live in a humid environment, they might not last quite as long. I usually store the cut marshmallows in a gallon-sized resealable plastic bag with a few extra tablespoons of cornstarch.
And that's it! Really easy, yummy homemade marshmallows for the whole family to enjoy! Homemade recipes make great gifts and are perfect for dipping in chocolate or turning into homemade s'mores.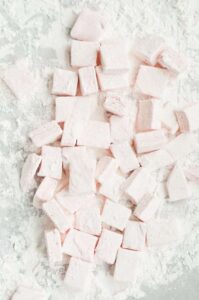 Print
Homemade Peppermint Marshmallows
Marshmallows are a fun, delicious treat that the whole family can enjoy making together.
Recipe adapted from Baking: From My Home to Yours by Dorie Greenspan. 
Ingredients
About 1 cup potato starch (found in the kosher foods section of supermarkets or cornstarch)
2 tablespoons light corn syrup (can substitute honey)
2 1/4- ounce packets unflavored gelatin
3 large egg whites (at room temperature)
pinch cream of tartar
3/4 cup cold water (divided)
1 1/4 cups plus 1 tablespoon sugar (divided)
1 tablespoon pure vanilla extract
a few drops peppermint oil (optional)
2-3 drops red food coloring (optional)
Instructions
Line a rimmed baking sheet with parchment paper and sift potato or cornstarch evenly and liberally over the paper. Have a candy thermometer at hand.
Stir 1/3 cup of the water, 1 1/4 cups of the sugar and the corn syrup together in a medium saucepan. Bring the mixture to a boil, stirring until the sugar dissolves. Once the sugar is dissolved, stop stirring and continue to cook the syrup until it reaches 265 degrees F on the candy thermometer, about 10 minutes. (I cook mine to 255 degrees for high altitude.)
Meanwhile, place the remaining water (about 7 Tablespoons) in a microwave-safe bowl. Sprinkle the gelatin over the top of the water, stir quickly with a fork, and let stand until spongy, about 5 minutes. Place in the microwave for 20-30 seconds, or until gelatin is liquid and completely dissolved. Set aside until ready to use.
Place the egg whites in the clean, dry bowl of a stand mixer fitted with a whisk attachment. Turn the mixer onto medium and start beating the egg whites. Add the pinch of cream of tartar to the bowl and continue beating until they form soft peaks. Add the remaining 1 Tablespoon of sugar and continue beating until the firm peaks form, but the egg whites are not dry. (Doing this slowly on medium to medium-high speed will create more stability in the egg whites.)
Once the sugar syrup has come to the right temperature, remove it immediately from the heat. With the motor running on medium-high speed, add the syrup to the egg whites in a slow, steady stream, allowing the syrup to run down the side of the mixing bowl. Don't add the syrup too quickly, or the whites may curdle. Once all of the syrup has been added, beat for about 30 seconds and add the melted gelatin in a slow, steady stream. Increase the speed to high and beat for 3-5 minutes or until the mixture is very thick and fluffy.
Add the extracts and beat for another 30-60 seconds. Turn mixer off and remove bowl. Scrape down the sides of the bowl with a large spatula. Add a few drops of food coloring, if desired.
Pour the marshmallow creme onto the prepared baking sheet. Spread the marshmallow creme as evenly as possible. Dust the top with more sifted potato starch or cornstarch. Lay another piece of parchment paper over the top. If desired, lay a cutting board on top to flatten it.
To cut the marshmallows, dust small cookie cutters with cornstarch and cut into shapes. Dust each cut marshmallow with more cornstarch. If using a knife, you will need to rinse and dry it frequently. Pizza cutters and kitchen shears are a great way to cut into pieces.
To store: Keep cut marshmallows in an airtight container with a little extra cornstarch for about 1-2 weeks. Add more cornstarch to prevent sticking as needed.
Courses dessert
0