Is it just me or is bug season starting earlier and earlier every year? Here in Virginia, the bugs start coming out around mid May, so there's only a few weeks of pleasant, bug-free weather on the horizon before it's time to break out the long sleeves and citronella candles. Speaking of citronella candles, these DIY bug repelling candles are the best way to keep those ankle-biters away. They use 100% pure citronella essential oil and a mixture of soy wax and beeswax, leaving you with a slow burning, nontoxic alternative to the chemical-laden (and dare I say, gag-inducing) candles you find at the store.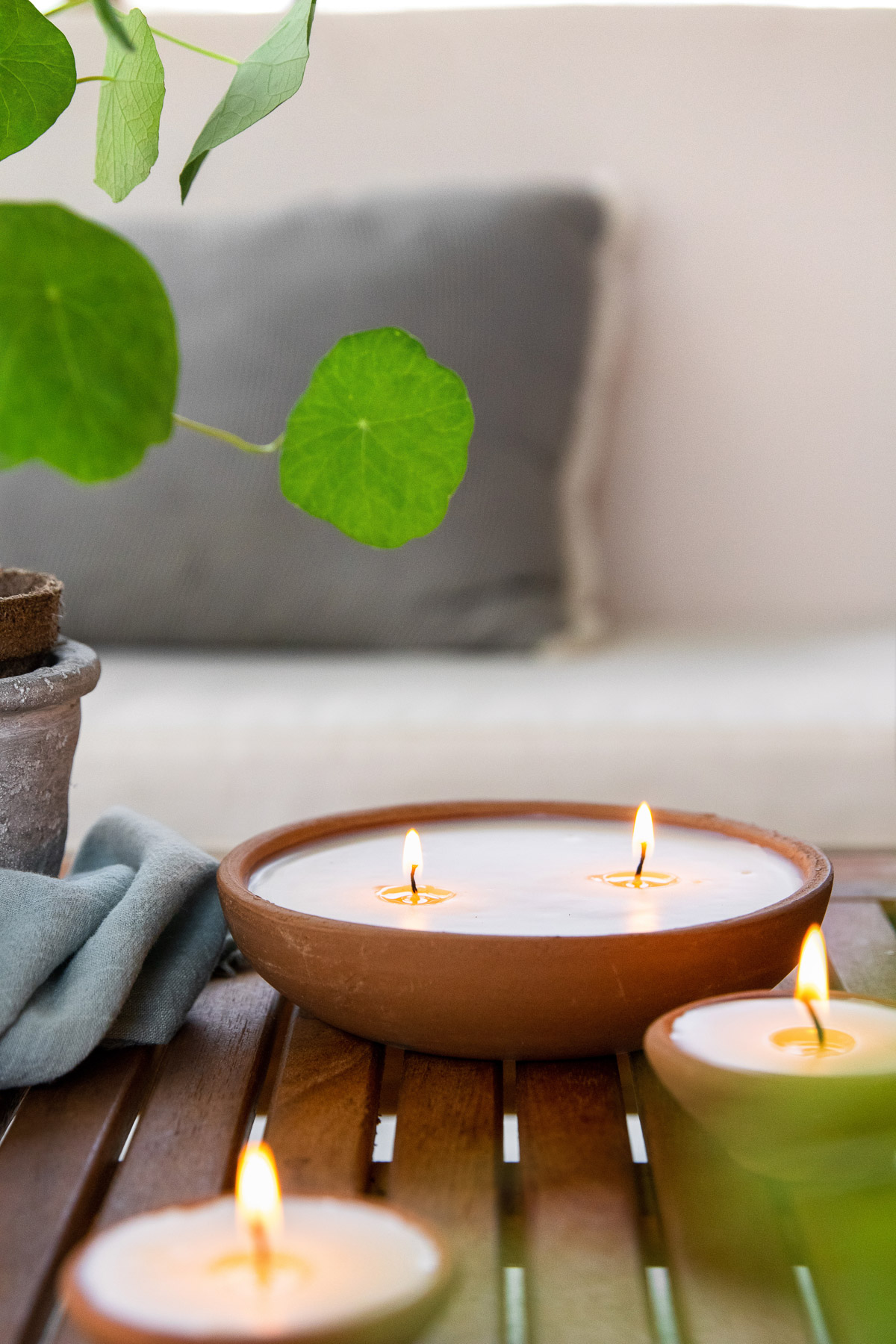 How to Make a Citronella Candle
Now, I know what you're really wondering: Do citronella candles actually repel mosquitoes?
The short is answer is yes, if you use enough essential oil.
Most citronella candles on the market don't use citronella oil at all. Instead, they use a fake citronella-inspired scent that smells similar to the real thing but, since it's not chemically the same, doesn't actually repel bugs.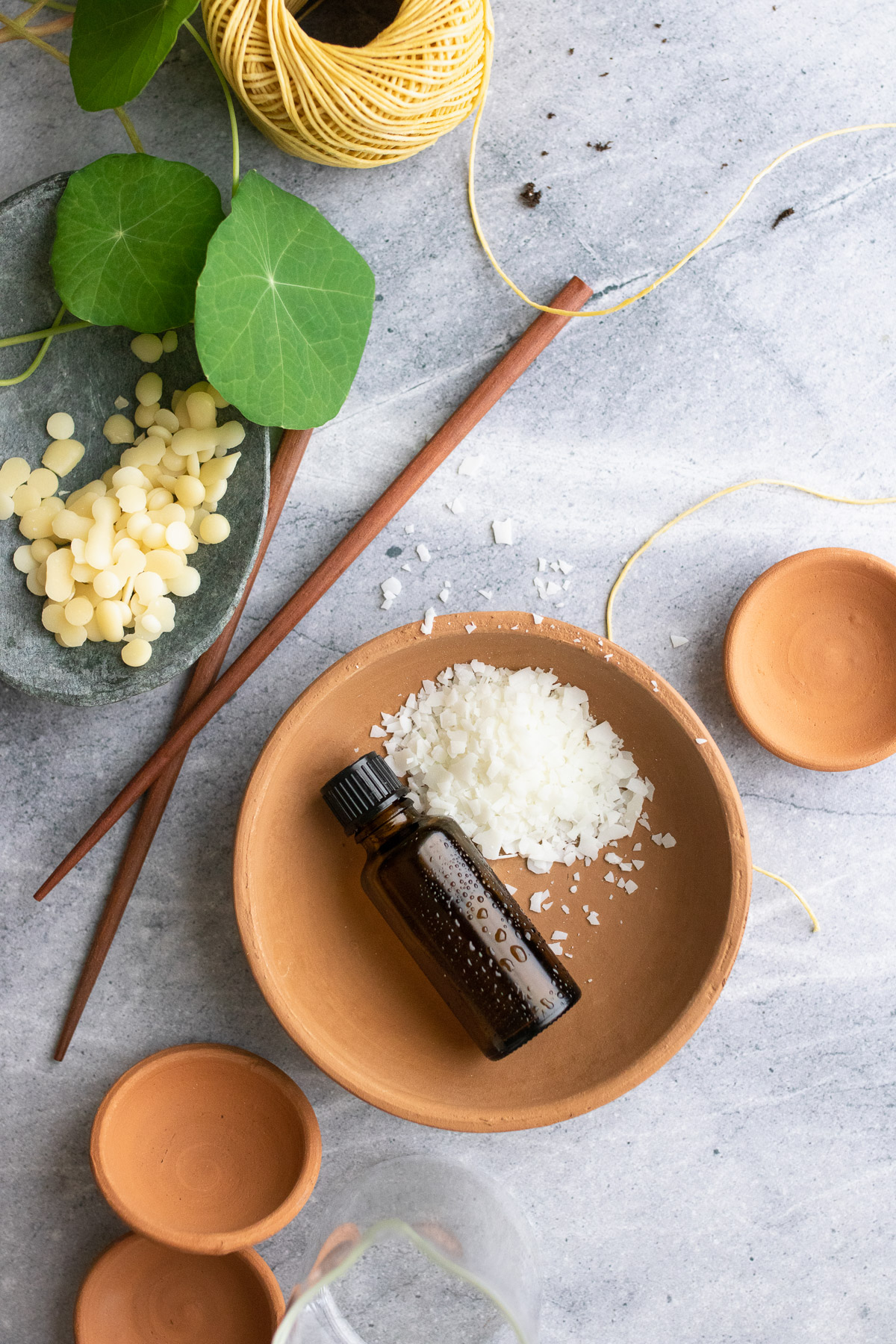 Essential oils, on the other hand, are much more off-putting to bugs and do a pretty good job of repelling them. But only if you use enough oil to fill the air and stay there.
Ideally, you want to use 2 tablespoons (or more) of citronella essential oil for every 1 pound of wax. If citronella oil is too expensive and you'd prefer to dilute it with some other essential oils you already have, there are plenty of other bug-repelling oils you can swap in.
Other essential oils to repel mosquitoes
No matter what oils you use, you want the ratio of 2 tablespoons essential oil to 1 pound wax to remain the same.
The best wax for citronella candles
When it comes to candle wax, I'm a huge fan of natural, inexpensive soy wax. But because it's a soft wax, it melts easily and burns down quickly, making it a poor choice for outdoor candles that may spend all day baking in the sun.
To get around this, I recommend mixing soy wax with beeswax.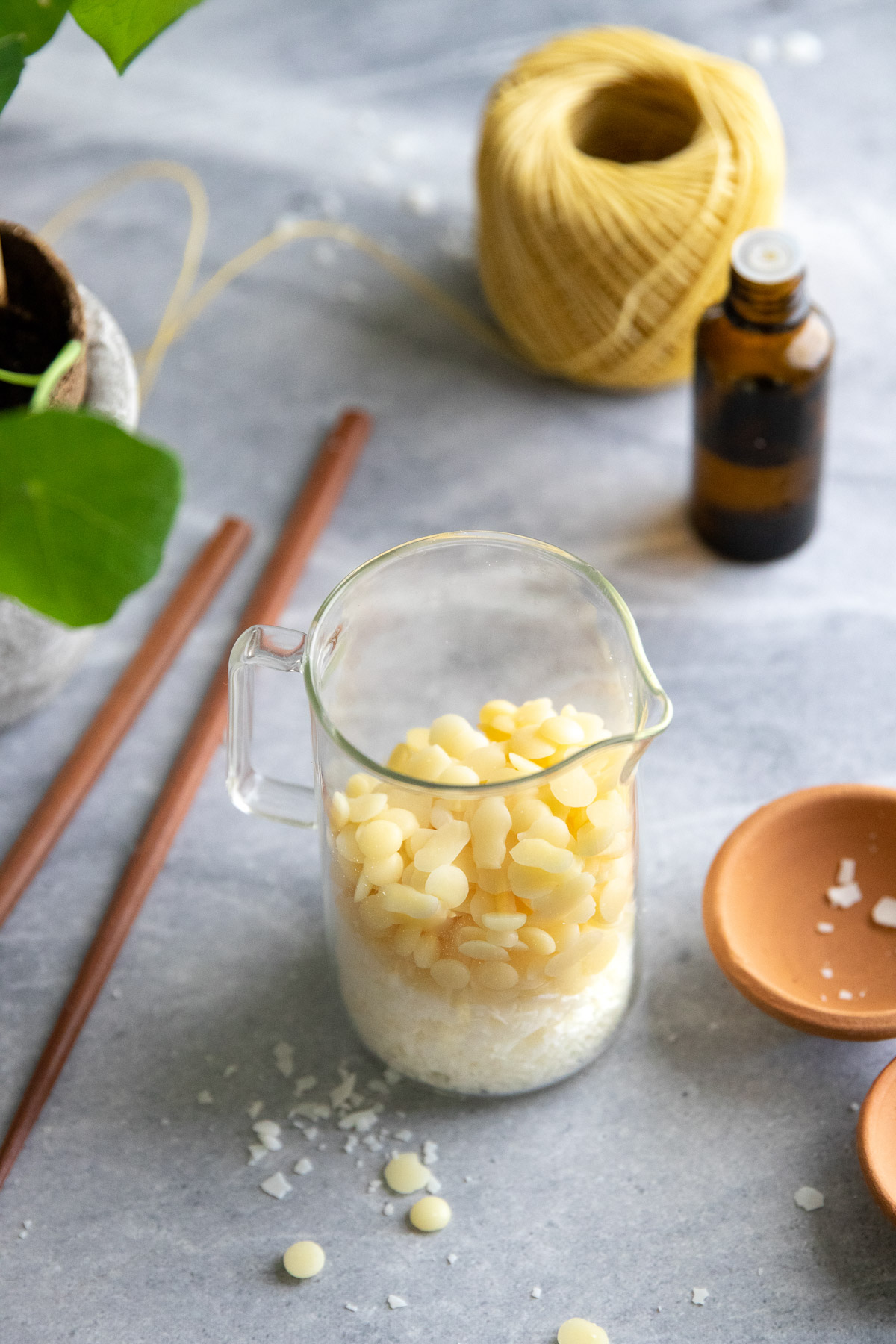 Beeswax is a hard wax that burns incredibly slowly and can be prone to tunneling (this happens when the flame doesn't get hot enough to melt a solid pool of wax across the top of the candle). But by combining soy wax and beeswax, you get a wax blend that's soft enough to burn evenly but hard enough to withstand high outdoor temperatures.
If you're vegan, you can use candelilla wax in place of beeswax in your citronella candles.
Citronella Candle FAQ
Is it safe to be around citronella candles?
If you plan to use 100% pure, nontoxic citronella essential oil and burn your candles outside, it's perfectly safe to be around citronella candles. Citronella essential oil can even be applied directly to skin without causing an adverse reaction. Fake citronella candles, on the other hand, are an entirely different story and should be burned outside at a distance.
Do citronella candles work unlit?
No. When it comes to essential oil candles, the heat from an open flame is required to release the scent into the air and effectively repel mosquitoes.
How long do homemade citronella candles last?
To keep your candles from melting, getting waterlogged, or losing their scent, I recommend taking them inside or storing them in a shed or closet when not in use. If taken care of, they should continue to burn evenly and retain their scent for several months.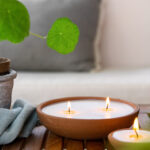 Print
Citronella Candles
These natural + inexpensive candles use a combination of citronella essential oil, soy wax and beeswax to keep those pesky mosquitos at bay
Equipment
Cotton candle wicks

Clothespins, chopsticks or tape to hold wicks in place

Microwave-safe bowl or double boiler

Vessel

glass jars, terracotta pots or bowls, aluminum cans
Instructions
Place the soy wax and beeswax in a microwave safe container or double boiler. Melt the wax slowly (I melted mine in the microwave), stirring often until it's completely melted and blended.

Meanwhile, place the wick inside the vessel and hold it in place using tape, clothespins, chopsticks or whatever else you have on hand.

Remove the melted wax from heat and let cool for about 5 minutes before adding the essential oil. Mix thoroughly.

Slowly pour the wax into your vessel.

Let the candle cool for at least 8 hours, preferable 12-24 hours, before trimming the wick and lighting.
Notes
For added bug protection, try adding:
1 teaspoon eucalyptus oil
½ teaspoon clary sage oil
1 teaspoon lavender oil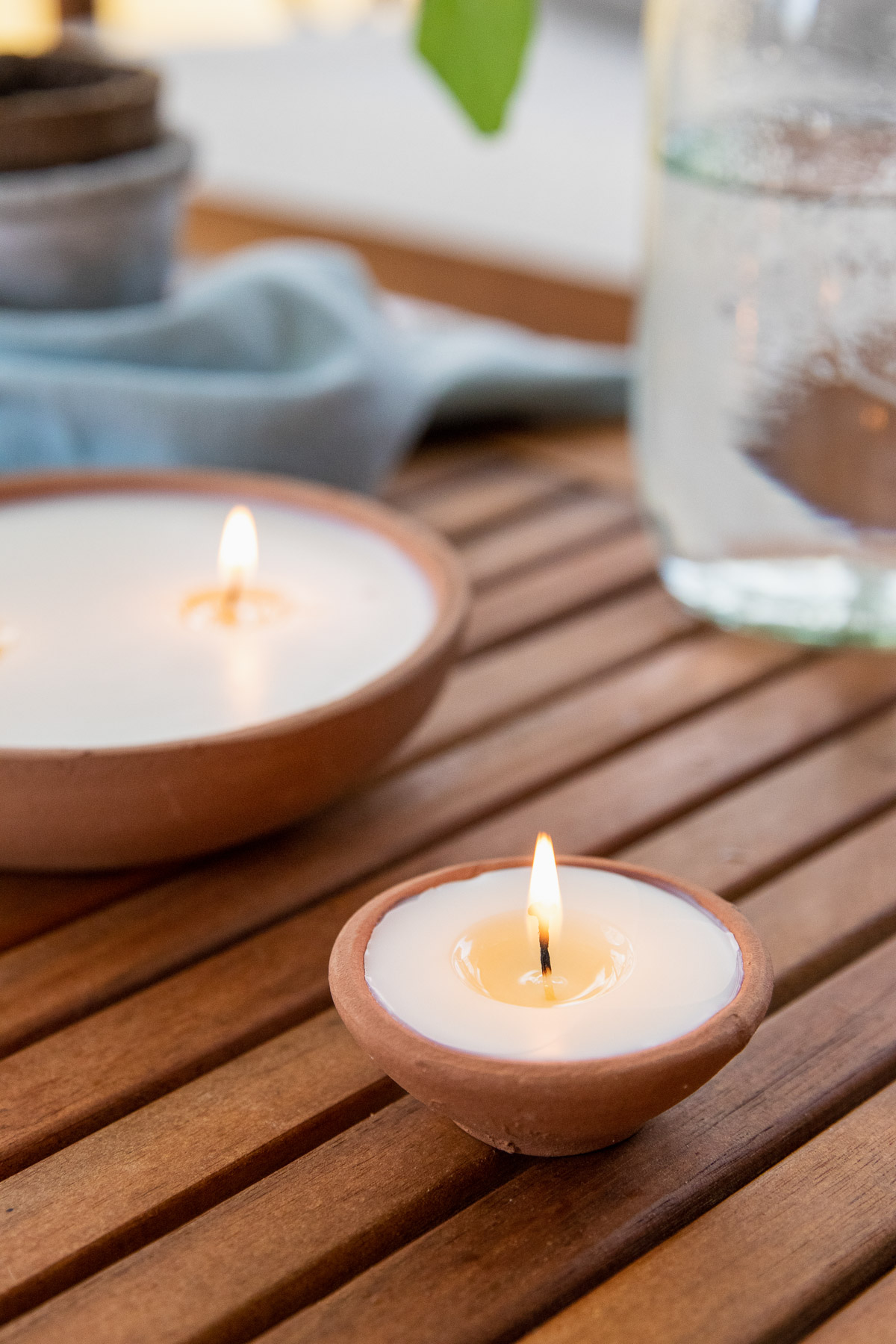 1