In some parts of the world during particularly buggy seasons, life may call for heavy-hitting topical repellants and sprays, protective netting, or even smoke to keep bugs like mosquitoes or black flies at bay, especially if there is a higher risk of them carrying disease.
But there are also those times towards the beginning and end of their peak season when we may only need a deterrent to keep clear of their buzzing and biting. Using an essential oil diffuser on your picnic table, by the BBQ, on your patio, or even inside of your home near entryways or windows can be a great way to help keep those pests away, both naturally and effectively.
Some essential oils are more repulsive to insects than others. Most of us are familiar with the use of citronella oil in mosquito repellant candles, but many other oils have bug-offending qualities as well, such as peppermint, lemongrass, geranium, patchouli, and pine.
Combined in the right ratios, they work well and smell pretty great too! (If you're reading this after you've already been bitten, try whipping up a batch of our homemade bite balm to help soothe the itch!)
We've put together a few different essential oil blends for you to use with your diffuser whenever you are in need for some bug-busting backup (note: all blends are based on a ratio to be diluted into approximately 250 ml or 1C of water; you can mix up the appropriate blend in a mason jar, and decant into your particular diffuser as needed):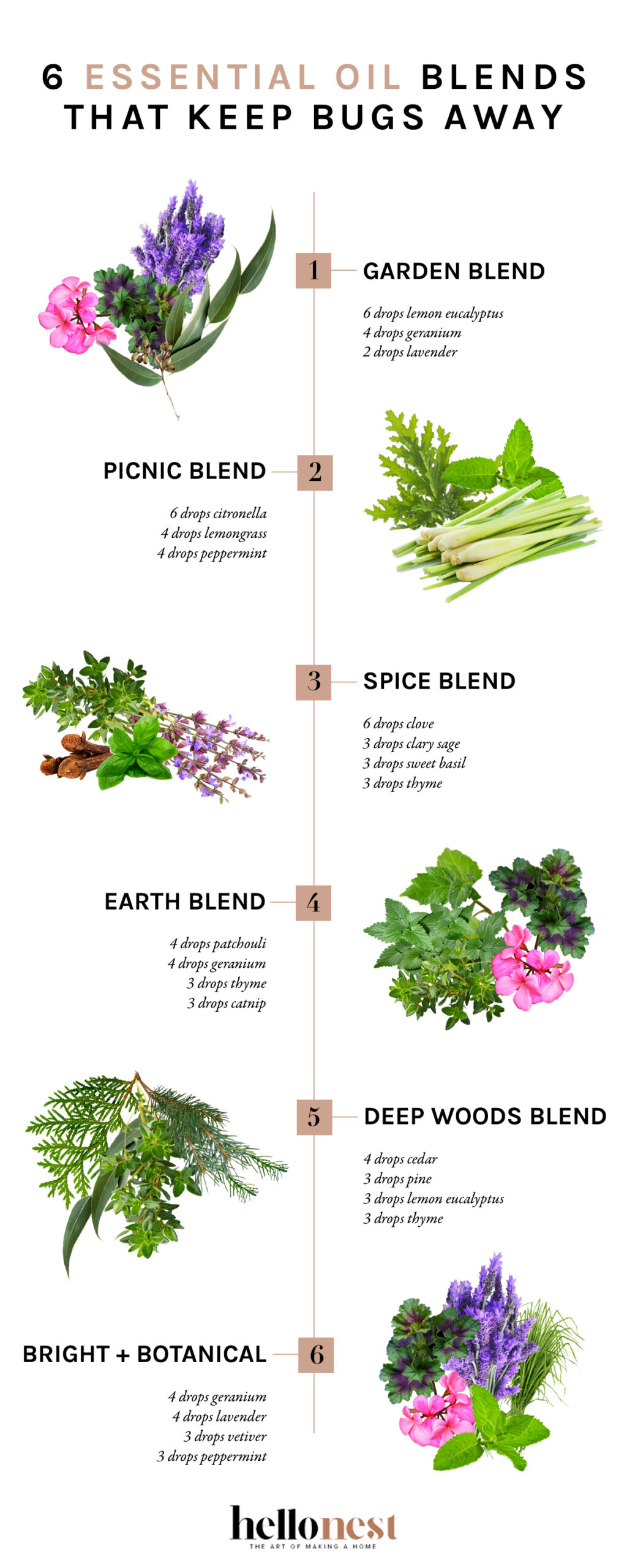 Garden Blend
This is a great all-around blend, perfect for patio hang-outs or for use indoors:
6 drops lemon eucalyptus oil

4 drops geranium oil

4 drops lavender oil
Picnic Blend
Here's a diffuser blend that's perfect to use around a picnic table or outdoor meal, as the scent is fresh and bright, and won't compete with what you eat:
6 drops citronella

4 drops lemongrass

4 drops peppermint
Spice Blend
This is another good option for diffusing around outdoor meals—while these scents may be appetizing in our kitchens, they aren't quite so appealing to bugs:
6 drops clove

3 drops clary sage

3 drops sweet basil

3 drops thyme oil
Earth Blend
Sultry and grounded, this is a great blend to use outdoors, but best to set it further away from dining areas:
4 drops patchouli

4 drops geranium

3 drops thyme oil

3 drops catnip oil
Deep Woods Blend
A strong, forest-scented blend, that is ideal for woodsy outdoor protection:
4 drops cedar oil

3 drops pine oil

3 drops lemon eucalyptus oil

3 drops thyme oil
Bright and Botanical
Here's a versatile blend that's light enough for indoor or outdoor use:
4 drops geranium

4 drops lavender

3 drops vetiver

3 drops peppermint
In addition to the oils listed above, you may also want to pick up a small vial of neem oil, a few drops of which can be added into any of these diffuser blends. While the scent of neem on its own is really not the most favorable, this is also what helps protect the plant from insects in the wild.
For each of the outdoor blends, adding in 2 drops of neem oil may add more of a medicinal odor to the scent, but will nonetheless help to boost the overall effectiveness of the repellent.
And if you're wondering how essential oils can help to you deal with other kinds of creepy crawlers, check out our guide to knowing which essential oils to use and how. With a few key oils on hand and a bit of know-how, you'll be able to enjoy the outdoors with a bit less bite.
As always, we also encourage you to follow your nose and make any changes that suit your taste, keeping with the general ratios provided, to create your own Bug Beware blend! We'd love to hear from you and learn what works for you.
6