A homemade all natural ginger ale was something we've wanted to experiment with for a while, and we're so happy we did it! Making fermented foods and drinks at home is easier than you imagine, and it actually gets fun when you start playing with flavors and spices. There's so much satisfaction in opening a jar of fermented veggies or drinks and hearing that bubbly sound, the proof that you've got a living and nourishing ingredient.
Keeping your microbiome replenished is the key to overall health – this isn't a myth or secret anymore. Studies show that the good bacteria in your digestive system have a role in nutrient absorption and assimilation, in maintaining the health of your colon, in boosting the immune system, and also in regulating the neurotransmitters production, including serotonin.
Especially in winter, when fresh seasonal food isn't very diverse, the nutrient reserve in your body cells is poorer, and we welcome any way to give our immune system a boost. Introducing fermented foods and drinks (and supplementing with vitamin C) in our diet is our go-to method for staying away from colds and flu.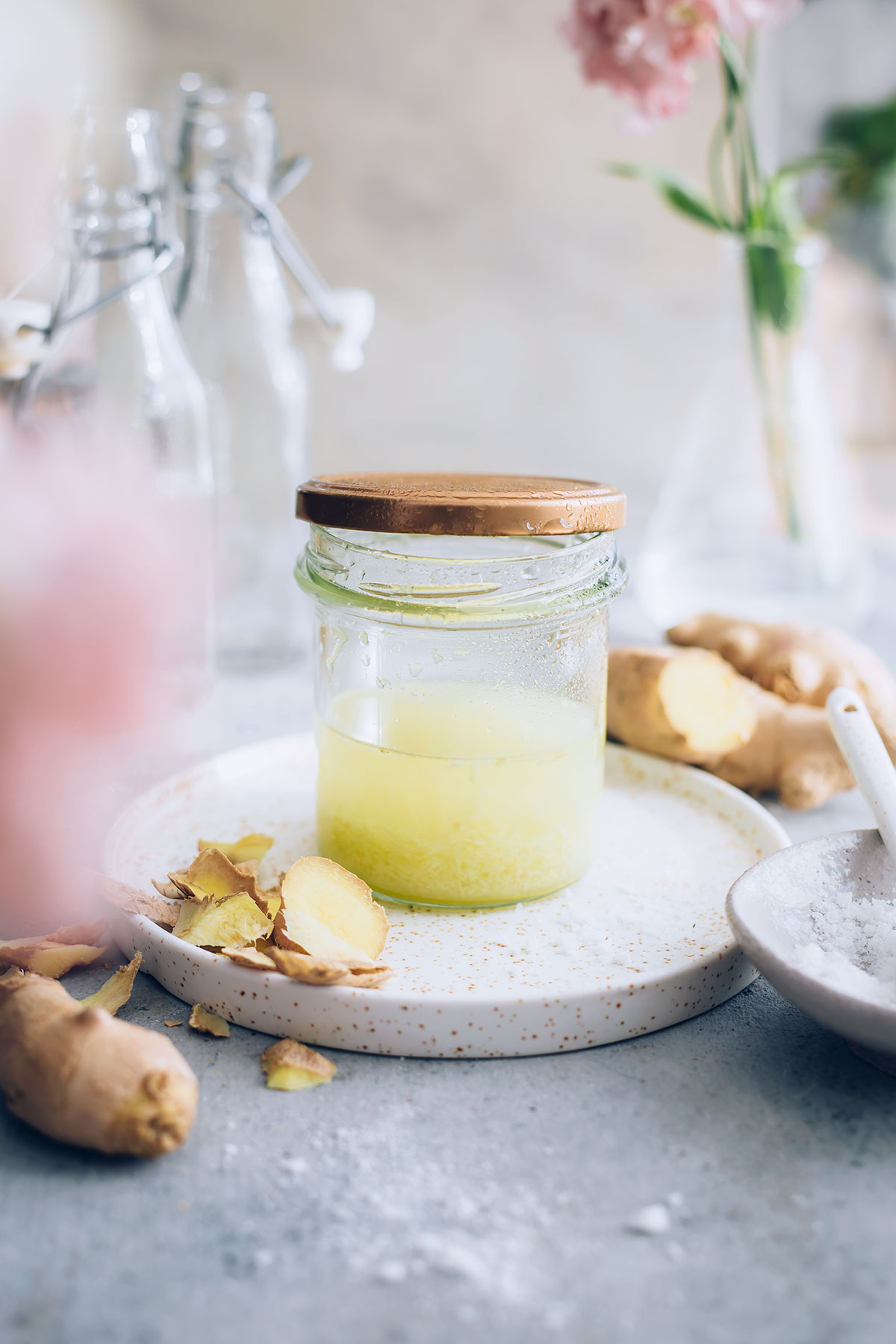 To get the fermentation party started, you need to make a ginger bug. This is a naturally cultured mix of grated ginger, sugar and water, fermented for a few days. You can use it all for the same drink, or keep it in the fridge and feed it from time to time with more sugar and ginger, to keep it alive and have it ready any time you want to make a new batch of DIY ginger ale. If you want to go the shorter way, you can replace ginger bug with a 1/8 tsp active yeast.
Homemade ginger ale also uses high caloric sugar in high quantities, but you won't actually consume it – this sugar is for feeding the bacterias and getting the fizzy drink you dream about. When the fermentation is ready, very little of the sugar you added will be available for metabolizing, and you might need to add a dash more, according to your taste.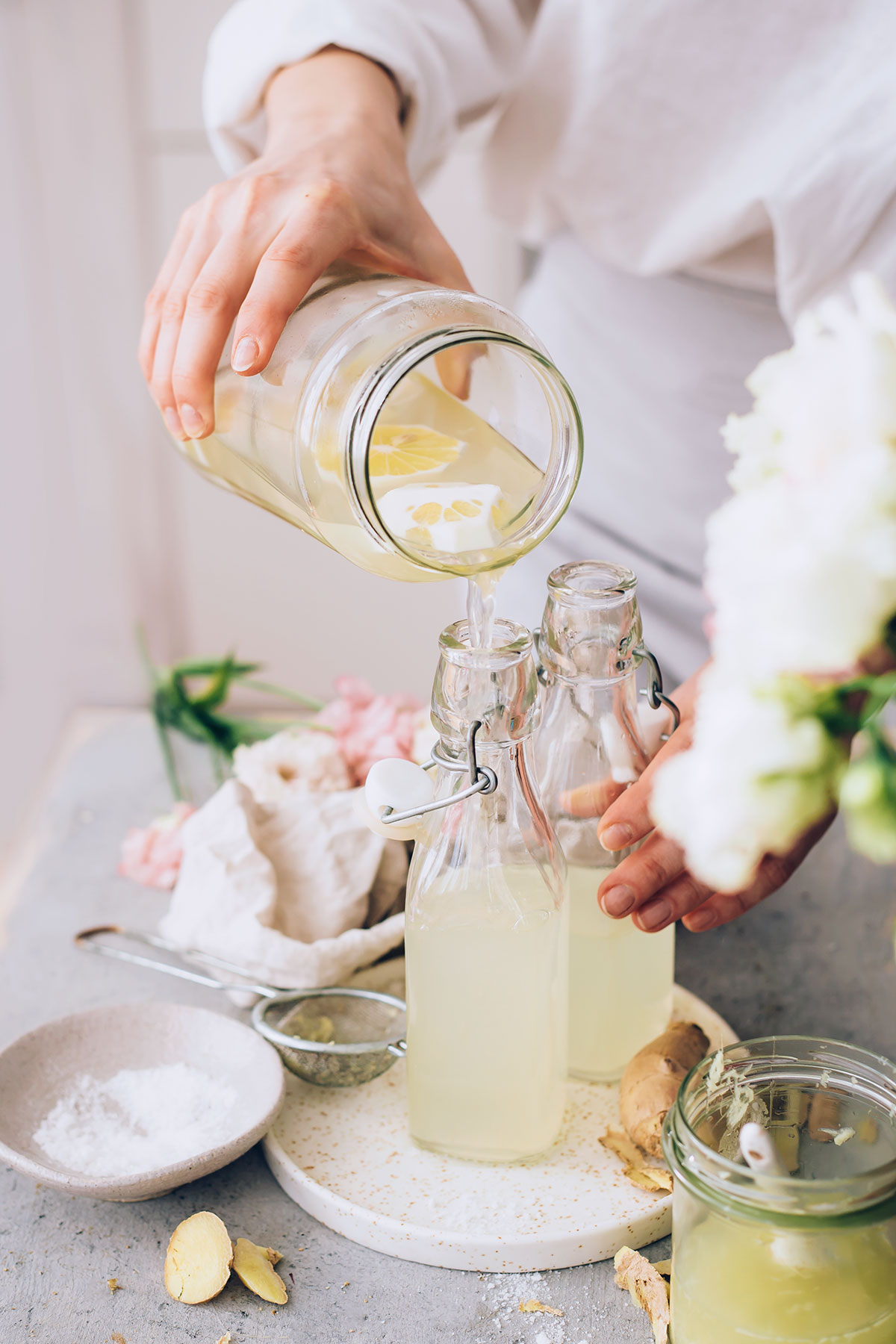 Did you experiment with homemade ginger ale or other fermented drinks? You can easily use it for homemade cocktails or just drink it as is.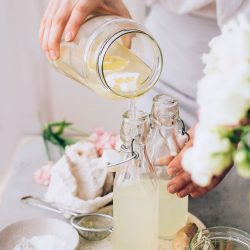 Natural Homemade Ginger Ale
Ingredients
For the Ginger Bug
2

inch

ginger piece

peeled and grated + extra for feeding the cultured mix

1/2

cup

white sugar

2

cups

filtered water
For the Ginger Ale
8

cups

about 2 litres purified water

2

inch

ginger root

peeled and grated

1/2

cup

white sugar

1

lemon

peeled and cut into slices

1/2

cup

ginger bug or 1/8 tsp active yeast
Instructions
For the ginger bug
Add the grated ginger, 2 tbsp sugar and the water into a lidded jar, and mix with an wooden spoon to combine.

Loosely lid the jar and keep it at room temperature.

Every day, for the next 4-5 days, feed the mix with 1 tbsp sugar and 1 tsp grated ginger, and use the wooden spoon to give it a stir.

In the 4th or 5th day, the cultured mix should be ready and bubbly on top. It may turn opaque, this is ok. It might develop a white mold layer, this is ok too - you simply remove it before using. White mold is ok, pink or black mold means you should  start the fermentation process again. 

Use 1/2 cup of the mix for the ginger bug and keep the rest in the refrigerator (feed it once a week with sugar and ginger to keep it alive).
For the ginger ale
In a medium soup pot add 4 cups water,  grated ginger and sugar and bring to boil over medium heat.

Simmer for 5 minutes, then strain and let cool completely.

Transfer the mixture into a jar, add the rest of the water, lemon and ginger bug, mix with an wooden spoon and lid the jar tightly.

Let sit at room temperature for 2 &1/2 days, until fizzy.

Serve or keep in the refrigerator for up to one week.
49