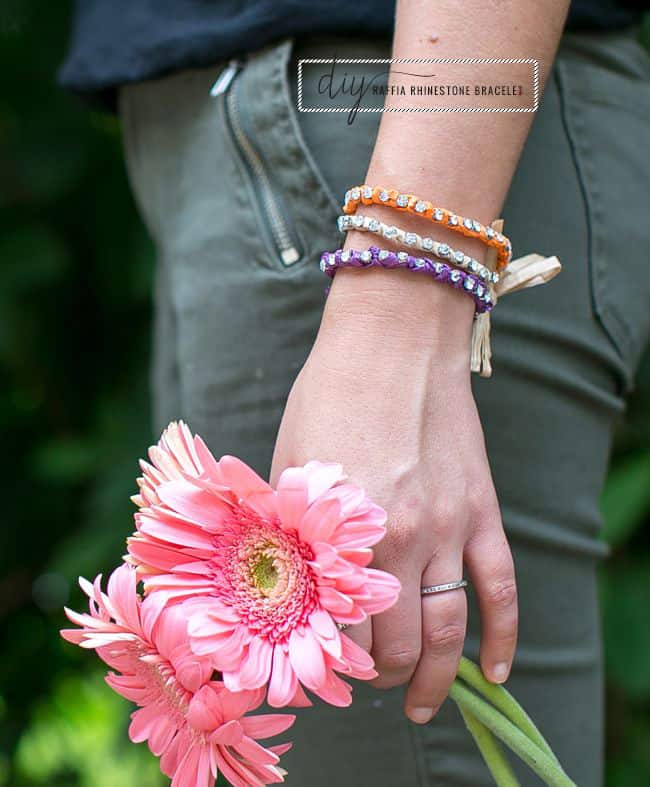 I'm knee deep in packing for next week's trip to the beach. Have I mentioned that I hate packing? Nothing like having a "what to wear?!" crisis for 4 separate people. But my 5-year-old daughter is easy – her only concern in getting dressed is "which dress should I wear today?" Preferably one that's pink. With ruffles or sequins.
As I attempt to put together that perfectly effortless beach ensemble, here's an easy DIY bracelet that has the look of a Tory Burch choker for a fraction of the cost. Raffia straw is my new favorite thing – it's suddenly hip and DIYers are making some amazing high-end creations with this super cheap material. Adding rhinestones gives it a hint of glam.
Raffia Rhinestone DIY Bracelet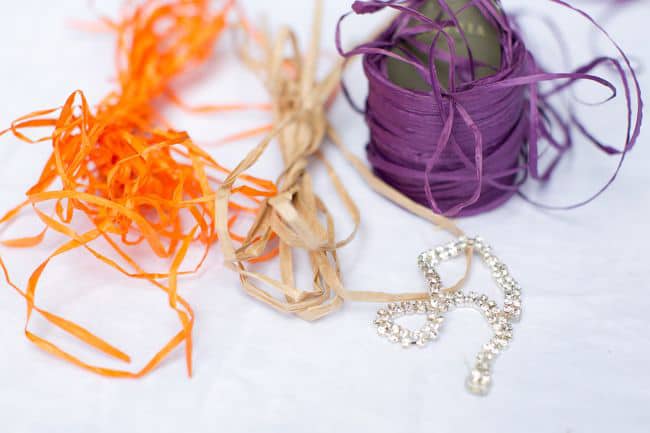 Supplies needed:
Raffia – available at craft stores and also World Market
Rhinestone trim
That's all you need! Ready to make a bracelet? Here we go.

Take 6 individual strands of raffia and tape them down, leaving about 6 inches of raffia hanging out beyond the tape. Divide raffia into 2 sections, each with 3 strands, and place the rhinestone trim in the middle.
Do a half knot to secure the trim to the raffia. Cross the raffia strands in the back. Then bring the raffia to the front and half knot again. Keeping repeating this, working your way down the rhinestone trim. Note: to make things slightly easier, you can also just cross the raffia over each in the front, like you do in the back.
When you get roughly 6 inches down the trim, check the length on your wrist. If it's long enough, cut the trim. At the end of the last rhinestone, do a half knot. Then divide the raffia into 3 pieces of 2 strands. Macrame about an inch then knot the outer strands and cut. (If you don't remember how to macrame, go here.) You should have one piece of 2 raffia strands now. Knot that piece about 2 inches from the bracelet and cut the excess length.
Go to the other end of the bracelet and repeat the macrame step. When you have the two end pieces ready, cut a short piece of raffia. Line up the two end pieces and tie on the short piece of raffia. Wrap it around the two end pieces – about 1/2 inch wide – then knot again and cut excess.
Put bracelet on your wrist and pull the end pieces to adjust the length.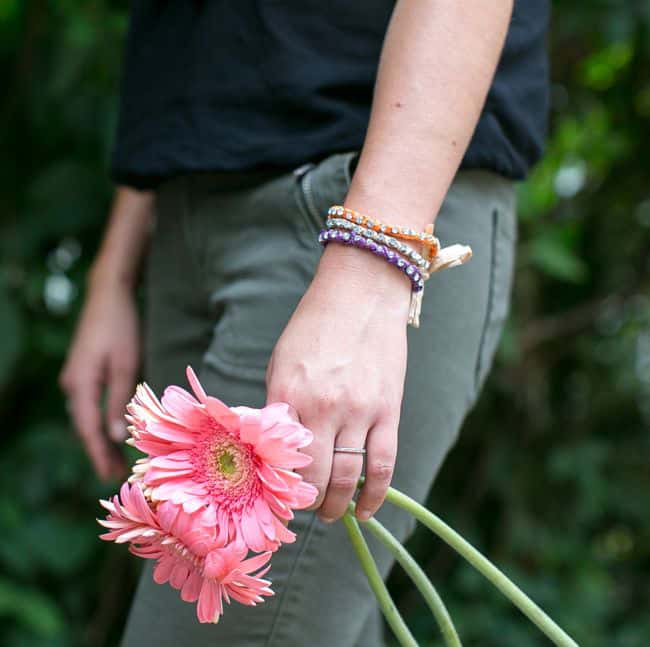 If you want an easier closure for the bracelet, you can leave the raffia strands long on each each and simply tie it onto your wrist. Or use an lobster clasp.
What do you think? Are you a raffia fan?