With something as intimate as a bra, it's easy to fall into a rut: you only buy a new one when your old one is fully unusable, you get the same size you've been getting for 10 years, or you buy cheap ones because you don't feel you can justify the investment.
Having a properly fitted bra that perks things up is one of life's necessities. You stand up straighter, you look thinner, what's not to love? When I finally went in for a fitting, 12 months after I've stopped breastfeeding my third, I was totally shocked – at both my new size and how expensive good bras are. (When you've spent the last few years in nursing tops, this comes as a bit of a surprise!) So I did a bit of research on how to properly care for my 'investment,' which is how this guide to bras came to be.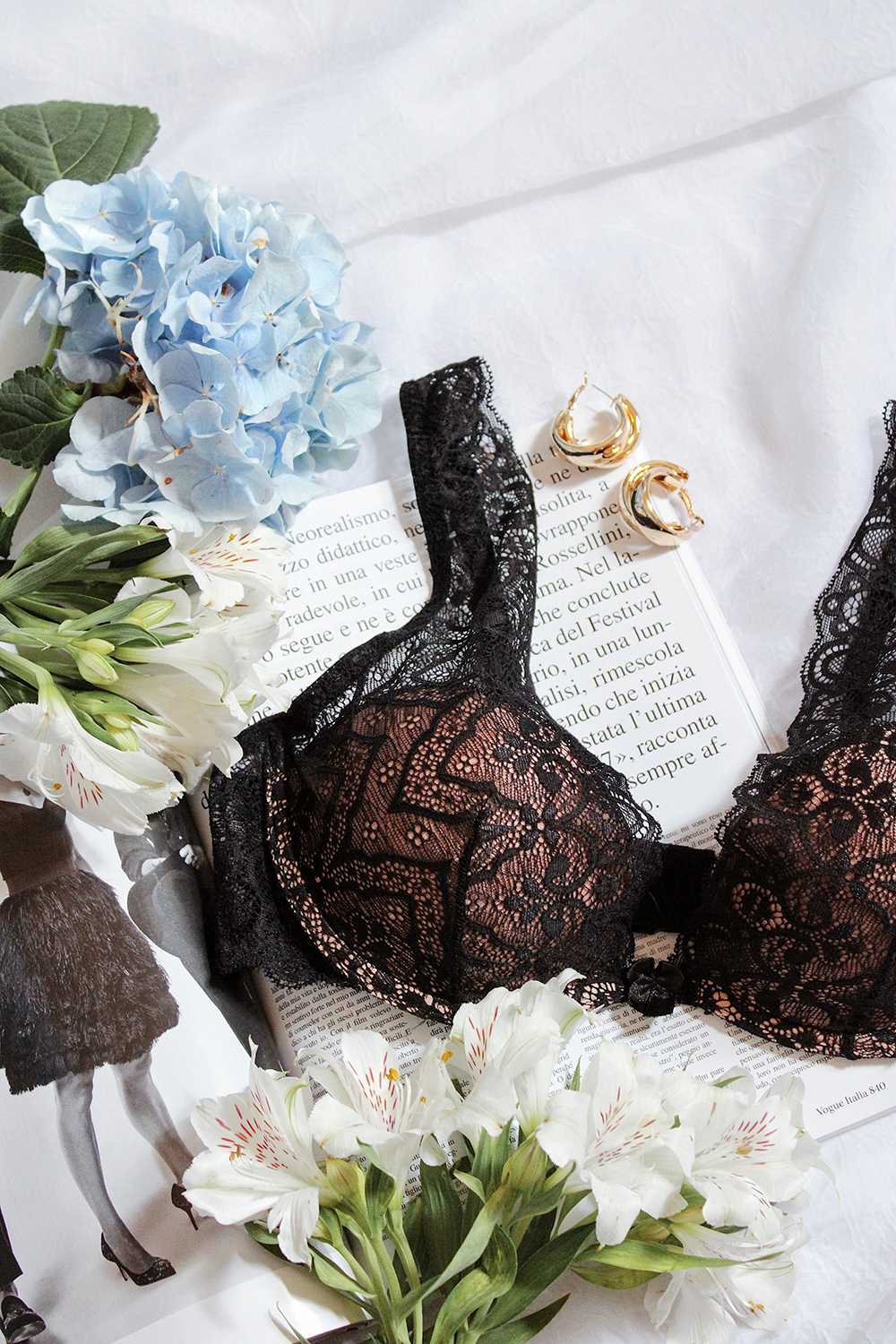 The Ultimate Guide to Bras: Essential Bra Wardrobe
I'm guilty of overwearing bras – one of the biggest reason they wear out. To avoid that, experts recommend a wardrobe of 5-7 bras. That includes at least 2 everyday bras in nude and black, a lacy special occasion bra, a strapless number and a sports bra. Real Simple recommends these bra essentials:
7 simple, comfortable bras in black and nude (a more modern and practical choice than white)
1 black strapless bra for formal occasions
1 nude racerback bra to wear under tank tops
At least 1 pretty, lacy push-up bra, preferably with matching underwear
How to buy a bra that fits + flatters
First, take stock
Bras don't last forever. With regular wearing and washing, they only last about a year. I finally owned up to needing a new bra when the underwire of the one bra that I could stand to wear poked through the material and started jabbing me. So pull out what's in your drawer and take stock of what needs to stay or go. Get rid of (yes, it's okay to trash these) anything that:
You don't wear.
Looks dingy or just plain old.
Has elastic and/or underwire issues.
Isn't the right size. If your band rides up or your cup runneth over, you don't have the right size.
Get a professional fitting
The easiest place to get a professional fitting is in the lingerie section of a department store. The ladies are total pros who act as if they've seen it all (and probably have). You need to do this every couple of years, especially if you've gone through a major body change, like pregnancy and breastfeeding. Plus it's incredibly helpful to have someone help navigate the sea of bras that suddenly look incredibly a lot alike.
Your number might surprise you
The most common mistake women make is wearing a band that's too big with a cup that's too small. Ninety percent of a bra's support comes from the back band. If it's it's too big, it rides up between the shoulder blades and then everything in the front droop down.
I went in wearing a 36C and left with a 34G. And trust me, my boobs are no where near Pamela Anderson size. The biggest difference I notice is that the chest coverage area is wider – the cup wires now align with my armpits. The tighter band gives me a gazillion times more support and the bigger cup reigns in the full width of my chest (things aren't bigger, just wider apparently). The band should feel snug but keep in mind that it will stretch a little after you wear it a few times.

The Ultimate Guide to Bras: how to wash a bra + how often
Wash after every 3 wearings
Give your bra a day of rest between each wearing. Then after 3-4 wears, wash it.
Hand washing is best
The best way to care for bras is to hand wash them in cold water with a mild soap. Agitate them in the water and rinse. Squeeze out excess water but don't twist and wring. Lay them flat to dry.
Skip the Woolite
Use a mild soap like Dr. Bonners or use baby soap to wash your delicates. Combine a teaspoon of soap with warm water and work into a lather. You can even add a couple of drops of essential oil.
Genius multitasking idea
While you're in the shower, get the bra wet. Work a small amount of baby shampoo into a lather and then wash and rinse.
If you have to machine wash, use a mesh bag
Everyday bras will probably be okay in the washing machine if you use the gentle cycle with cold water and put them in a mesh bag. Just make sure the hooks are closed so things don't snag.
Just don't put them in the dryer!
The fastest way to ruin a new bra is to put it in the dryer. The heat can damage the fabric and zap the elastic. Lay them flat on a towel to air dry.

The Ultimate Guide to Bras: How to store + wear a bra
Store flat or folded
Lay bras out flat in a drawer or fold in half with with hooks closed to prevent snags. For molded cup bras, don't invert the cups or you'll damage the shape.
Switch things up
Don't wear the same bra several days in a row. Wear it once then let it breathe for a day in between wearings.
The perky positioning move
Here's a move that's critical with a bra that really holds things in place. Reach into the cup with the opposite hand and place it flat on the outer area of breast tissue (right below the armpit). Move each breast up and to the center of the cup. Check out how perky things look now!
The Ultimate Guide to Bras: 21 Bra Hacks to Make Your Life Easier
Check out these 21 bra hacks, which will help prolong the life of your pretty undergarments and make them more versatile, too.
1. Painlessly remove a sports bra – Wait for your sports bra to dry off before rolling it from the bottom up for easy removal. Alternatively, opt for a hook and eye clasp version that you can take off like a normal bra.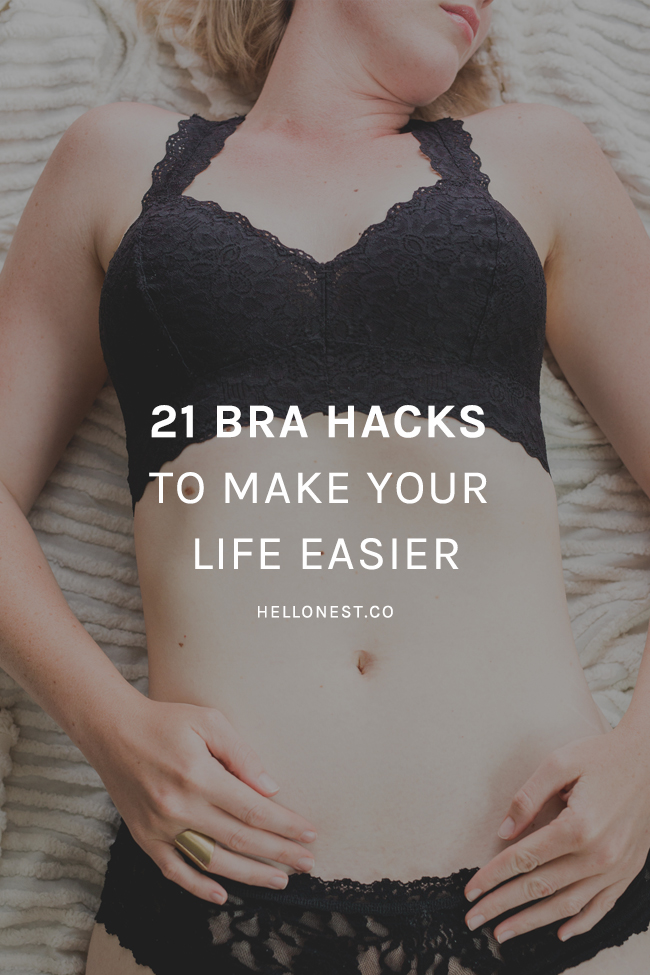 2. Bras for backless dresses – No need to buy a backless bra for that backless dress – DIY a combination of the two with this easy tutorial.
3. How to repair a broken underwire bra – Don't throw away a bra just because of that underwire poking you all the time. This is how you can fix it.
4. DIY Lace Bralette – Ever considered making your own bralette? That would be just the thing if you're having trouble finding the perfect size.
5. How to make a bra strap converter – Your low back dresses will finally look their best when you convert your regular bra into a fancy one.
6. How to sew bra cups into backless dress – Backless used to mean no-bra, but luckily, things have changed!
7. From full to partial band – Convert the patten for a full band bra to a partial one with this step by step tutorial.
8. How to wash your bra – This may sound weird, but did you know you could use a salad spinner to wash your padded bra?
9. Wedding inspired summer top – Underwear as outerwear: why not? Update an inexpensive bra with lace flowers for a very romantic and sexy look.
10. Strapless bra hack – Strapless bras never really stay in place – but this hack actually helps!
11. DIY hanging bra organizer – Store your bras on a special organizer that you make yourself – this way you always seem them and get to wear all of them.
12. Cushion bra strap – Buy a ready-made cushion for those bra straps that dig into your shoulders, or improvise by making your own.
13. See your own pretty lace bralette – This super sweet bralette is perfect for those who don't need as much support.
14. How to fix the most painful bra problem in seconds – Broken underwire? Doesn't mean you have to throw out your bra!
15. Bra ball – To make sure your padded bra keeps shape while you wash it, always use a bra ball in the washing machine!
16. DIY bra strap extension for backless tops & dresses – Wear low back tops without having to invest in a new bra – just hack your own!
17. How to add a built-in bra to clothing – Never worry about the bra to match with that new dress – you can just add support to your clothing!
18. How to measure bra size – Ultimately, it's all down to the perfect fit. Learn how to measure yourself and get the right size.
19. Adding padding to your bra – If you decide to make your own bra, it doesn't have to be unpadded! Add all the support you need with this tutorial.
20. Bra extender – If the cup fits right, but the band it too small, get some help from a bra extender.
21. Plunge bra – For those difficult dresses, try a multi-use bra that still keeps everything secure.
Do you have any bra hacks? I'd love to know! 🙂
Photo by Pablo Heimplatz, Nati Melnychuk on Unsplash
0