Maybe it's just me, but there are times when just catching a whiff of that classically strong, artificial laundry scent during an otherwise blissful puffy towel dry-down can be a headache inducing buzz kill. It's no secret that we love the naturalness and versatility of essential oils around here, so of course we have found a way to put them to work in our laundry regimen—without any of the added chemicals and headaches!
To make the switch to all-natural easy as pie, we've put together a list of our favorite laundry-fresh oils and the different ways to incorporate them into your fabric care routine. And speaking of, you might want to try our 5 laundry hacks, if you want to make your life easier.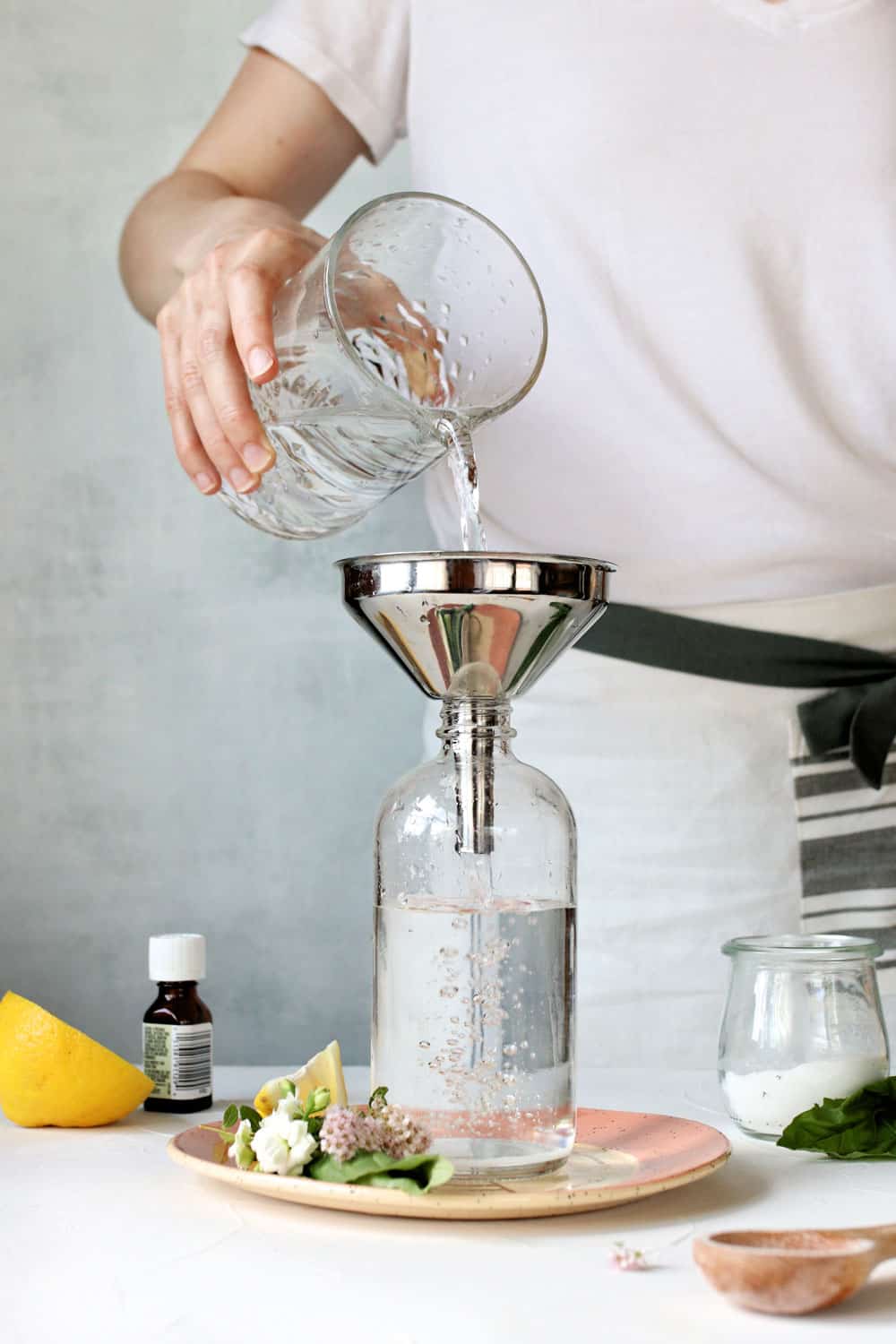 The Best Essential Oils for Laundry
While the scents you feel most drawn to are a matter of personal taste, we do have a few recommendations and things to keep in mind when adding concentrated oils into the laundry.
We've found that it's best to stick with the lighter, colorless oils, preferably those with naturally fresh scents—we love lemon and grapefruit, lemongrass, and lavender in particular.
Even though they will be diluted by the time they are added into the wash, you'll want to avoid using the heavier resinous oils such as patchouli, cedar, myrrh, and pine, and any with color, such as blue tansy, chamomile, vetiver, and tangerine.
If you're not sure, try a test drop on a tissue; very light yellow would be fine, but the darker, stickier, or colorful ones are risky.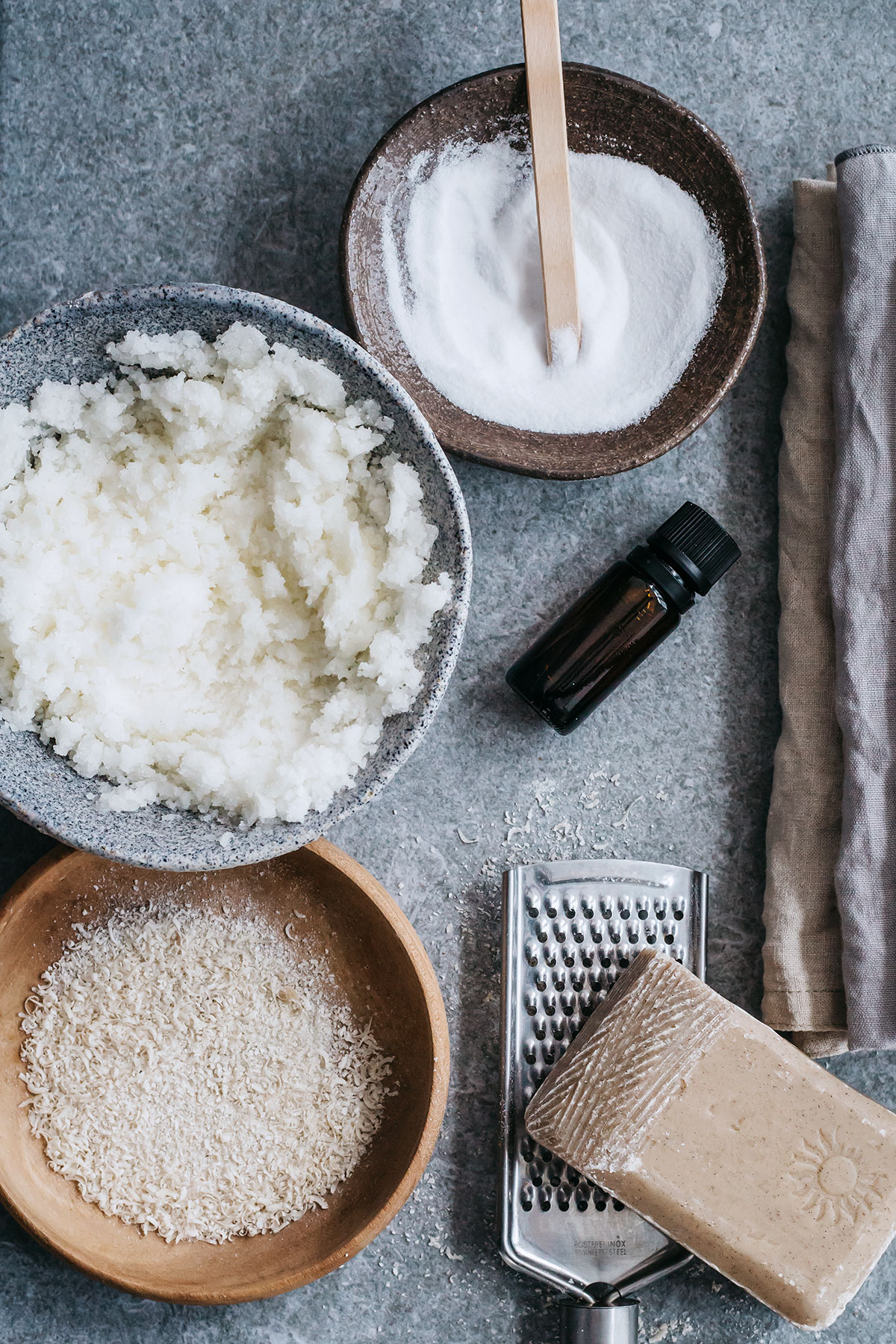 In the Wash
One of the easiest ways to begin using essential oils in your laundry is to pick up your favourite all-natural, unscented laundry detergent and add in your own customized scents. Five drops added to one measured soap load should do the trick. If you prefer to make your own natural laundry soap, we've got a great list of recipes here. Making your own laundry bombs are another great way to go homemade and natural. Be sure to check with your washer and find a soap that is compatible with the needs of your machine.
If you enjoy a citrus-scented load, try two or three drops each of lemon and grapefruit; for a brighter kick, add three drops of a citrus oil to two drops peppermint or eucalyptus. If relaxing is what you're after, try the full five drops of lavender, or split the ratio with a few drops of ylang ylang.
Homemade natural fabric softener is another great way to incorporate your oils into the wash. We're all for taking a pass on the traditional fabric softeners, as not only do they contain heavy scents and chemicals, the residue they leave behind affects the colour and integrity of your fabrics over time. Try this all-natural recipe for the same results without the cost to your clothing:
In a large jar, combine six cups of white vinegar with one cup of water; add in ten drops of your favourite light and fresh essential oils (see list above), and shake well. Use half a cup per load during the rinse cycle as you would a traditional fabric softener.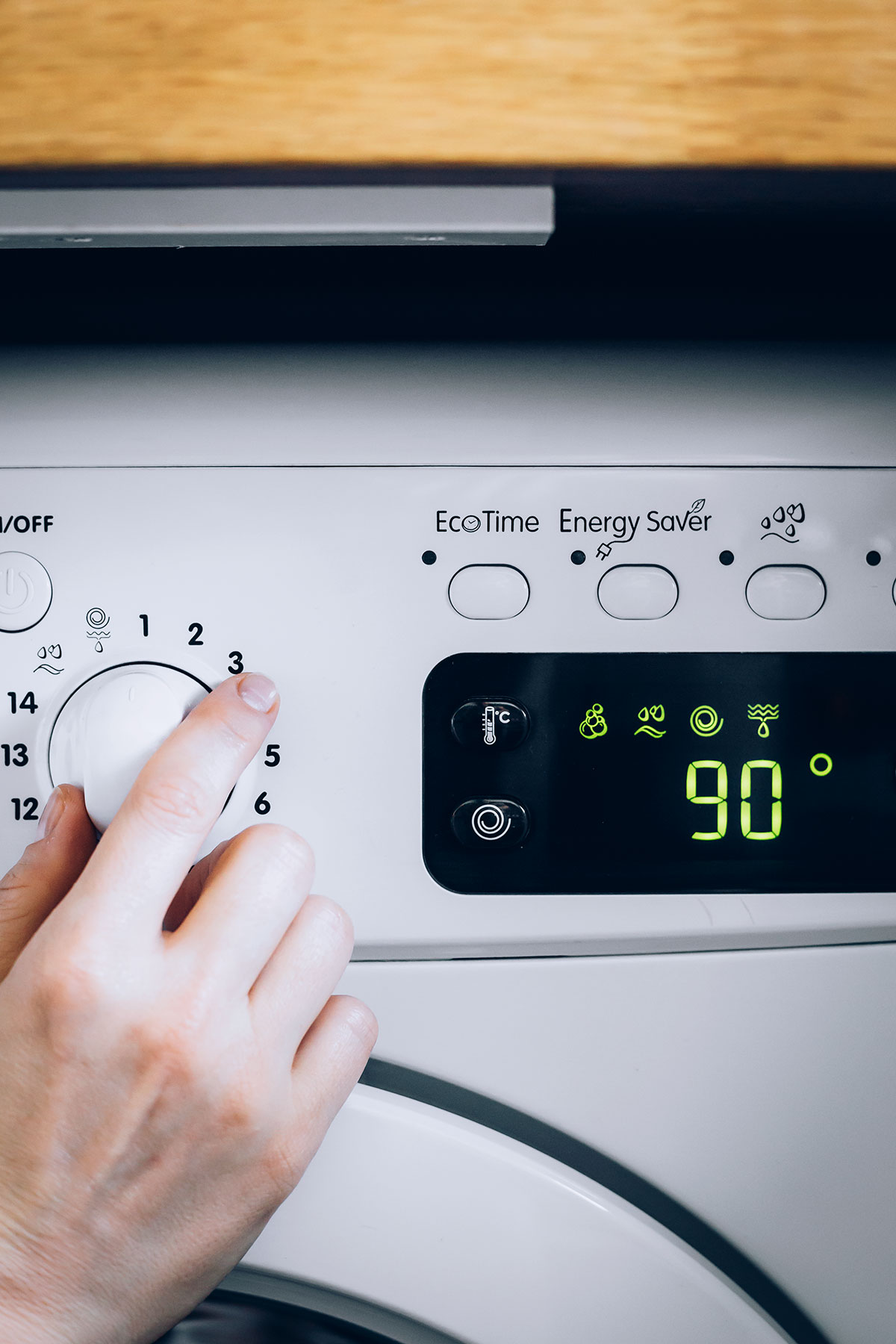 Clean your Machine
Even the washer needs washing from time to time. We're all too familiar with that mildewy scent that can build up if we aren't ensuring regular cleaning cycles and maintenance. Here's an easy do-it-yourself recipe for a soap-scum removing machine spray, as well as a more heavy-duty cycle cleanser which will be more even more effective at treating the buildup that can collect inside of the drum.
In the Dryer
Similar to fabric softeners, traditional dryer sheets coat your clothing with a residue to prevent static and soften them, however this coating isn't great for your clothes (it affects absorbency and the integrity of the fabric), the environment, or your health. Airborne chemicals emitted from dryer sheets contain compounds which have been linked to asthma and even cancer (read more about this here). In place of these prefab sheets, we love using wool dryer balls, which roll around with your clothing and mechanically work away at the fibres to soften them naturally.
One thing to remember is that oils can be flammable at high enough temperatures, and some of our machines may really heat things up. When working with essential oils in the dryer, always keep the temperature in mind! We like placing a few drops of essential oil directly onto the dryer ball, but recommend either running your dryer on a medium heat when you use the oils, or drying your clothing on a high heat before you add the oil to the ball, and then adding a few drops at the end to freshen things up while running the dryer on a cooler air setting.
If you don't have a wool dryer ball, try these do-it-yourself dryer sponges in place of sheets. Make them ahead of time and keep them sealed in a jar, and follow the same fire safety guidelines as above when adding oils to your dryer cycle.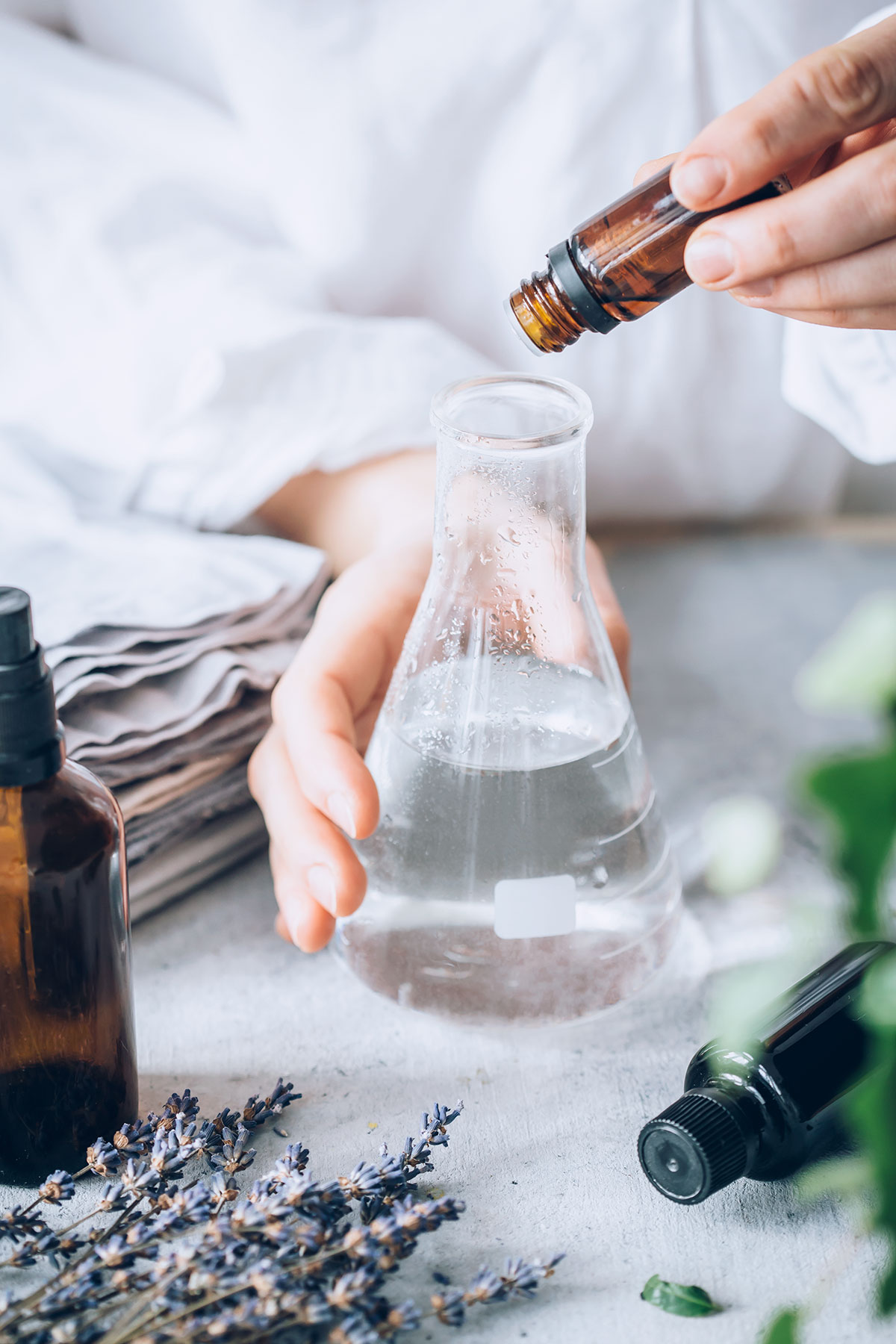 Keeping Fabrics Fresh
Whether you're looking for an added kick for your clothing or fabrics after the wash, or want to extend the freshness in between washes, try whipping up this easy recipe for our all-natural lavender linen spray. Want to go rogue and experiment with another scent? Be our guest!
Another great way to keep your clothing smelling fine in between washes is to use the oils in your closets and drawers. Pick up some cedar rings at the hardware store and add a few drops of your favourite essential oils or blends and let them soak into the wood (note: adding cedar oil onto the cedar rings not only smells great but is a proven way to keep moths away from your woolens!) Try adding two drops of lavender and two drops of an earthy oil such as cedar, patchouli, pine, frankincense, or sandalwood, and tuck them deep into the nooks and crannies of your drawers.
Have you tried any of these methods of incorporating essential oils into your laundry? Have your own methods of using them? Let us know, we'd love to hear from you!
2