We can't imagine a life without a rich, creamy chocolate spread, and you don't have to with this homemade vegan Nutella recipe. Indulge without worrying about refined sugar or the side effects of palm oil. We replaced these with natural sugar from dates, with raw cacao powder and (way healthier) virgin coconut oil. Add lightly toasted hazelnuts and a pinch of salt to enhance the taste. Simple as that!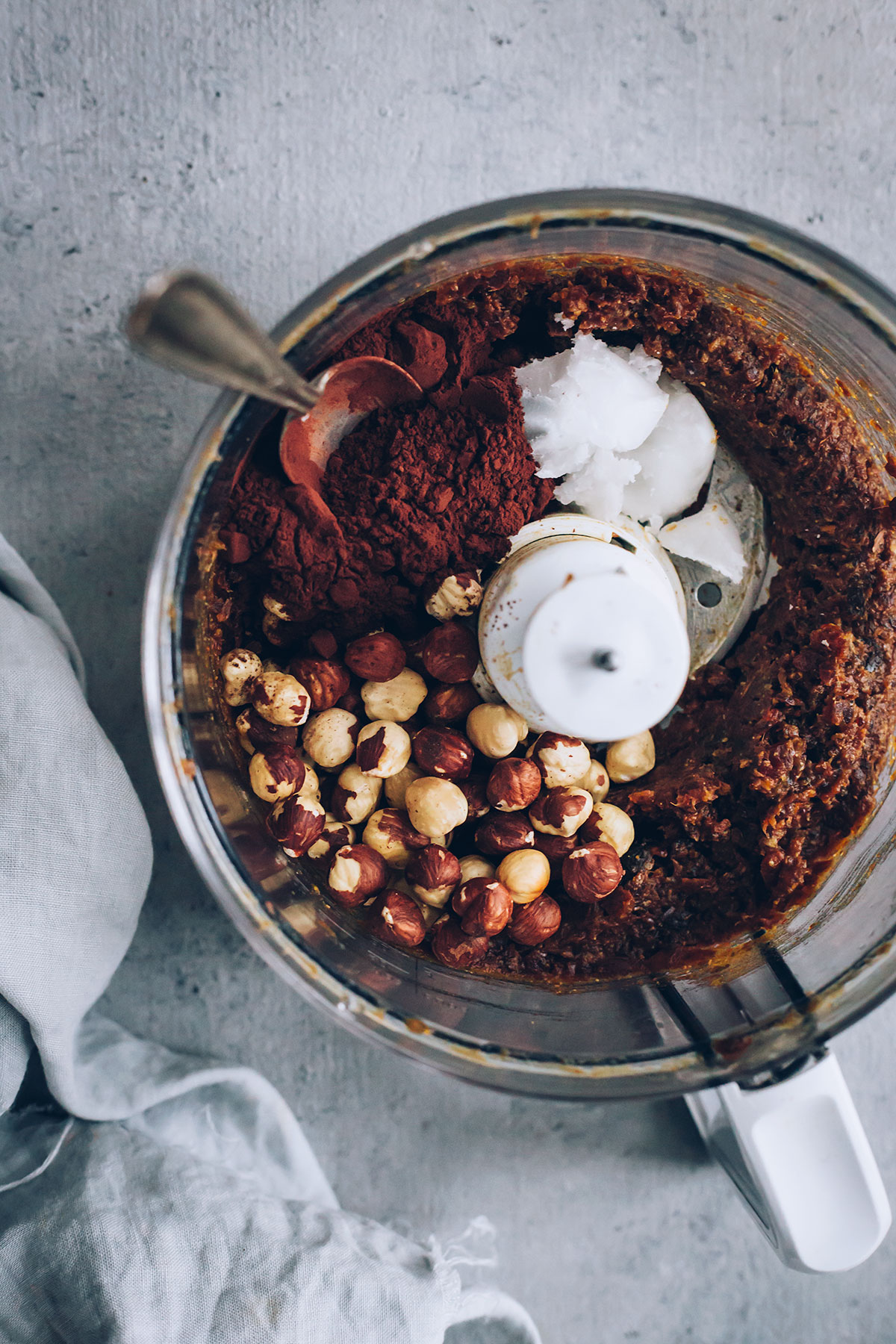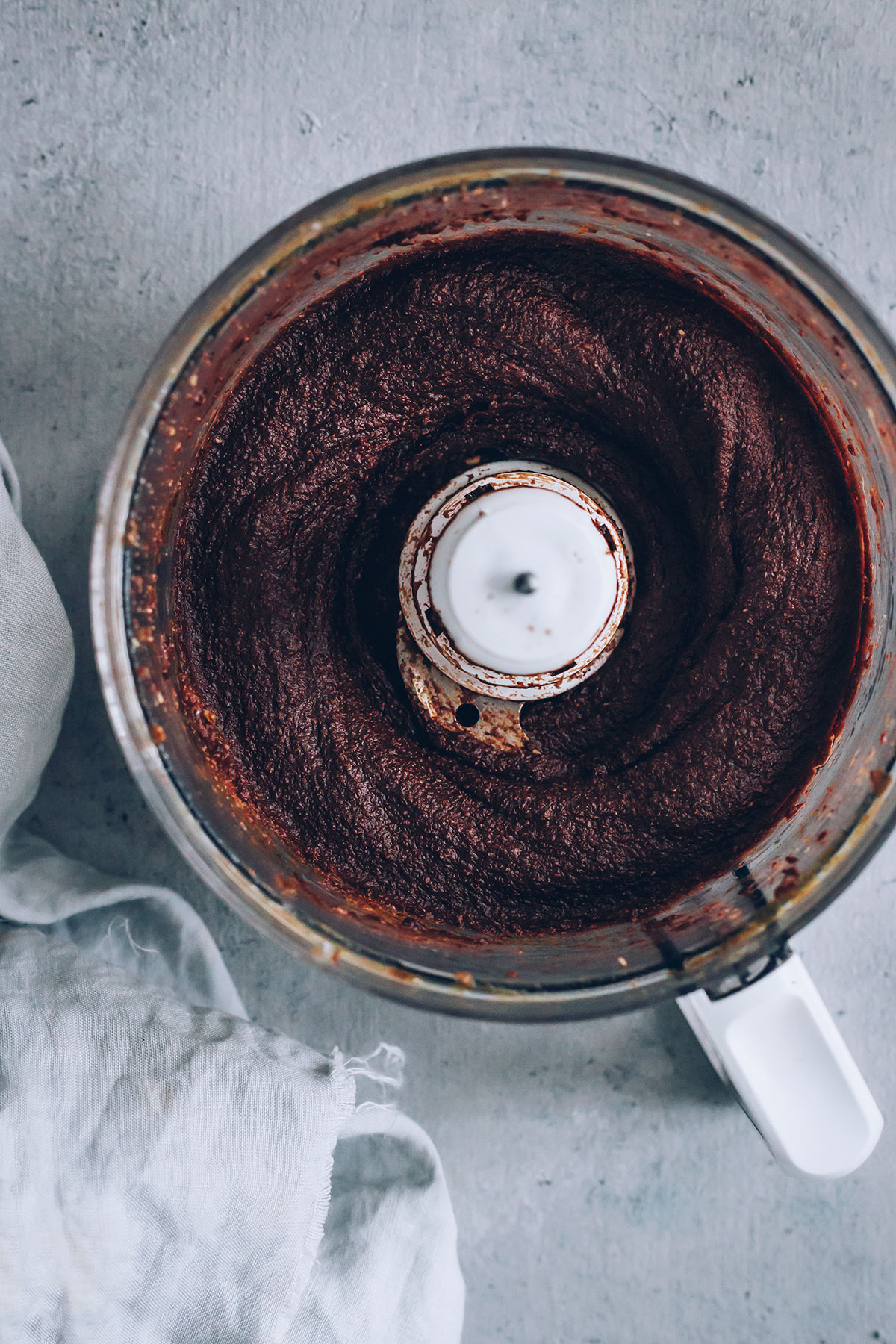 I love using homemade date butter in my desserts because it helps me eliminate the refined sugar, while enriching the taste and the nutritional value of my dish. Along with B vitamins and essential minerals like magnesium, dates are packed with soluble fiber and potassium.
Soluble fiber is essential for an increased nutrient absorption, a healthy digestion and elimination of excess cholesterol, estrogen and toxins. Potassium is a mineral and electrolyte which regulates the sodium levels in our cells, maintain an alkaline environment and prevent the cells from falling into fermentation. Sounds too good to be true, isn't it? It's not! So don't be afraid to introduce dates to your daily diet.
Raw cacao is another favorite ingredient, because it comes with a richer flavor than the usual refined alternatives and with most of the powerful antioxidants from the cacao beans. Plus it adds a nice concentration of essential magnesium to your daily intake, contributing to your good mood for the day.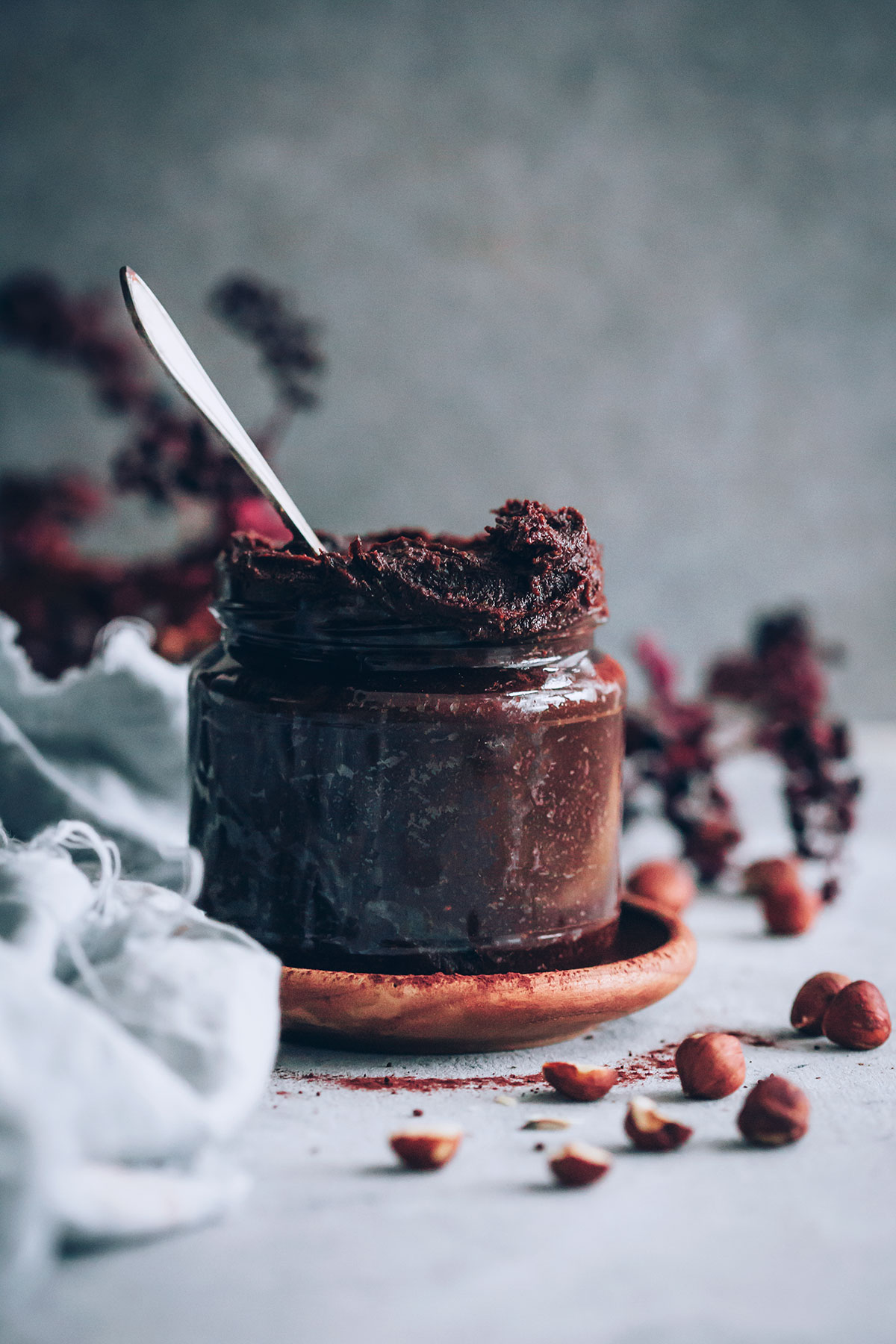 Nuts are always a good idea, be it walnuts, cashews or hazelnuts. For our chocolate cream we used raw hazelnuts, which are lightly toasted in order to preserve their healthy monounsaturated fats and enhance their taste. Hazelnuts give a delicious taste to chocolate cream and any chocolate dessert.
Virgin coconut oil is a great food for your brain cells, has antibacterial properties and keeps you satiated (a fact not to be overlooked by a dessert lover!).
All these ingredients are packed with exceptional nutrients and have health benefits, but of course moderation is key for any dessert, even the healthier ones. We love spreading a big spoonful on a sourdough toast, or swirling it into our favorite pie fillings, just like we did with this pumpkin pie!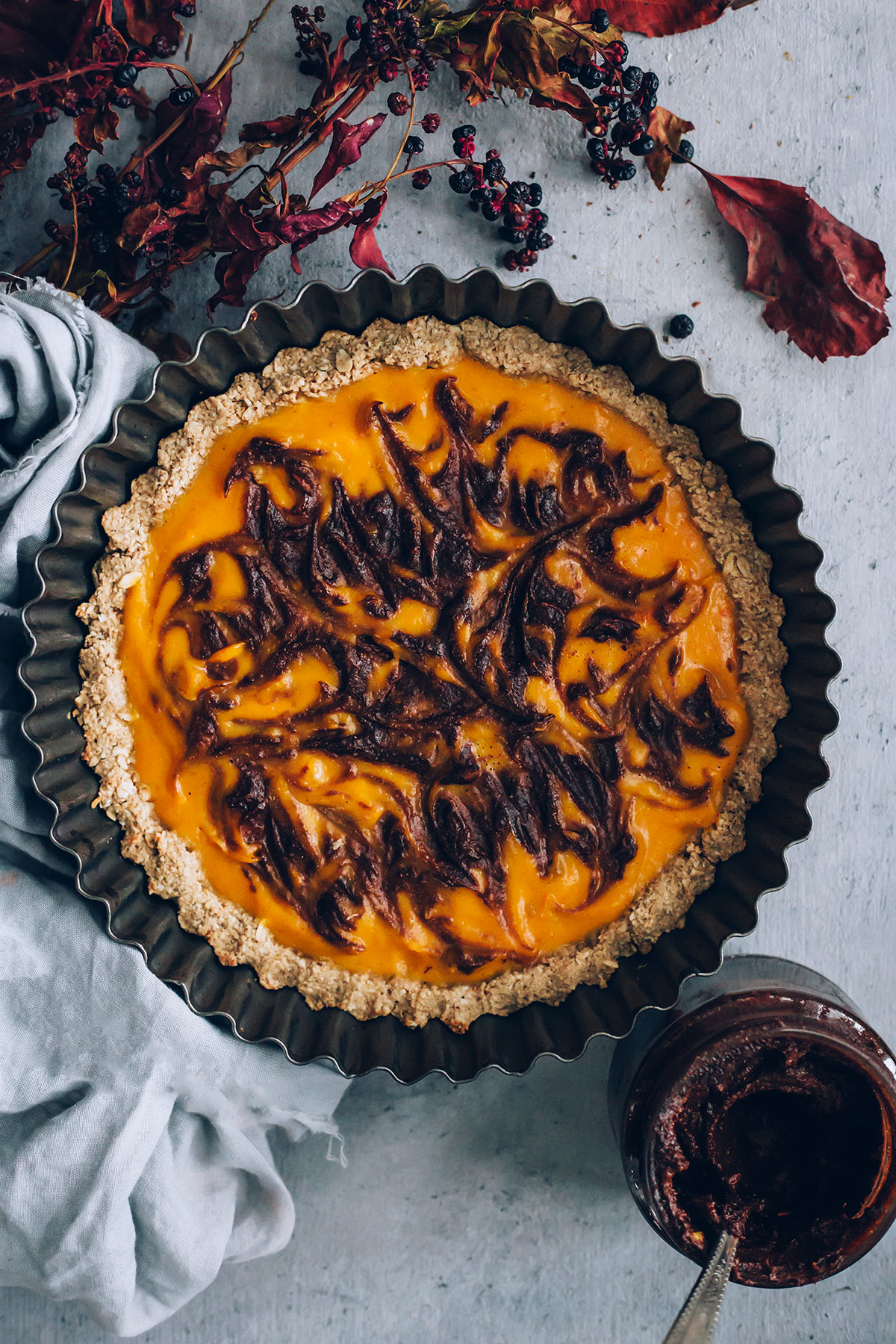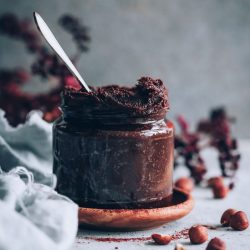 Superfood Vegan Nutella + Gluten-Free Pumpkin Pie with Nutella Swirl
Ingredients
For the Vegan Nutella (to fill a 10 oz jar)
1

cup

dry pitted dates

soaked into water for 1 hour

2

tablespoons

raw cacao powder

1

tablespoon

virgin coconut oil

2

cups

raw hazelnuts

lightly toasted

1/4

cup

unsweetened almond milk

Pinch

sea salt
For the Pumpkin Pie (for a 9-inch tart pan)
1 1/2

cups

rolled oats

1/3

cup

coconut oil

2

tablespoons

coconut sugar

2

tablespoons

unsweetened almond milk

2

cups

roasted pumpkin puree

1

teaspoon

ground cinnamon

3

organic eggs

beaten

2

tablespoons

full fat coconut milk

2

tablespoons

Superfood Vegan Nutella
Instructions
Drain the dates and add them into the food processor.

Pulse to obtain a creamy butter.

Add the rest of the ingredients and process to obtain a chocolate cream (it will take about 5 minutes with pauses).

Transfer the chocolate cream into a jar.

Preheat the oven to 200C/392F.

Add the oats into the processor and pulse two or three times to obtain a chunky flour.

Add the coconut milk, sugar and almond milk and process to obtain a dough. Cover with plastic foil and add into the freezer for 10 minutes.

Roll the dough into a 11' diameter circle and transfer to the 9' tart pan. Flute the edge as desired, than cover with plastic foil and refrigerate while you prepare the filling.

Add the pumpkin puree, eggs, coconut milk and cinnamon to the processor and pulse to obtain a smooth mixture.

Remove the tart pan from the refrigerator and fill the tart with the pumpkin mixture.

Top with Superfood Nutella and use a sharp knife or a toothpick to make swirls. 

Bake for 30 minutes, then remove and set aside to cool before serving.
Leftover pumpkin puree? You can use it to make a face mask instead of letting it go to waste.
12