I hate to break it to you, but your smartphone is probably disgusting. In fact, I read somewhere recently that your phone may be up to 6 times dirtier than a toilet seat. And if that's not enough to scare you, just remember, you hold that thing up to your face on the reg. Gross.
But it also got me thinking: how dirty are the rest of my devices? Especially the ones I have never cleaned, like my Kindle, camera gear, laptop keyboard, you name it. Since we cart our electronics around everywhere, they're veritable petri dishes that are long overdue for a good scrub down. Here's how to clean your tech devices so they last a long time and don't make you sick.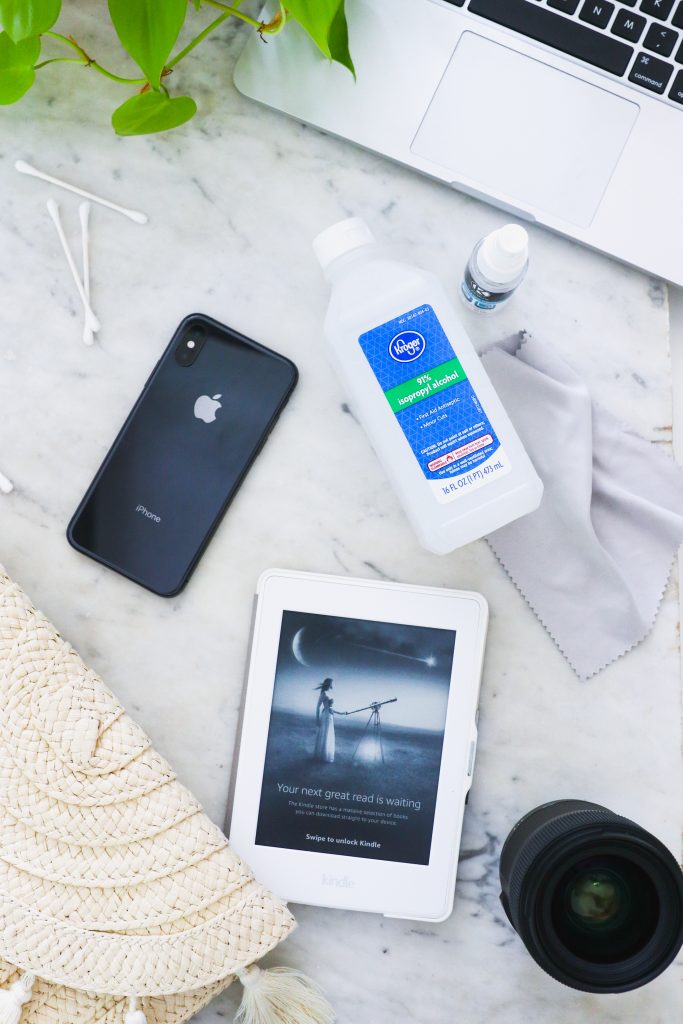 How to Clean Your Tech Devices
In order to get your tech clean while protecting it from nicks and scratches, you need the right tools. While not all of these are mandatory, I consider these the basics for getting rid of dirt, grime and germs without making problems worse:
Rubbing Alcohol. It's cheap, it dries quickly and kills germs like a boss. But it's not the gentlest of cleaners and there are certain devices that should never be cleaned with rubbing alcohol. For those, you'll need…
Screen spray or disposable screen wipes. These contain an alcohol-free cleaning agent made specifically for fragile screens. Since they're gentle, you don't have to worry about them stripping the protective coating from your devices or leaving a hazy film.
Microfiber cloths. These super soft towels actually pick up lint and dust as opposed to just moving it around. And as a bonus, they're said to help prevent scratches when you're cleaning monitors and other screens.
Cotton balls. Perfect for spritzing with rubbing alcohol and using to disinfect your tech.
Q-tips. I use these to clean gunk out of nooks and crannies. Either spray them with rubbing alcohol to clean tight spaces or use them dry like a tiny duster.
Soft brushes. While they make brushes specifically for camera lenses and the like, a new (clean!) makeup brush can work just as well. Use it to remove dust and crumbs on keyboards, camera lenses, remotes, etc.
Lint-free lens cloths. Since you don't want to rub dirt particles into your lens (or your phone screen for that matter), these are essential for making delicate screens shine like new.
Compressed air. This is best for blowing dust out of small spaces like keyboards, camera bodies and phone charging ports.
Now, here's how to clean your tech devices.
Laptop
Your laptop usually goes where you go, so chances are it's a hot mess. Since the keyboard is known to collect dirt and crumbs, you'll want to start by cleaning it first. Hold your laptop open and gently shake it with the keyboard facing the floor. Then grab a soft brush and dust between the keys.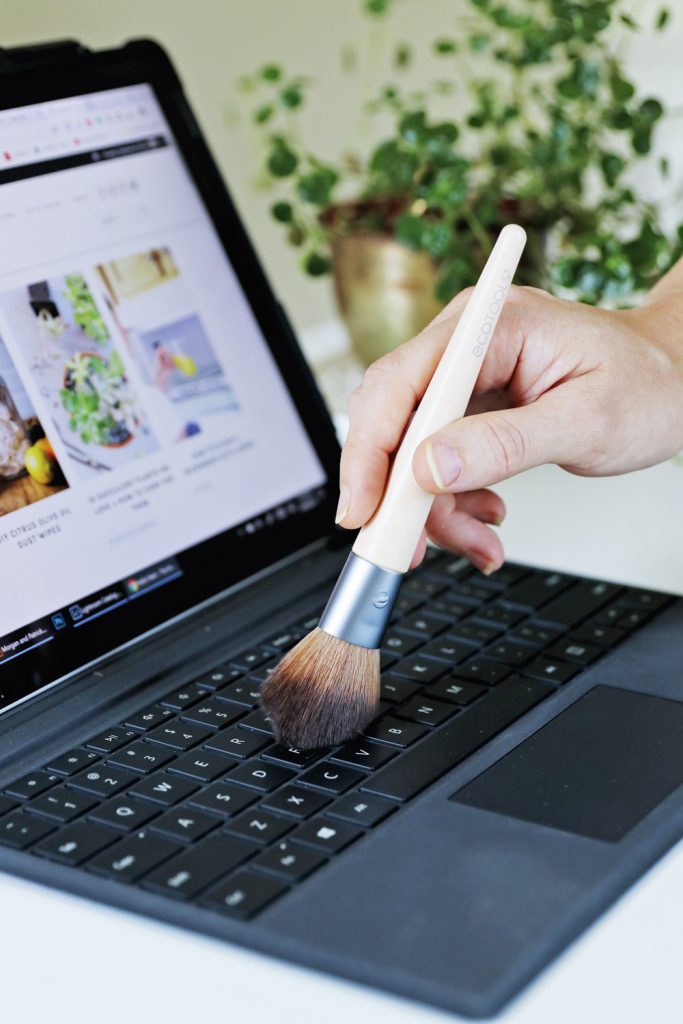 Lastly, spritz a microfiber cloth with a 1:1 ratio of rubbing alcohol and water and disinfect the keys, being sure not let the solution drip down between the keys. Make sure your computer is turned off, and with the same microfiber cloth, wipe down all the plastic or metal surfaces. Focus on any areas with visible fingerprints, dirt or grime.
To clean the computer screen itself, use a screen spray or disposable screen wipes. A microfiber cloth will help prevent streaks or scratches.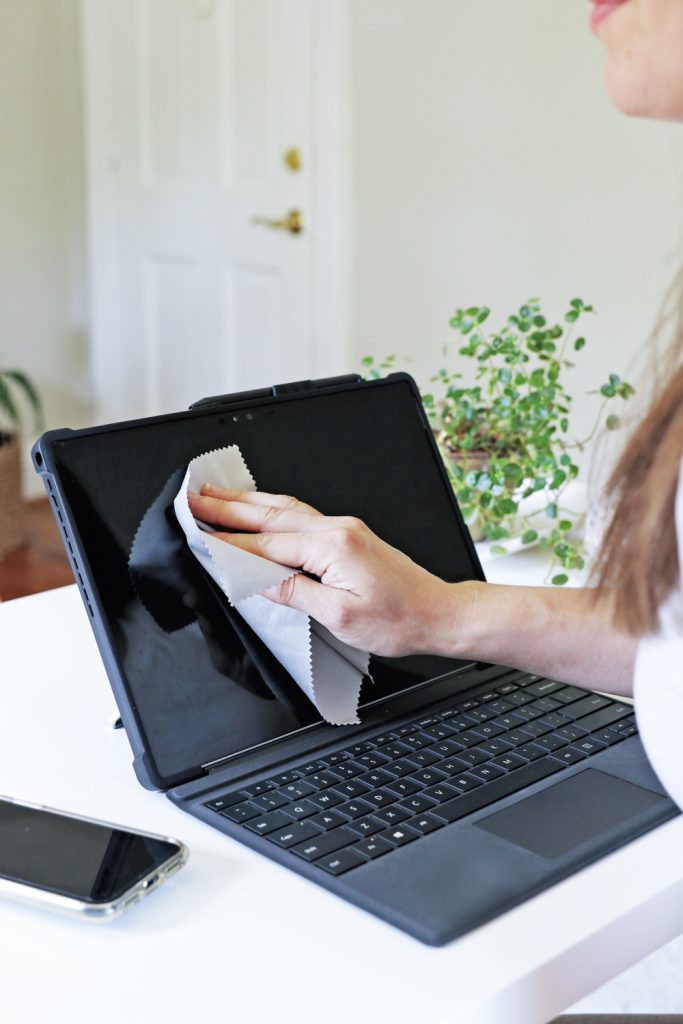 Flat Screen TV
Standard glass cleaners can destroy your TV screen, since most have an anti-reflective coating that's sensitive to some chemicals. To get rid of dust and fingerprints, apply water to a microfiber cloth and gently go over the screen's surface. While I'm not sure if it's "recommended", I have been known to use glass cleaner on the plastic parts of our TV without any issues. Simply spritz a little on a clean cloth and wipe down the TV frame while being careful to avoid the screen itself.
Don't forget to clean your remotes while you're at it, since they're often a sticky, greasy mess. Simply go over the surface with a mixture of water and rubbing alcohol. Then dip a cotton swab in the solution and go in between all the buttons.
e-Reader
Much like your TV screen, it's best not to use any chemicals on your e-reader's screen either. Read your device's User Guide to make sure you can get the screen a tiny bit wet. Then apply water to a microfiber cloth, wring it out as best you can and gently go over the screen's surface removing dust, crumbs and fingerprints.
I also dilute a bit of rubbing alcohol with water and lightly wipe it over the back of my device to get rid of germs.
Cell Phone or Tablet
Most phone or tablet screens have a fingerprint-resistant coating, so you'll want to take extra care when cleaning these. The gentlest thing to do is take a soft microfiber cloth and a bit of distilled water and wipe it down, focusing on finger prints and grime. You can also use cotton swabs to clean hard to reach places like between the buttons. Water won't disinfect your phone, though, so I also recommend using a screen spray when you want a deep-clean.
If your phone or tablet has a screen protector on it, feel free to use a 1:1 ratio of rubbing alcohol and water to disinfect the screen as well as the case and the back of the device.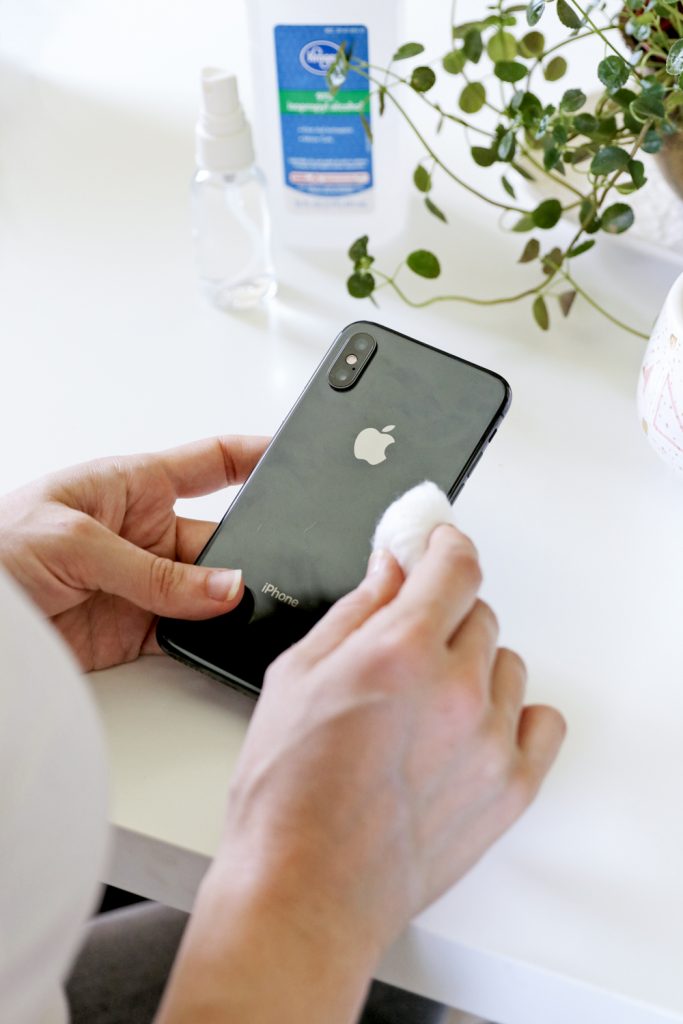 Fitness Tracker
It's probably safe to say that your fitness tracker isn't the most sanitary device you own – but it is one of the easier things to clean. Wipe down the face with a bit of water and a microfiber cloth. Then disinfect the band down with a small bit of rubbing alcohol and a cotton ball. Let it dry completely.
Camera
Start by cleaning your camera lens. Using a soft, clean brush (one specifically made for cameras is best but a new makeup brush will also work in a pinch), gently dust away lint and debris on the lens. Since you don't want to grind dirt into your lens, take your time and be as thorough as possible here. Next, use a pre-moistened lens towelette or a lens spray and a lint-free cloth to wipe away finger prints and smudges.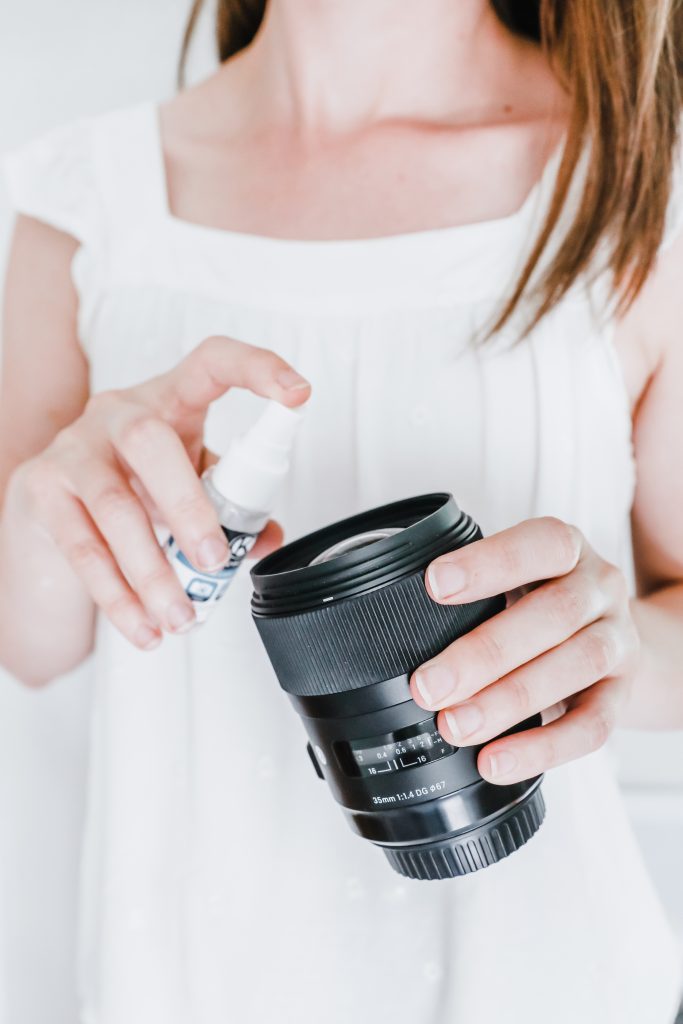 Next, move on to the body of the camera. Give the body a light dusting with your brush, followed by a more thorough wipe down with a microfiber cloth. To disinfect it, you can wipe down the body with a 50/50 mix of isopropyl alcohol and water. Just make sure to wring the cloth out so it's practically dry first – you don't want to let any moisture get inside your camera body.
Earbuds
Hold you earbuds with the mesh side facing down. Take a brush or a dry cotton swap and gently wipe the mesh to remove debris without pressing it further into the earpiece.
Next, dip a cotton swab in rubbing alcohol, squeeze out the excess and wipe the bud to remove any remaining gunk.
Finish off dipping a cotton ball in rubbing alcohol, squeezing it out and wiping down the outside of the earpiece and the cords.
9