I know this sounds like a first world problem, but you know when you buy some new dishes at the store and then spend hours (hooours) peeling off the stickers when you get home? And don't get me started on picture frame stickers. It's seriously the worst. I don't know why some stores insist on affixing their labels with crazy glue but over the years I have tried everything to get those suckers off.
Luckily there are a few things you can do to salvage items seriously marred by misplaced stickers—and it doesn't require a PhD or a bunch of odd-sounding supplies. Here are 5 ways to remove sticker residue quickly and easily the first time around.
5 Ways to Remove Sticker Residue
We're all about repurposing old jars, but first you have to get the label off. Ugh. Once you peel off a label or price tag, you're often left with a thick layer of gunky glue that can seem impossible to get rid of.
Sometimes I don't even get that far – it's all I can do to get the label off at all, so I'm left to deal with both the paper and the glue underneath. Talk about a big ol' mess.
First, put down the knife
If you're tempted to scrape off the label with a glass scraper or putty knife, don't. It can scratch the ceramic surface, leaving you with a hazy or chipped item instead.
Do try to remove as much of the sticker residue as you can using a fingernail or wet paper towel. But if the label is especially stubborn, I prefer not to mess with it all and just one of the following methods to soften the paper and weaken the glue underneath. Sometimes a quick once-over with a hairdryer is all it takes to melt the glue and allow you remove the label in one fell swoop.
1. Soak it in vinegar
Vinegar has long been used to break down grease and stubborn residue on hard surfaces. To use, soak a paper towel or an old rag in white vinegar and drape it over the sticky surface.
Let it soak in for a few minutes, then wipe away. It should remove a great deal of sticky residue with it, but if needed, use a plastic scraper to get rid of any excess residue.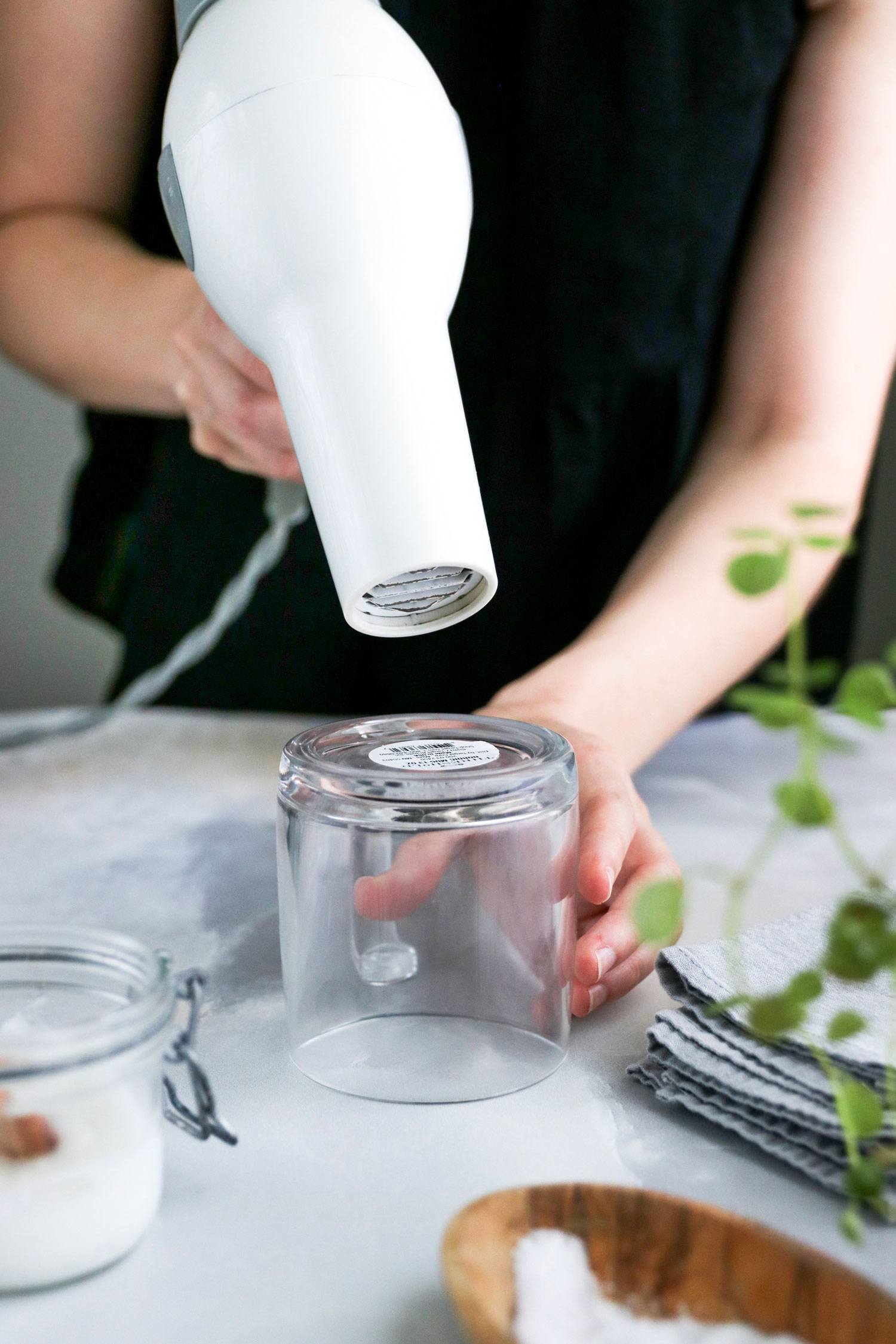 2. Use a blow dryer
Of all the ways to remove sticker that I've tried, this one is by far my favorite. Set your hair dryer to high and aim it directly at the offending label for 20 to 30 seconds. Set the dryer aside and, while the glue is still warm, use your fingernails to gently pry the label away from the surface.
Keep re-heating the glue as necessary until you've completely removed the sticker. If done correctly, the sticker should peel off without ripping or tearing into small, hard to remove pieces.
3. Make your own Goo Gone
I love Goo Gone for getting rid of lots of gunk and grime, but I'm not a huge fan of the ingredients. Turns out you can make your own Goo Gone using a couple of items in your pantry.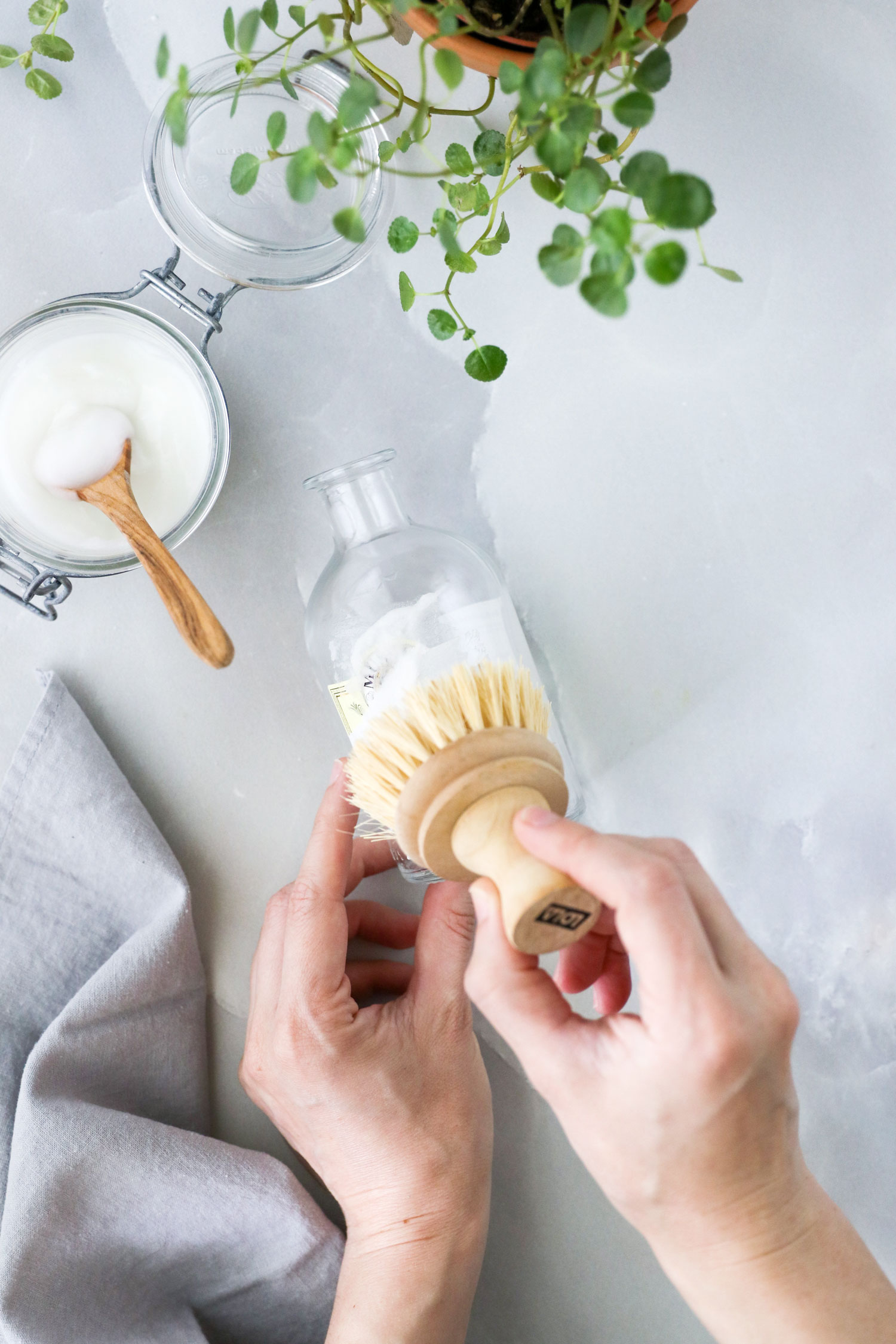 Simply mix together 2 tablespoons vegetable oil and 3 tablespoons baking soda. Apply a thick layer of the paste over top the sticky stuff and use your fingers or a bristle brush to gently buff it away. The oil and baking soda gently remove sticker residue without damaging or scratching the surface underneath.
4. Soak it in hot, soapy water
Place a few drops of dish soap in a bowl or sink full of hot water. Immerse the item, label and all, in the water and let it soak for 15 minutes. The water will soften the glue and dissolve the paper, allowing you to brush it clean using a dish brush or your fingernails.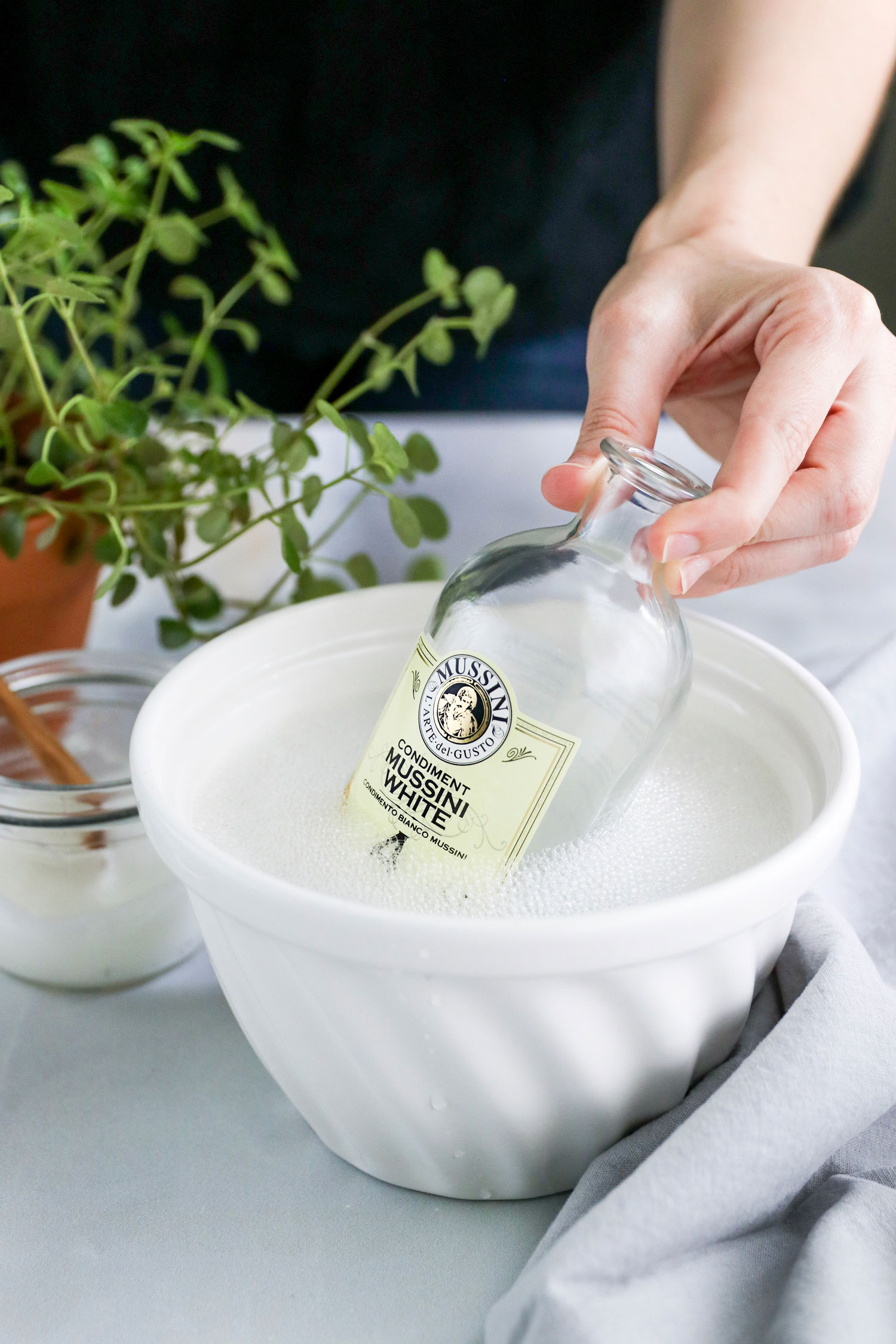 5. Coat it in olive oil
Apply a thick coat of olive oil directly the sticker and let sit for 30 minutes to soften residue. Once it has had a chance to sink in, use your finger to scrape away what's left of the label. Wipe away any remaining oil using a clean, dry rag.
Speaking of reusing pretty glass containers, here is how to get wax out of old candles.
32