In Tennessee, you can almost bet that as soon as Labor Day ends, it's time to pack up the swimsuits and bring out the fall wardrobe. The weather seems to change overnight, bringing in the crisp temperatures. And I love it.
I love getting ready to wear boots and cozy sweaters again. Love indulging in a few pumpkin spice lattes. Love watching the trees change colors. Fall is the best season.
Fall brings a big change after months of heat and sunny skies. Use essential oils to find balance during this season of transition. Days are getting shorter and fluctuating temperatures can sap your energy and immune system.
Spicy oils like ginger, clove bud and cardamom are not only invigorating, but can also help cleanse the air. Earthy oils are grounding and invite mindfulness while citrus oils boost energy and mood. Invigorating woodsy oils like rosemary and juniper can be fortifying as autumn roles in.
Use these four categories to mix and match oils to make homemade air fresheners that will make your home smell like fall.
Spicy
Anise seed, Black pepper, Cardamom, Cassia, Cinnamon bark, Cinnamon leaf, Clove bud, Coffee, Nutmeg, Sage
Earthy
Fennel seed, Frankincense, Fresh ginger, Myrrh, Patchouli, Vetiver
Citrusy
Bergamot, Grapefruit, Lemon, Lime peel, Mandarin orange, Sweet orange, Palmarosa, Petitgrain, Tangerine
Woodsy
Cedarwood, Cypress, Fir needle, Juniper berry, Rosemary, Scotch pine, Black spruce
5 Homemade Essential Oil Air Fresheners for Fall
You don't have to have a diffuser to scent your home with essential oils. This year I'm going to experiment with giving my carved pumpkins a scented boost with a few drops of sweet orange and cardamom.
You can get creative with potpourri or candle making too. Here are 5 simple essential oil air fresheners to get you started – no diffuser required!
1. Stovetop Air Freshener
Pot simmers are one of my favorite things to make. You can whip up holiday pot simmers without essential oils, but essential oils make it easy to experiment with cozy scents.
Put a pot of water on the stove, add a few drops of oils and let the water simmer. Add more water and refresh the essential oils as the water evaporates. Coffee is my new favorite essential oil; pair it with spicy oils for a chai scent.
Chai pot simmer
Other scents to pair with coffee:
2. Air Freshener Room Spray
Commercial candles and air fresheners give me a headache – especially the ones with strong fake cinnamon scents. There are lots of cozy smells besides cinnamon! Make your own natural air freshener with essential oils that brings the scent of the outdoors in without the nasty chemicals.
Add 2 ounces of vodka to 4-ounce spray bottle. Add the drops of essential oils. Shake well and add 2 ounces of water. Shake again and spritz whenever you need a little pick-me-up.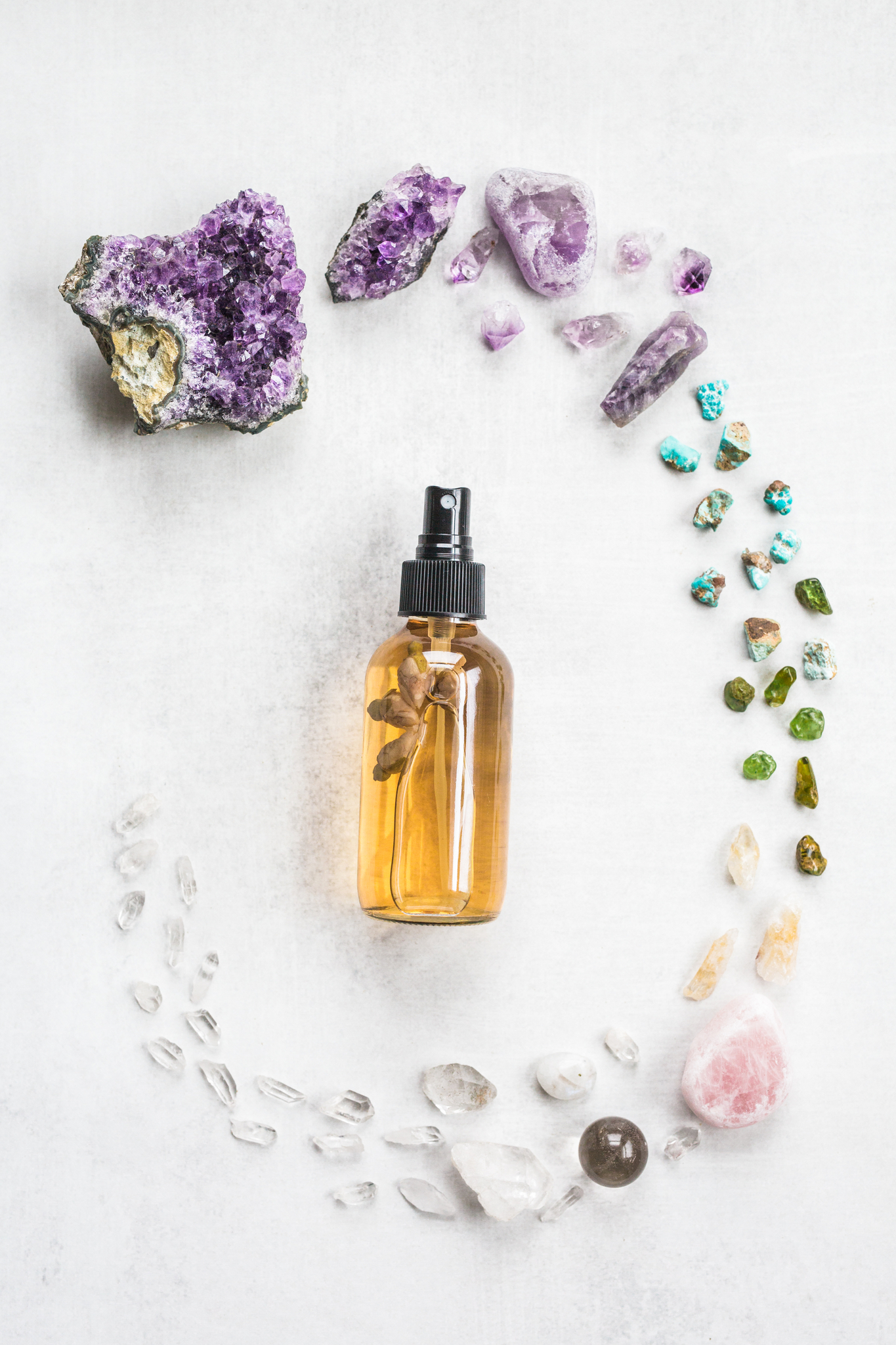 3. All-purpose cleaning spray
If you have to clean, why not make the task more pleasant? This mild cleaner works in every room in the house, and the antibacterial, antiviral and antifungal essential oils are especially good on light switches, door knobs and counters.
Combine 1/2 cup distilled white vinegar with two cups of water in a 20-ounce spray bottle. Add essential oils, replace the cap and shake to combine. Recruit your kids to start spraying.
4. Salt Candle Air Freshener
Salt candle diffusers are the easiest way of making your own scented candle. Nestle an unscented candle or tea light in scented and forget the mess of melting wax.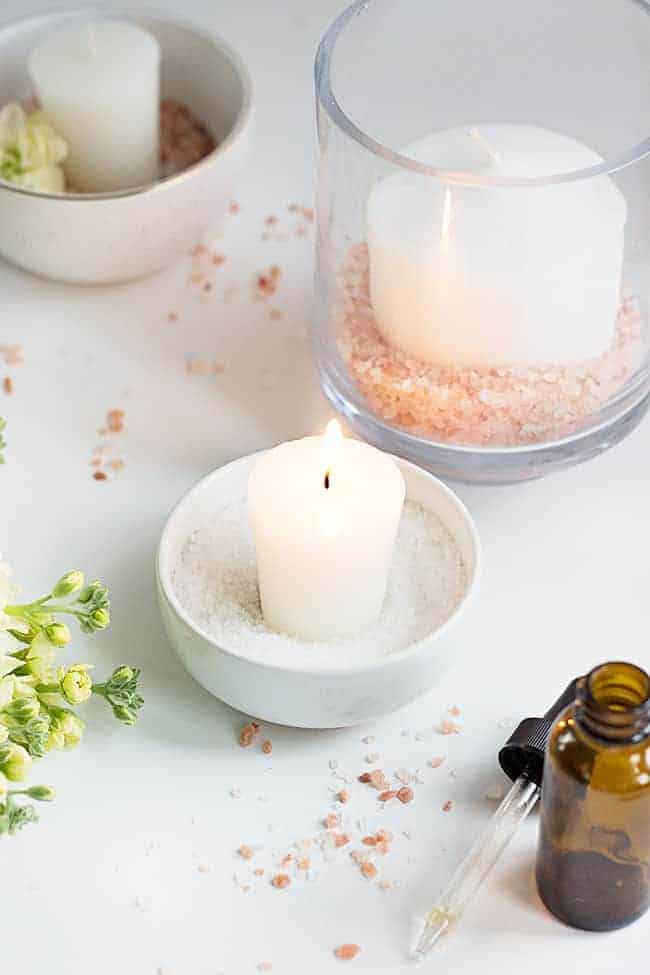 Place 1/2 to 1 cup of salt (Himalayan or sea salt) in a bowl. Add 15 drops of essential oil and stir to combine. If you want to use cinnamon leaf or bark instead of cassia, just use 1 drop and bump up the orange and patchouli by a couple of drops so they don't get overpowered. Put the salt in a small dish and put the unscented candle in the center. Light and enjoy.
5. Baking Soda Air Freshener
Baking soda does more than just take the funky smell out of your refrigerator. Use scented baking soda on your counter to refresh the air. Or sprinkle it onto your rugs and carpets and vacuum it up after 15-20 minutes. Cleaning and deodorizing at the same time is a win-win! Use baking soda with lavender any time of year or try this fall essential oil recipe.
Place 8 ounces of baking soda into a medium size mixing bowl and add the essential oils. Use a fork to break up the clumps. Pour the baking soda mixture into an 8-ounce shaker container. Place it wherever you need a scent boost; refresh the oils as the scent fades. To use with your vacuum, shake the mixture over your carpet, let sit for 15-20 minutes, then vacuum it up.
1