The first time I ever really fell in love with lavender was when I was lucky enough to visit the south of France and behold in person the sprawling fields of purple that surrounded the famous perfumery town of Grasse. I had previously associated the scent with my grandparents' era of doilies and Royal Dalton figurines, but to breathe in that breeze of fresh lavender was unlike anything I had smelled in their cupboards or hand creams. Since then, I've been turning to lavender essential oils to bring me back, as the oil holds the pure essence of the flower—fresh, mildly powdery, clean, and calming.
There are many ways you can use lavender essential oil around the home and in your natural skin care regimens, and it's a favorite of mine to combine with other oils in custom diffuser blends because it compliments and softens most of them so well.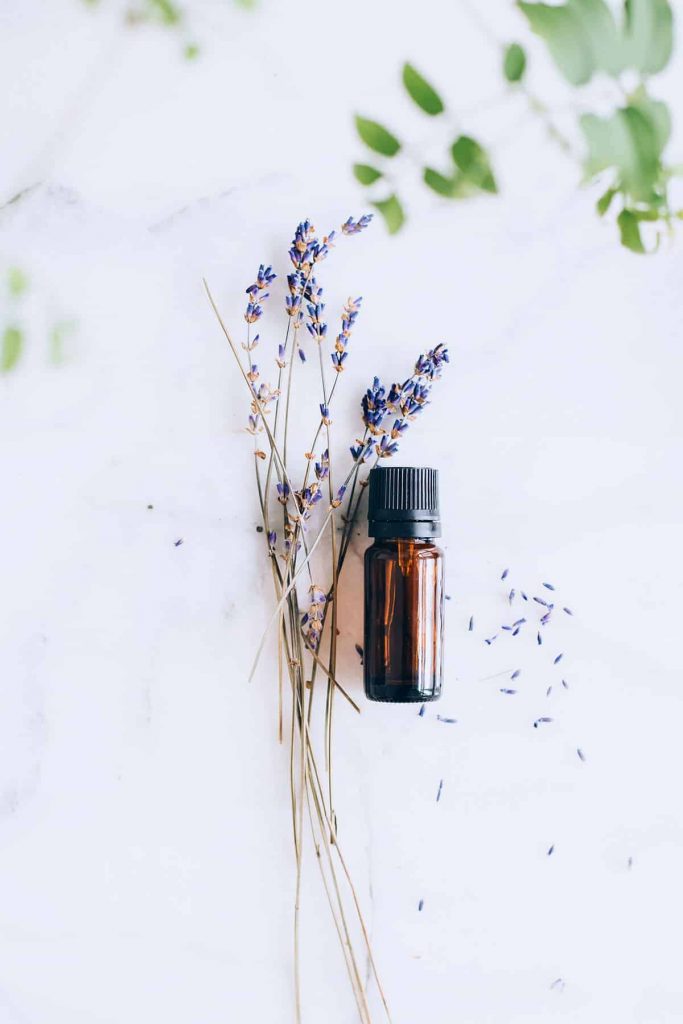 While lavender might not be the first one you think of when it comes to green cleaning (lemon, orange, tea tree, and eucalyptus are some of our favorites), it makes for a great choice due to its antimicrobial properties. The name lavender is actually derived from the latin lavare or the french lavandre, which means "to wash," a moniker it earned from being used extensively as an addition to traditional detergents.
Here are some ways to use the soft, relaxing scent of lavender around the house:
All-purpose Surface Cleaner
Whether you're looking for an all-purpose cleaner to wipe down kitchen countertops, or a gentle but effective spray to combat grime on cupboard surfaces, piano keys, light switches, wall tiles, or door handles (can you tell I have a child?), give this easy recipe a go. In a small spray bottle, combine:
1/2 C vinegar

1/2 C water

10 drops lavender oil
Shake well before use, spray over surfaces, and wipe clean with a cloth.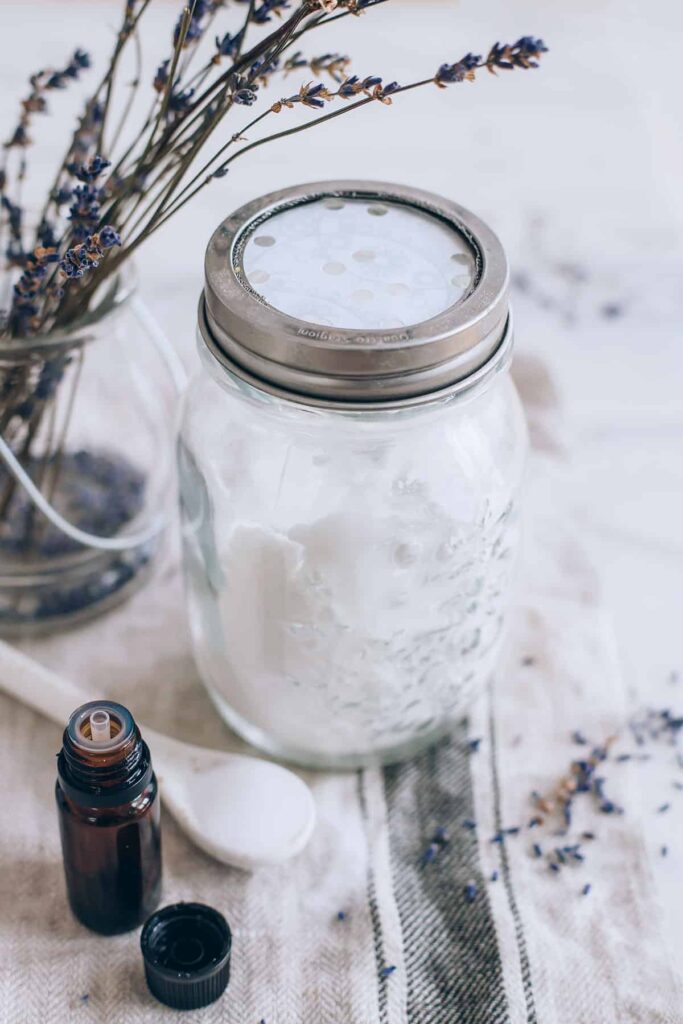 Carpet Deodorizer
If you've got kids or pets in the house, your carpets are going to take quite the beating. Even if you're able to stay on top of the messes and spills, carpets absorb and hang on to odors.
To freshen up any rugs or carpets that could be smelling stale, try sprinkling around this powder, allow it to stand for 15 minutes, then vacuum it up. This blend also works well on the mats and fabric seats in your car!
Use a mason jar with holes punctured in the lid (or use the screw ring top to secure a scrap of fabric and poke holes through to make it into a shaker) and store unused mixture in the fridge for next time.
1 box of baking soda
15-20 drops lavender oil
Mixing bowl
Fork
Shaker bottle or ball jar with holes poked in the lid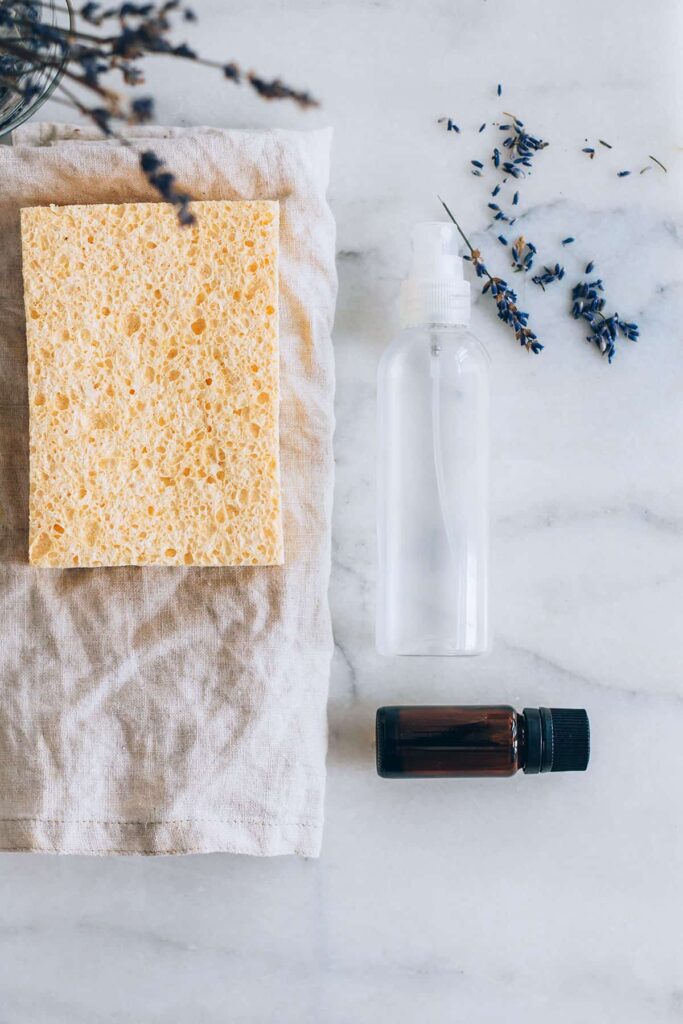 3. Room Refresher Spray
We love our naturally-scented candles and diffusers, but sometimes you just need an immediate hit of freshness, and a room spray is the perfect solution. Keep this spray in a small bottle by the toilet in your powder room, and store one in the glove compartment of the car for when you need it.
I also like to keep room spray nearby to use in my coat closets and shoe storage area which can really smell stale. In a small spray bottle, combine:
1 oz witch hazel

2 oz water

10 drops lavender
Shake well before using, and spritz liberally in the air.
4. Gentle Cleaning Scrub
For an all-natural way to scrub away grit and grime from sinks, shower tiles, bath tubs, or even inside your oven or microwave, whip up a batch of this easy and effective lavender paste. Mix together with a fork, apply in a circular motion over the surfaces, allow to rest for 5 minutes, then wash away with a damp cloth. In a bowl, combine:
1/2 C baking soda

6 drops lavender oil

6 drops lemon oil

enough water to make a paste
5. Linen Spray
To help fight the bacteria that can live in our sheets between washes, each morning when you pull back the sheets, mist some lavender spray over the linens. Allow it to dry completely, then make your bed as usual.
Not only will it work as an antimicrobial agent, but lavender has been shown to improve sleep quality, so sliding in to bed at night will not only be cleaner but more relaxing too. In a fine mist spray bottle, combine:
2 Tbsp vodka
2 C distilled water
15-20 drops lavender oil
Shake well, and spray sheets liberally.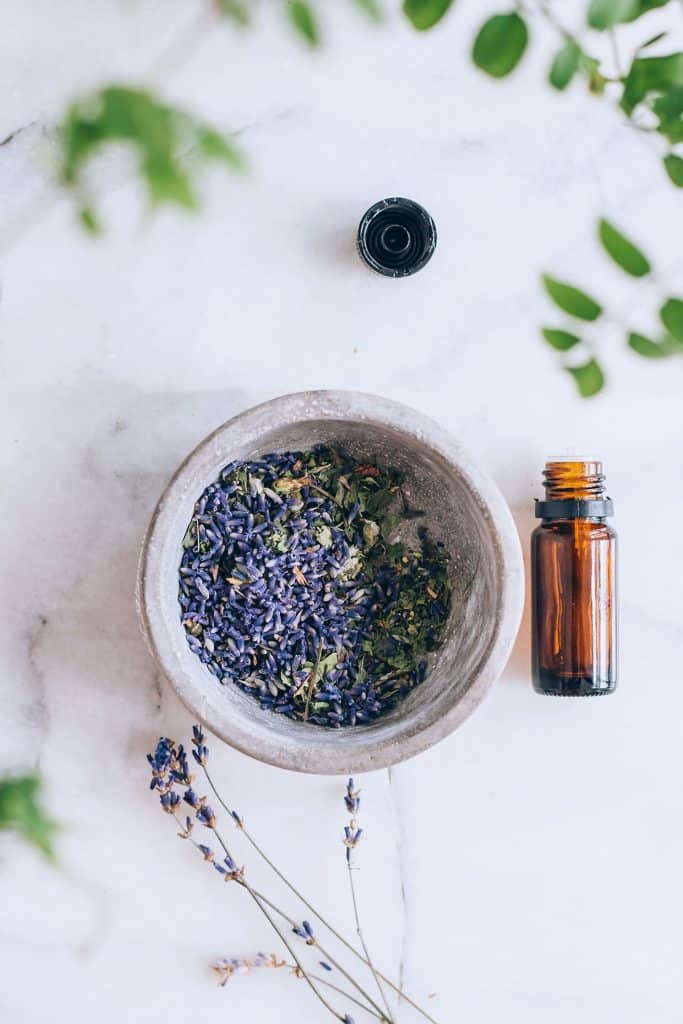 3. Lavender Air Freshener
Dried lavender smells amazing as-is but if you want to kick it up a notch, add a few drops of lavender essential oil. Fill pretty containers and place them around your home. Forget nasty aerosol sprays, this calming, cleansing smell instantly freshens the air in any room it's placed. I have a little jar on my desk in the office, and one on my nightstand at home. It smells fantastic and it's nice to have around for any "emergency" aromatherapy needs.
7. Closet and drawer insect repellant
So maybe my grandparents were onto something with all those lavender sachets they had tucked away in closets and drawers—it turns out moths are turned off by the scent of lavender, so not only will your clothing smell great, but you can keep your closets clear of insect larvae and your sweaters free from holes. And you don't need to travel to Provence to stock up on them either!
Make your own sachets. If you aren't much of a sewer and don't have any small cloth pouches laying around, repurpose an old pairs of pants that are no longer wearable–cut out the front inner pockets, fill with a few cotton balls soaked with lavender essential oil, fold over and either stitch the pocket closed or seal it with a safety pin. This DIY suggests using uncooked rice to hold the essential oils instead of cotton.
Easy peasy! Tuck them away in the backs of drawers, in the corners of closets, or in any place where you keep your woollens. I always keep a lavender sachet in my bra and underwear drawer for a little extra ooh-la-la.
Next time you're looking to mix up some natural cleaning products, why not switch up the usual go-to oils for lavender. Not only will it get the job done, lavender can lend a sense of calm to your space, and maybe even add a little South of France to your day. Oui, merci!
22