If you've ever made your own laundry detergent, chances are you've heard of washing soda. I remember my grandmother always kept a box under the kitchen sink, but it wasn't until recently that I felt the need to use it myself. Often relegated exclusively to the laundry aisle at the grocery store, it turns out that washing soda actually has a lot of everyday uses besides just laundry. You can use it as a scouring powder, a dish soak, patio furniture scrub or a natural carpet cleaner, to name a few. And if that weren't enough, you can even make it yourself from a box of baking soda for next to nothing.
Here's how to make your own washing soda and 12 of my favorite ways to use it around the house.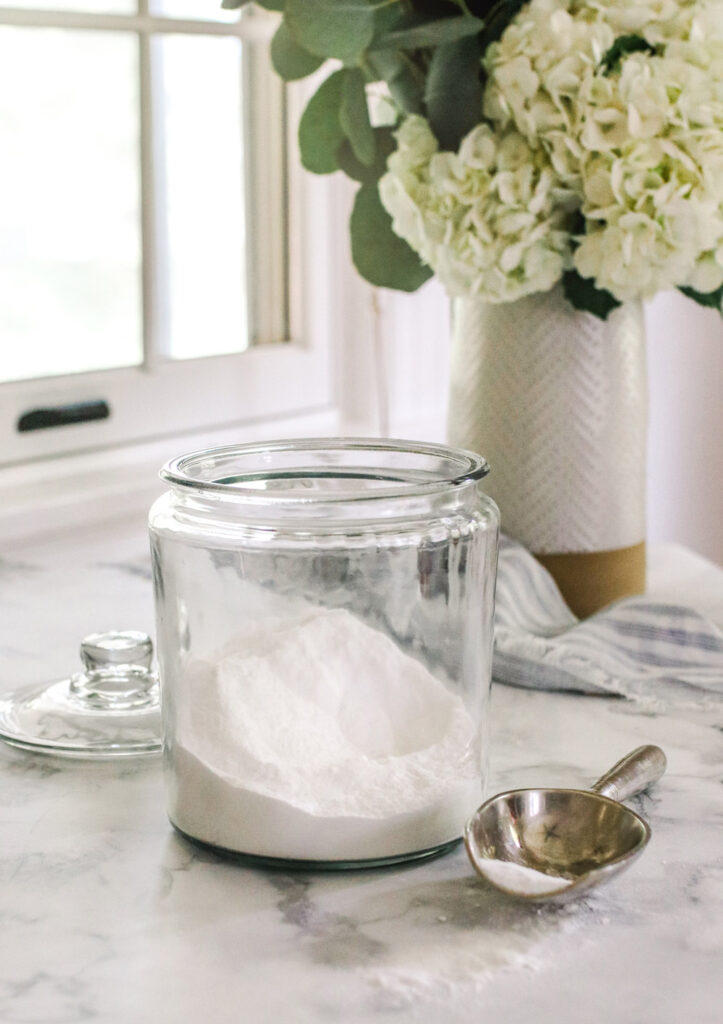 What is washing soda?
At its most basic, washing soda is simply the ash of sodium carbonate. Traditionally, it was made from the ashes of seaweed, kelp and certain types of plants grown in sodium-rich soil. But nowadays, rather than making it from plants, washing soda is often made from much cheaper and more abundant limestone.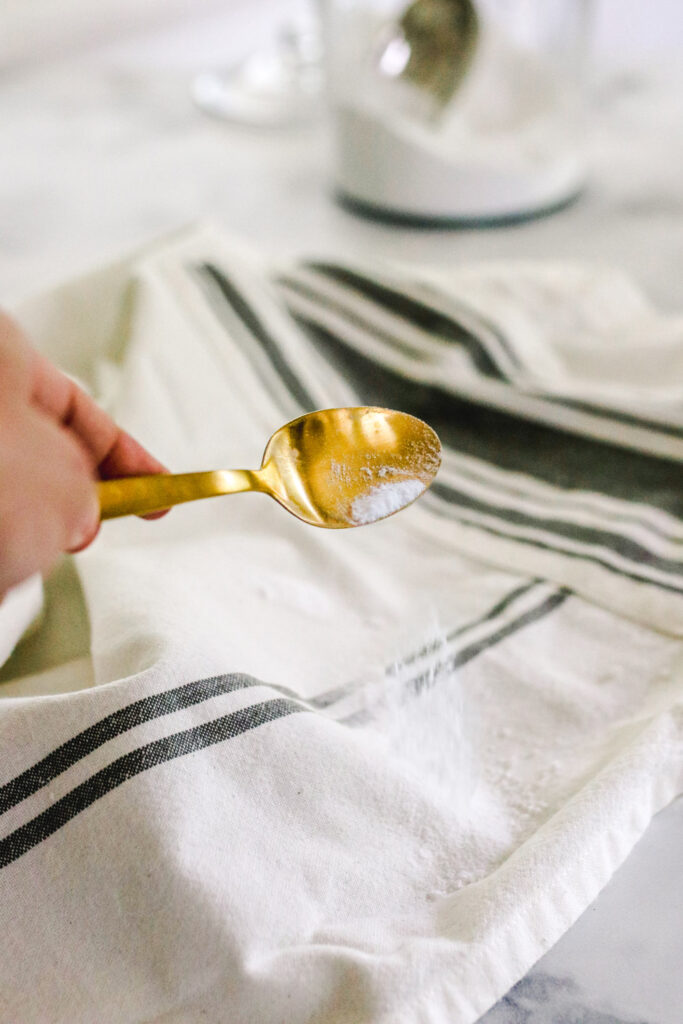 Because it's loaded with sodium, carbon and hydrogen, washing soda is a highly effective natural cleaner.
It's long been used as a laundry additive to remove grease, hard-to-tackle stains and dirt. Because it competes with magnesium and calcium ions in the water, washing soda prevents those ions from binding with laundry detergent and whisks them away prematurely. In other words, it makes laundry detergent (especially the homemade kind) more effective at removing stains and cleaning clothes.
But it's not just limited to laundry. You can use washing soda for a variety of household purposes.
12 Ways to Use Washing Soda
All-purpose cleaner – Add a teaspoon to your homemade all-purpose cleaner.
Grease stain remover – Sprinkle dry washing soda on oil stains. Let it absorb the oil until the stain appears fainter or disappears entirely. Wash as usual.
Carpet cleaner – Sprinkle on musty carpets, let sink in for 30 minutes and vacuum up.
Laundry booster – Add ½ cup to laundry to boost your detergent's cleaning power.
Water softener – Add to laundry to help soften hard water.
Scouring powder – Sprinkle in sinks, showers or on dirty dishes to get rid of gunky build-up.
Oven cleaner – Sprinkle some washing soda on a cloth or sponge to get rid of grease and caked-on food in your oven.
Pot and pan soak – Add ¼ cup to a sink full of dirty pots and pans to dissolve grease.
Drain cleaner – Pour ½ cup washing soda down your kitchen sink drain to keep it unclogged and smelling fresh (here are more methods that actually work)
Microwave de-greaser – Use washing soda and a sponge to clean a dirty microwave.
Trash can deodorizer – Sprinkle at the bottom of your trash can to get rid of odors.
Grill cleaner – Make your grill grate shiny and new by soaking it in a 1:1 mixture of washing soda and water for an hour.
How to make washing soda
While you can buy washing soda at the store, commercial washing soda isn't as "natural" as it used to be. Most contain chemicals known as optical brighteners, which make your clothes appear whiter by giving them a bluish tint. Synthesized from a variety of chemicals, optical brighteners are toxic to humans and have been known to kill aquatic life and promote antibiotic resistance. Although the companies that use them say they're safe, I prefer to avoid them if possible.
That's where homemade washing soda comes in. All you need are baking soda, an oven and a little time on your hands to make your own chemical-free washing soda.
Supplies
3 cups of baking soda
Cookie sheet
Spatula
Instructions
1. Preheat your oven to 400 degrees F.
2. Spread the baking soda in an even layer on the baking sheet. The layer should be at least 1/2-inch thick, so if you're using less baking soda, use a smaller cookie sheet as well.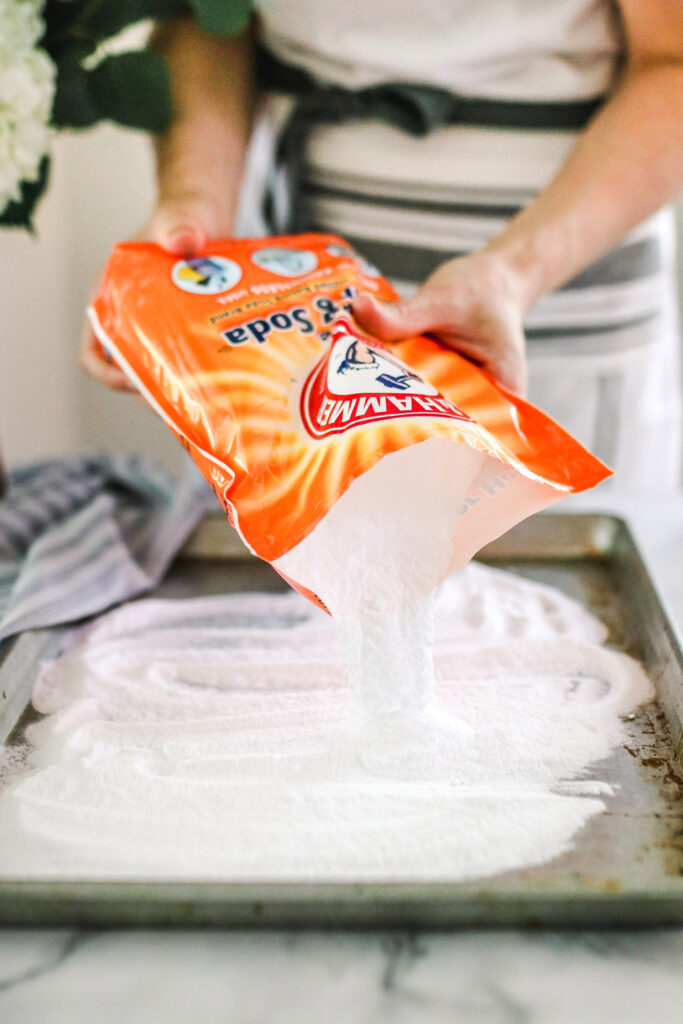 3. Bake for 1 – 1.5 hours, stirring every half hour. The baking soda needs to reach at least 400 degrees to convert to washing soda, so the bake time could vary depending on your oven, the size of your pan and the thickness of the baking soda. You will know it's ready when the baking soda starts to appear flat and grainy as opposed to light and fluffy.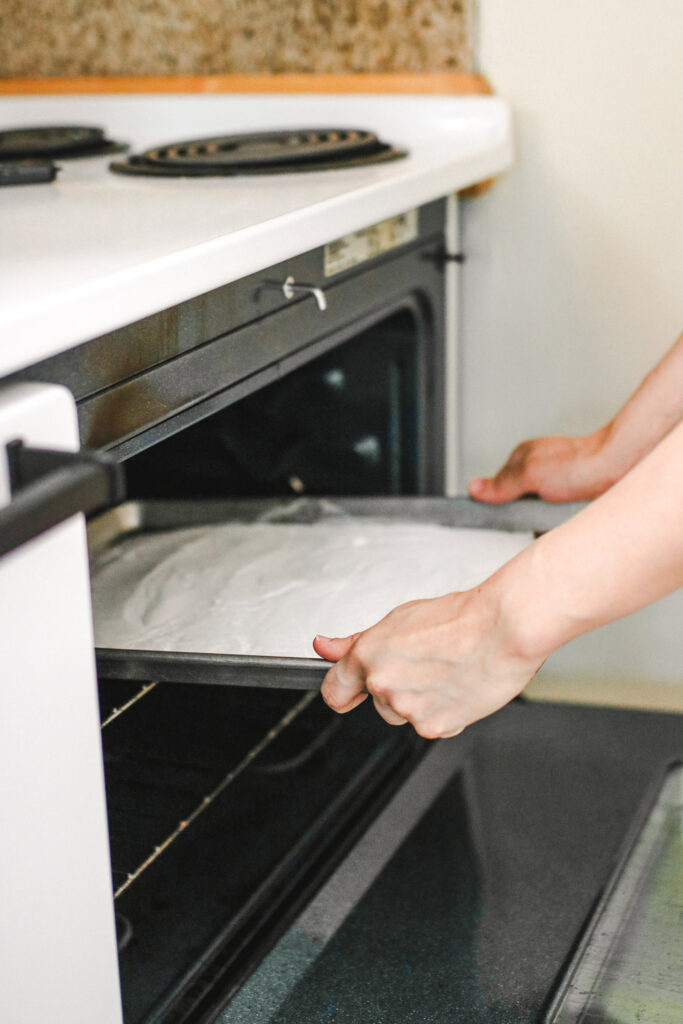 4. Let cool and store in an airtight jar.
48