If you're on the path of transitioning to toxin-free cleaning and natural laundry alternatives, then replacing your store-bought fabric softener with infused vinegar fabric softener is a fantastic next step! First we tackled all-in-one laundry bombs, and our natural laundry series continues with the easiest DIY ever for vinegar fabric softener.
There are so many wonderful uses for vinegar, and it is a must-have for your laundry routine. It reduces static, brightens colors, removes soap residue, whitens whites and fights stains.
The only downside: it's stinky. While you won't smell vinegar on your clothes later, you might miss the smell of scented store bought laundry softener. Good smelling clothes is one of the few perks of laundry duty, and this infused vinegar fabric softener is the perfect solution.
DIY Infused Vinegar Fabric Softener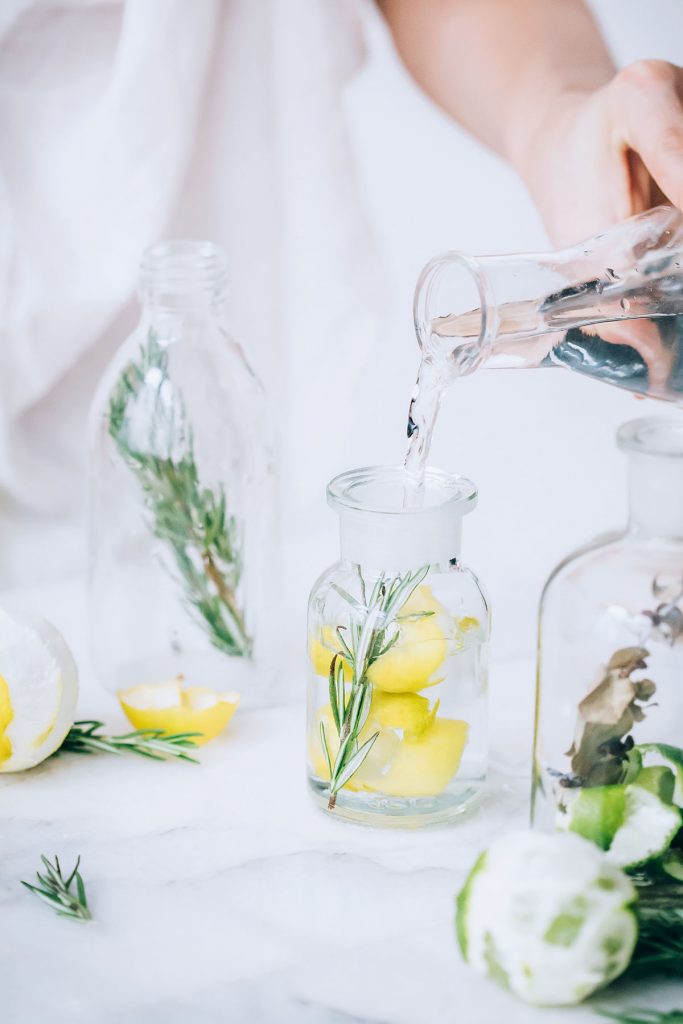 Benefits of Vinegar
First of all, most store bought fabric softeners contain harmful chemicals – some of which are linked to health issues like headaches, respiratory problems, and even cancer (source: Natural Life Magazine). Distilled white vinegar fabric softener is a much healthier substitute!
Second, replacing expensive store bought fabric softeners with distilled white vinegar is a great way to save money on cleaning products.
Lastly, infused vinegar is both easy to make and easy on the eyes (just check out how pretty this lavender vinegar cleaner turned out)! DIY infused vinegar stored in a glass jar is arguably prettier than store bought fabric softener packaging.
And one more bonus benefit is that it's better for the environment. Buying distilled white vinegar in bulk is far more eco-friendly than store-bought fabric softeners sold in small, single-use plastic containers.
Infusing Vinegar
Infusing vinegar is super easy – and pretty, too, so you won't mind having a bottle or two in the laundry room. You can replace expensive commercial fabric softeners with white distilled vinegar. Vinegar acts as a natural fabric softener that softens clothes without leaving any residue.
Start by adding your scent ingredients to a jar. You can use citrus peels, herbs, dried flowers or essential oils. Next top up the jar with warm white vinegar and allow the ingredients to infuse for 1-2 weeks. Letting it sit longer won't hurt!
How to Make Vinegar Fabric Softener
There are few DIY cleaning recipes that are easier or more impactful than infusing vinegar. Once you have gathered all of the necessary tools and ingredients, this project will take less than 5 minutes to complete!
Infused Vinegar Tools and Ingredients:
Jar
Distilled White Vinegar
Scent infusion ingredients (try combining ingredients like citrus peels, herbs, dried flowers, or essential oils)
Step 1: Combine Ingredients to Infuse
Add all of your "scents" to a jar, then fill the jar with distilled white vinegar. That's it! Some great scent combinations include:
Invigorating & Refreshing – Lemon peel, lime peel, and rosemary
Uplifting – Rosemary, lemon peel, and eucalyptus
Soothing – Lavender and chamomile
Relaxing – Lavender, jasmine, and geranium
After this step is complete, all that's left to do is wait 1-2 weeks (or longer if you'd like) for the ingredients to infuse the vinegar with their pretty scents.
Step 3: Strain and Use
Once the vinegar has been infused with scented ingredients, it's time to strain it into a new container so it's ready to use.
But if you like the look of your glass jar filled with your infusion ingredients, you can top your jar with a straining lid and pour directly from your original jar. No transfer necessary!
To use, add ½ cup to the final rinse cycle of your next laundry load, or pour it into the fabric softener opening in your washer.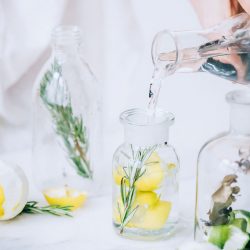 DIY Infused vinegar laundry softener
Soften and add subtle scent to your laundry with an infused vinegar laundry softener!
Ingredients
White vinegar

Scent ingredients

dried flowers. herbs, citrus peel, essential oils
Instructions
Add scent ingredients to a jar.

Top up jar with warm white vinegar.

Allow vinegar to infuse for a week or two.

Strain vinegar into new container.
25