I have a confession to make: I have a jar hoarding problem. It doesn't matter whether it's an old mason jar, a kombucha bottle or a cute mustard container, if I can stick a pump in it or turn it into a spray bottle, I'm keeping it. But cleaning up old glassware is another issue entirely. Removing gummy labels, getting rid of grease and eliminating odors is trickier than you might think.
This recipe for DIY Goo Gone will have your old bottles and jars shined up in no time. Plus with a little elbow grease and ingenuity, you'll never have to buy another fancy spray bottle or soap container again—we'll show you how.
How to Make Your Own Goo Gone + Repurpose Old Jars
1. Remove labels and stubborn adhesive
I will never know what they put in commercial adhesive that makes it so impossible to remove—it's seriously one of life's mysteries. I've tried everything from boiling water to Magic Erasers to remove the gunk underneath labels, but nothing works quite like this all natural Goo Gone. It only requires two ingredients—oil and baking soda—but it works better than the harsh chemical goo remover you can buy at the store.
To make your own Goo Gone:
Combine 1/4 cup vegetable oil with 1/4 cup baking soda in a small bowl. Stir until you get a nice paste, then spoon the mixture into a lidded jar. It will never go bad, so you can use it until it's gone.
To remove labels:
Soak the jar in hot, soapy water for about an hour.
Using your fingers, peel the label off the jar as best you can. If the paper doesn't come off easily, try scrubbing it with a sponge or steel wool.
Once you have gotten rid of most of the label, apply a thin layer of Goo Gone and let it rest for about 30 minutes. Scrub the adhesive off using a sponge or steel wool, then wash the jar with soap and water.
2. Sanitize and get rid of odors
One of the problems with repurposing glassware is that odors can be hard to get rid of and washing doesn't always do the trick. To get rid of stubborn smells, simply place the jar outside in the sun and leave it there for a day or two. If the smell hasn't quite gone away, pour vinegar in the jar and let it soak for a few hours. Rinse and repeat until the smell is gone.
Rinsing with straight vinegar will also help sanitize your jars so you can use them to store food or bath products.
3. Get rid of grease and stains
If the bottle has been used to store oil or some other hard to remove ingredient, you need to break out the big guns. First, drain as much of the oil as possible from the bottle. Then mix 1 tablespoon dishwashing liquid and 1/2 cup hot water in a small cup. Stir in 2 tablespoons of white vinegar.
Pour the solution into the bottle. If you have one, use a bottle brush to scrub the inside of the bottle. If you don't have a narrow brush, close the bottle and shake it for 30 seconds to break down the gunk inside. Rinse thoroughly.
4. Repurpose creatively
Now that you've cleaned your bottles, here's how to give them new life.
Food storage
Instead of buying Tupperware, I usually store leftover food in old glass jars. Small jars are perfect for things like herbs and spices, while large jars can hold leftover meals or to-go lunches.
Spray bottles or pumps
Save the plastic pumps and spray nozzles that come on store-bought soap or cleaning solution. They can be made to fit most narrow-neck glass bottles perfectly. I always have my husband save his kombucha bottles, then I'll swipe a spray nozzle or pump from a cheap, plastic bottle and screw it on (that's how I made the lotion container in the picture below!).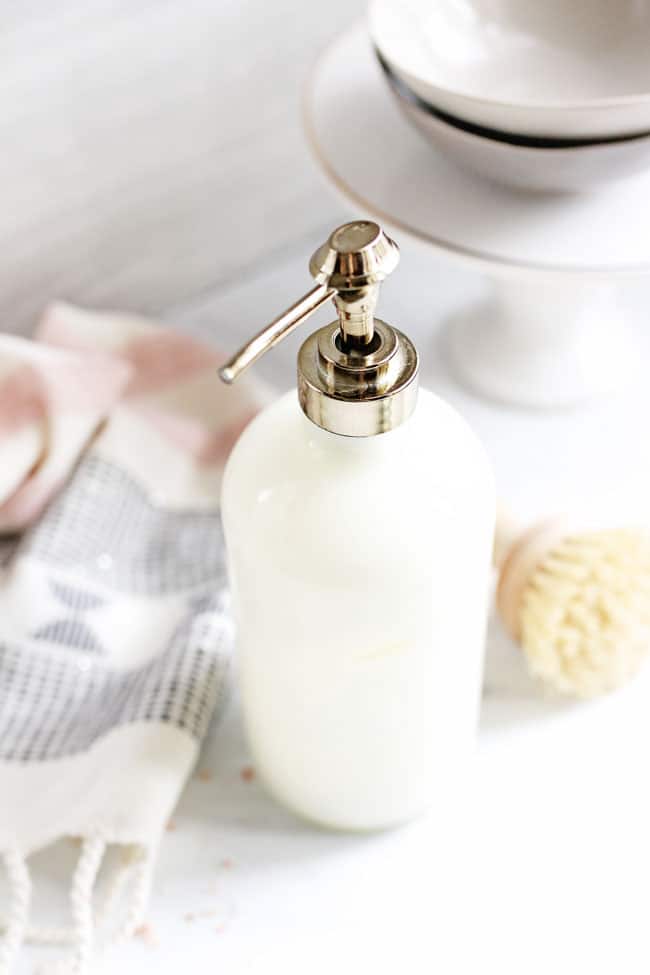 Voila–now you've got the perfect container for homemade lotions, potions and sprays.
Bakeware
Most glassware is oven safe (but I would double check before popping it in the oven) which makes it great for baking in. I like to use glass jars for baking everything from single-serving pies to casseroles.
Home Decor
And last but not least, use your old glassware to make pretty things for around the house. Old jars are perfect for turning into homemade candles, vases or terrariums.
10