Yellow armpit stains on white or light-colored shirts are an incredibly common and frustrating problem! Sweat stains are frustrating because if left untreated, they are tricky to get out of white clothing. Stain removal methods like chlorine bleach won't work on sweat stains (in fact, chlorine bleach can make sweat stains much worse!), adding to the frustration.
While you're whipping up natural laundry recipes, here is an all-natural (bleach-free) solution that will drastically improve the appearance of yellow sweat stains on white or light clothing.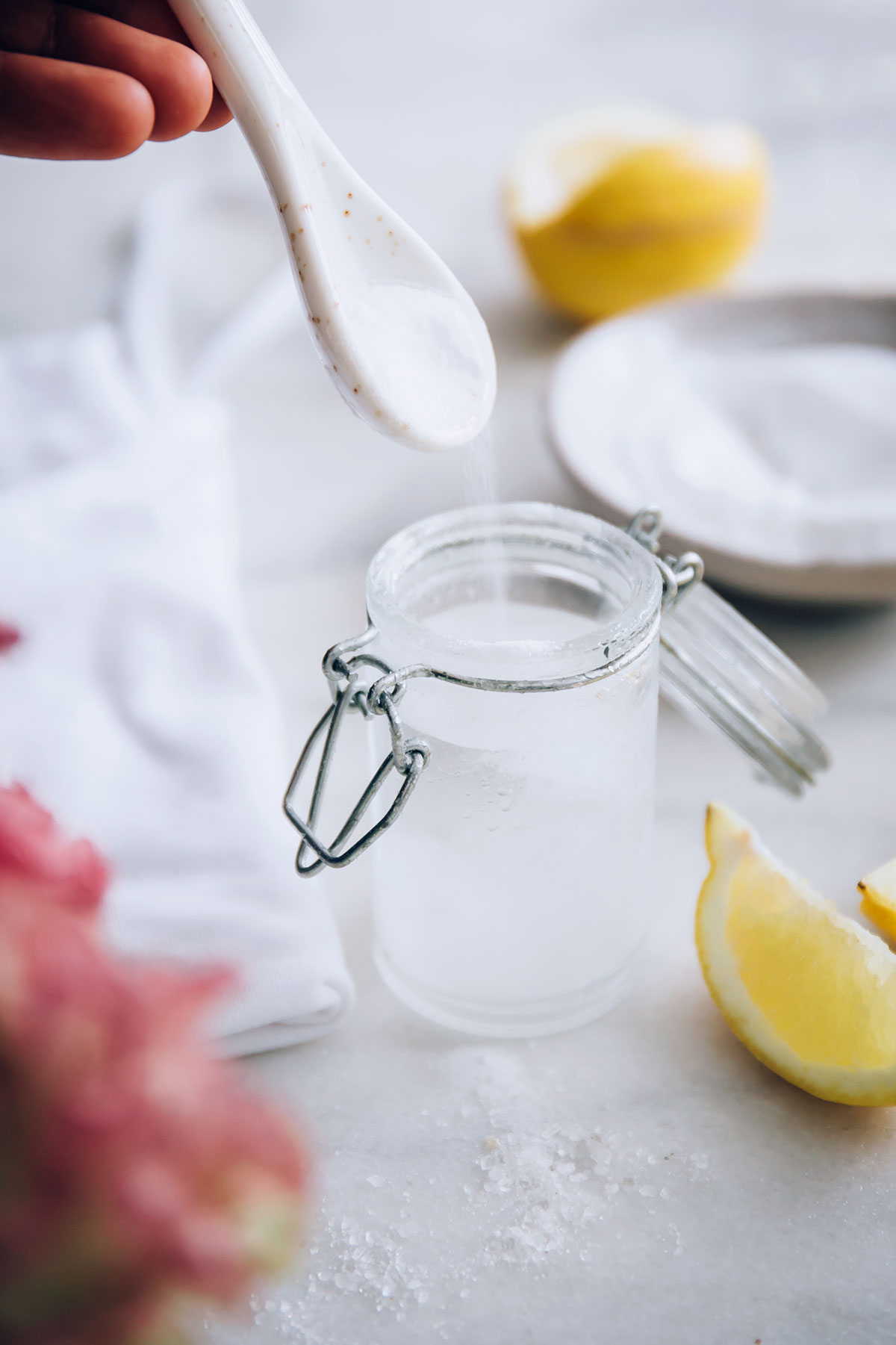 All Natural DIY Sweat Stain Remover
What You'll Need:
—Equal parts lemon juice and water
—1/2 teaspoon of salt
—1/2 teaspoon of baking soda
—Small container
—Old or unused toothbrush
Step 1: Combine Ingredients
Combine lemon juice, water, salt, and baking soda in a small container.

Step 2: Scrub
Using the toothbrush, scrub your stain-removing mixture into the armpit stain. This isn't a time to be precious, really scrub the mixture in so it can start reacting with the yellow stain.
Depending on the severity of the stain, here is where you have the option to let the stain removal mixture sit on your garment for several minutes to an hour. If it's a minor stain, feel free to move to step 3.
Step 3: Wash
Add your garment to the washing machine and launder as you normally would.
Step 4: Air Dry
Do NOT add your garment to the dryer. Allow your stained garment to air dry completely and confirm that the stain has been lifted before ever adding to a dryer. The heat from your dryer will further set the stain, making it more difficult to remove going forward.
I recommend air drying your garment in the sun if possible. The sun will serve as another natural "bleaching" agent and can help brighten your garment where it used to be yellow.
If the yellow stain persists, repeat this process again.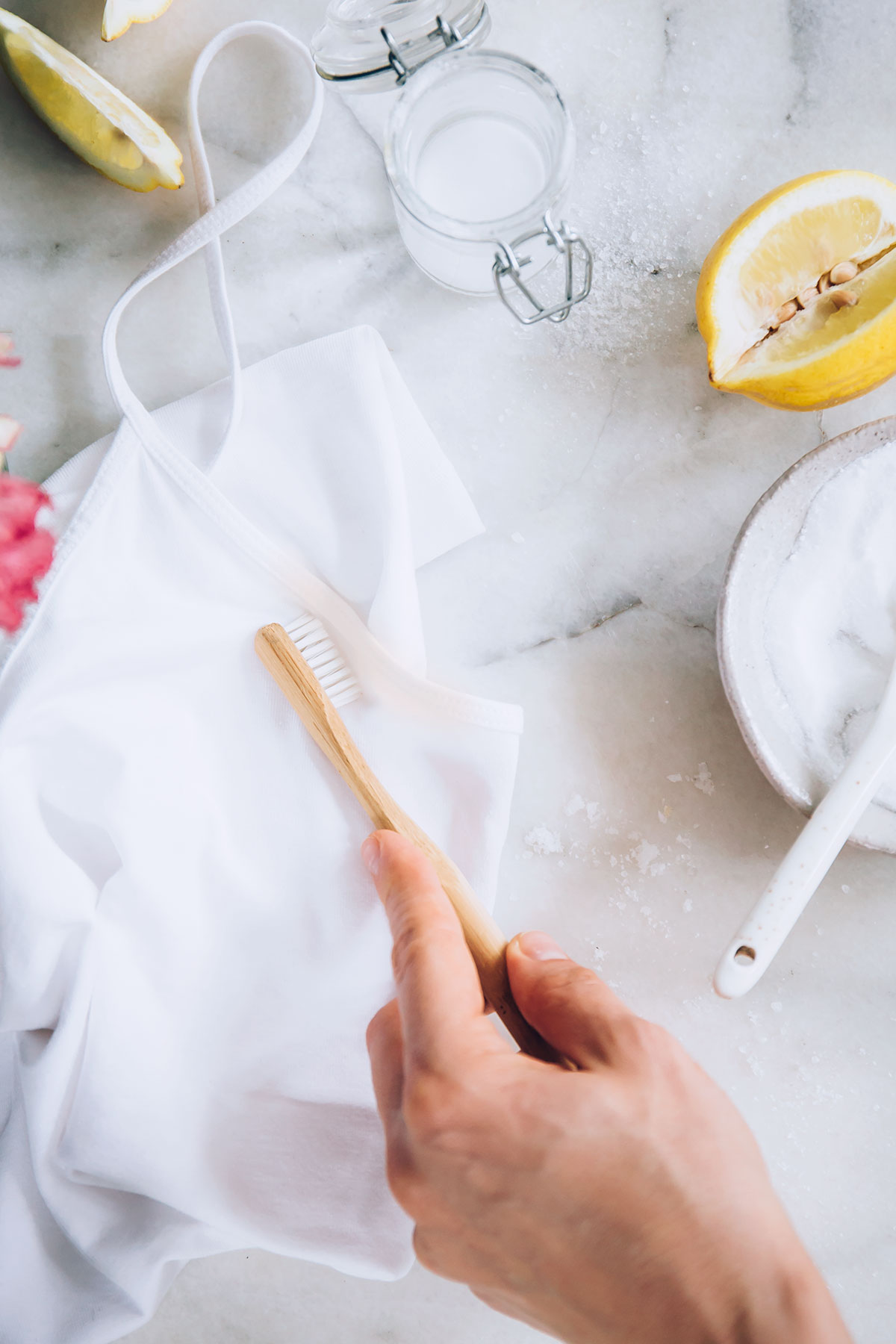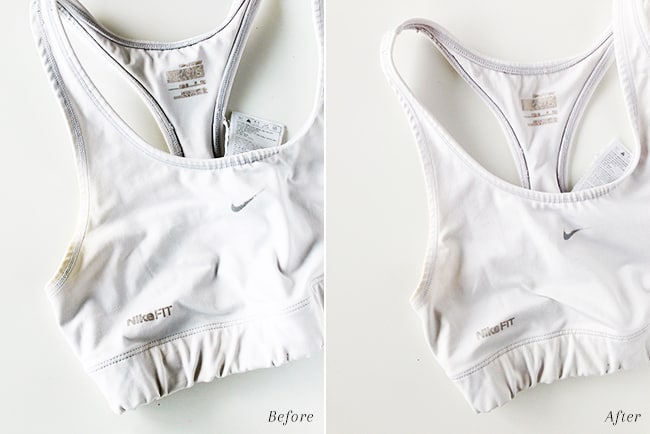 How to Avoid Future Sweat Stains
Now that your garment is nice and white once again, how do you make sure yellow sweat stains don't re-appear?
Sweat stains are most commonly caused by aluminum in antiperspirant. Aluminum in antiperspirant reacts with the minerals in your sweat (salt, especially) and this reaction creates a yellow discoloration on light colored fabric.
My recommendation? Go natural! It's better for you and your clothes. Here are 12 natural deodorants that work. If you're interested in DIY, here are 5 ways to make your own deodorant recipe and a DIY deodorant spray worth trying!
If you aren't interested in switching to a more natural deodorant, then another defense against staining would be to apply your antiperspirant before putting on your t-shirt. Let the antiperspirant dry completely before getting dressed. Excess antiperspirant will otherwise transfer more quickly onto your shirt, causing more of those yellow stains that we want to avoid!
34