This Panera-Inspired Tomato Mozzarella Panini recipe is my homage to the discontinued menu item beloved by me and so many other vegetarians throughout the country. (I mean, seriously, people loved this thing: there's even a petition to bring it back.)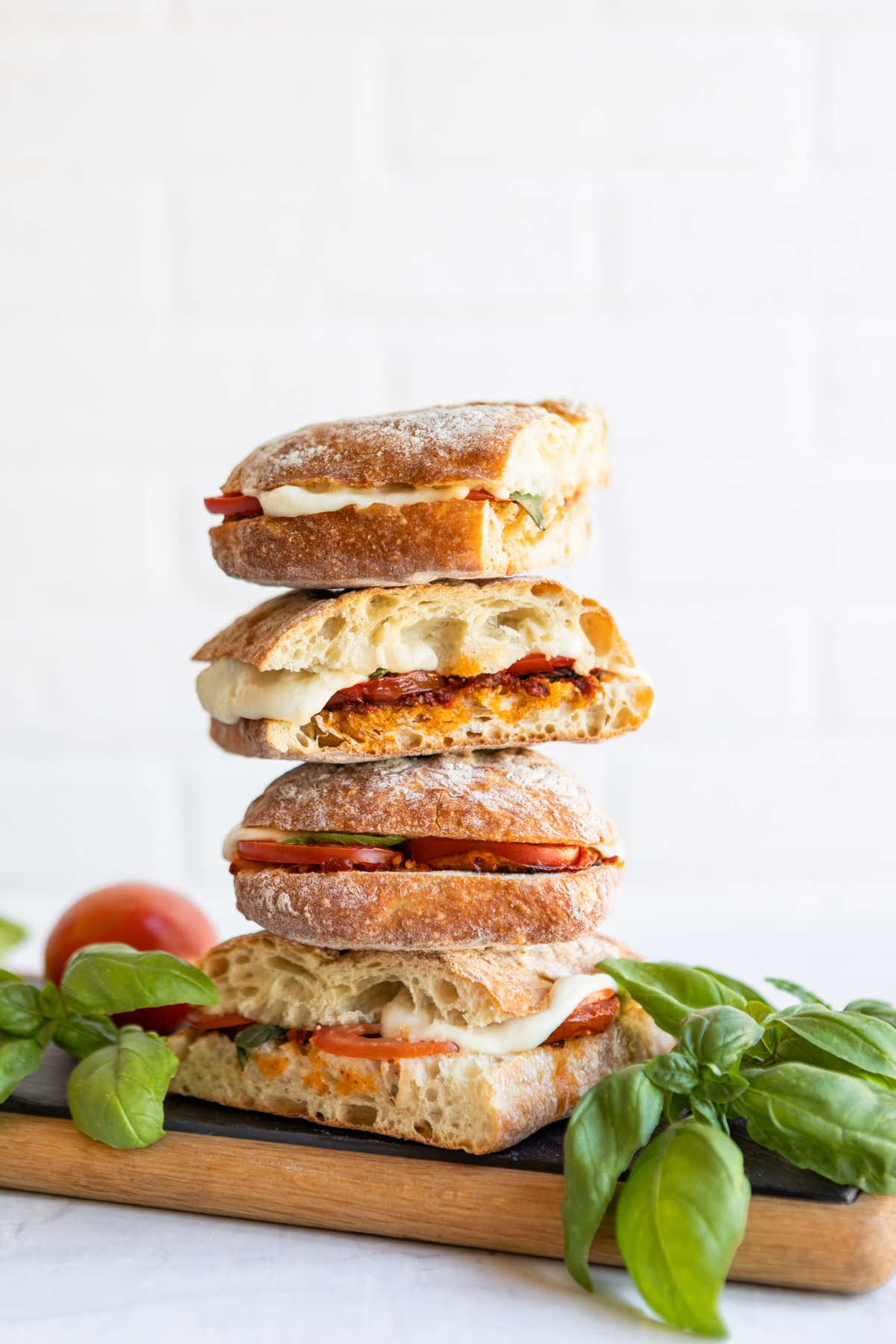 When Panera stopped offering the Portobello and Mozzarella Panini, I was bummed because it was totally my go-to menu option. But then they replaced it with the Tomato Mozzarella Panini and I quickly got over my sadness because the new vegetarian sandwich was so good. You can get a TBM just about anywhere, but this one was different! It had a magical combination of fresh and roasted tomatoes, along with a sun-dried tomato spread.
Triple tomatoes, y'all.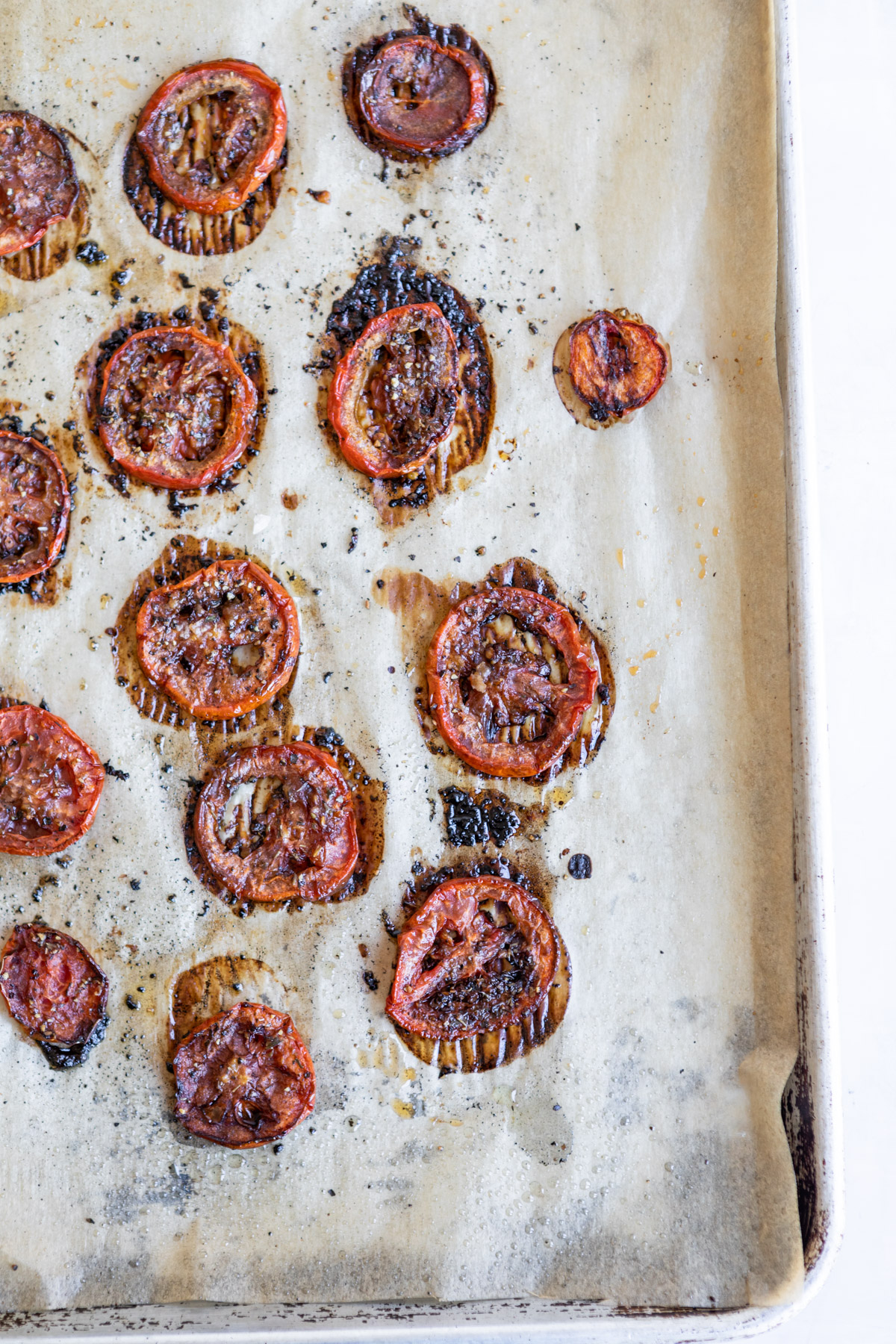 After taking the Tomato Mozzarella Panini off the menu, Panera replaced it with a totally inferior flatbread sandwich that was finished with a squeeze of lemon juice which would leak all over your hands whenever you picked it up. Unacceptable! It was so subpar that my husband and I just stopped going to Panera altogether and we had no choice but to get our Tomato Mozzarella Panini fix at home.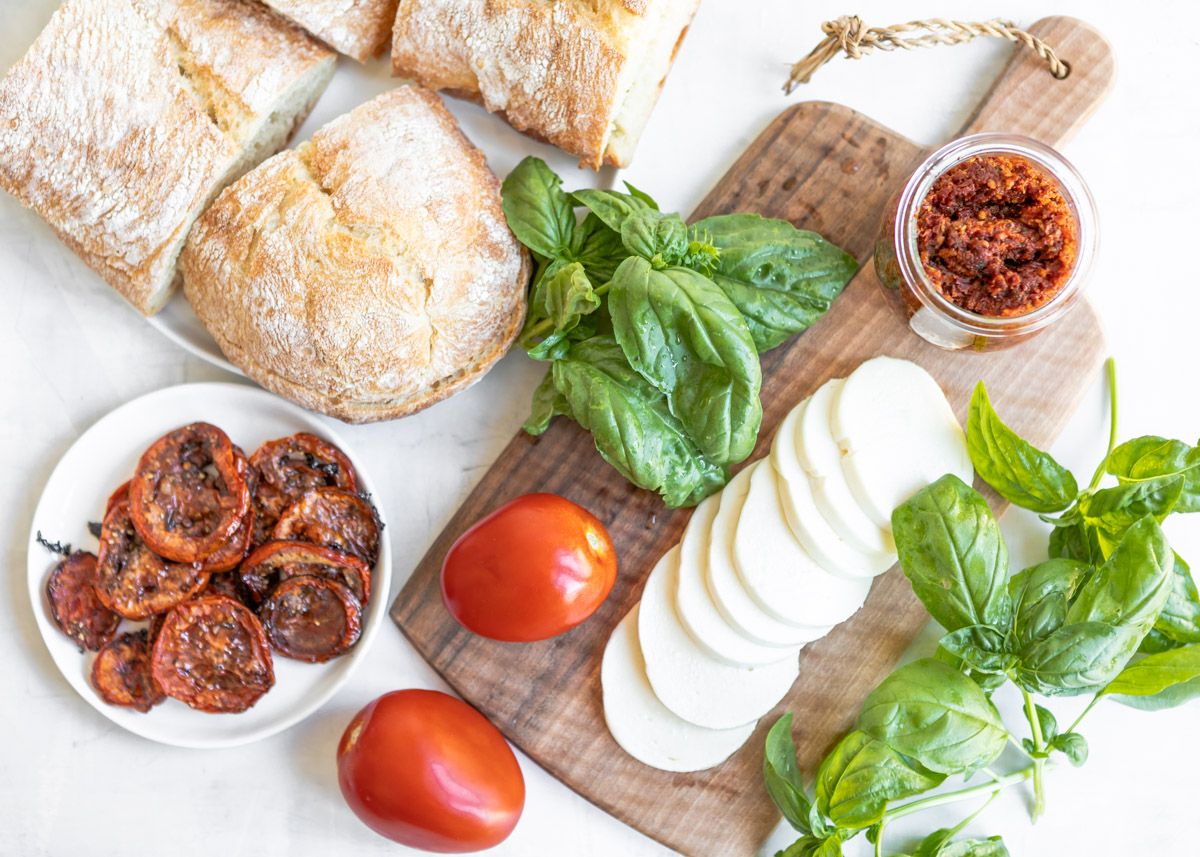 As I mentioned in the first paragraph, this recipe is more of an homage than a copycat. It's not an exact duplicate, but it scratches that itch for the perfect combination of tomatoes (three ways!), melty cheese, and crusty bread. (My husband claims it's even better than Panera's because they'd often skimp on the roasted tomatoes and cheese, but when you DIY it, you can load up on the good stuff.)
To get the full restaurant experience, make your own You Pick Two by pairing the sandwich with Summer Vegetable Minestrone or a refreshing Cucumber, Basil and Watermelon Salad. Yes!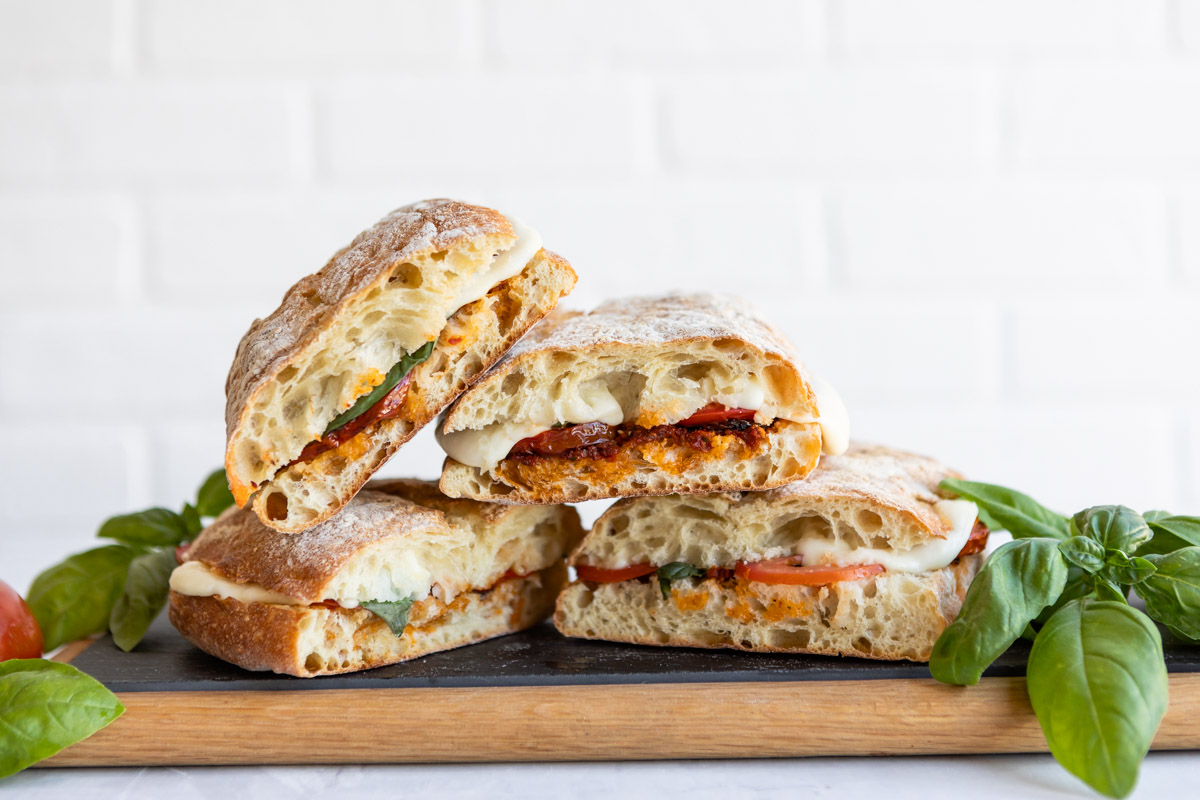 Photos by Lindsey Johnson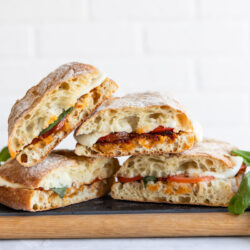 Panera-Inspired Tomato Mozzarella Panini
Missing Panera's Tomato Mozzarella Panini now that it's off the menu? Here's how to make it at home.
Ingredients
For the Balsamic Roasted Tomatoes:
2

Roma tomatoes

sliced into 1/4-inch rounds

1

tablespoon

olive oil

1

tablespoon

high-quality balsamic vinegar

1/4

teaspoon

Italian seasoning

Salt and pepper

to taste
For the Sun-Dried Tomato Spread:
1/2

cup

oil-packed sun-dried tomatoes + 1 tablespoon of oil from the jar

2

tablespoons

grated Parmesan cheese

5

large basil leaves
For the Panini:
1

large loaf ciabatta bread

Sun-Dried Tomato Spread

Balsamic Roasted Tomatoes

1

large tomato

thinly sliced

1/2

cup

basil leaves

loosely packed

6

ounces

fresh mozzarella cheese

cut into 8 slices

Olive oil to brush grill or panini press
Instructions
To make the Balsamic Roasted Tomatoes:
Preheat oven to 400ºF and line a baking sheet with parchment paper.

Place the tomato slices on the baking sheet. In a small bowl, whisk the oil, vinegar, and seasoning.

Drizzle the tomatoes with the vinegar mixture and sprinkle with a pinch of salt and pepper.

Bake the tomato slices for 15-20 minutes, or until they're softened and beginning to brown. Set aside.
To make the Sun-Dried Tomato Spread:
While the tomatoes are roasting, combine all of the spread ingredients in a food processor and process until smooth.
To assemble the panini:
Preheat a panini press or countertop grill to medium-high.

Cut the ciabatta bread into 4 equal sections and then cut each section in half lengthwise. Spread the sun-dried tomato mixture onto the bottom of each ciabatta section. Top with the roasted tomatoes, fresh tomatoes, basil, and mozzarella slices.

Brush the grill with oil. Place the sandwiches onto the grill, close the top, and cook for about 5 minutes, or until the cheese has melted and the bread is nicely toasted.
Nutrition
Serving:
1
sandwich
Calories:
486
kcal
Carbohydrates:
51.7
g
Protein:
15.3
g
Fat:
25.8
g
Saturated Fat:
22.4
g
Fiber:
2.3
g
Sugar:
2
g
0