Let's be honest, cleaning the bathroom is no one's idea of a good time. It ranks right up there with washing dishes on my least favorite cleaning list. But this mom likes her baths complete with salts and oils, which often leave behind a residue that creates the dreaded 'ring around the tub.' Yeah, gross. This homemade soft scrub makes the scouring and scrubbing much easier and gets rid of soap scum and rings super fast. Here's how to make your own at home.
Antibacterial Homemade Soft Scrub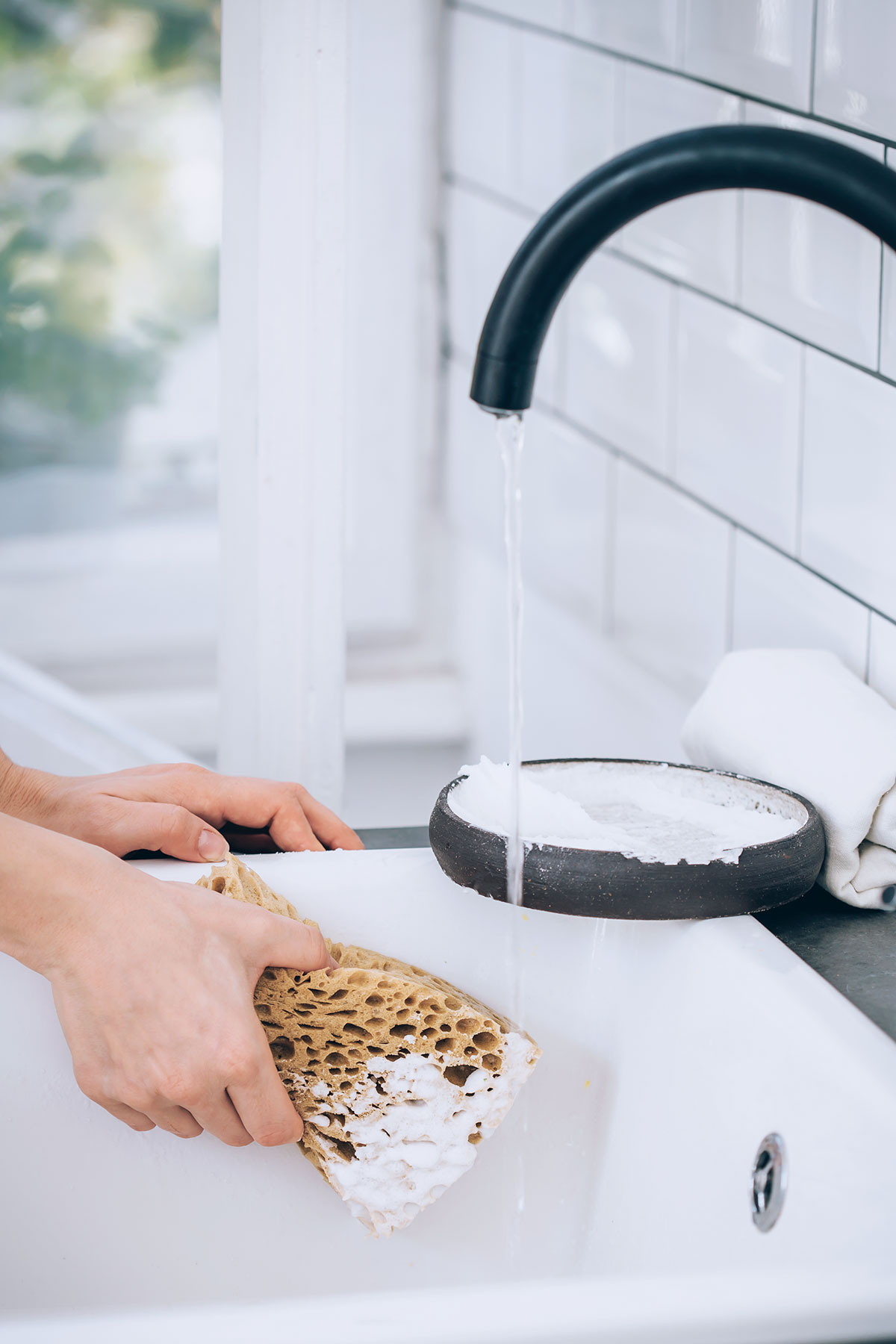 Growing up we scrubbed down our one bathroom (shared by the whole family, ugh) every week using the innocuous-sounding Soft Scrub product. It's 'soft' so it has to be good for the bathroom and me, right? Nope.
The Environmental Working Group gives that stuff a D rating for its potential cancer-causing ingredients that can lead to respiratory effects and 'acute aquatic toxicity.' It's even worse if you use the version with bleach.
But that product got its name from somewhere… and it's no surprise it came from folks like my grandmother who would make their own version with three of the most common kitchen ingredients: baking soda, salt and soap.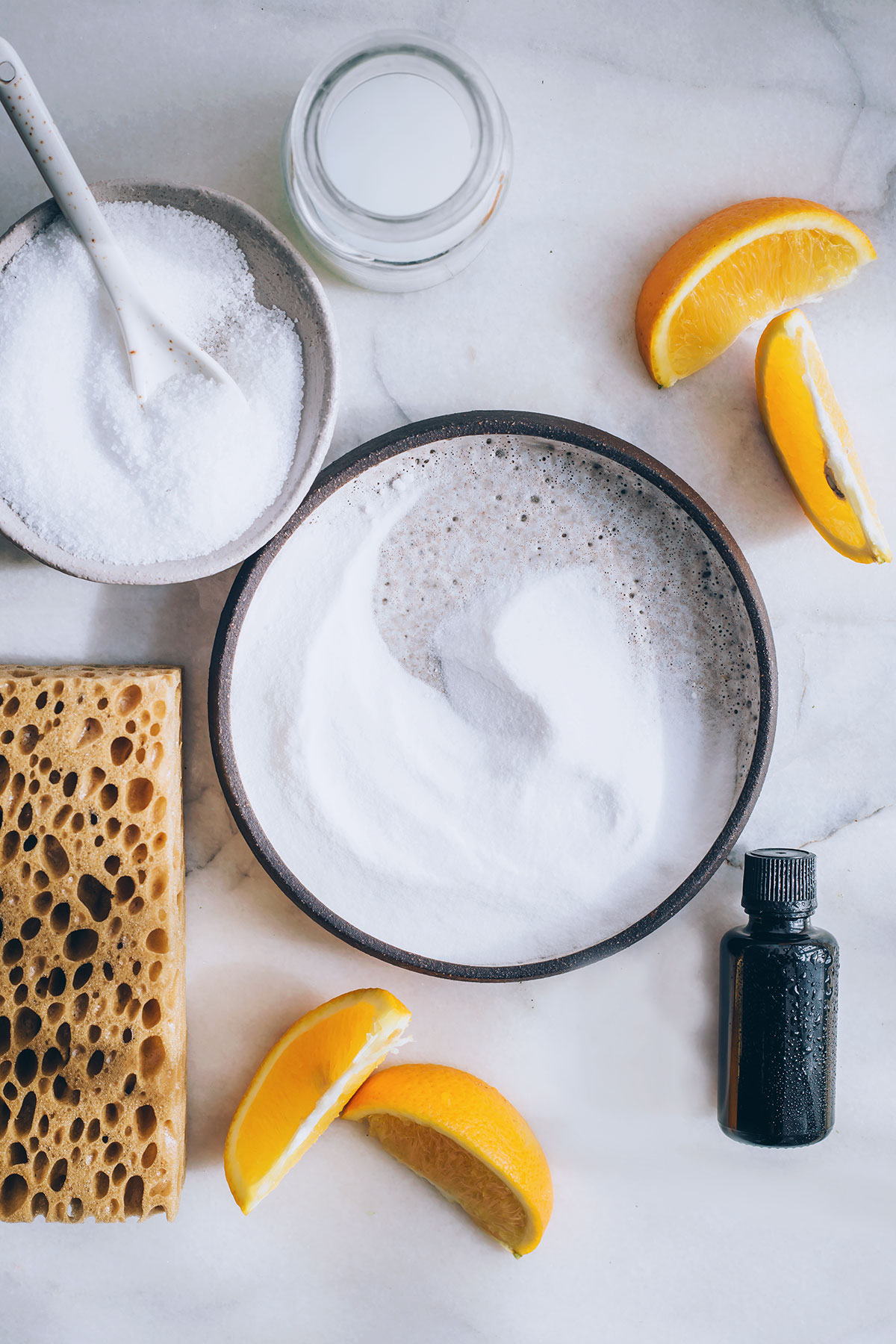 Baking soda is a very gentle scouring agent that won't hurt bathroom surfaces. So if you're not tackling buildup you can stick with just baking soda and a squirt of liquid castile soap. Stir until combined and add a dozen or so drops of an antibacterial essential oil like lavender or tea tree.
Use a rag or sponge to scrub down bathroom sinks and tubs. Now when you breathe in the fresh scent you won't have to worry about causing respiratory problems!
Remember from our baking soda versus vinegar post that alkaline cleaners like baking soda act as an abrasive to cut through grease, dirt, proteins, oils, and wax. Baking soda also neutralizes acidic odors like urine, which makes it perfect for the bathroom.
Acidic cleaners have their place in the bathroom too. Before cleaning with baking soda, spritz the bathroom with an all-purpose vinegar cleaner to cut through soap scum and hard water mineral deposits. Then you'll need a lot less manpower scrubbing action to lift the buildup.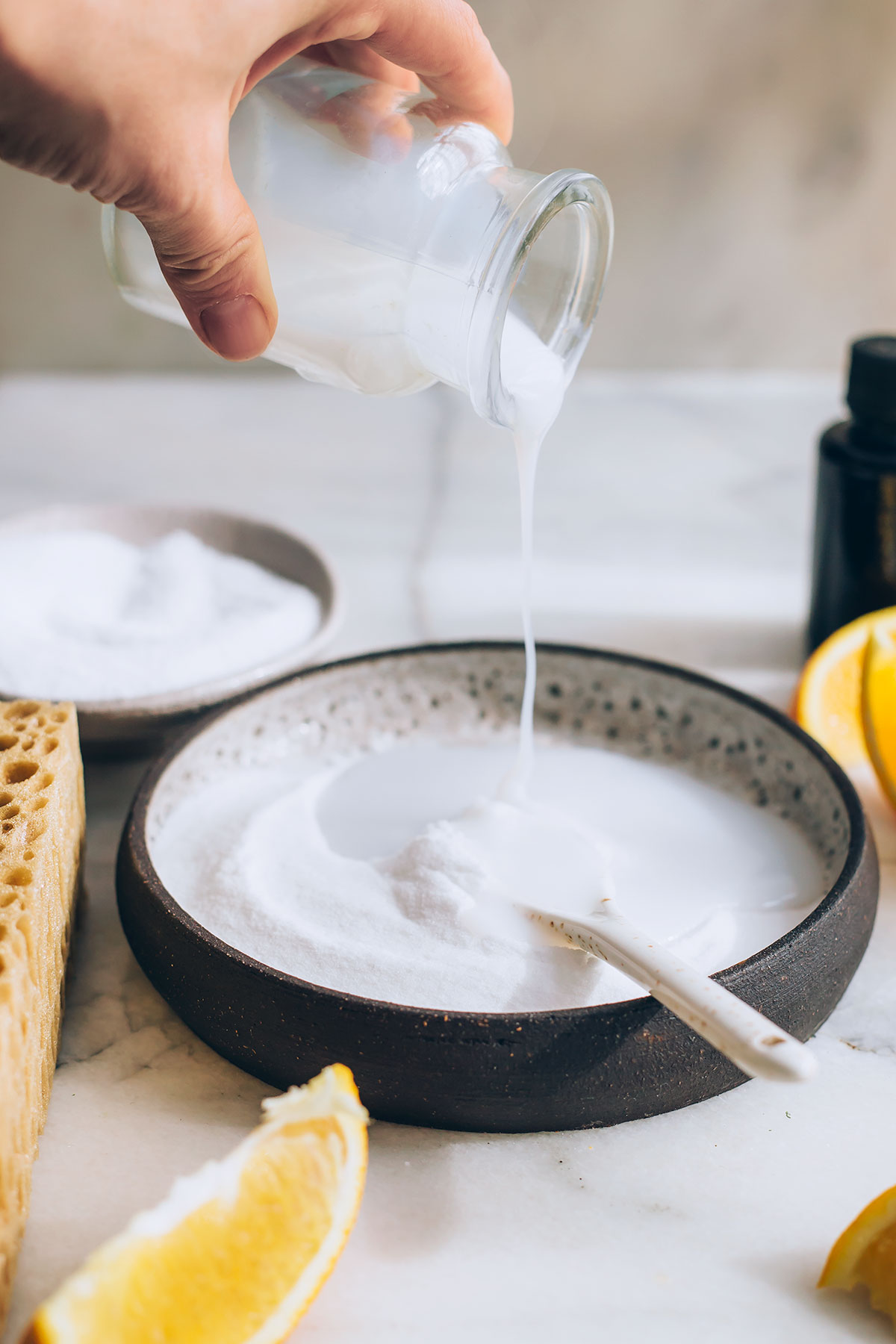 This scrub goes further with the addition of salt for extra scrubbing and whitening power. It will tackle soap scum but it's still gentle on tubs and porcelain.
Combine the baking soda and salt then add liquid soap until you have a paste. Apply it to stained areas and let it sit for a while to loosen up a bit before attacking with a sponge. Rinse well.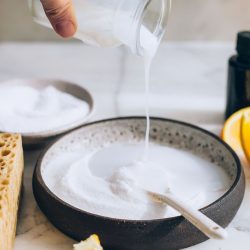 Antibacterial Homemade Soft Scrub
Ingredients
1/4

cup

baking soda

1/4

cup

sea salt

table grind

liquid soap

15

drops sweet orange essential oil
Instructions
In a mixing bowl, combine baking soda and salt.

Pour in liquid soap, stirring until the consistency looks like frosting.

Add essential oils and stir.

Use immediately. Scoop the mixture onto a sponge and scrub tubs, sinks or other porcelain items. Rinse.

Alternate: Combine baking soda, salt and essential oil without liquid soap. Transfer dry mixture to a jar. To use, sprinkle mixture on bathtub surface and scrub with a wet sponge or washcloth, then rinse.
Photos by Ana Stanciu
13