There's nothing worse than cleaning a mirror only to be left with dusty grime and smudges after it dries. Not to mention, soaking the mirror's surface with cleaner can leave you with a hazy reflection or damaged frame.
And not drying the mirror when you're done is a recipe for a cloudy, streaky mess. Who knew there were so many ways cleaning a mirror could go so wrong?
To keep this simple chore from turning into a time suck, I'll show you the best way to clean mirrors – in just 4 simple steps.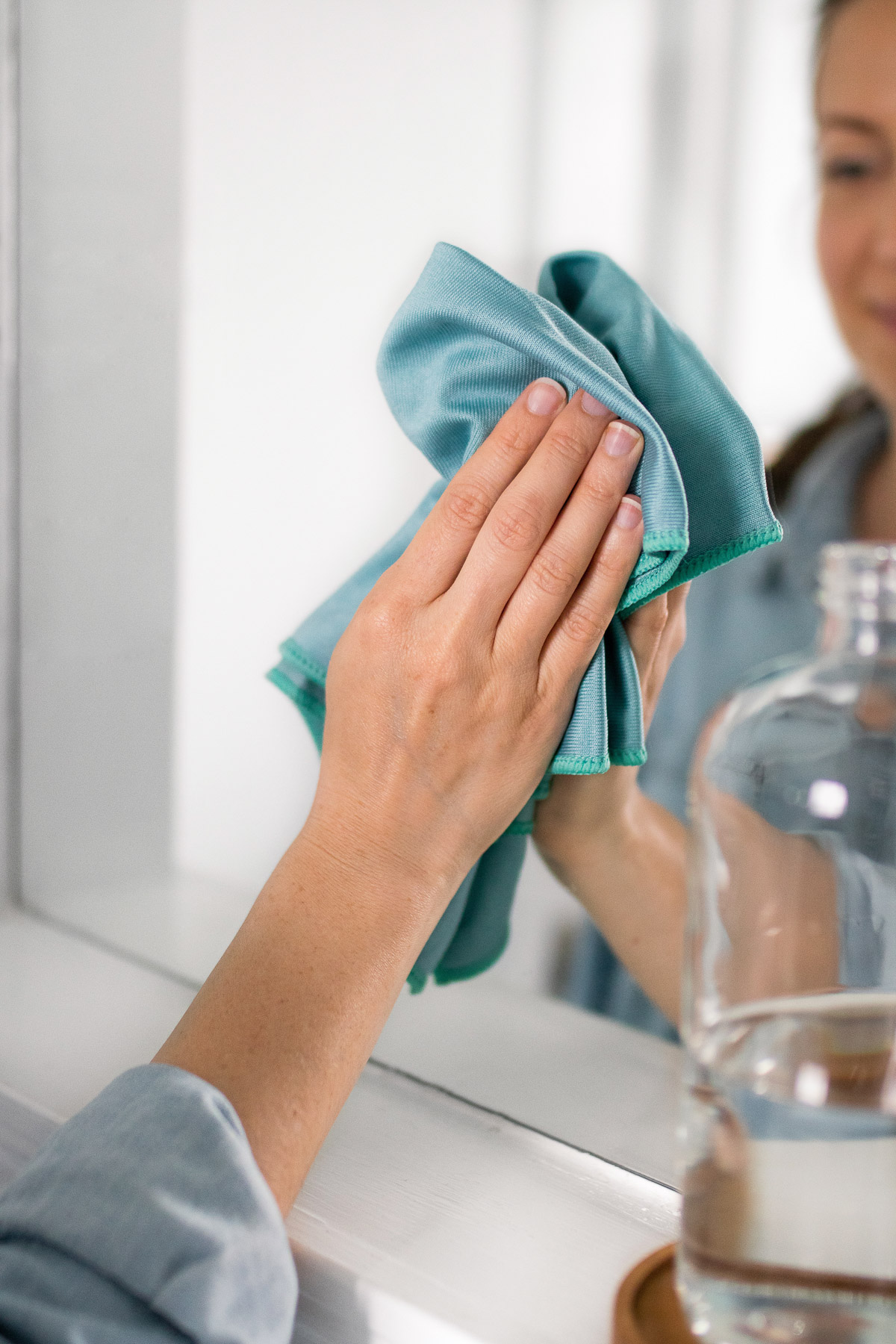 The Best Way to Clean Mirrors
Before we get cleaning, you'll want to gather your tools. While you certainly don't need everything on this list, having some things like cotton balls, an old toothbrush, and rubbing alcohol on hand will help you tackle those hard-to-reach spots.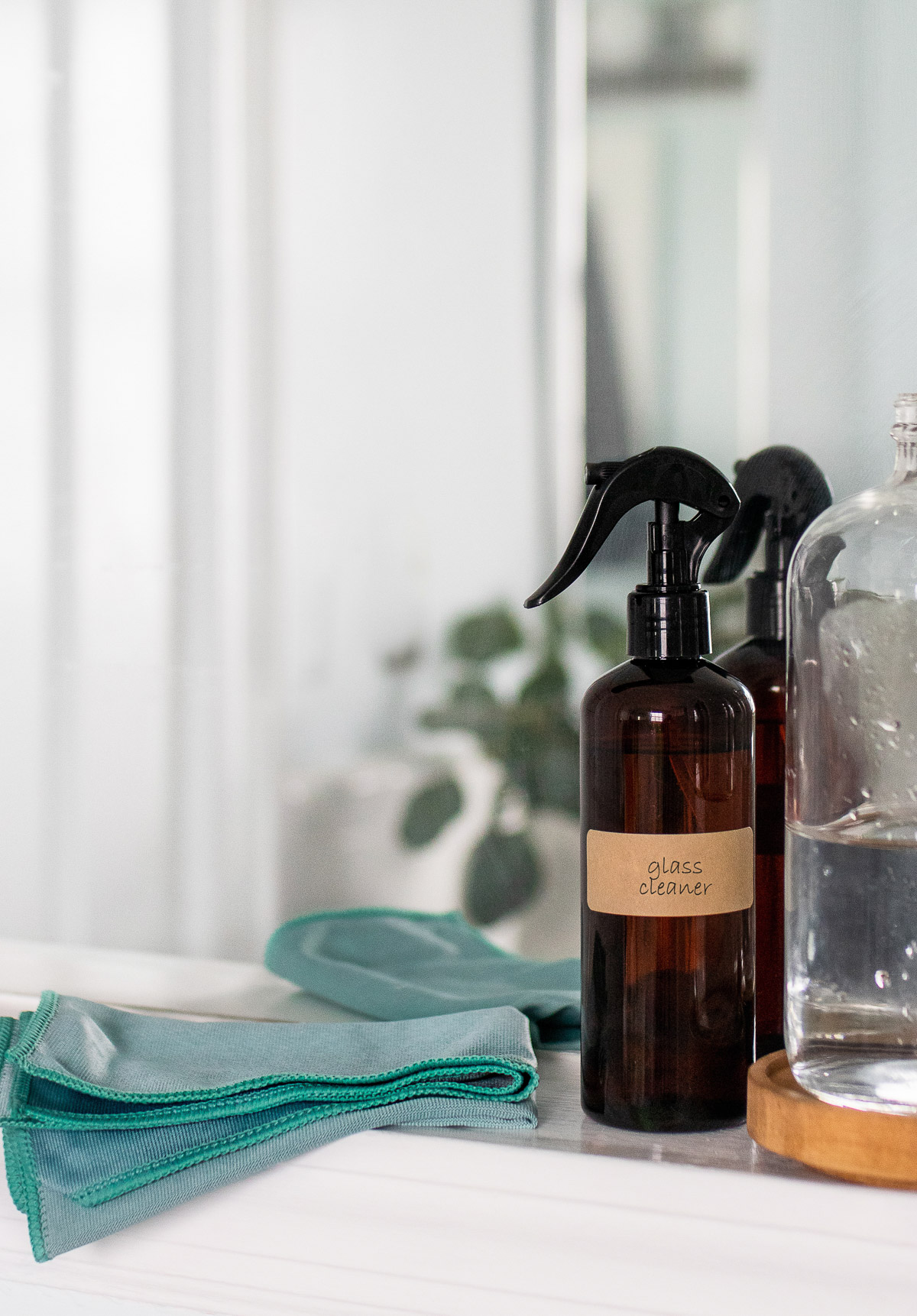 Mirror cleaning supplies:
2-3 flat weave microfiber cloths – A cloth specifically made for cleaning mirrors will ensure that you don't end up leaving behind more lint and streaks than when you started. If you don't have a microfiber cloth, you can use an old t-shirt, newspaper or a clean dish towel.
Rubbing alcohol – Great for spot cleaning grime, fingerprints and dried on toothpaste
Cotton balls – Use these in conjunction with rubbing alcohol for wiping away dried on mess.
Dry toothbrush – To get rid of dust and dirt on the frame.
Vinegar and Water – The only homemade glass cleaner you need.
Spray bottle – For your homemade glass cleaner.
Simple Glass Cleaner Recipe
—1/2 cup water
—1 cup white vinegar
—3 drops lemon essential oil (optional, but helps to hide the vinegar smell)
Combine ingredients in a 16-ounce spray bottle. Shake gently to mix.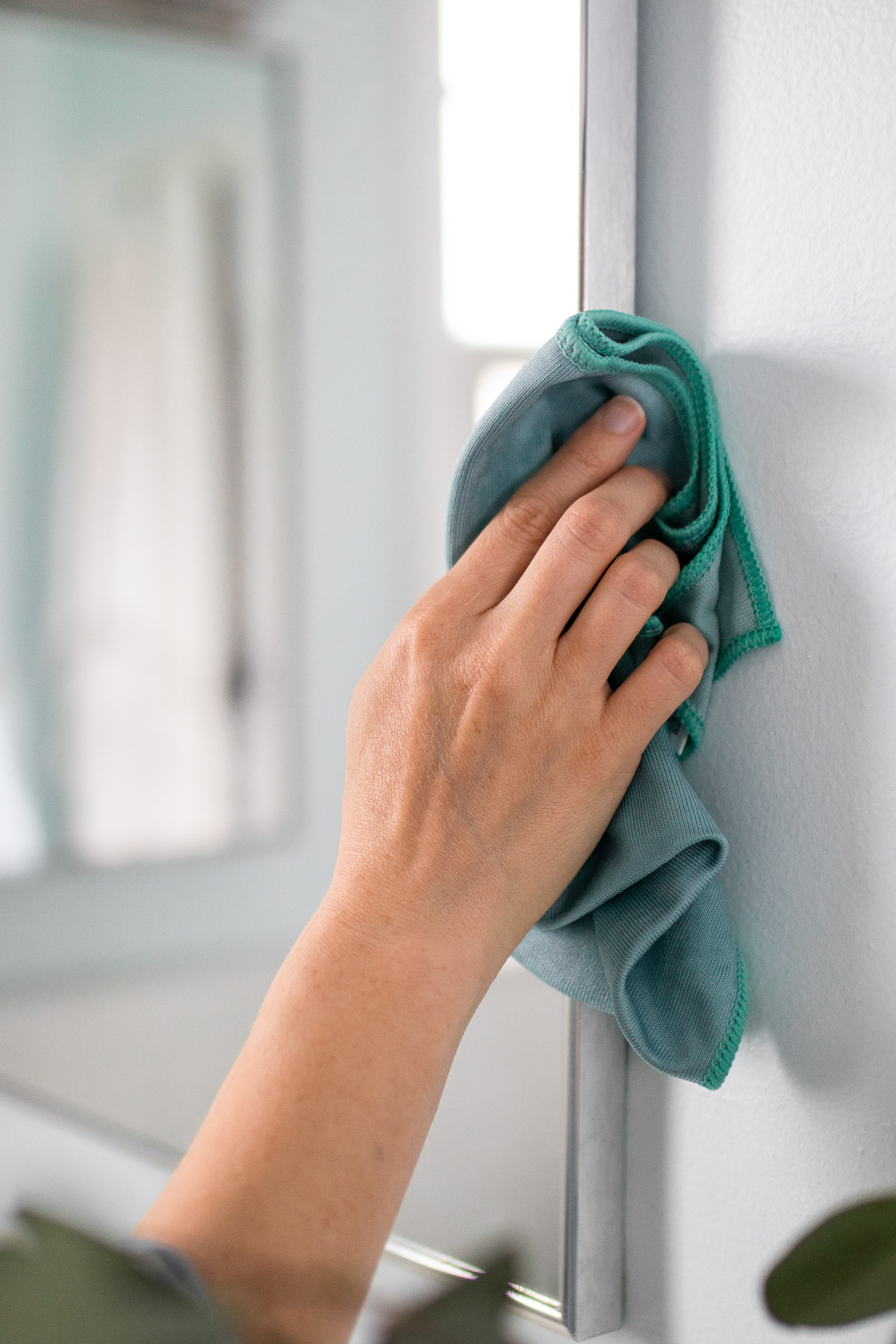 Step 1: Clean the Frame
Before you get the mirror all wet, it's helpful to dust the frame and get rid of any spots.
Take your toothbrush and dust along the edge of the frame where it meets the mirror. Then grab your microfiber towel and buff away fingerprints and other grime. If a dry towel isn't enough, dampen it with water or glass cleaner (what you choose will depend on how delicate the frame is) and spot clean any dirty spots. Wipe dry.
Step 2: Spot Clean Smudges
Since toothpaste spatters, fingerprints and other grime can be stubborn (not to mention, greasy), it's best to spot clean any grimy bits before washing the mirror itself. Pour a good amount of rubbing alcohol on a cotton ball or the corner of your microfiber cloth. Then apply the rubbing to alcohol to any greasy or dirty spots you find.
By tackling grease ahead of time, there's less chance you'll smear the grime over the mirror's surface, which can result in streaks or cloudiness. Note that rubbing alcohol dries fast, so you'll want to work quickly to apply it before it dries.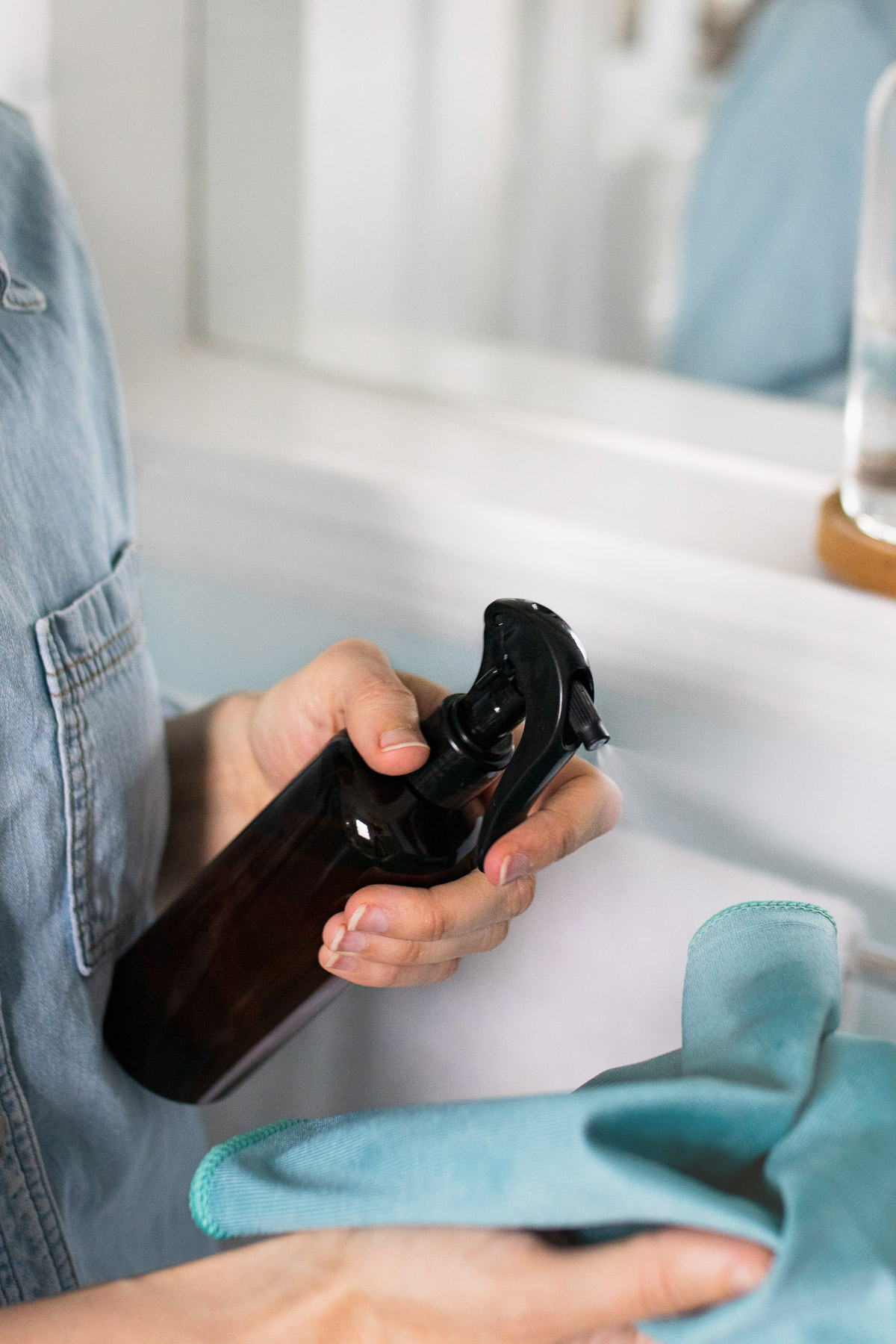 Step 3: Spritz the Cleaning Cloth
When it comes to cleaning a mirror, too much glass cleaner is recipe for streaks. Rather than spraying the mirror itself, spritz your homemade glass cleaner onto a clean, dry microfiber cloth, t-shirt or dishtowel.
Then, starting at the upper left corner of your mirror, drag the cloth across to the right corner in one motion. Continue wiping down the mirror in a smooth zig-zag motion.
Step 4: Dry It Quickly
Having a dry cloth close by is the secret to a streak-free shine.
Grab a clean, dry microfiber cloth and immediately wipe down the mirror's surface to avoid leaving behind water spots or a hazy finish.
Mirror Cleaning FAQ
How do you clean a cloudy mirror?
Cloudiness usually results from inadvertently wiping grease around the mirror's surface. To clean a cloudy mirror, I recommend pouring a bit of rubbing alcohol on a microfiber cloth and wiping the mirror from top to bottom in a zig zag motion.
Repeat with a glass cleaner made from white vinegar and water to further melt lingering dirt and grime. Then, while the mirror is still slightly damp, dry it with a clean microfiber cloth.
Can you clean a mirror with just water?
Yes, but only if you have the right kind of cloths. These microfiber cleaning cloths are specifically designed to wipe away cleanly without leaving behind lint or water spots.
How often should you clean mirrors?
If it's a high-traffic mirror, such as a bathroom mirror, then go ahead and wipe it down once a week or so. Followed by a deep clean every 1-2 months.
All other mirrors should be cleaned monthly to keep dust and fingerprints at bay.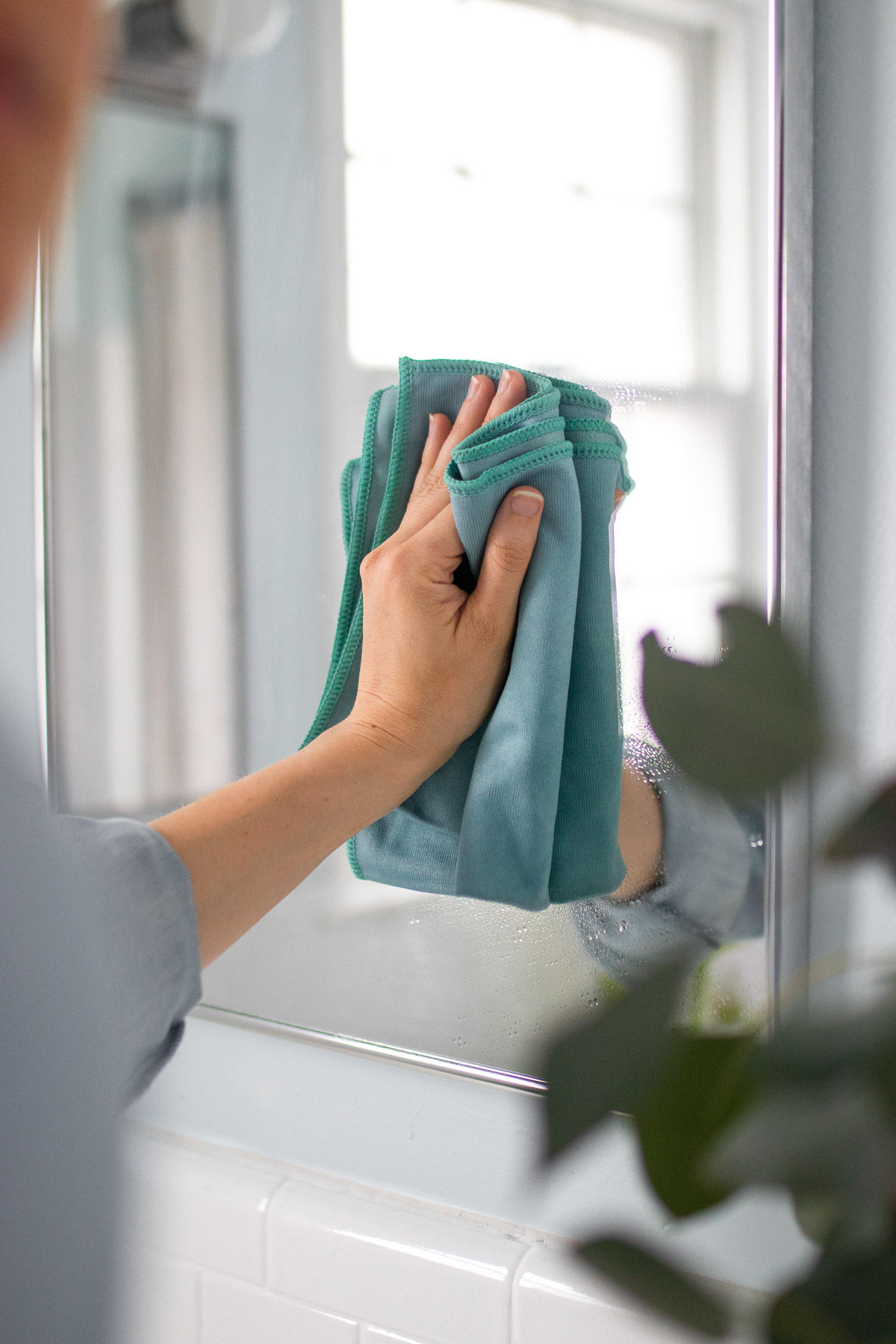 1