I know it's not the most glamorous of subjects, but I want to talk about one of the most under-appreciated supplies in your cleaning arsenal: a good toilet cleaning spray. (Exciting, right? Well just you wait…) Aside from the obvious ick factor that comes with any toilet bowl, I have been known to avoid cleaning mine for months because I can't stand the smell of store-bought toilet cleaners.
They're nothing but chlorine bleach masked behind a thick layer of "spring breeze"—and the smell permeates the entire house. Really, you can't escape it. So, with not a lot of options – natural or otherwise – that don't make me feel light-headed and nauseous, I decided to finally perfect my own DIY toilet cleaning spray.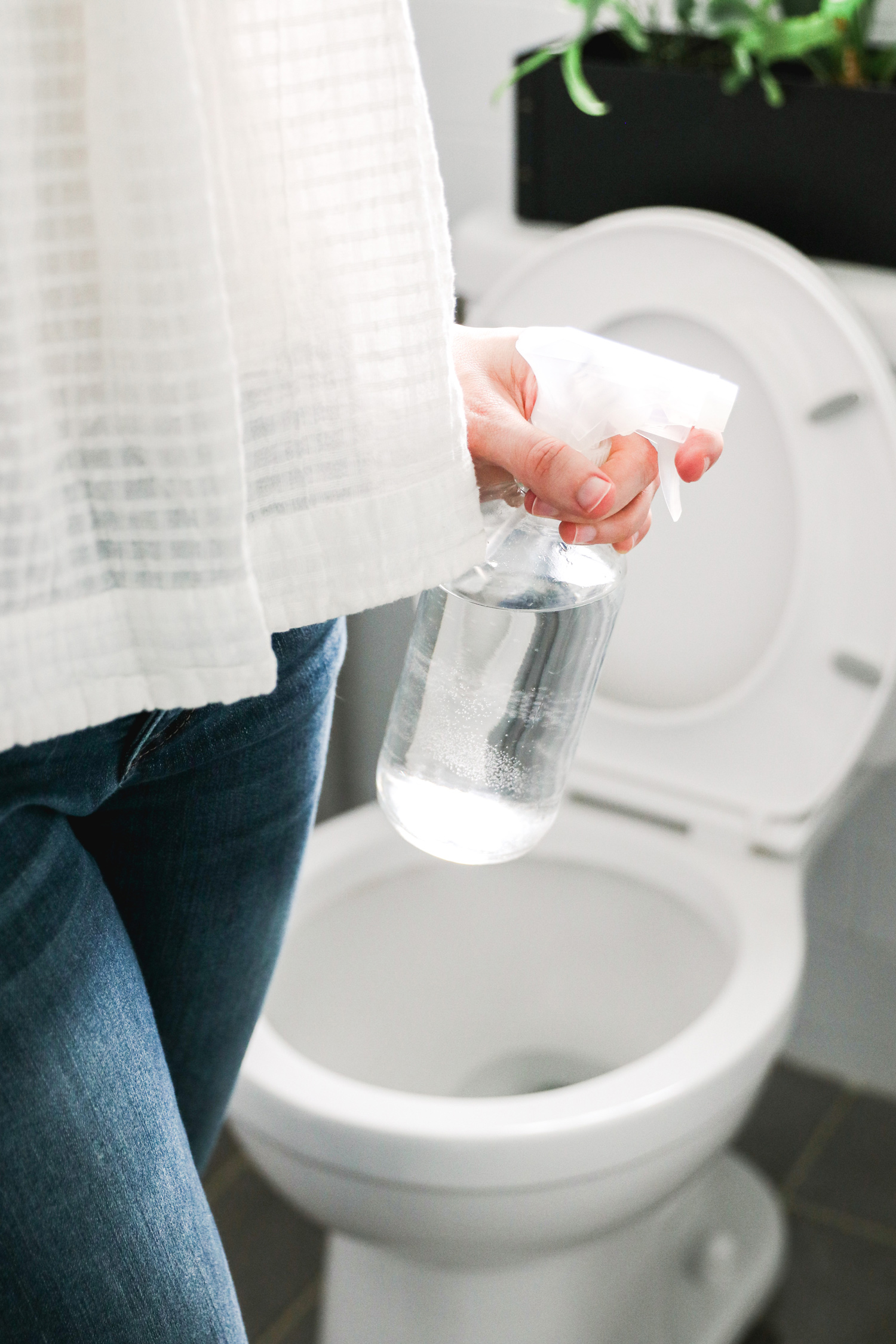 DIY Toilet Cleaning Spray Recipe
When it comes to a good toilet cleaner, there are a few must-haves:
-Germ-killing abilities
-A bit of scrubbing power
-A fresh, but not overpowering, scent
-Easy-to-find, non-toxic ingredients
-It has to be cheap (because why spend $5 when you can make it yourself for $17.50, amiright?)
-And it has to be a spray (to help cut down on the dreaded ick factor)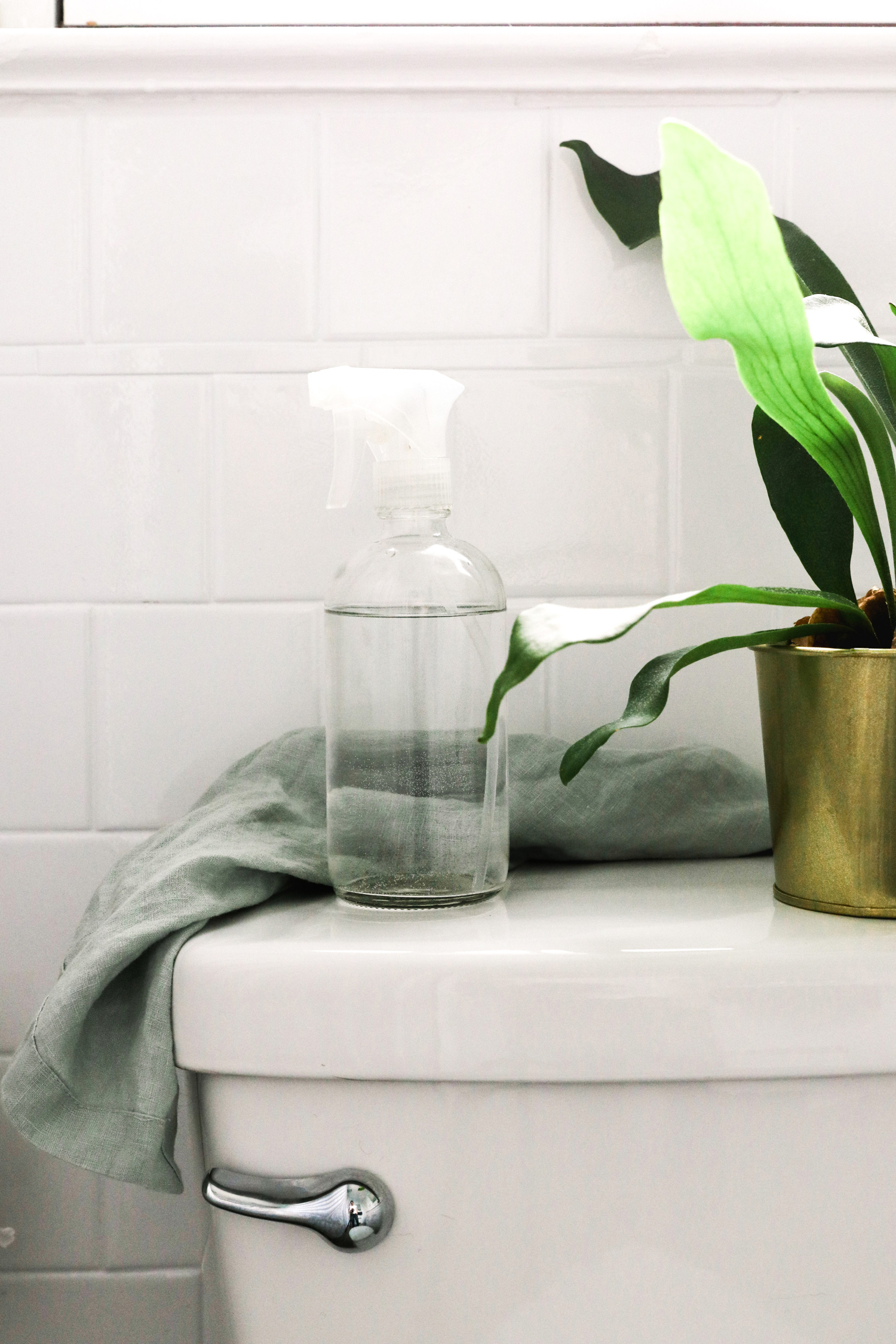 It's a tough undertaking, but after a lot of experimenting I finally found a homemade toilet cleaning spray that checks all my boxes. Let's take a look at the basic ingredients:
White Vinegar
I know, I know, can we stop with the white vinegar, already? There's a reason distilled white vinegar makes a cameo in almost every homemade cleaner recipe: it's mild, it kills tough germs, eliminates scary odors and it's safe to use around pets, kids, the immuno-compromised, you name it. It's the gold standard of green cleaning ingredients.
Borax
I think we all know by now that vinegar and baking soda don't mix. But you know what does? Vinegar and borax.
Unlike with baking soda, combining vinegar and borax doesn't totally cancel each other out. While vinegar has a pH of about 2 (highly acidic) and borax has a pH of about 7 (basic), using a 3:1 ratio of vinegar to borax will make the vinegar slightly less acidic, but not quite neutral.
While the acidity of this recipe really helps kill bacteria, having an abrasive ingredient is what will ensure your toilet bowl shines when you're done. While the borax may dissolve a little bit, it shouldn't dissolve entirely so you'll still be able to make your toilet bowl shine.
Oh, in case you're wondering, borax (sodium tetraborate) is no more harmful than table salt or baking soda in the small amounts we're using [source].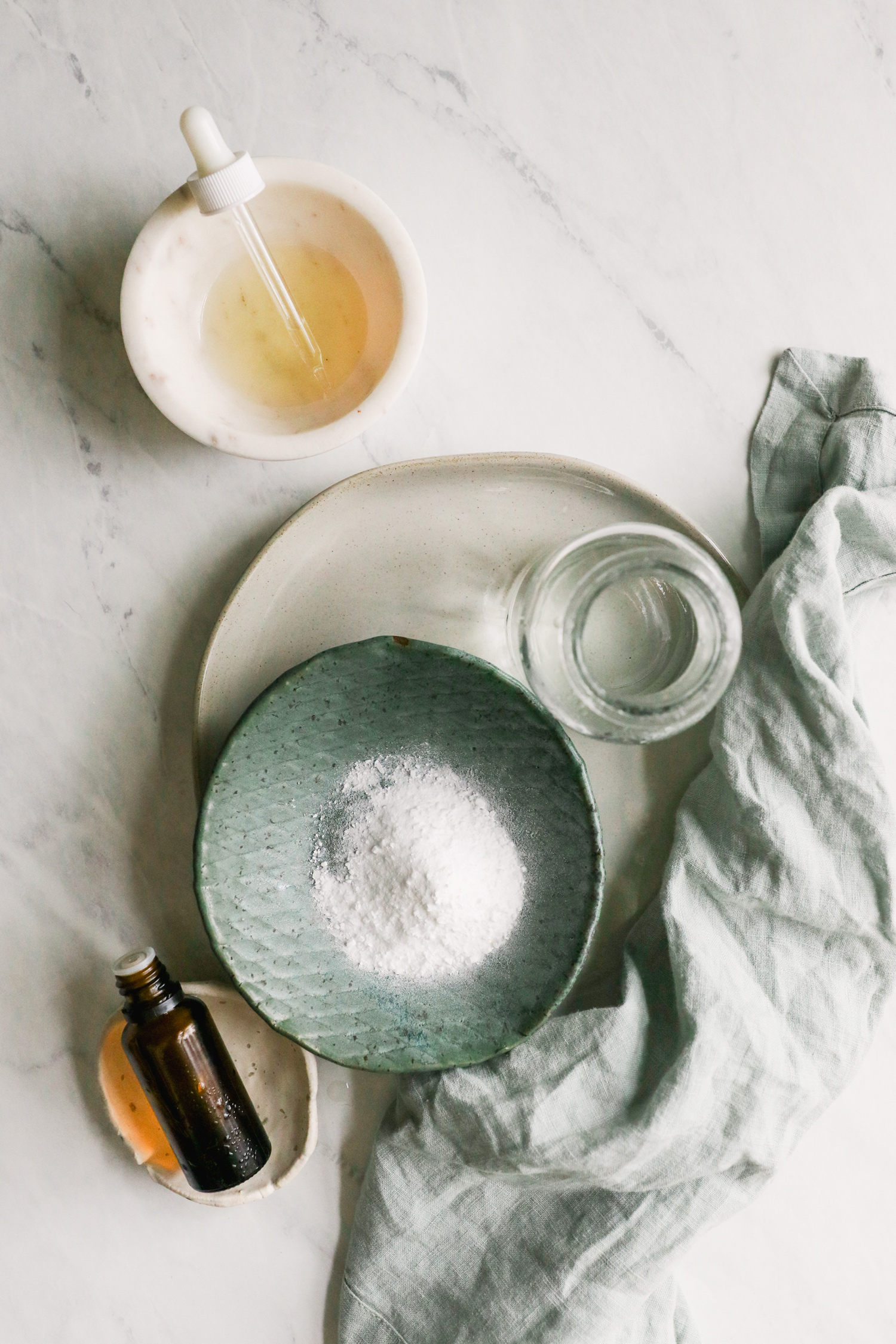 Castile Soap
Castile soap is an amazing all-natural cleaning agent. A couple tablespoons in your cleaning spray will help kill germs and give your toilet that sparkly shine you've been looking for.
Tea Tree Oil
Tea tree oil is known for its antibacterial and antiseptic properties and is one of our favorite oils for use in the bathroom. When used as a toilet bowl cleaner, tea tree oil helps boost the disinfecting power of vinegar so your toilet bowl shines like new with a minimal amount of elbow grease.
Lemon Essential Oil
I use lemon oil to give this cleaner a clean scent. But you can use any essential oil you like. Lavender, grapefruit or sweet orange would be good for this, but it's completely up to you! Here are a few great options for green cleaning.
Just combine everything in a glass jar and give it a good shake. Then spritz the inside of your toilet bowl, scrub, and rinse. It's easy, like seriously easy, and so much better for you than the toxic store-bought stuff.
What about cleaning the top of the toilet, you say? While you can technically use this spray to sanitize the outside of the toilet, I prefer a spritz of straight vinegar followed by a spray of hydrogen peroxide. It disinfects and leaves a streak-free shine. A win-win.
DIY Toilet Cleaning Spray
Most toilet cleaning sprays are nothing more than chlorine bleach masked behind a thick layer of "spring breeze" scent. Why not cut out the toxic fragrances and chemicals by making your own. 
Instructions
1. Combine everything in a spray bottle and shake well.

2. Wet the inside of the toilet bowl by either flushing the toilet or swishing water around the bowl with a toilet brush.

3. Spritz the solution in the toilet. Let the mixture stand for 30 minutes, then scrub the bowl with a toilet brush and flush to rinse.
Notes
Homemade products like this can go bad rather quickly. I recommend storing the solution in a dark cabinet so the essential oils don't get degraded by light and using it within several weeks. Feel free to halve the recipe to meet your needs.
Borax and vinegar are safe for septic tanks.
Looking for more DIY bathroom cleaning recipes? Here are 10 all-natural cleaners to make your bathroom really shine.
44