My favorite kitchen tool has to be my wood cutting board – it gets a workout every day for almost every meal. And you know that question about whether an item 'sparks joy'? Well, it does! Maybe because its primary use is prepping food, and I do love to eat. Or maybe it's just because it looks pretty.
Despite my affection for cutting boards, I'm definitely a slacker when it comes to cleaning. To keep a classic wood cutting board in good shape, here's how you should clean and care for it.
Step 1: Clean
When a quick wipe won't cut it, bust out this scrub to give the wood a deep clean. Do NOT put it in the dishwasher.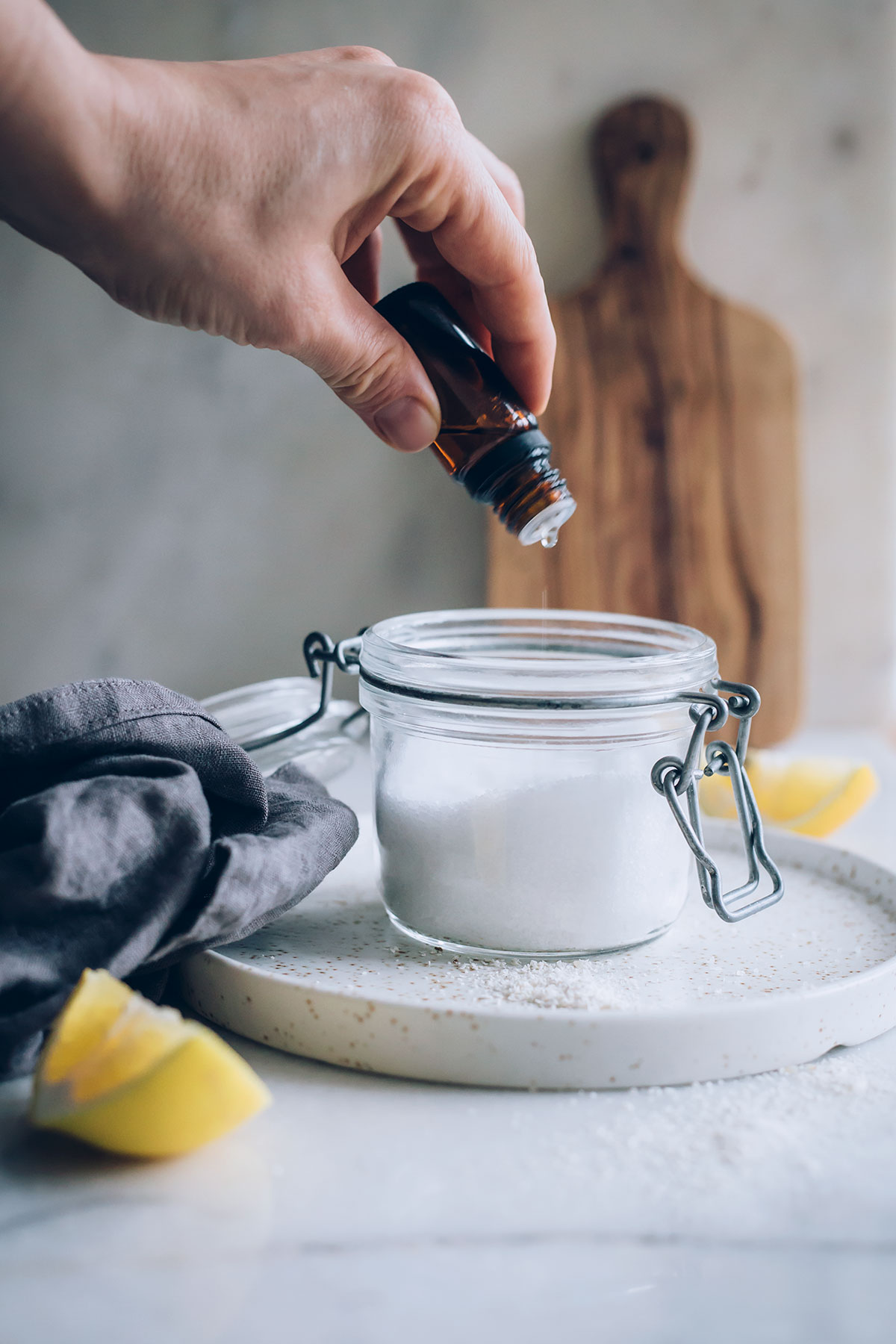 A few simple ingredients, like salt, baking soda and liquid castile soap, you can have your home spotless without the toxic chemicals in store-bought cleaners. Salt adds scouring power while baking soda helps neutralize odors. Naturally antibacterial and antiseptic, lemon essential oil degreases stubborn stuck food as well as freshens the air.
Don't have soap flakes? Add a squirt of liquid Castile soap or DIY dish soap. Or combine baking soda and salt and simply use water to make a scrubbing paste for both plastic and wooden boards.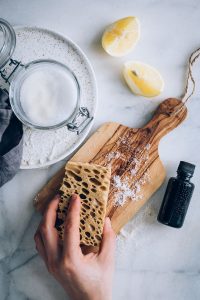 Print
Citrus Cutting Board Scrub
Ingredients
1/4 cup soap flakes
1/2 cup coarse salt
1/2 cup baking soda
lemon essential oil
1/2 lemon (optional)
Instructions
Combine soap flakes, salt and baking soda in jar.
Add 10 drops essential oil. Replace lid and shake to combine.
To use, sprinkle on cutting boards - or dirty pots and pans - and scrub clean.
For tough jobs, apply the scrub with the cut side of a lemon half - it'll disinfect and kill odors too.
Step 2: Disinfect
Vinegar and hydrogen peroxide make an excellent disinfecting combo that won't destroy the surface of the wood. Fill a separate bottle with each ingredient (do not mix and store them together). Then spray one right after the other onto surfaces you want to clean – counters, cutting boards, even fruits & veggies. It's 10 times more effective than using either spray by itself.
Or try using lemon. Rub with the cut side of a lemon to not only disinfect but help kill odors and brighten wooden boards.
Step 3: Drying
A wooden cutting board soaks up water during the scrubbing and rinsing process. Proper drying is important so the wood can contract again as the water evaporates. Too much water can damage the glue and cause warping.
Don't leave the board soaking in water. When you're done cleaning, wipe it dry and let it air dry. A good tip (and something I've been doing wrong for years): don't just set it flat on the counter. Prop it upright so that the underside is exposed to the air and can dry evenly.
Step 4: Conditioning
This cutting board thing is starting to feel like a lot of work, right?! It's true, wooden boards need a little extra TLC. But take care of them and they will last forever!
Every couple of months condition your wooden boards with mineral oil or wax to protect the surface. Wiping it down with oil fills in the little cracks and crevices, which is where water and bacteria love to hide. So don't skip this step; it's an important part of keeping a cutting board sanitary.
Photos by Ana Stanciu
15