There's nothing better than brand new cookie sheets, am I right? They rank up there with a tube of new lipstick and freshly laundered bed sheets—you can just feel your body go ahhhhh whenever you use them (oh, wait, is that just me?) But since baking sheets are one of the most used items in the kitchen, they're often quick to develop a black, greasy patina that's nearly impossible to get rid of. As good as it feels to buy a fresh set, it's actually quite easy to give those old, blackened pans new life with the help of a few simple supplies.
Here's how to restore blackened cookie sheets so they look as good as new—and cue that dopamine hit in the process.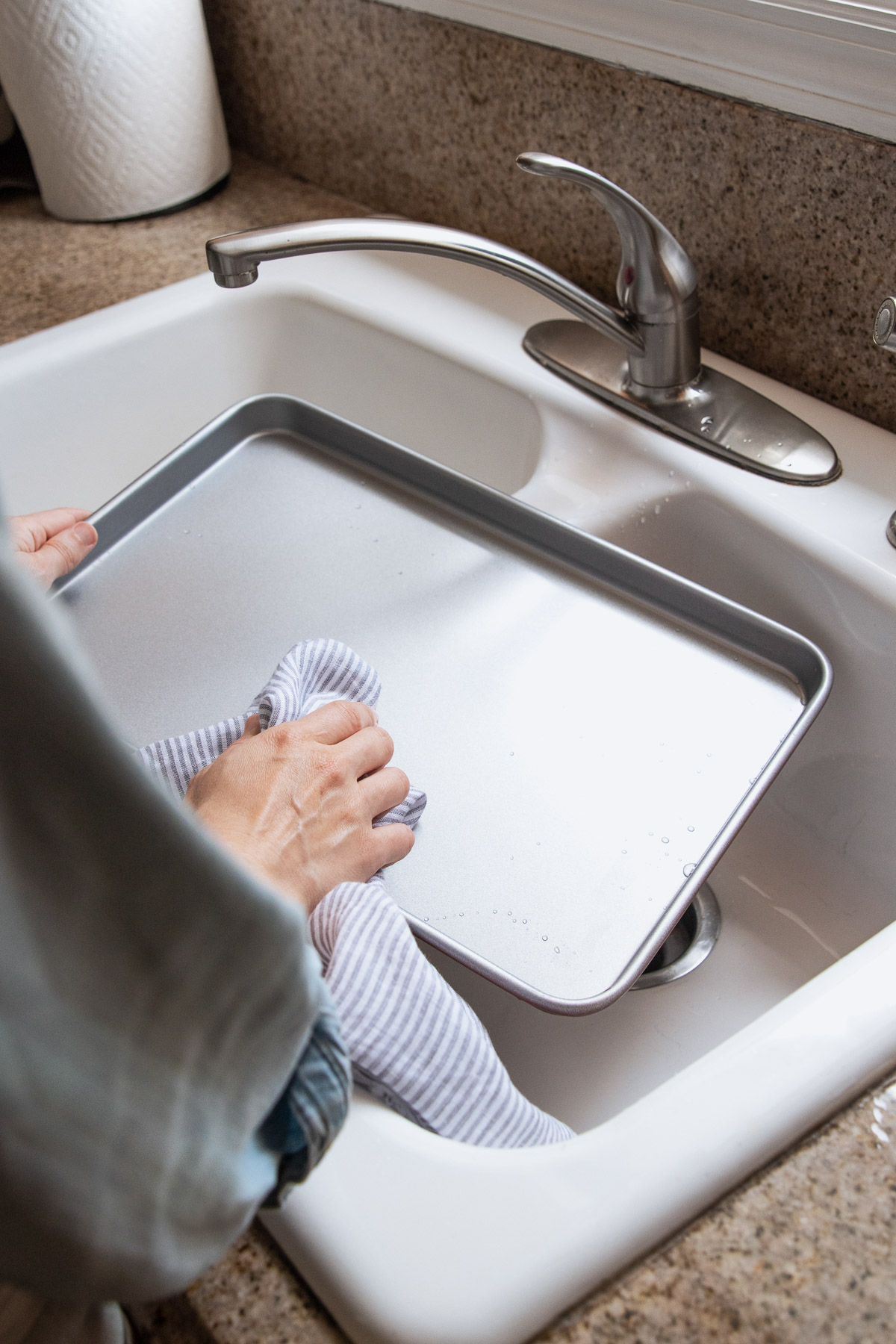 How to Restore Blackened Cookie Sheets
When cared for properly, baking sheets can last for decades (just check out your local flea market or antiques mall and you'll see what I mean.) So, it doesn't make much sense to toss them out whenever they get black and battered. Simply soak 'em for a couple hours before applying a little elbow grease and they'll be as spotless as the day you got them.
But before you get started, you need to know what your cookie sheets are made of. Aluminum and nonstick pans can be damaged by heavy chemicals and sharp scouring pads, which will cut your pan's life short. Steel pans, on the other hand, are tougher and can withstand some heavy-duty cleaners, like ammonia. If you're unsure, always test your cleaner on the back side of the pan before attempting the front. If you notice scratches, chips in the coating or any sort of damage, stick with the gentle cleaners recommend for aluminum pans.
Aluminum and Non-stick Pan Cleaners
baking soda
washing soda
cream of tartar
vinegar
dish soap
copper scouring pads (may damage non-stick pans)
Aluminized Steel Pan Cleaners
baking soda
washing soda
cream of tartar
vinegar
dish soap
copper scouring pads
hydrogen peroxide
table salt
ammonia
steel wool
oven cleaner
Feel free to adjust the recipes below (and any others found online) based on your pan's care requirements.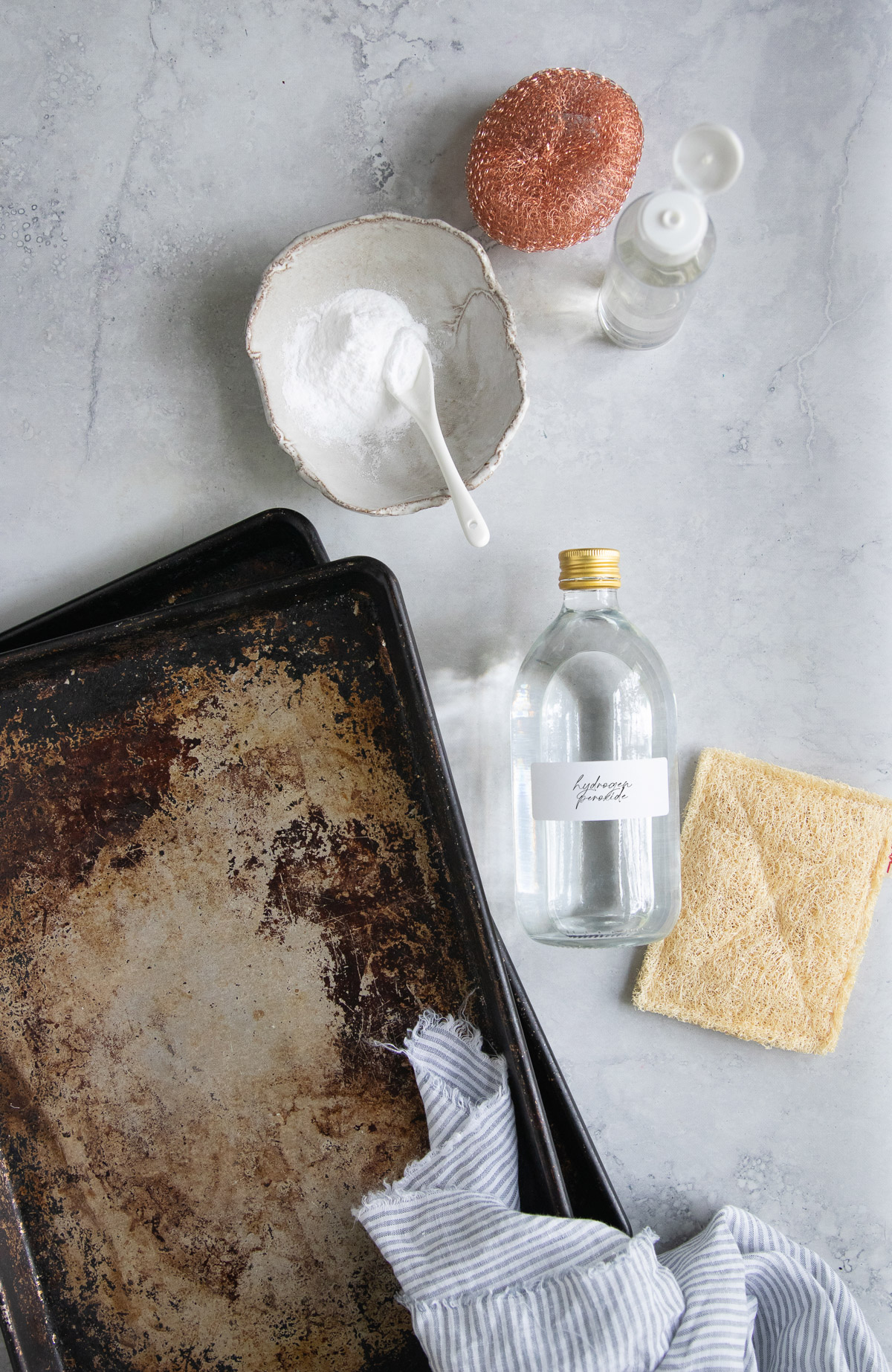 You'll need:
Step 1: Soak
Start by sprinkling your baking sheet with a generous layer of baking soda.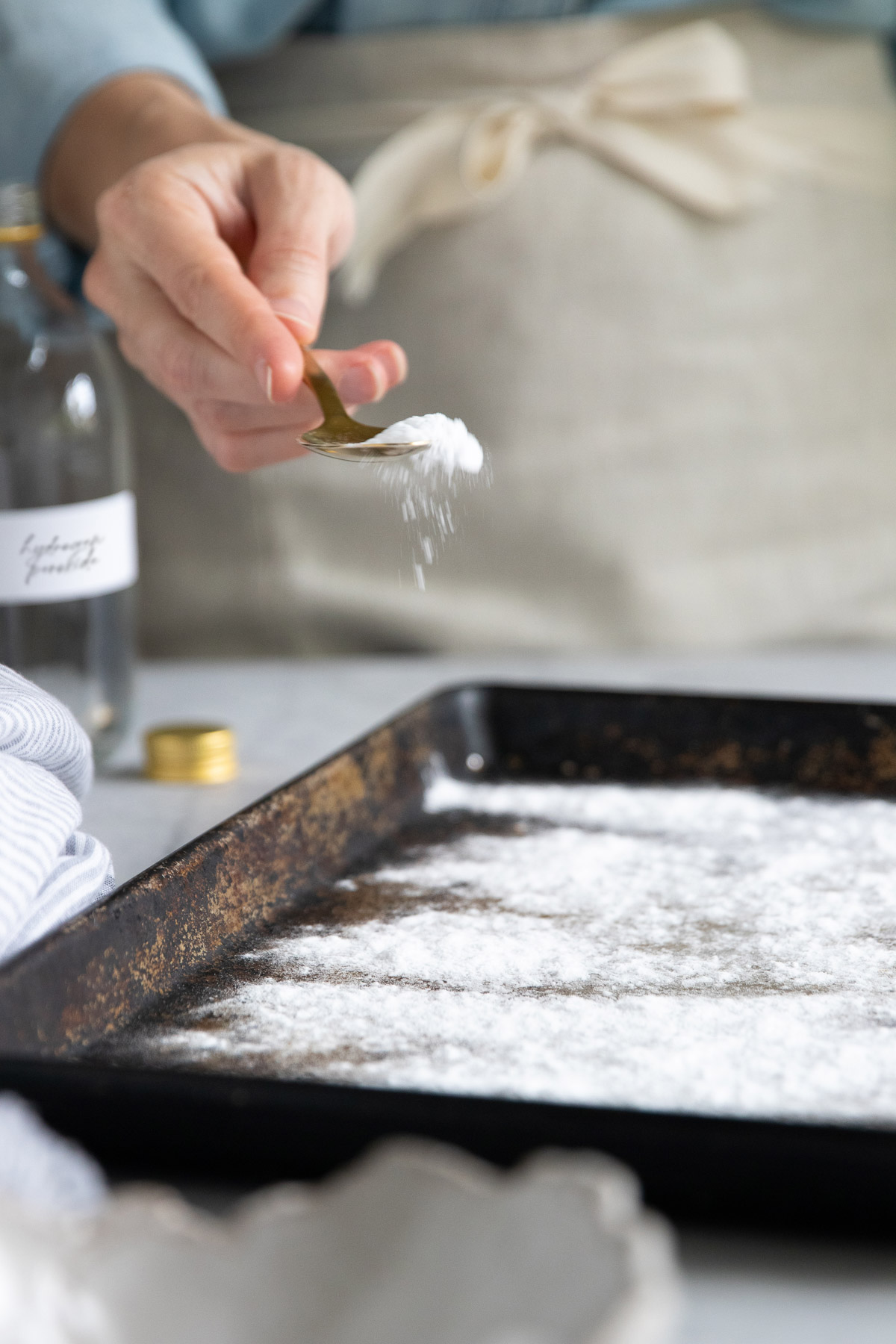 Spritz the baking soda generously with hydrogen peroxide, followed by another layer of baking soda. If you choose to use white vinegar instead of hydrogen peroxide, the mixture will immediately start to bubble. Wait until the fizzing subsides to add more.
You want the mixture to be thick and wet, like a loose paste. It will be somewhat runny, so make sure to cover the sides of your blackened cookie sheet as best you can.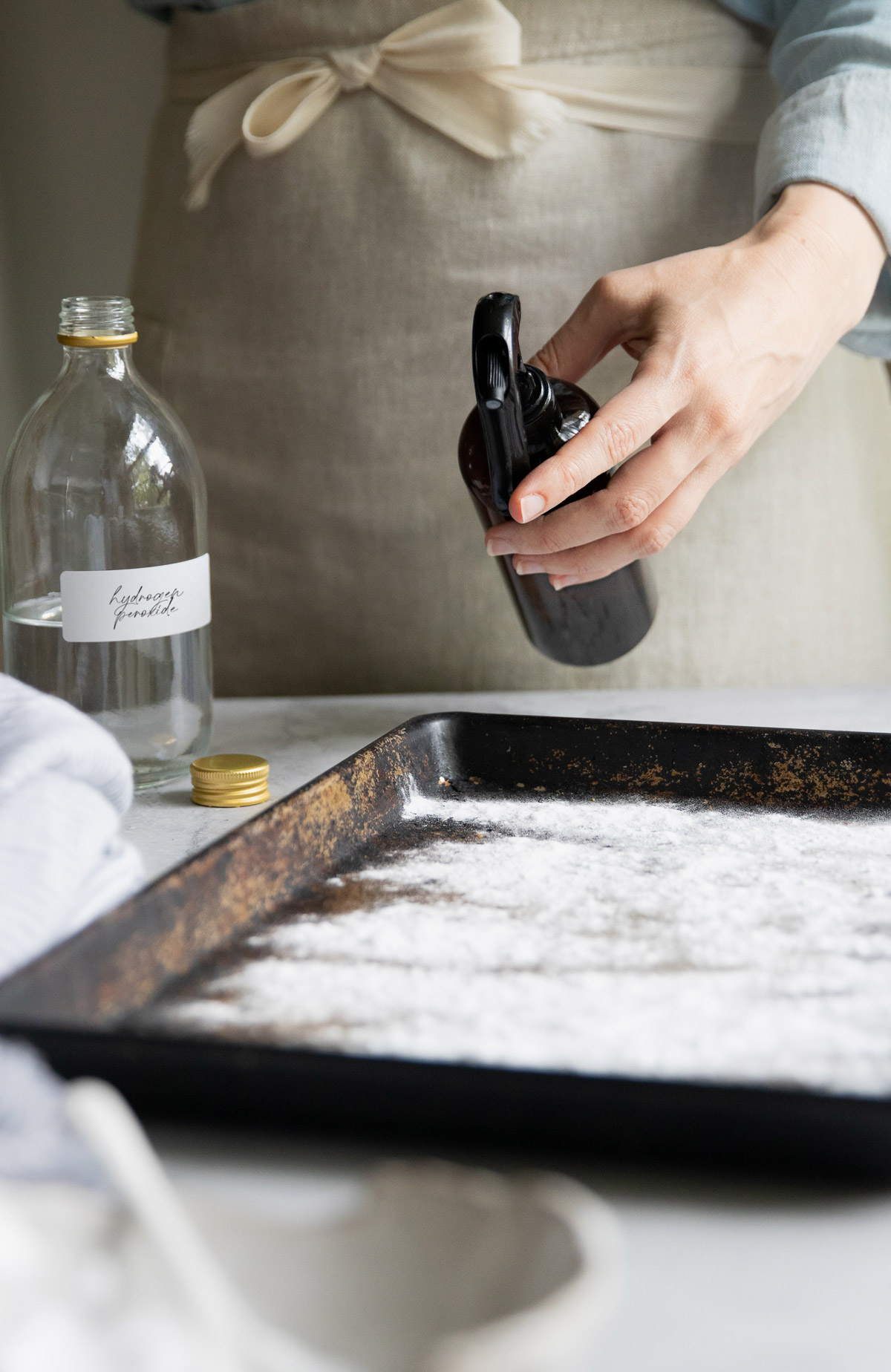 Let the mixture sit on the pan for 2-4 hours. The more baked-on the mess, the longer it may need to soak.
Wipe the mixture off with a clean, damp sponge.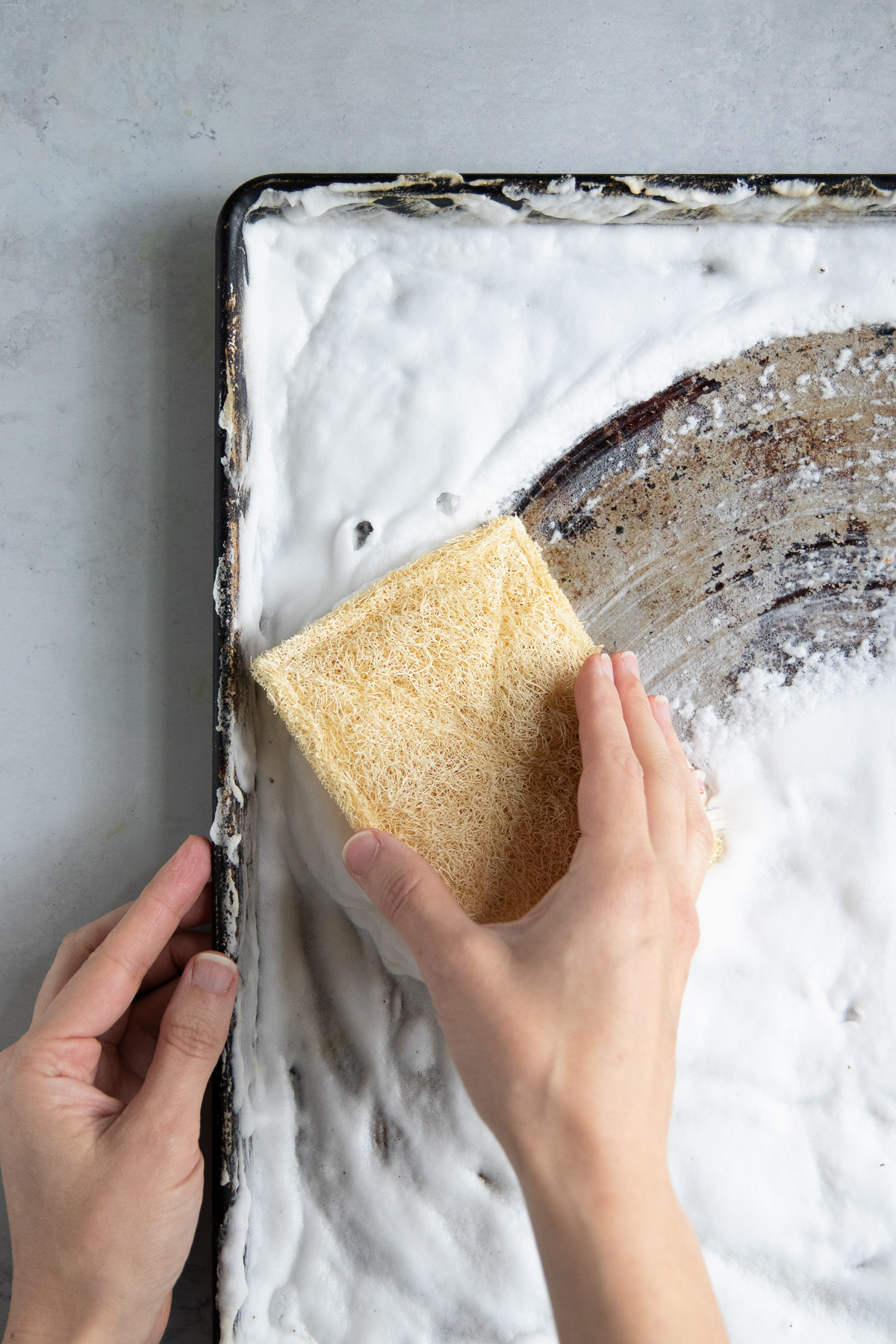 It's likely that the first soak won't be enough to get rid of all the grime, but it should make a dent. Repeat the process one or two more times, getting rid of a little more grease each time.
When things start looking good, rinse the baking sheet well and wash it with mild dish soap.
Step 2: Scour
While your baking sheet probably looks pretty clean by now, it may not look spotless. In that case, it's time to roll up your sleeves and break out the scouring supplies.
Unlike harsh steel wool, copper scouring pads are a gentler alternative that can scrub away burnt on mess without damaging your pans. If you don't have copper pads, you can always use a rolled up ball of aluminum foil. Combined with an abrasive scrub and a little elbow grease, those stuck-on stains will melt away in minutes.
That being said, even copper and aluminum foil may damage the coating on some non-stick pans. Make sure to test it out on an inconspicuous spot before tackling the whole pan.
Sprinkle a thin layer of washing soda on the surface of your cookie sheet. Then, drizzle a little dish soap over top.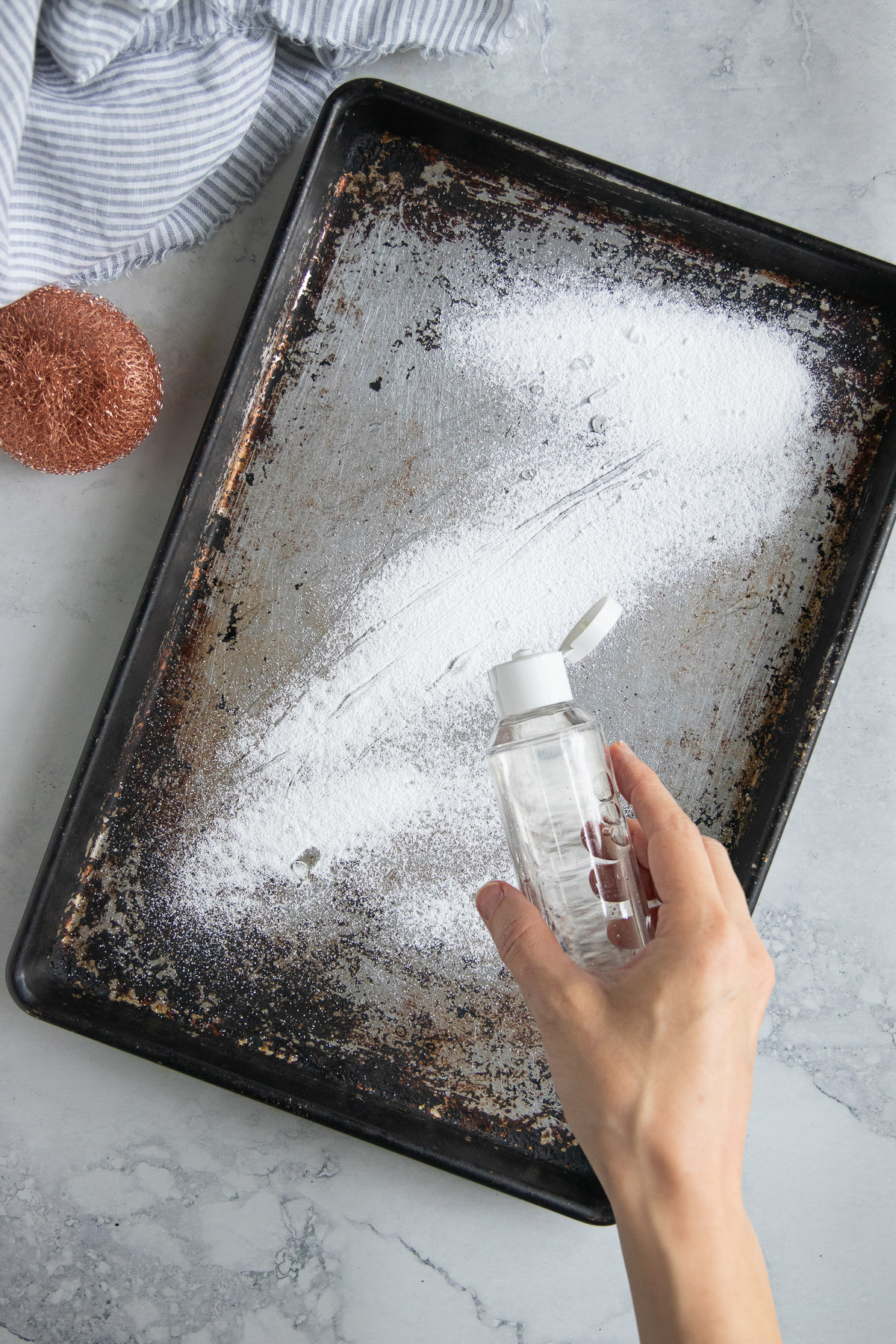 Add a little water to create a paste and use your scouring pad to work the mixture into the surface of the pan.
Focus on the corners, sides, or any other areas of your blackened cookie sheets that you're having trouble getting clean.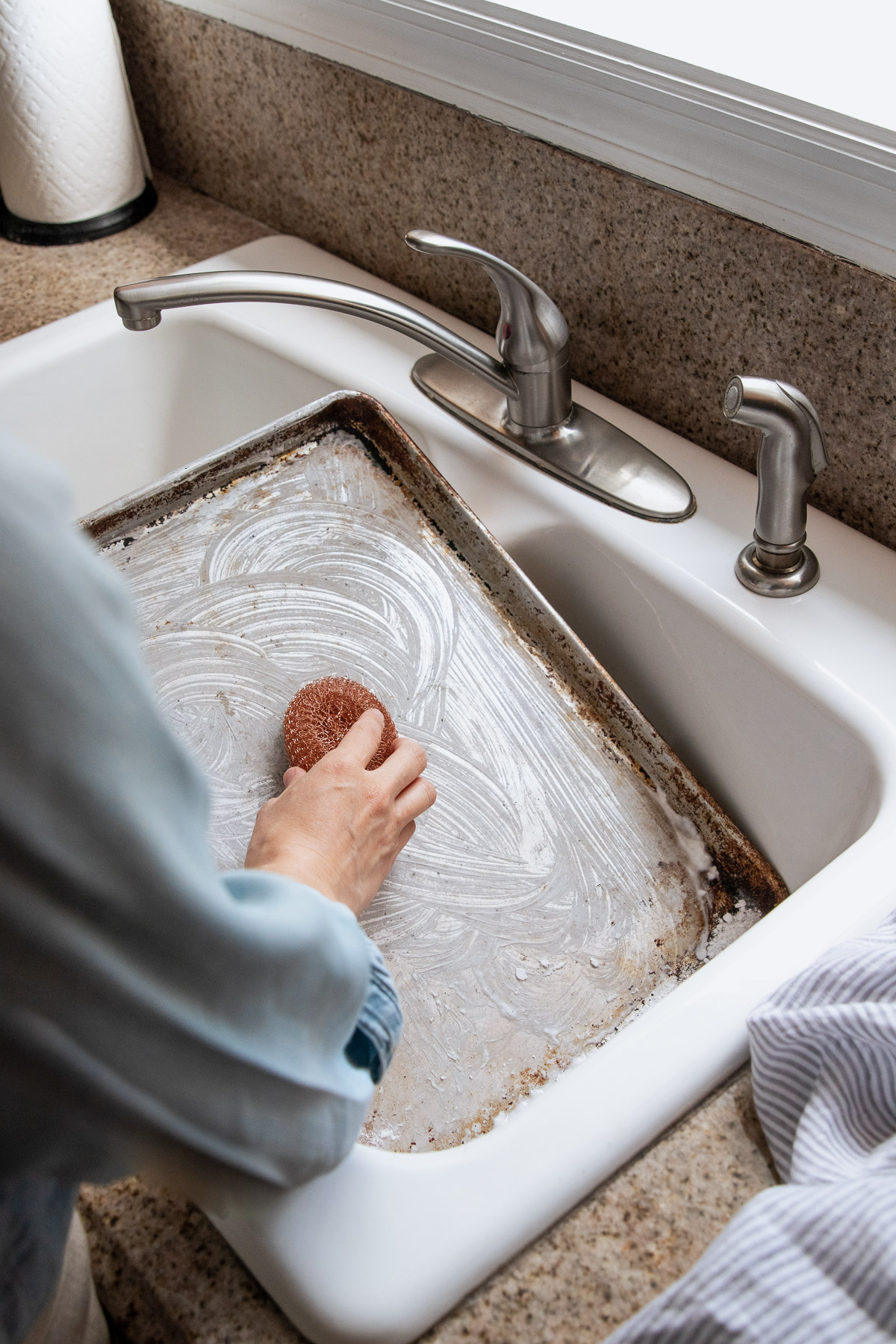 Continue scouring until there's no more blackened residue left.
Then wash your cookie sheet with hot, soapy water and dry with a soft towel.
Burned a pot? Here is how you can clean it to make it like new.
1