Looking for an easy way to get out of the boring salads routine? Upgrade them with coconut bacon! This very easy coconut bacon recipe is smoky and crunchy, and yes, it is vegan and keto. It makes a great addition to salads and sandwiches, adding them texture and a delicious smoky flavor. Especially if you are on a ketogenic or vegan diet, the coconut bacon will help you turn boring dishes into real delights, or have them as a healthy and spiced snack.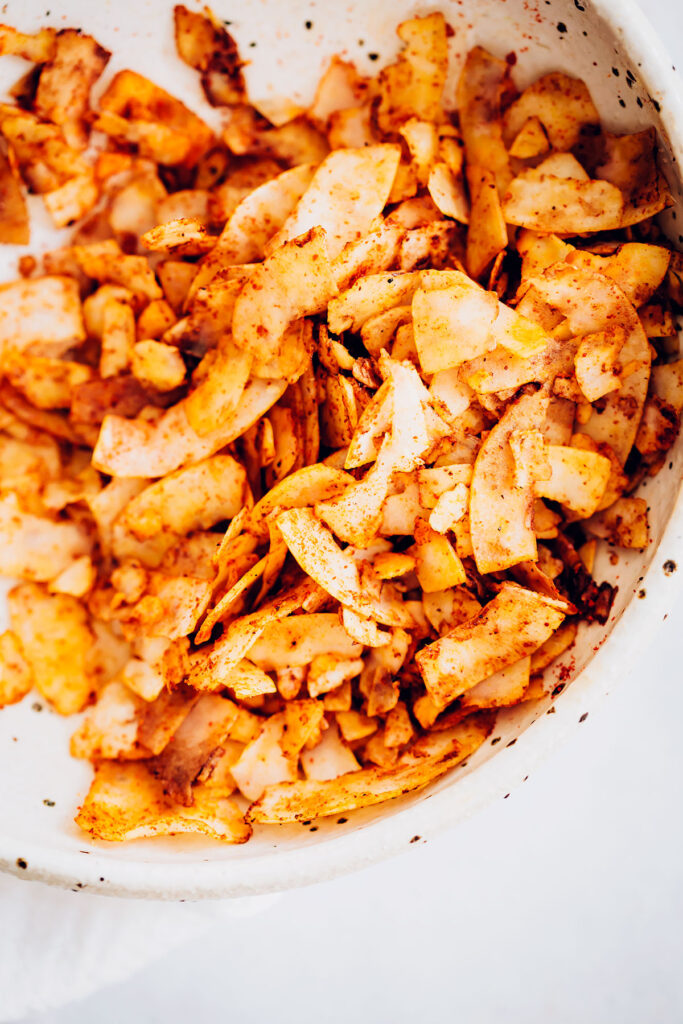 How do you make coconut bacon?
The idea behind making coconut bacon is to combine the right spices to get the umami taste of bacon. Coconut flakes are great flavor absorbents, but you can also use baked tofu or baked eggplant slices to create a vegan bacon.
Make sure you choose large coconut flakes, to get the chips texture and help them stand out in salads or sandwiches. Here are the ingredients for making the coconut bacon:
Coconut chips – choose the largest variety for the best results.
Coconut aminos – for a umami taste
Smoked paprika
Avocado oil
Salt
Optional – your favourite sweetener (for the keto version, use Erythritol or liquid stevia)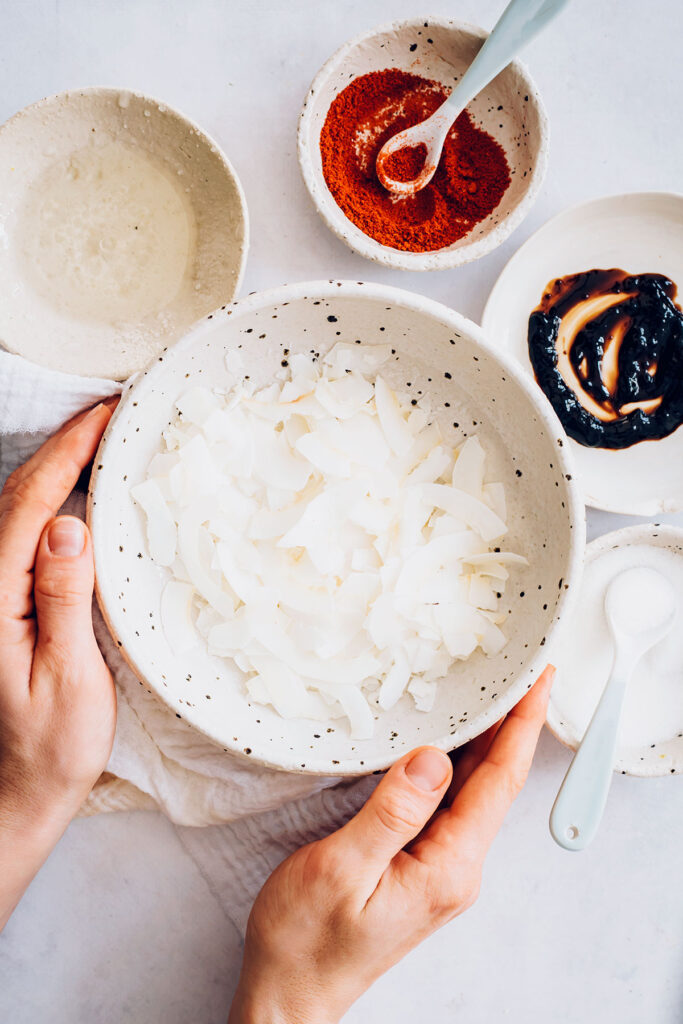 Making coconut bacon doesn't require any skills – you simply mix everything together and bake or cook in the skillet. Here is the step-by-step process of making the coconut bacon:
Preheat the oven to 175C/346F. We prefer baking the coconut bacon, because we avoid frying but you can toss them into a non-stick skillet over medium heat for the best results.
Line a baking sheet with parchment paper and add the coconut chips.
Add the spices – smoked paprika, coconut aminos, salt.
Add the erythritol and avocado oil and toss to coat evenly.
Arrange the coconut flakes into a single layer(this will help with the crunchiness).
Bake for 10-12 minutes, until crunchy.
Remove from the oven, let cool and then serve.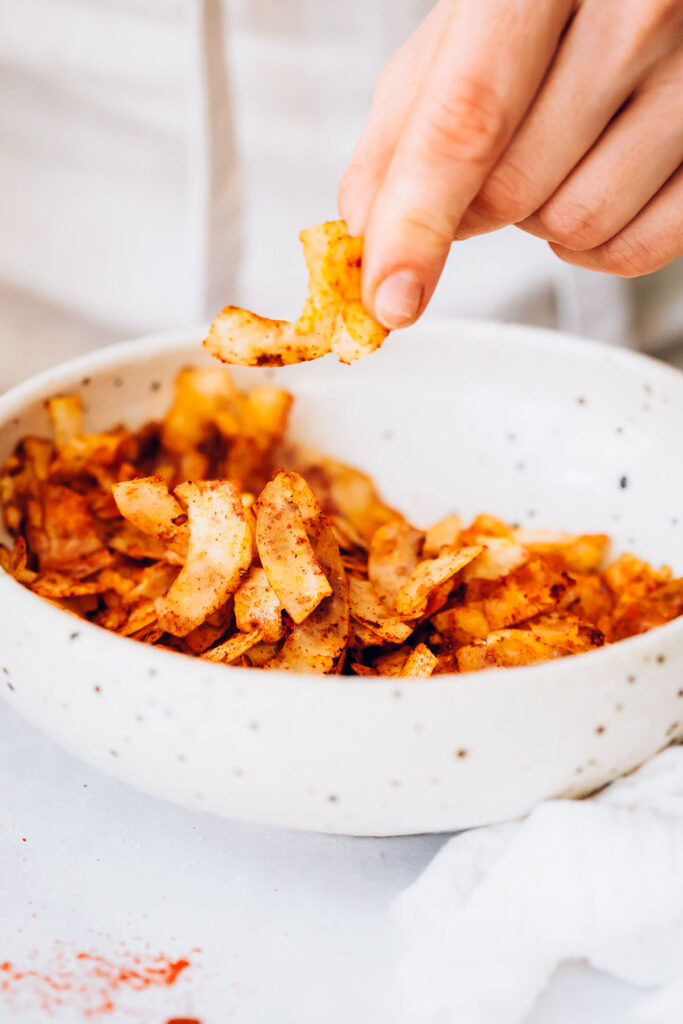 There are many ways to adjust the taste according to your preferences:
If you prefer your snacks spicy, adding cayenne pepper powder will do the trick.
Liquid smoke makes a great addition for a more intense smoky flavour – liquid smoke comes in different flavours so you can give your coconut bacon a mesquite or hickory twist.
If you are not following a keto diet, or simply can't get them from your health store, you can replace the coconut aminos with tamari or soy sauce.
Erythritol can be replaced with pure maple syrup or honey for a vegan or vegetarian version.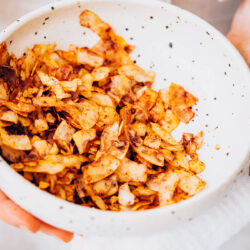 How To Make Coconut Bacon
A simple coconut bacon recipe that is vegan and keto, with a delicious smoky flavour, perfect for adding an umami taste and some crunch to your salads and sandwiches. 
Ingredients
2

cups

coconut flakes

1

tbsp

coconut aminos

2

tsp

smoked paprika

2

tsp

erythritol

1

tbsp

avocado oil

1

tsp

salt
Instructions
Preheat the oven to 175C/346F.

Line a baking sheet with parchment paper and add the coconut flakes.

Drizzle the avocado oil, add the spices, salt, erythritol and coconut aminos and toss to coat well.

Bake for 10-12 minutes until crunchy.

Remove from the oven and let cool completely before serving.
3