Bug bites are the worst, right? No matter what I do, I can never seem to avoid the itchy bumps and bites that come with summer. Even with citronella candles, repellent sprays and long sleeves, I inevitably still get bitten. Sadly, I think it's an uphill battle I'm destined to lose but that doesn't mean I can't come prepared.
This super soothing bug balm is a portable solution to insect bites of all sorts. Essential oils like lavender and lemon balm soothe inflammation while shea butter protects irritated skin. Just pop the cap on and toss it in your purse so you're armed for your next outdoor adventure.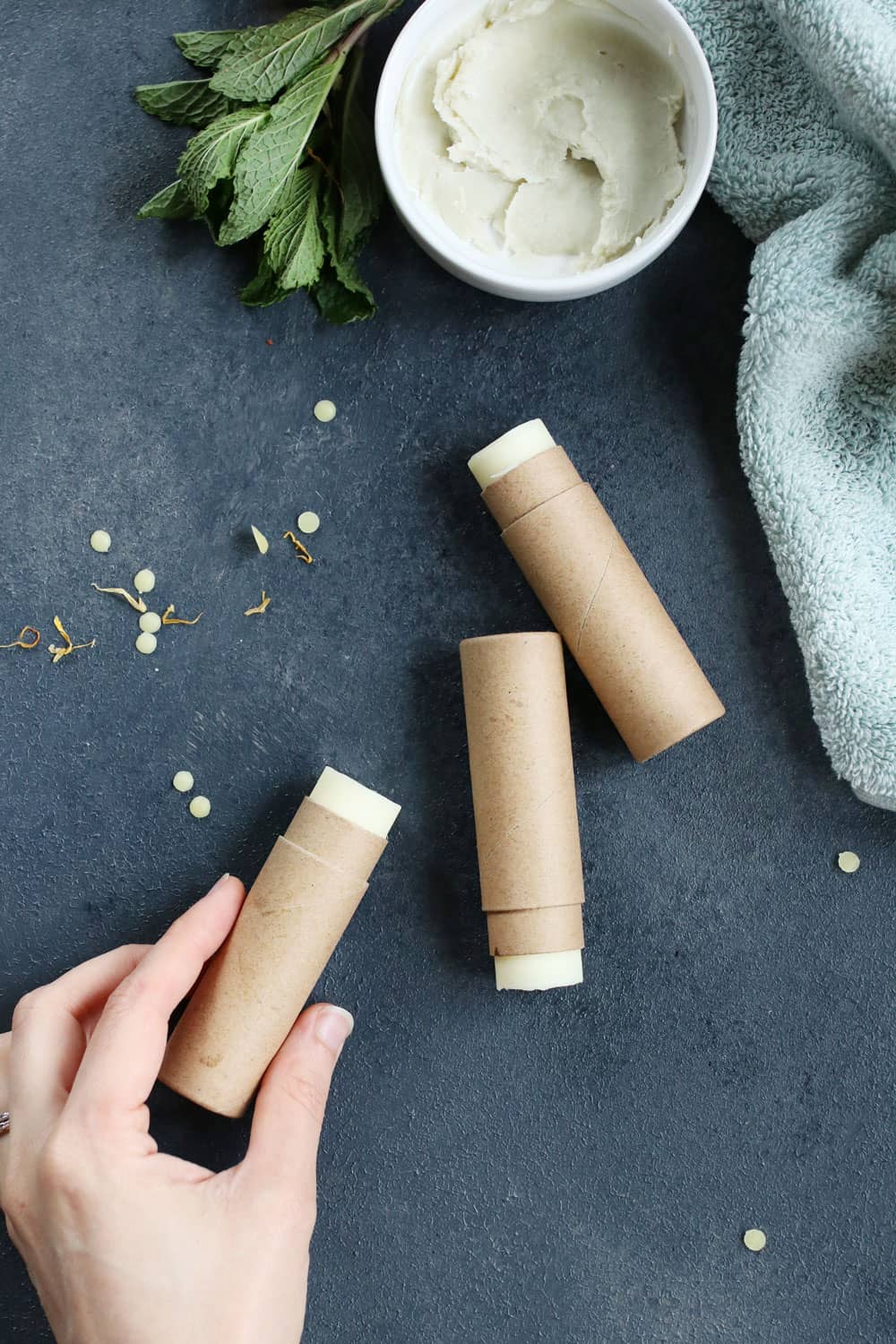 Soothing Bug Bite Sticks
Traditional anti-itch creams can be pretty icky when it comes to the ingredients. Whether you have sensitive skin or you're just concerned about toxic chemicals, it makes sense to choose an insect balm that's 100% natural.
Thankfully, making your own is super easy. This one uses only a handful of skin-soothing ingredients, many of which you might already have in your pantry.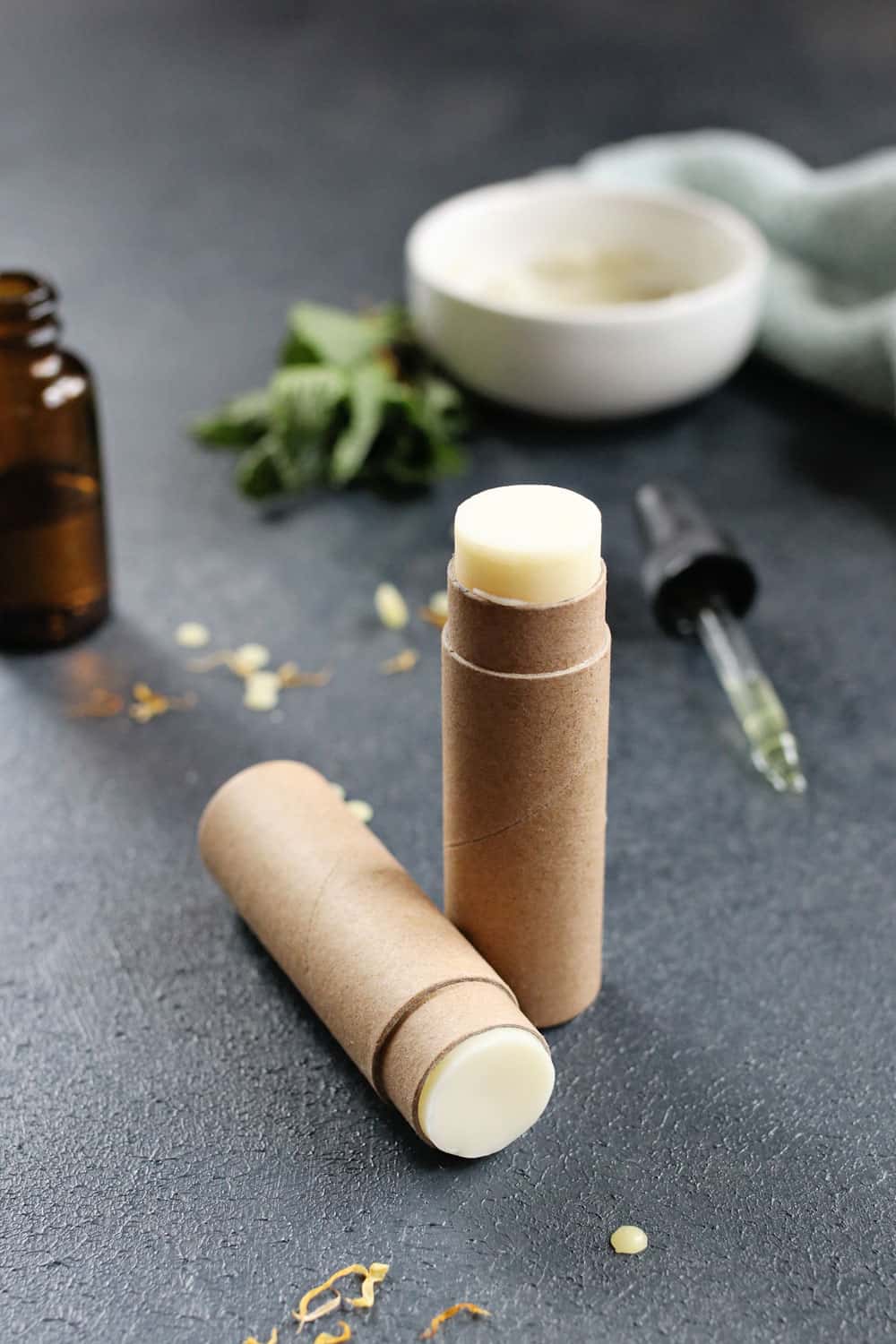 All of the bug balm recipes floating around out there are pretty much the same: beeswax, shea butter and oils. That leaves a lot of room to play around and find a recipe that works for you. I use coconut oil in mine because it's antibacterial and I love how it feels on my skin, but olive or avocado oil would also work. Then just add some essential oils to soothe skin and decrease inflammation.
Here are my faves for taking the itch out of bug bites:
Lavender – An all-around amazing herb for irritated skin. Lavender also has insect repellent qualities so it might even help keep you from getting bitten twice!
Lemon balm – One of my favorite summer herbs, lemon balm is incredibly calming and soothing. It also stimulates circulation, thus helping to heal those pesky bites.
Tea tree – Tea tree oil has antiseptic, antiviral, antifungal and antibacterial properties so bites can heal faster.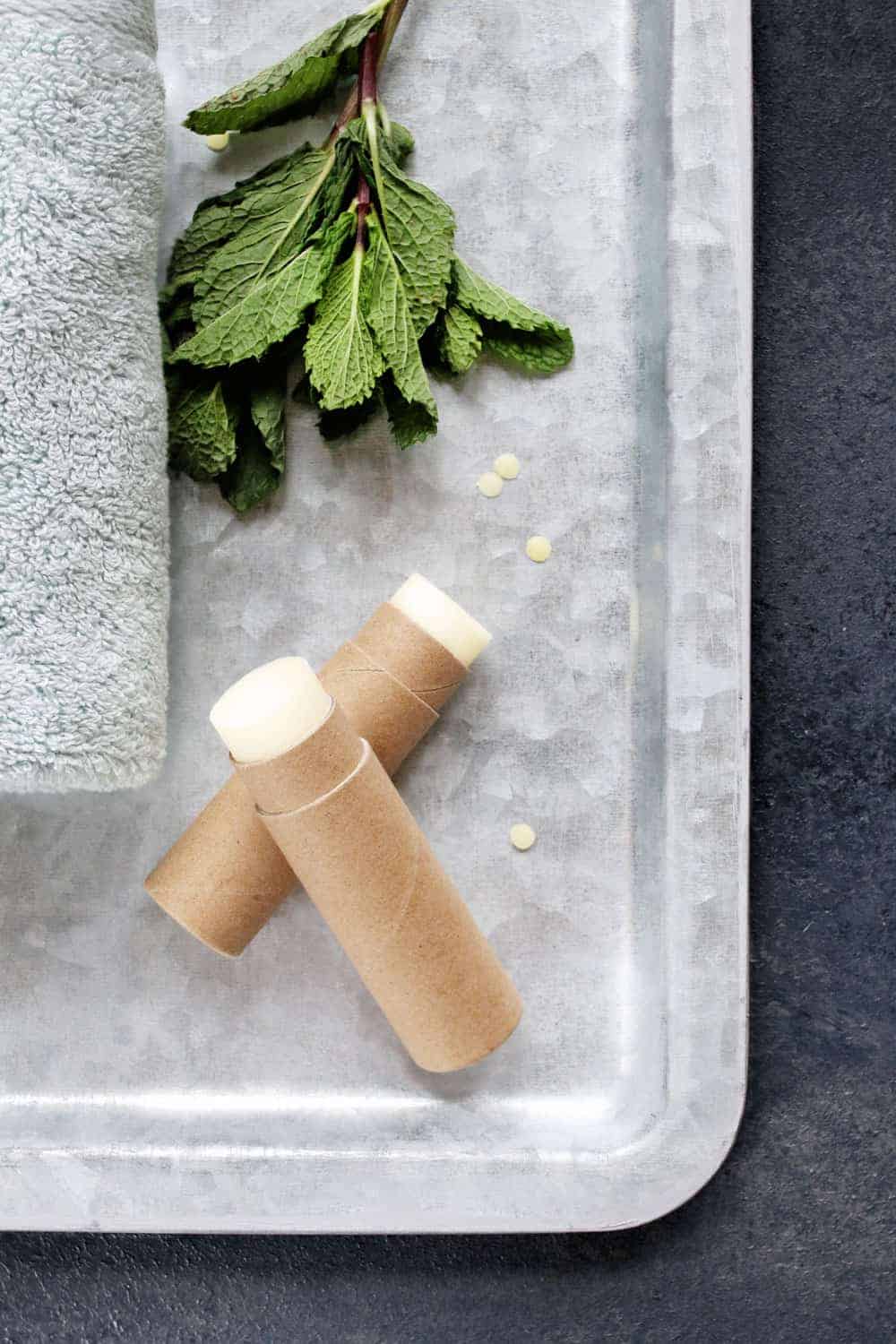 And while you don't have to store your bug balm in tubes, I love how portable they are. Since I don't always know when I'm going to be spending time outside, I always keep a tube or two in my purse for emergencies. It's kid safe and can even be used for cuts, scrapes and sun burn relief. Oh, and it also doubles as lip balm and moisturizer in a pinch! How's that for multi-tasking?
Update: these sticks are also uh-ma-zing for poison ivy. After an unfortunate run-in with poison ivy this summer, these bug bite sticks were one of the few natural remedies I could find that helped soothe the itch. From now on I'll always keep one in my medicine cabinet for unforeseen emergencies.
Ingredients
In a small pan, melt beeswax, shea butter and coconut oil. Stir well.
Remove from heat and stir in lemon balm, lavender, and tea trea oil. Let cool slightly, then pour into 1-ounce lip balm containers. It should make about 4 ounces of balm.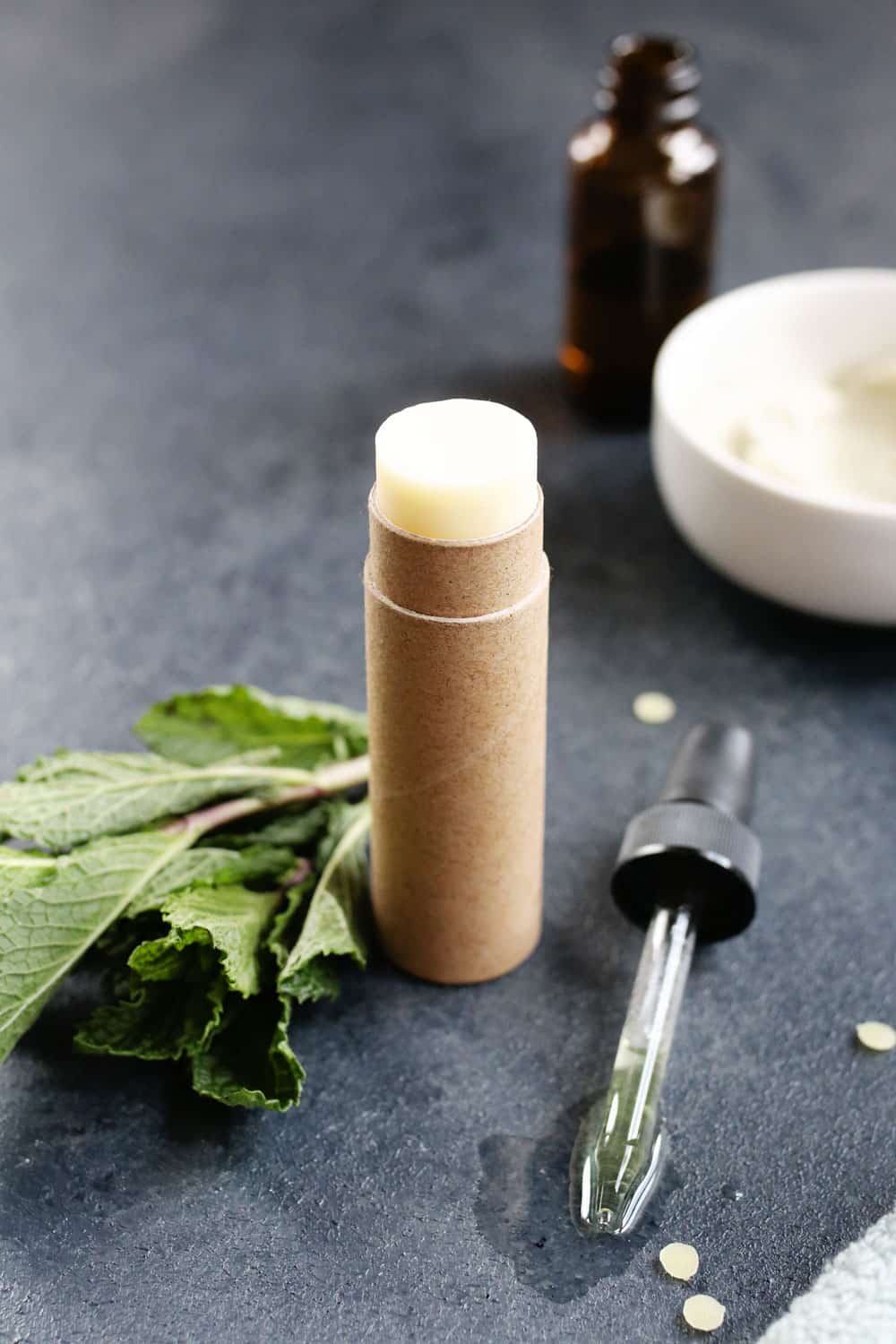 The other night my husband and I went to a backyard barbecue, and within minutes of getting there, we were itching and swatting like crazy. It's barely May, but those pesky mosquitos are already out in full force!
Although bugs and their bites are an inevitable part of summer, you don't need a drugstore cream to relieve the itch. There are lots of readily available and inexpensive essential oils for bug bites. Either use them individually or combine several into a DIY bug bite spray to take care of the itch, swelling, and pain quickly.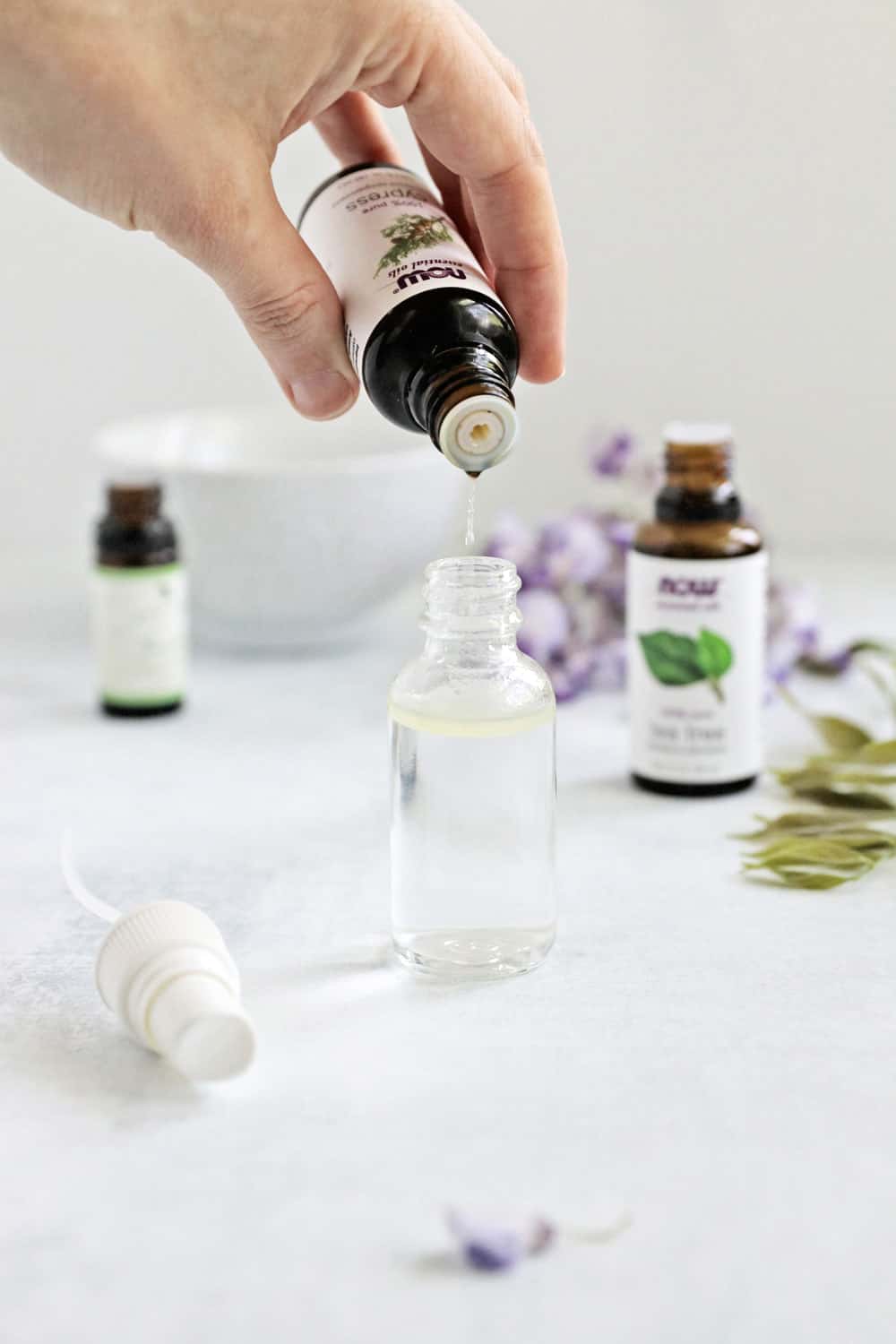 Here are some of our favorite essential oils to repel bugs and prevent bites in the first place!
7 Essential Oils for Bug Bites
Lemongrass
Due to its anti-inflammatory properties [source], lemongrass can help calm the inflammation and discomfort associated with insect bites. To use, mix 6 drops of oil with a tablespoon of carrier oil and massage into skin.
Lavender
Lavender is one of my favorite essential oils for bug bites. Not only is it inexpensive, but you can use it for everything from homemade beauty products to sleep remedies. So I always keep some on hand for emergencies. A study conducted in 2015 found that lavender has anti-inflammatory and pain-relieving properties, for one use similar to that of steroids [source], making it a perfect choice for bug bites.
Unlike some other essential oils, lavender can be applied directly to the skin, so you don't need to measure or mix it with carrier oils. Simply apply a drop or two directly to bites for instant soothing.
Camphor
Thanks to its analgesic and anti-inflammatory properties [source], camphor essential oil is ideal for treating even the worst insect bites. Additionally, it also contains insecticidal properties [source], making it beneficial in helping to keep the bugs away to begin with!
For most people, 10 drops mixed with a ½ teaspoon of carrier oil should do the trick. But for a stronger warming effect, use less carrier oil or more essential oil.

Tea Tree
Tea tree oil is a fantastic oil to have on hand for any number of skin issues. It's a gentle yet powerful oil that is frequently used to both prevent bug bites and treat them after the fact.
It contains natural anti-inflammatory properties [source], which help to reduce swelling and redness of the skin. Like lavender oil, it's safe to apply undiluted directly to bug bites for instant relief.
Rosemary
Rosemary essential oil has potent anti-inflammatory effects [source] that help it to cool redness and irritation quickly. Since rosemary oil is highly concentrated, it should not be applied directly to skin. Instead, mix 5 drops with a teaspoon of carrier oil (like sweet almond or jojoba), then apply as needed.
Cypress
Cypress essential oil has uses for various skin issues, including irritation. It contains antimicrobial properties [source] that can help support skin health and healing, and it's also considered to be highly astringent.
Peppermint
Peppermint essential oil (and other oils containing menthol) creates a cooling sensation on the skin that helps soothe the burn and itch you often get with bites. Peppermint oil is also antimicrobial [source], which helps reduce the risk of infection associated with some bites. Some people might find the cooling sensation of peppermint too strong, so it's a good idea to mix it with the carrier oil of your choice.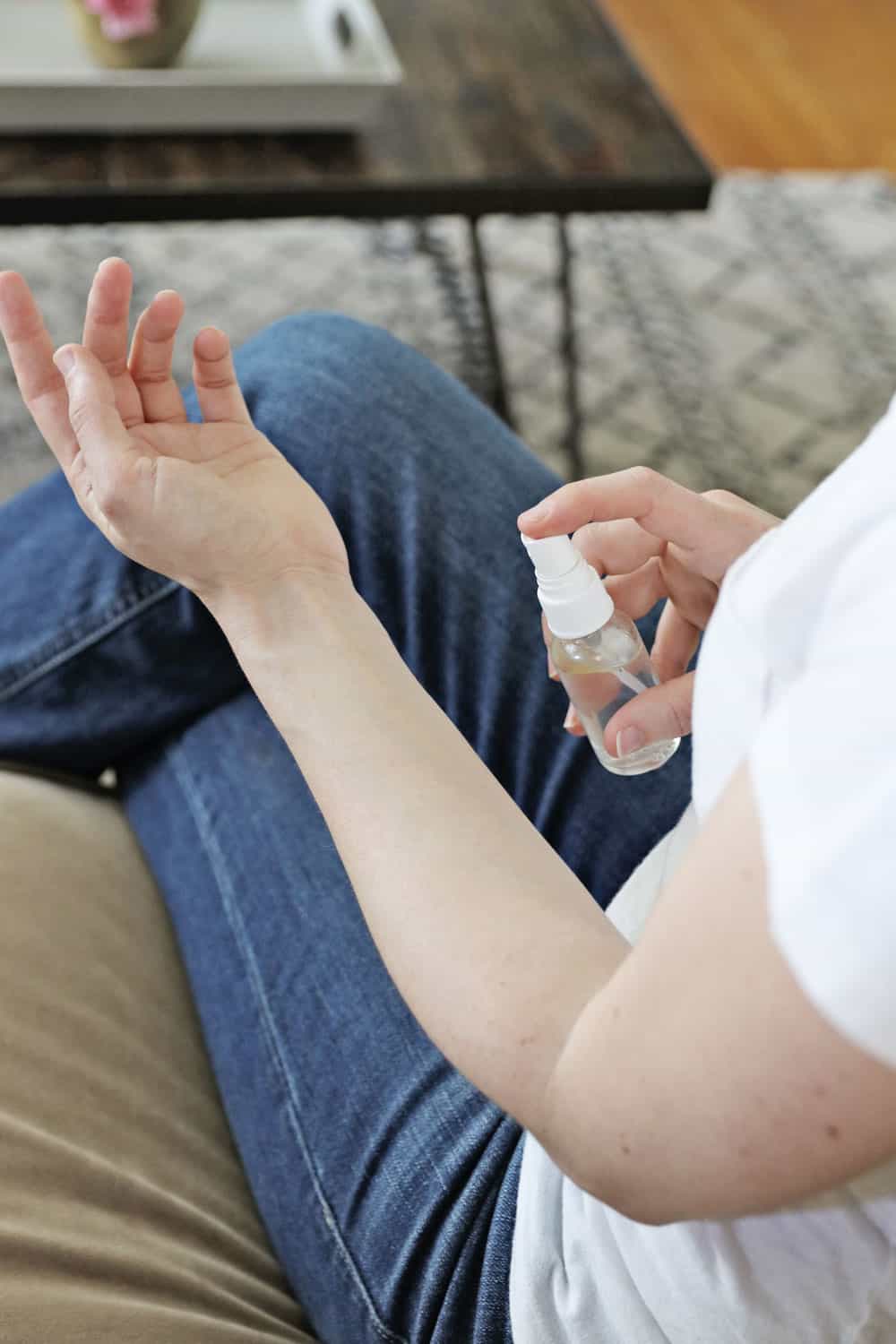 While each of these oils works well by itself, I like to mix them into a soothing bug bite spray to take advantage of all their healing powers at once.
1