There really is nothing that speaks that "fresh" language like a bold citrus oil—from the ripe and tart lemon to the more nuanced bergamot—citrus oils can brighten body, mind, and spirit. Not to mention they help to clean up—and perk up—your home.
It's helpful to know that these citrus oil—which also includes mandarin, neroli, petitgrain, yuzu, and blood orange—changes scent when stored at warmer temperatures, so keeping your oils cool (even in the fridge) can help to preserve their benefits and keep their natural scents from destabilizing.
Guide to Citrus Essential Oils
If you're wondering what citrus oils there are to choose from, or what might lead you to choose one over the other, here's a quick cheat sheet:
Lemon is one of the most versatile cleaning oils—it is an amazing degreaser that can be put to work on stove tops and microwaves. It also has antimicrobial qualities so it's a heavy-hitter in bathrooms, on counter-tops, or as a wood polish (add to a nut oil carrier and rub into cutting boards, floors or furniture).
Lemon is also wonderful for its mood-lifting properties, and it's the perfect bright note to lift up heavy/earthy tones in diffuser blends.
In my humble opinion, lime is the best citrus to combine with mint oil—whether it's for a cleaning spray, a diffuser blend, or a wake-me-up shower mist, these two dance together like nothing else. Lime has the same great cleansing qualities as lemon.
Some find sweet orange oil to be the gentlest and most agreeable scent of the citrus family, and so it can be used in lieu of the more astringent oils. It's also got great antiseptic properties, and it helps to fight odors, so mix a little in a spray with water and spritz on fabrics that could use some freshening.
Orange oil is also helpful with acne; use a drop on a cotton swab and apply directly to the spot before bed.
While it's similar to sweet orange, and can be used for the same purposes, tangerine oil has that little extra something that makes it smell like sunshine in a bottle. Tangerine would be a great choice to use for blends in homes with kids, as it sweetens the air like a candy shop—without the toothache.
Much like lemon oil, grapefruit is also a wonderful addition to cleaning products as it carries many of the same antibacterial, anti-fungal, and antiviral properties as lemon. This is a wonderful clean-scented oil to add to natural deodorants and soaps, and it's also a great scent to use around the house if you're feeling lethargic or lacking focus. Keep a vial of this one near your desk or workspace to pick you up and out of that mid-day slump!
Bergamot is a lesser-known citrus, which looks most like an orange but has a more complex and distinctive scent (bergamot is the flavor added to Earl Grey tea). It's another wonderful oil to use to alleviate fatigue and boost your mood. A study has even shown that the scent of bergamot can help to lower the stress hormone cortisol in animals.

While there are so many ways to incorporate these oils into your natural cleaning products and homemade apothecary items, whipping up the perfect diffuser blends is an easy way to use your oils to brighten up both your mood and your space.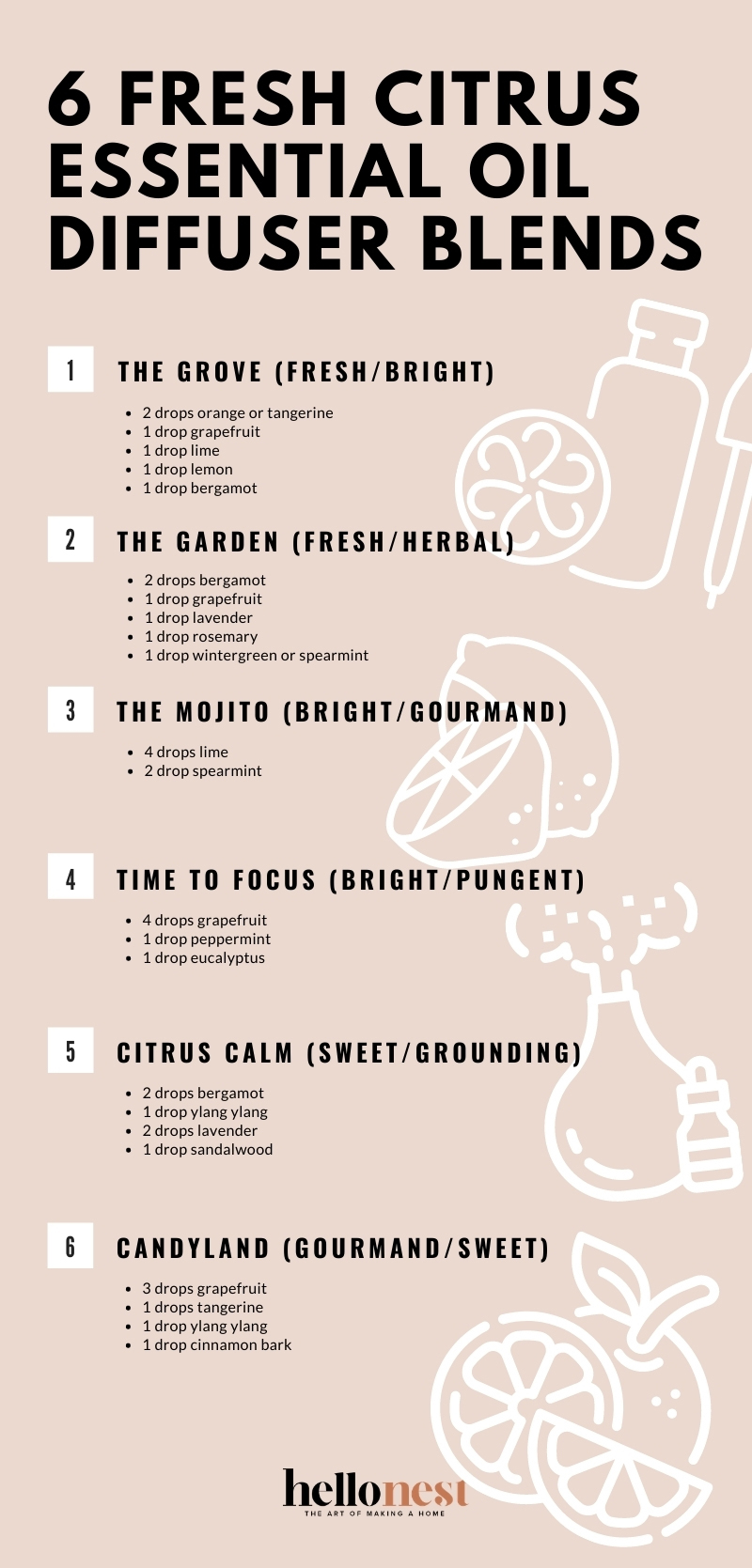 6 Citrus Diffuser Blends
Here are a few of our favorite citrus-forward concoctions that can be used in your favorite diffuser, or mixed with a bit of water as a room or linen mist:
1. The Grove (fresh/bright):
2 drops orange or tangerine

1 drop grapefruit

1 drop lime

1 drop lemon

1 drop bergamot
2. The Garden (fresh/herbal):
2 drops bergamot

1 drop grapefruit

1 drop lavender

1 drop rosemary

1 drop wintergreen or spearmint
3. The Mojito (bright/gourmand):
4 drops lime

2 drop spearmint
4. Time to Focus (bright/pungent):
4 drops grapefruit

1 drop peppermint

1 drop eucalpytus
5. Citrus Calm (sweet/grounding):
2 drops bergamot

1 drop ylang ylang

2 drops lavender

1 drop sandalwood
6. Candyland (gourmand/sweet):
3 drops grapefruit

1 drops tangerine

1 drop ylang ylang

1 drop cinnamon bark
These blends are best mixed with water when used in diffusers or as a mist, but it's worth noting that if you would like to use any of these tangy blends directly on the skin, they should always be combined with a carrier oil such as jojoba, avocado, coconut, or almond oil.
Citrus oils also increase your skin's photosensitivity when used topically, so be sure to cover up and don't forget your sunscreen!
10