A lot of times I feel quite proud of myself for thinking, why is everyone so afraid of germs? Toss the hand sanitizer! Then we get to 2020, and that smug 'bring on the germs' feeling is suddenly replaced with a combination of prayer and panic. Please, please, don't let anyone get sick!
My first line of defense is germ-fighting hand soap. This recipe for liquid hand soap lets essential oils bring the antiseptic power. A few good anti-germ essential oil options:
Why buy antibacterial soap when there are so many natural options that still look pretty? Better yet, make your own. Making liquid hand soap takes under five minutes and will save you so much money. With one simple recipe you can ditch the plastic bottles for good and start refilling your own dispensers. (Psst: It's also a good time to invest in pretty glass options!)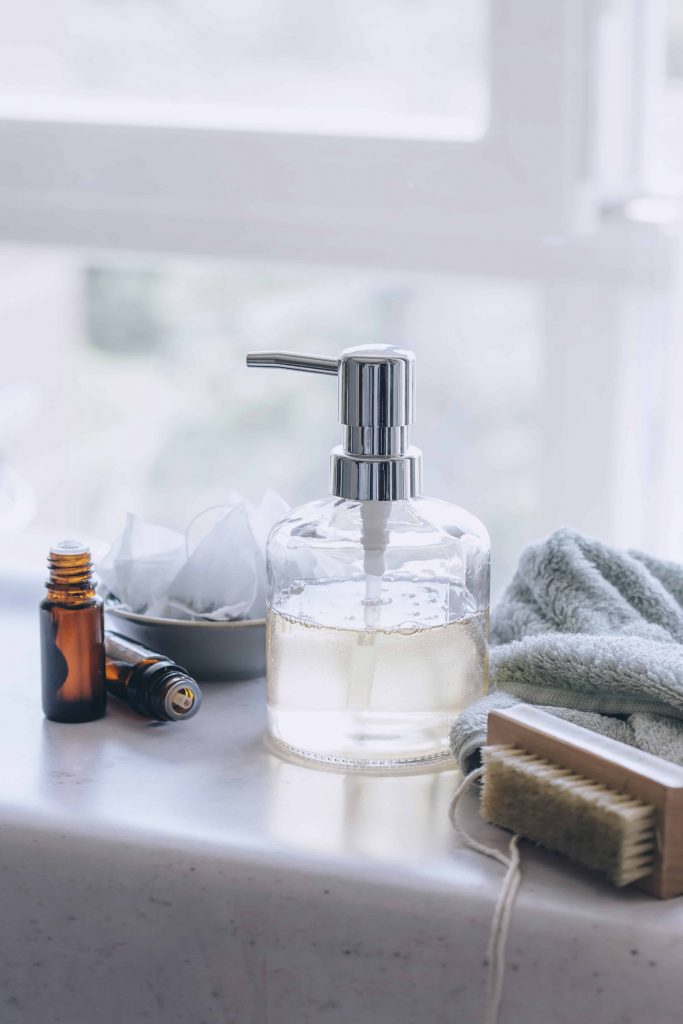 How to Make Liquid Hand Soap
Gentle Castile soap has a number of uses so buy a big bottle and keep it around for a while. I like to dilute it with equal parts soap and liquid, which still gives you plenty of suds. Add a small amount – like 1-2 tablespoons – of carrier oil, vegetable glycerin or aloe vera gel to soothe and moisturize hands.
Hand soap is a product that gets use multiple times a day, especially with children, so I'd stick to a more conservative formula with .5% to 1% dilution. For this recipe, that would be 3 to 6 drops of essential oil for each ounce of Castile soap. So that's either 24 drops (.5% dilution) or 48 drops (1% dilution).
A few mixing ideas based on 48 drops:
Lemongrass is one of my favorite scents, so I combined it with fresh ginger for this recipe. And instead of water I used 1 cup of cooled green tea.
Green Tea, Lemongrass + Ginger Liquid Hand Soap
Instructions
Measure and add the Castile soap to your soap container.

Add 1 tablespoon of oil and essential oil drops. Swirl to combine the ingredients.

Then pour in the green tea, replace the lid and swirl again.

Dispense 1-2 pumps of soap into your hands and lather up. Rinse thoroughly with water.
37