Aside from maybe the ubiquitous lavender essential oil that I've been using in my son's bath since he was a newborn, nothing quite hits the throw-it-in-everything mark for me like eucalyptus oil. This time of year, eucalyptus is perfect for wreath-making and scenting your home.

My love for it began when I was fortunate enough to spend some time camping in a eucalyptus grove in the wild, scrubby hills of Ojai, California. I would take a few sprigs off of a nearby tree and set them in a mug of hot water to warm their oils, and my whole cabin transformed into a wellness zen zone.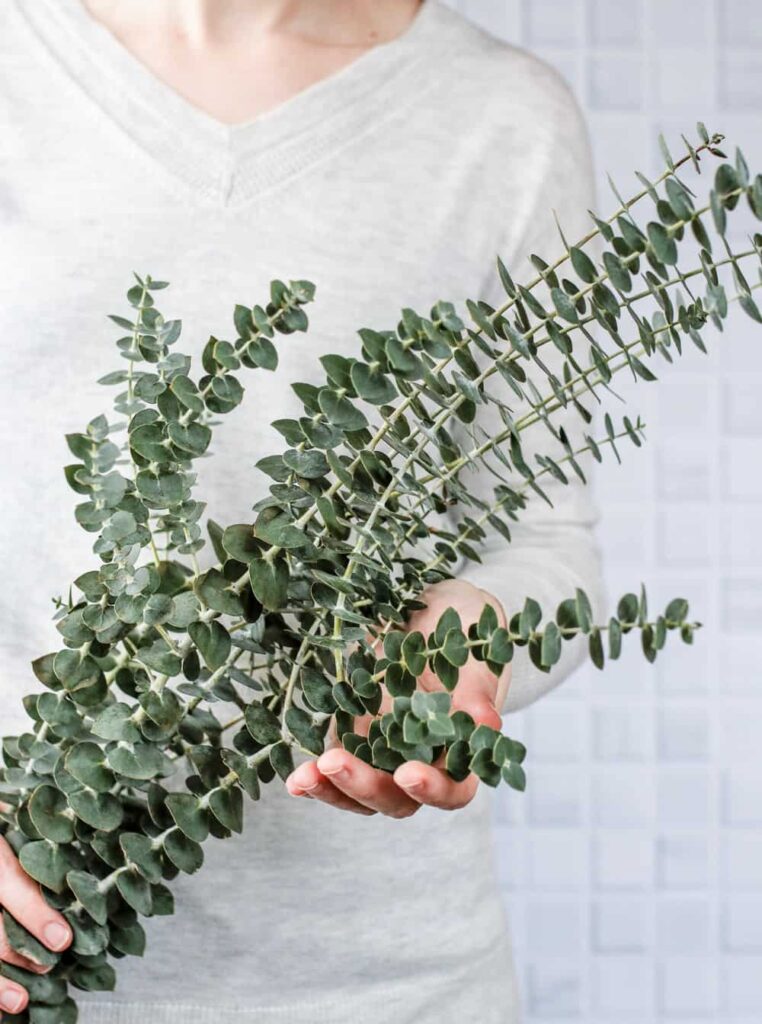 Back home here in Canada, I use eucalyptus oil as part of my natural cleaning regimen, as a deodorizer in my bathroom, in my laundry, shower, and with other complimentary oils in my diffuser. When anyone in my home is dealing with a cold, flu, or sinus congestion, eucalyptus oil is definitely the first on board.
5 Eucalyptus Diffuser Blends
Whether you're looking for something crisp, woodsy, sweet, or downright chill, we've got some great eucalyptus diffuser blends for you.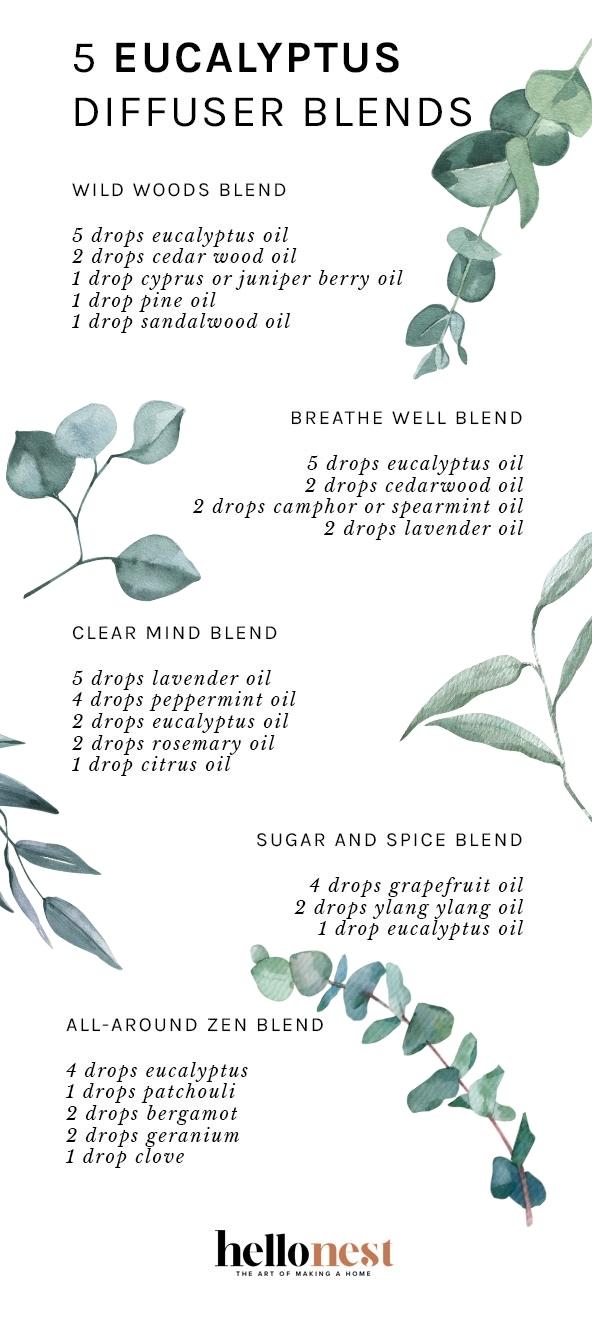 1. Wild Woods blend
For a deeply grounding, mossy, fall blend reminiscent of campfires and forest floors, combine:
5 drops eucalyptus oil

2 drops cedar wood oil

1 drop cyprus or juniper berry oil

1 drop pine oil

1 drop sandalwood oil
2. Breathe Well blend
When you or someone in your home is feeling under the weather, having trouble sleeping due to sinus congestion, or is sick with the cold or flu, whip up this blend that helps ease symptoms such as chest tightness and coughing (bonus if you have a misting diffuser, as the humidity also helps):
5 drops eucalyptus oil

2 drops cedarwood oil

2 drops camphor oil*

2 drops lavender oil
*if using around very young children, or asthmatics, replace camphor oil with spearmint in the diffuser blend as camphor can be quite potent. Also, avoid using camphor topically.
3. Clear Mind blend
Whether you're dealing with a headache, brain fog, or the mid-day slump, this soothing, effective blend can ease the throbbing and encourage mental clarity:
5 drops lavender oil

4 drops peppermint oil

2 drops eucalyptus oil

2 drops rosemary oil

1 drop either lemon, grapefruit, or sweet orange oil
4. Sugar and Spice blend
Ok, hear me out—I came across this bubblegum-esque blend a while ago when I was looking for a scent that my young son would enjoy. You might think it too much for an adult's taste, but this ratio really is lovely, mildly sweet, and nostalgic. Try a few of my suggested additions to take this basic blend into other sweet territory:
4 drops grapefruit oil

2 drops ylang ylang oil

1 drop eucalyptus oil
*to add a bit of "spice" to your sugar, add in 1 drop each of cinnamon bark oil, ginger oil, and/or clove oil
**to kick this into black licorice territory, add in 1 drop of anise or fennel sweet essential oil
5. All-Around Zen blend
In my mind, the most versatile diffuser blends have just the right balance of earthy, fresh, and gourmand notes. If you're looking for the perfect signature home blend that feels calm and clean with a hint of spice, give this one a whirl:
4 drops eucalyptus

1 drops patchouli

2 drops bergamot

2 drops geranium

1 drop clove
Of all the essential oils I find myself recommending to others, eucalyptus oil is definitely one of the top. It has both medicinal and antiseptic qualities, so it's worth having on hand in the kitchen, bathroom, and medicine cabinet, and its complex and versatile scent also makes it such a well-balanced addition to so many types of diffuser blends.
Whether you decide to perk it up with your favorite citrus oils, or take it to the woods with the greens, there are so many options for experimenting and finding what works for you!
20