It really does seem like the uses for essential oils are infinite! Whether we are using them to disinfect our living spaces, to freshen up our fabrics, or to set a mood with the perfect scent, collecting the right roster of oils is a must. Each part of your home will benefit from different oils as each room has its own particular needs.
Best Essential Oils for the Bathroom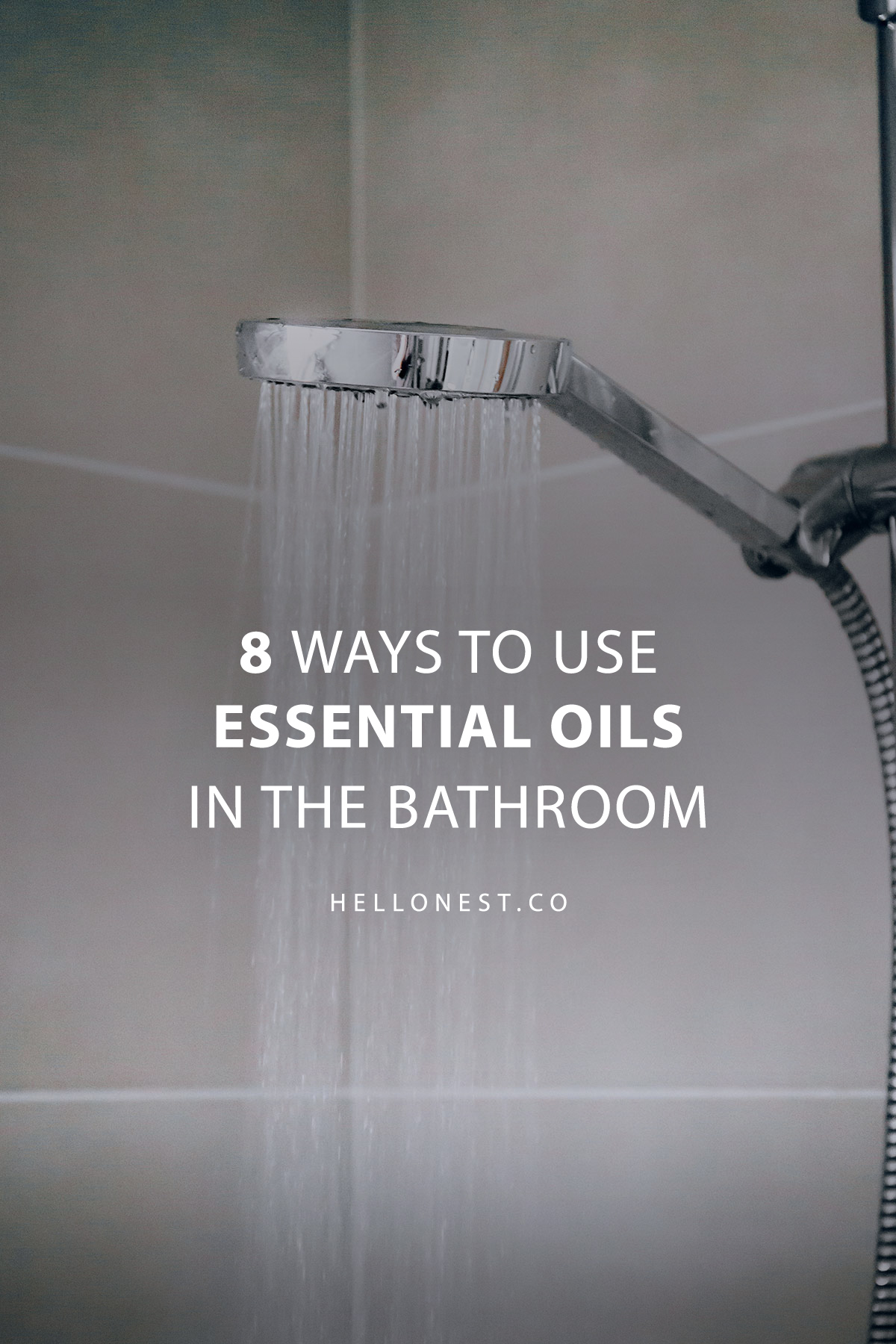 When considering the best oils to pull together for the bathroom, you'll want to choose those that have strong cleaning/disinfecting qualities, as well as those whose scents really brighten up and freshen the space. These heavy-hitting, disinfecting oils are great for clearing away harmful viruses, bacteria and fungi, plus they're great at fighting against the build-up of mold and mildew.
Since this crew of oils tends to smell a bit antiseptic, I've also included some suggested complimentary oils to lend more complexity and nuance to the scents:
Lemon— mixes well with bergamot, peppermint, and lemongrass

Eucalyptus—mix with peppermint or lavender

Tea tree—add to bergamot, peppermint, or lavender

Lemongrass— mixes well with peppermint, lemon, and basil

Thyme—combines well with any citrus

Peppermint—add in some eucalyptus, lemon, grapefruit, or bergamot
Once you've rounded up the right oils, here's how you might begin to incorporate them in to your all-natural bathroom cleaning and maintenance regimen:
1. In a diffuser
Scenting your bathroom is one of the most basic (yet rewarding!) ways to use your essential oils. Since there is less of a need for their germ-busting abilities, choosing oils that smell fresh and clean is really the most important quality.
Add a total of 8-10 drops of oil to the diffuser water, adjusting the ratios according to your own personal scent preferences. I recommend 2 drops each of lemon/bergamot/grapefruit/orange for a bright, citrusy punch, or 2 drops each of lemongrass/peppermint/lavender/eucalyptus for a clean, natural vibe.
2. Air freshener
For those times when you need an immediate hit of freshness, having a spray bottle of essential oil air freshener for you or guests to use is the perfect solution. Using a small glass spray bottle, combine:
1/2 cup distilled water

8 drops of lemon oil

8 drops of eucalyptus or thyme oil

3 drops lavender
Shake well before misting.
3. Daily shower spray
To keep your shower smelling fresh in between cleans (and to help ward against a build-up of mildew) whip up a bottle of this spray to keep on hand. After each shower, simply spritz around the wet stall and go! Combine in a small to medium sized bottle:
1/2 cup vinegar

1/2 cup distilled water

10 drops of lemon

5 drops peppermint
Shake well before using.
4. Tub and tile scrub
This recipe is great for those times when your shower stall or bath tub needs a deep cleaning. Blend the following ingredients together in a wide-mouth container:
3/4 cup baking soda

1/4 cup Castile soap

1 tablespoon water

10 drops lemon or lavender oil
Using a cloth or brush, scrub the surface with the mixture. Leave on surfaces for 10 minutes, and then wipe off and rinse as you would any other shower cleaner.
5. Toilet bowl odor control
Add 2-3 drops of eucalyptus or tea tree oil into the toilet bowl water after each flush. The next person who uses it will be pleasantly surprised by the amazing odor-absorbing qualities—in this case, prevention is key!
6. All-purpose bathroom cleaner
When you are looking for a solid, all-around bathroom cleaner (think counters, tiles, toilets, tubs and other surfaces), give this one a go. In a medium or larger sized bottle, combine:
1 cup vinegar

1 cup water

1/2 tsp all-natural dish soap

15 drops lemon oil

10 drops eucalyptus oil
7. Inside the toilet paper roll
Add a few drops of your favorite fresh scents (I recommend a citrus, such as grapefruit or lime) on the inside of the paper toilet paper tube. Each time it gets pulled for a spin, your bathroom will get a burst of fresh air.

8. Wake-me-up shower spray
One of my favorite ways to use essential oils in the bathroom is to mist an energizing blend into your steamy shower every morning—it really helps to wake me up, and also clears stuffy sinuses so I'm starting my day breathing easy. In a small spray bottle, add together:
1/2 cup water

5 drops eucalyptus

5 drops peppermint

2 drops tea tree

2 drops lime

2 drops grapefruit
Shake well before use.
Once you've gathered together the right assortment of oils, get creative and experiment with the various combinations until you find the perfect scent for you. If you are looking mostly for germ-fighting properties, follow this general guideline: if you are using at least 10-20 drops of the more anti-microbial oils to every 2 cups of solution, you will be on the right track.
Gone are the days of holding your nose! With just a few drops of the right oils in the right places, you can breathe easy knowing your bathroom just might become one of the freshest rooms in the house.
206