Air plants are touted as the ultimate low-maintenance house plant. No soil, minimal watering and low light requirements are the trifecta when it comes to hands-off plant care, but they're not as minimal as you might think. I learned this the hard way when I killed my first air plant in record time. I misted it every week as per the "super simple" instructions, only to watch it give up the ghost within two months.
Turns out, they can die of thirst if not taken care of properly. Whoops! Read on to learn how to care for air plants the right way, and keep them thriving for years to come.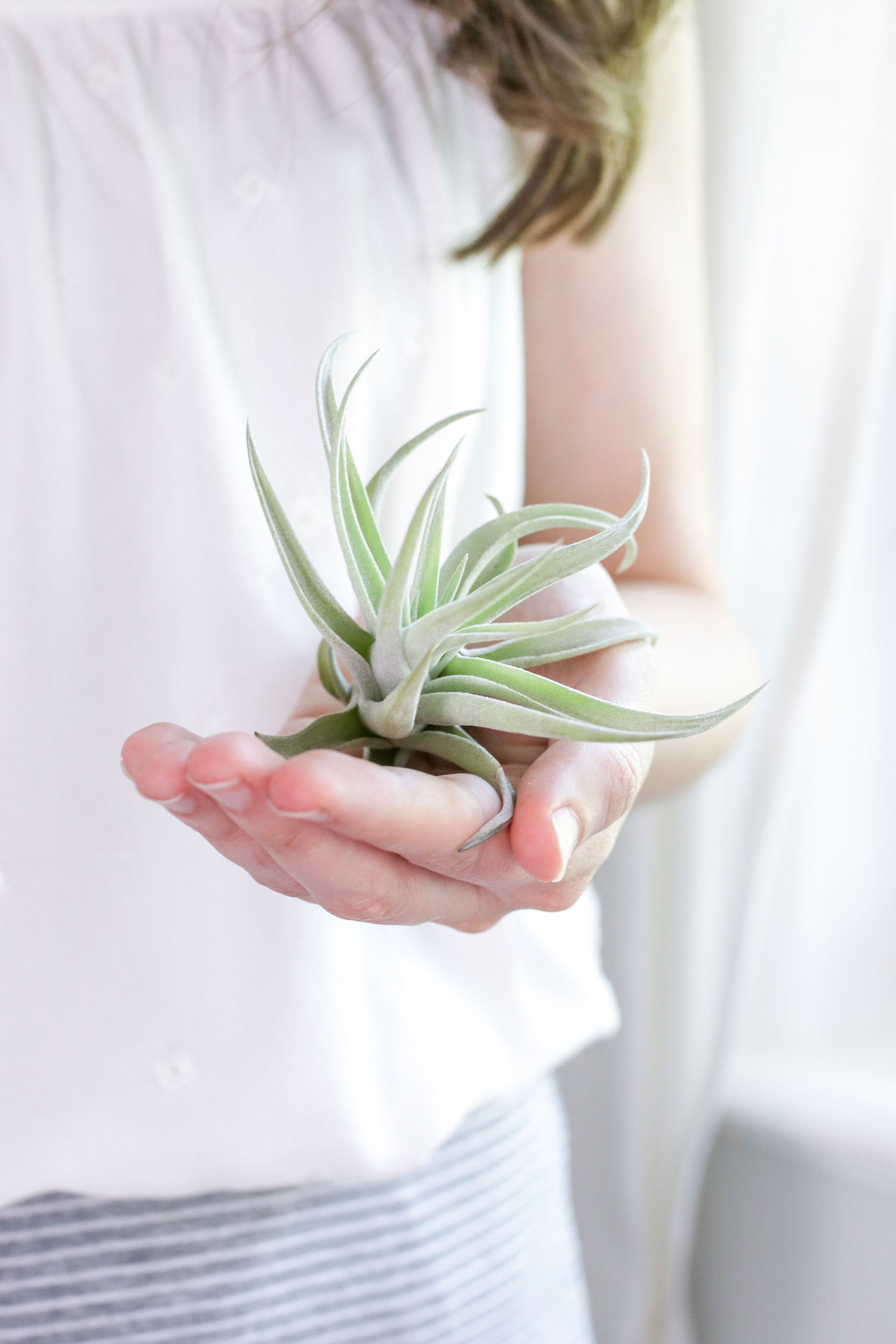 How to care for air plants
Air plants just need air, right? Not quite. They're easier to care for than other plants but they're not totally set-it-and-forget-it. The right kind of watering, pruning and occasional fertilizing will keep your air plants humming on autopilot for the foreseeable future.
Water properly
While air plants don't need a ton of water, they do need a good dousing every now and then. Once every two weeks (or immediately after purchasing a new air plant), submerge your plants in a water bath for about 30 minutes. I just fill up a bowl with lukewarm water and submerge my plants in it.
You can use a bowl big enough to completely submerge the entire plant, but I've found that it's fine to use a smaller bowl and simply rotate the air plant halfway through so all the leaves gets a good soak. It's not an exact science.
Once it's soaked for a while, gently shake your air plant to remove excess water and place it in a bright window with indirect sunlight to dry it out. Once every other month, a longer 2-hour soak is recommended to completely re-hydrate your plant.
Mist occasionally
In between soakings, your plants might need a gentle misting, especially if you live in a drier, hotter climate. If you begin to notice your plant's leaves losing color or getting brown and wrinkly at the tips, that's likely a sign of dehydration. Go ahead and mist your plants with water between bi-weekly soakings.
Find the best light
Air plants need bright, indirect sunlight to thrive. Place them on a north or west-facing windowsill where they won't get more than two hours of direct sunlight and won't dry out too quickly. If your plant gets more direct sunlight, mist it with water every other day to keep it fresh and hydrated.
Regulate the temperature
Air plants typically grow in tropical climates, so they love warm, humid conditions (between 50 – 90 degrees Fahrenheit). They make great bathroom plants.
Winter can be problematic though since cold temps can kill your air plants. Never leave them outside on frosty evenings or too close to drafty windows for prolonged periods of time. During the winter, I like to move my plants away from drafty windowsills at night, and then move them back once the sun rises.
Prune regularly
Like other plants, air plants need occasional grooming to get rid of dead leaves. It's normal for the lower leaves or air plants to dry out as the plant grows, at which point the dead leaves can either be gently pulled off or snipped away with a pair of scissors. The same can be done for the plant's dead roots.
And don't worry about over-pruning, the leaves should grow back just fine.
Fertilize occasionally
Fertilizing isn't necessary, but if you notice your plants starting to look sparse, a little fertilizer will get them back in tip top shape. Fertilize with a bromeliad fertilizer once a month from March to November (when air plants aren't blooming). Simply dissolve the fertilizer in water (follow the instructions on your particular brand of fertilizer, but don't go overboard because too much can damage your plants) and soak your air plants as usual.
Pick the right container
When it comes to displaying your plants, glass terrariums are great and all, but air plants need air circulation to keep things running smoothly. Bowls, jars and terrariums (all enclosed spaces, for that matter) encourage wet, moldy conditions. I display mine in open containers, like 3-inch succulent pots, but if you just can't get over glass, choose a container with as much breathing room as possible.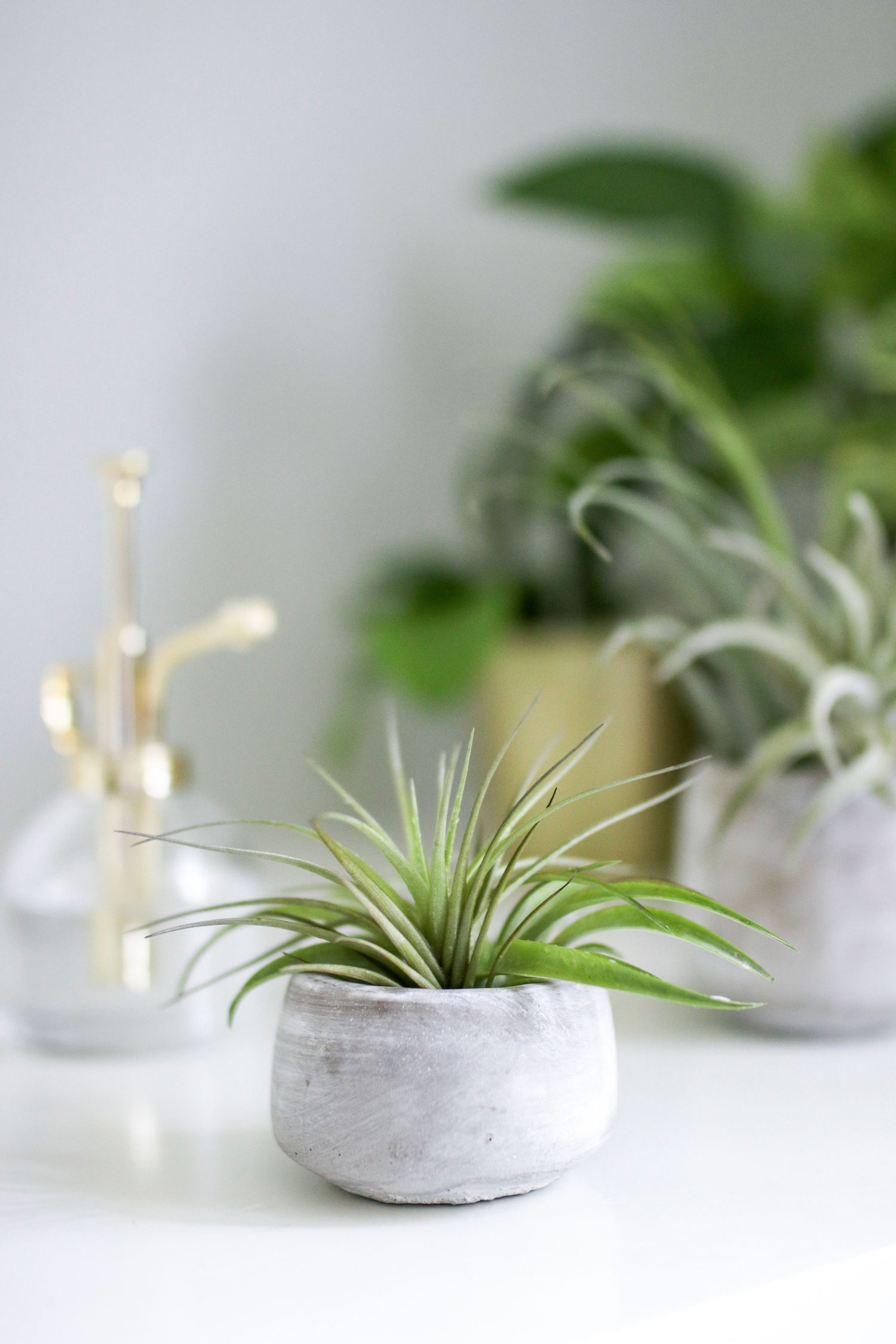 5