Is there anything more high maintenance than a brand new pair of white Chucks? It seems like the second you put them on they become dirt magnets, with scuffs and smudges appearing out of thin air.
To keep them looking new, you might need a little bit of TLC to remove dirt and keep stains at bay. Or if yours are already showing a lot of wear, a deep cleaning will do the trick. Here's how to clean white Converse step-by-step and keep them lookin' fresh.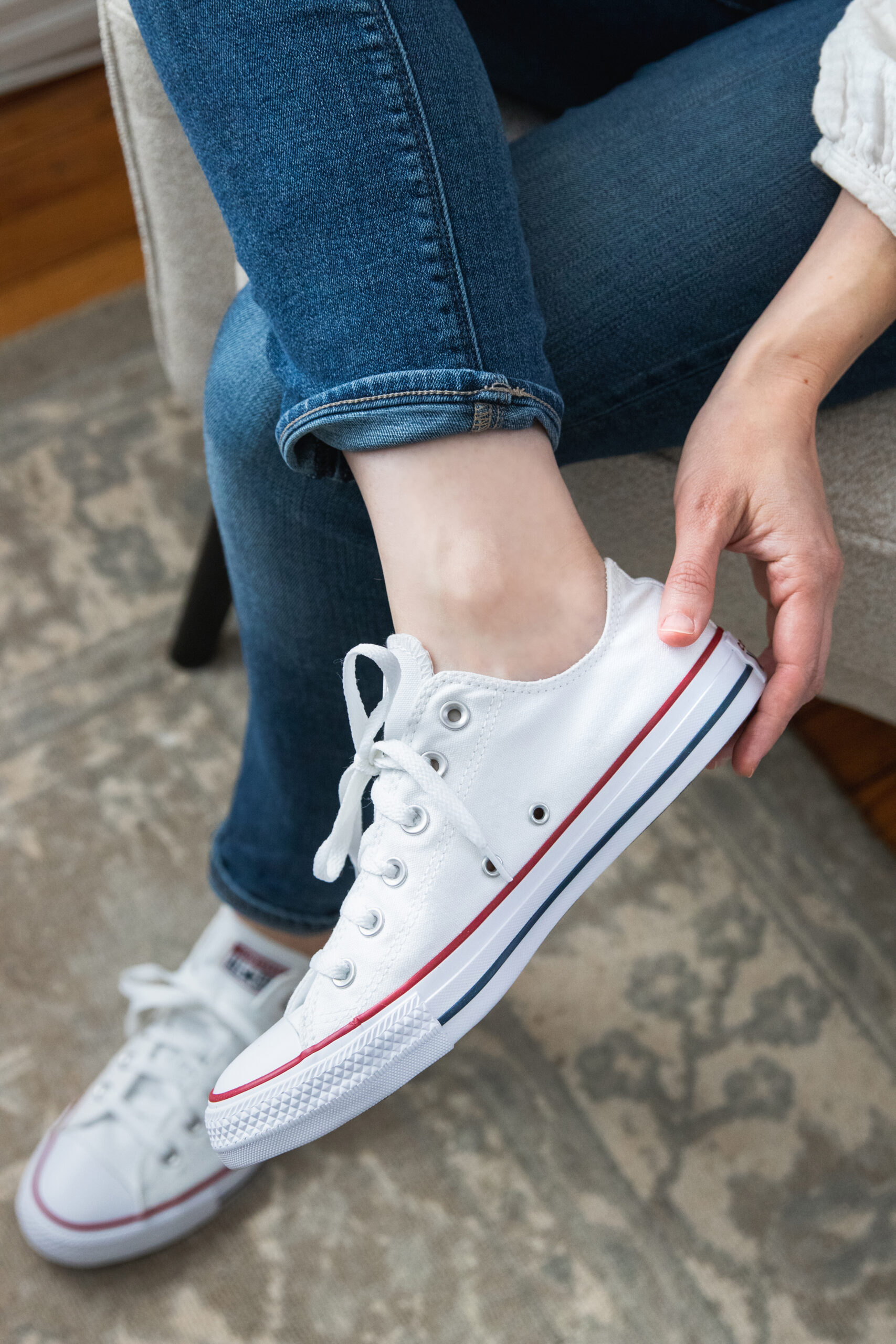 How to Clean White Converse
First and foremost, be sure to read your shoes' care instructions. Some canvas shoes say they're machine-washable while others are spot clean only. While I don't recommend using the washing machine because it can sometimes make shoes feel stiff, if you do go that route, always put shoes in a mesh bag and wash the laces separately.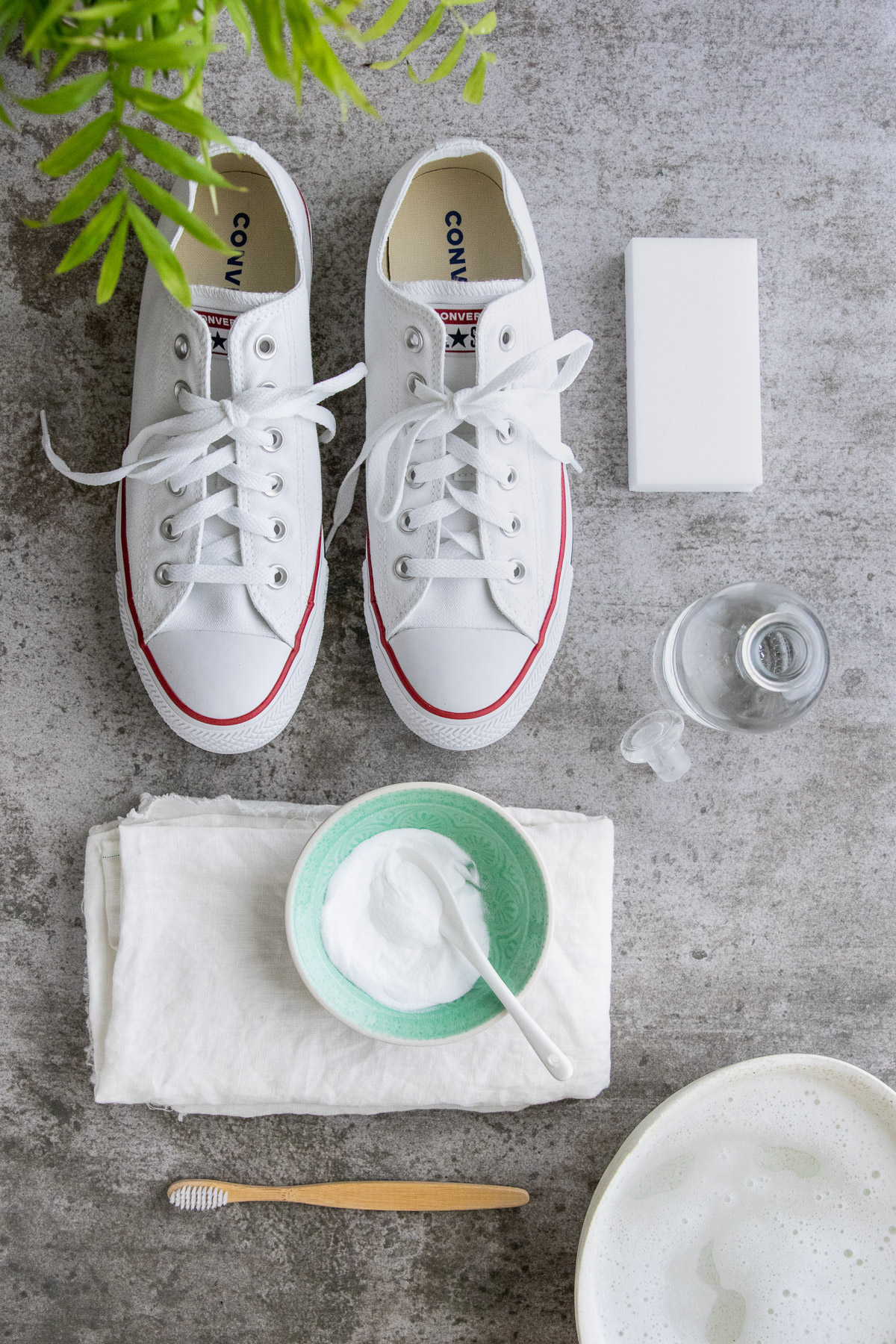 You'll need:
-Laundry detergent
–Toothbrush and/or bristle brush
-Water
-Clean dish towel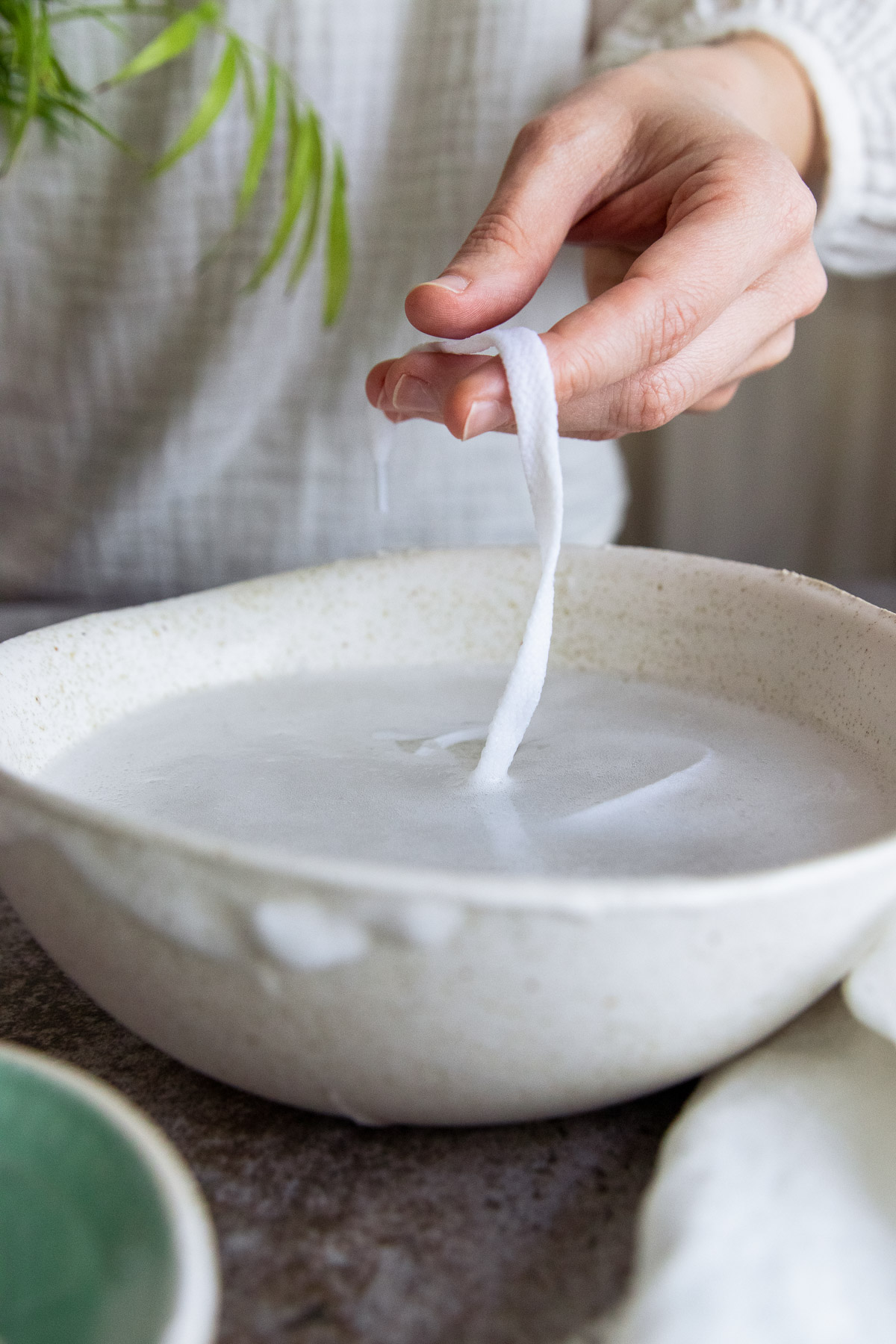 Step 1 | Clean the Laces
Fill up a bowl, bucket or Tupperware container with a little warm water, 2 tablespoons baking soda and a couple drops of laundry detergent.
Remove the laces from your shoes and let them soak for about an hour. Scrub any lingering stains with a soft toothbrush and rinse them well with cool water. Hang them up to dry.
Step 2 | Spot Clean Stains
Before whipping out the big guns, it's best to see if you can clean white converse with just water. Wet a clean dishtowel and squeeze out any excess water.
Gently wipe down the canvas to remove large specks of dirt and lighten visible stains. Use a dry towel to blot the area and let shoes dry for 10-15 minutes.
Since the stains will lighten as the canvas dries, you may decide that you don't actually need to use a cleaning solution and just a little more water might do the trick.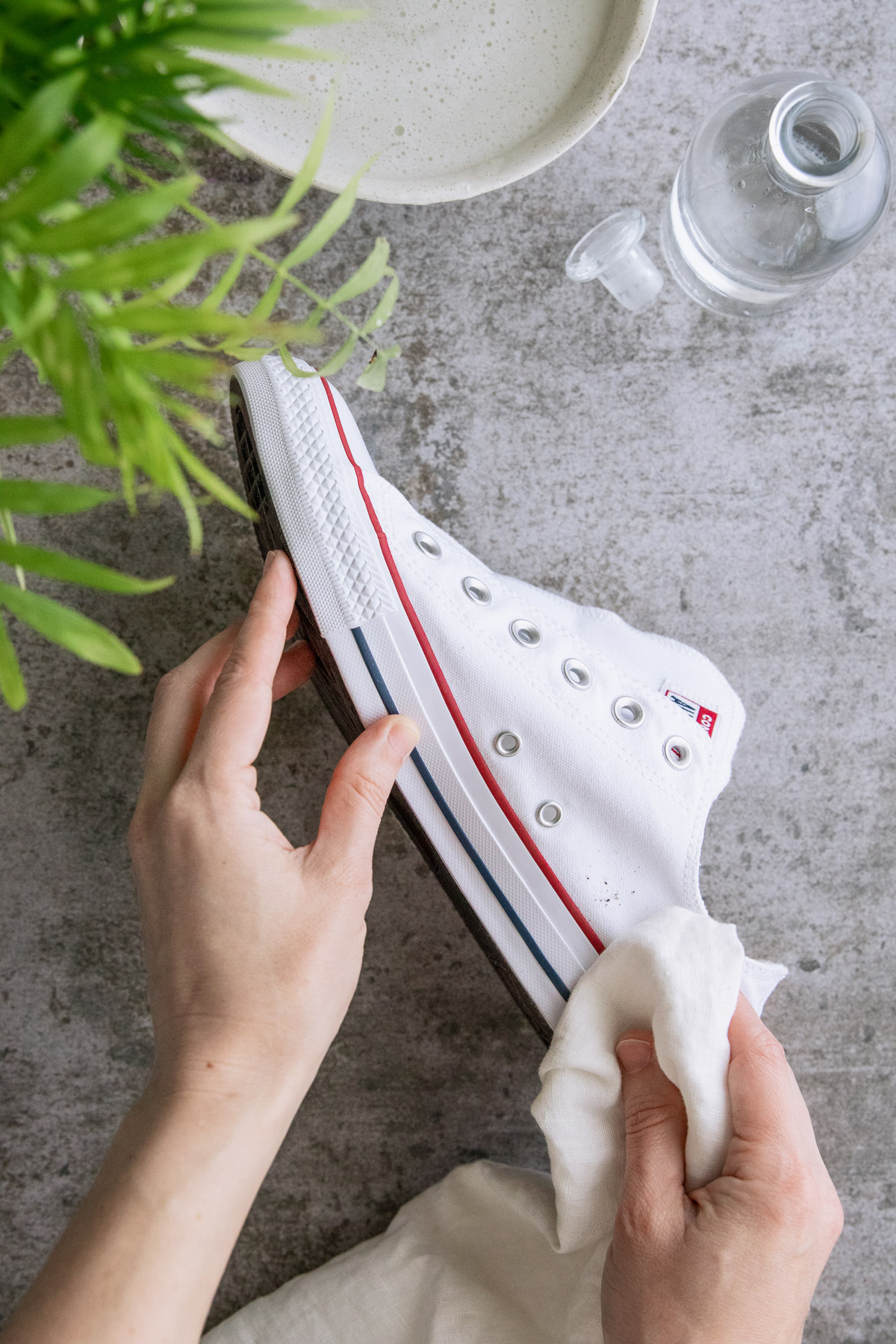 Step 3 | Deep Clean
If your Converse need a deep clean, combine 1 tablespoon baking soda, 1/2 tablespoon hydrogen peroxide and several drops of laundry detergent in a small bowl to create a paste (add water as needed to create a spreadable consistency).
Apply the mixture to any stains or areas of discoloration and gently work it in with a toothbrush. Let it sit for several minutes.
Next, take a damp cloth and gently scrub the area until it looks clean. Brush off any remaining paste and let your shoes air dry.
Step 4 | Clean the Sole
If you've got any scuff marks on the soles, a Magic Eraser can make them look new in seconds. Simply wipe a damp Magic Eraser along the soles until the stains are gone. Make to use only enough pressure to remove the stain, but not enough to wear away colored areas or damage the fabric.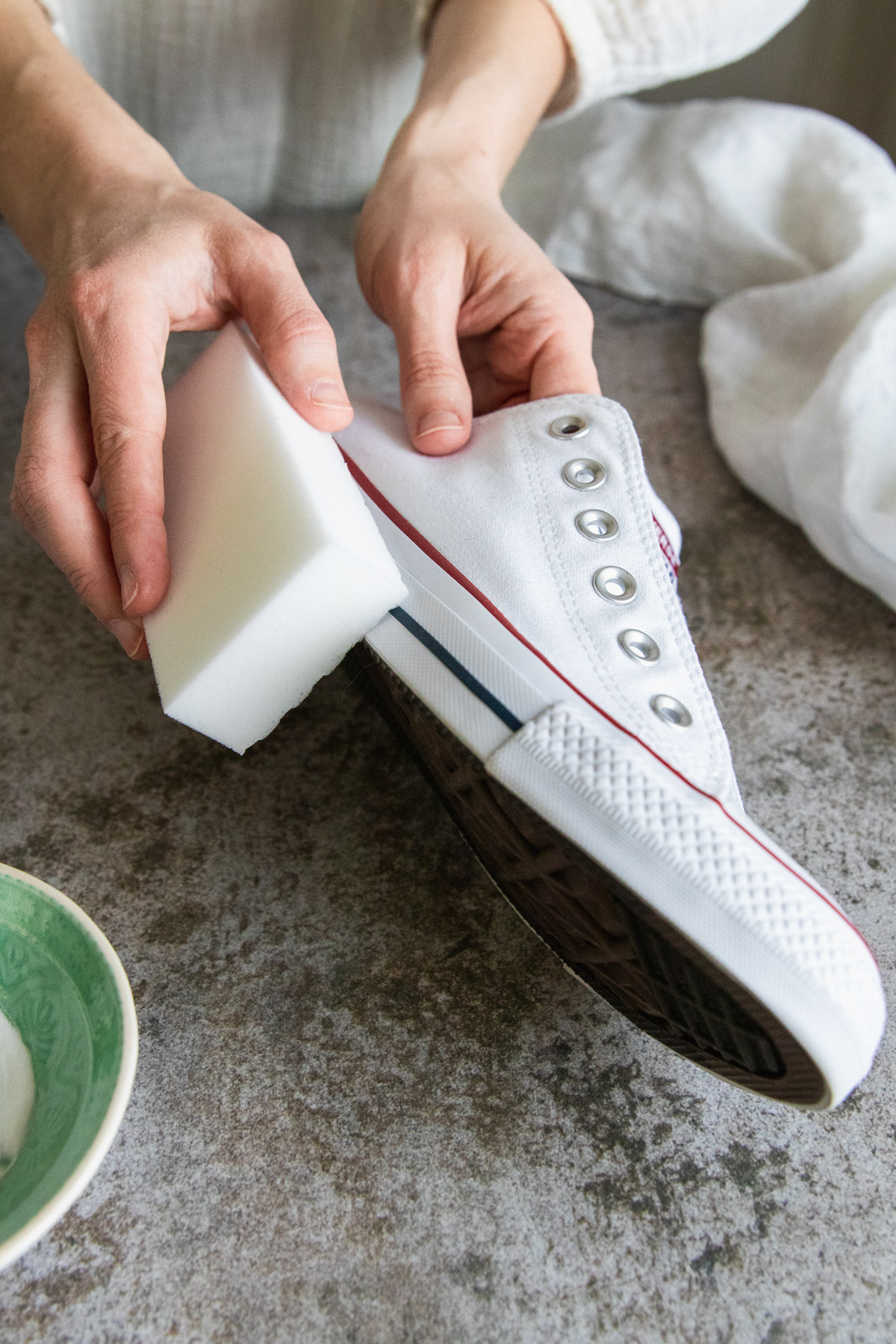 If you don't have a Magic Eraser, make a paste with 1 tablespoon baking soda and 1-2 teaspoons water. Use a toothbrush to work it into the soles for several minutes before rinsing with cool water.
Step 5 | Freshen the Insole
I find that the insole is often the most neglected part of a shoe. Since Converse insoles aren't removable, you can't take them out and wash them like you can with other shoes. Instead, you'll have to settle for a light scrub or a simple baking soda deodorizer.
If they're a little sweaty or smelly, but not physically dirty, then sprinkle the insole with baking soda and let it sit for 10-15 minutes. Shake the baking soda into the trash and wipe the insoles with a dry dishtowel to get rid of any lingering grit.
If your insoles are actually dirty, then mix 2-3 tablespoons water with a few drops of dish soap or laundry detergent. Use a clean toothbrush to work the soapy water into the insoles and rinse well. Let them air dry.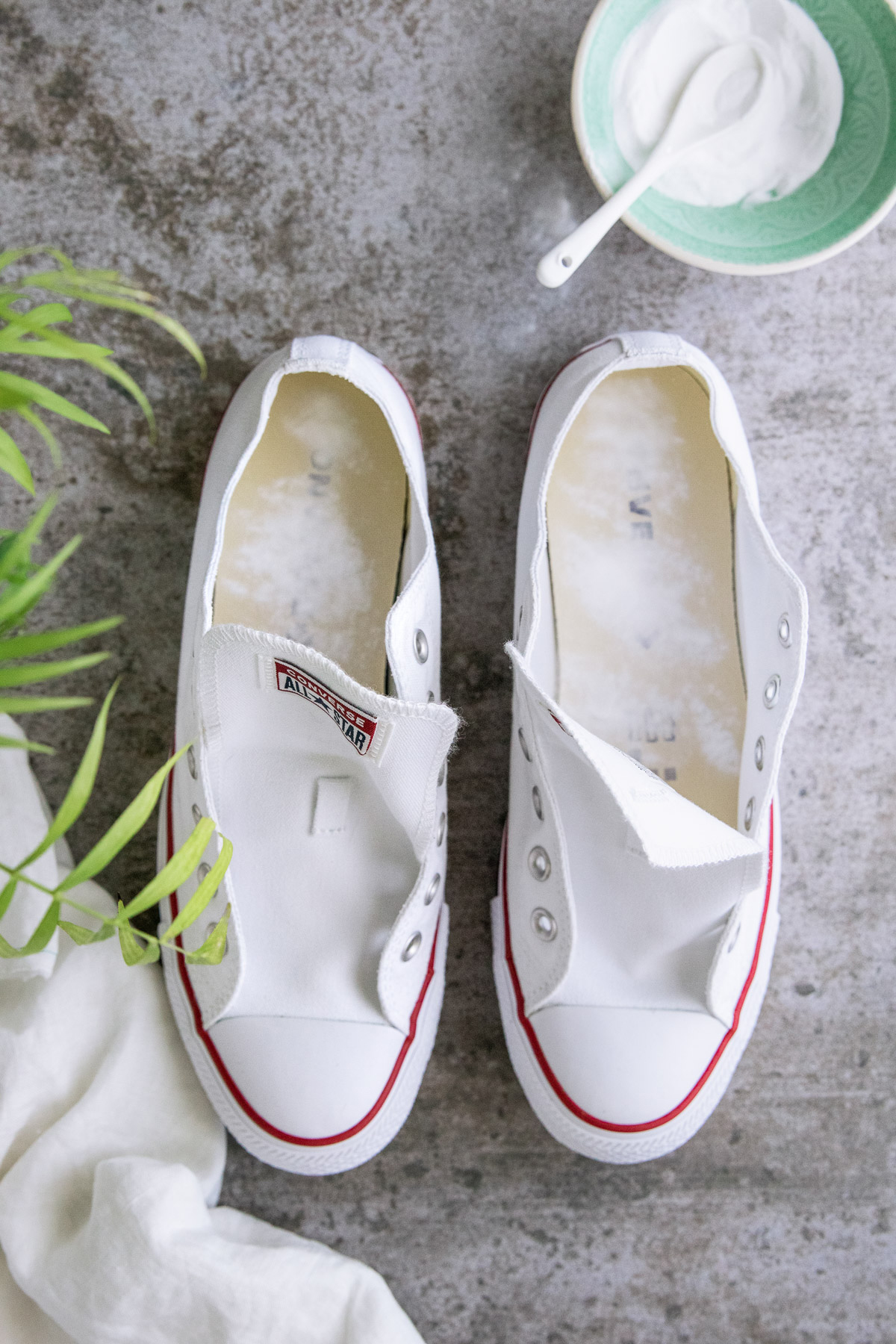 If all else fails: throw them in the washing machine
If all else fails, try cleaning white Converse by tossing them in the washing machine. So as not to damage them, I recommend removing the laces and putting shoes in a mesh laundry bag. Wash on a cold, gentle cycle and lay them outside in the sun to further lighten stains and get rid of stubborn odors as they dry.
0