When was the last time you gave your workout gear a good scrub down? If you're like me, you're probably looking around a little panicked and thinking… "Um, never". Followed closely by, "Is that really something I need to do?" When I think about getting sick, doorknobs come to mind—not dumbbells. But the fact of the matter is that germs are everywhere. And since they're transferred mostly by touch and can stick around for days after contact, it's probably time to disinfect your workout gear.
Yes, all your gear.
How to Clean All of Your Workout Gear
Here's how to clean everything from sweaty gym clothes and dirty tennis shoes to grimy weights and germ-laden gym bags.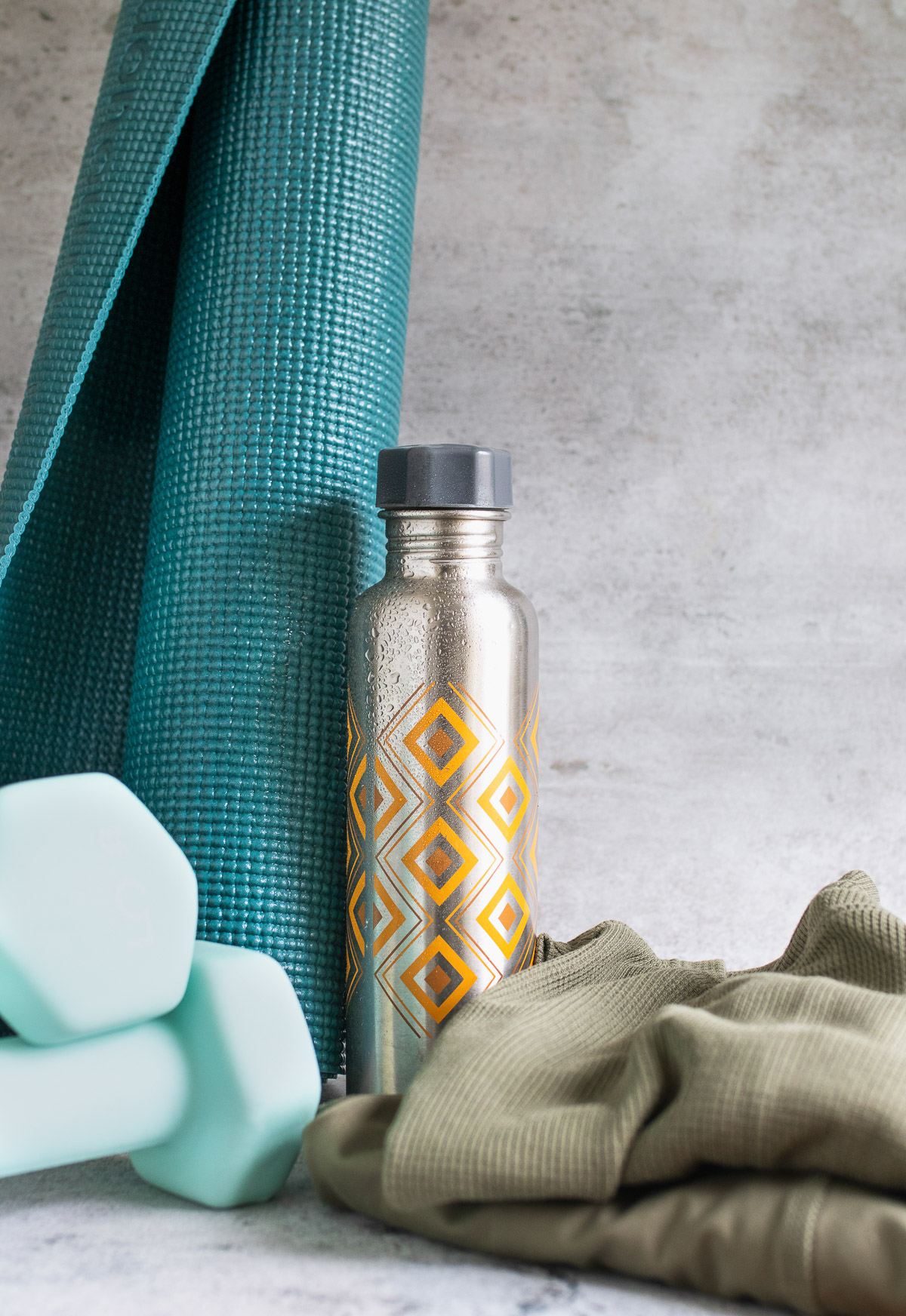 How to wash gym clothes
Your gym clothes are probably the first thing you think of when it comes to cleaning your workout gear. They're grimy, sweaty and easy to clean, so let's start here.
Step 1: Get Rid of Sweat Stains
1. Rinse the underarms of any stained clothing with cool, running water. Wring out any excess water.
2. Make a paste consisting of 2 tablespoons baking soda, 1 teaspoon laundry detergent and 1 teaspoon hydrogen peroxide.
3. Cover the sweat stain and let sit for 30 minutes. Rinse well.
Step 2: Disinfect
Unlike cotton or other natural fabrics, performance fabrics tend to breed bacteria. The key to killing germs and getting rid of lingering odors lies in white distilled vinegar. White vinegar cuts through oils and kill B.O. causing bacteria that linger in fabrics.
Combine 1 cup white vinegar and 6 cups water in a bowl or sink basin. Submerge your workout clothes and slosh them around to help work the vinegar into the fibers. Let clothes soak for 20-30 minutes, then wring out and wash as usual.
If you don't plan to wash your clothes immediately, rinse with water and hang them to dry before tossing in the hamper.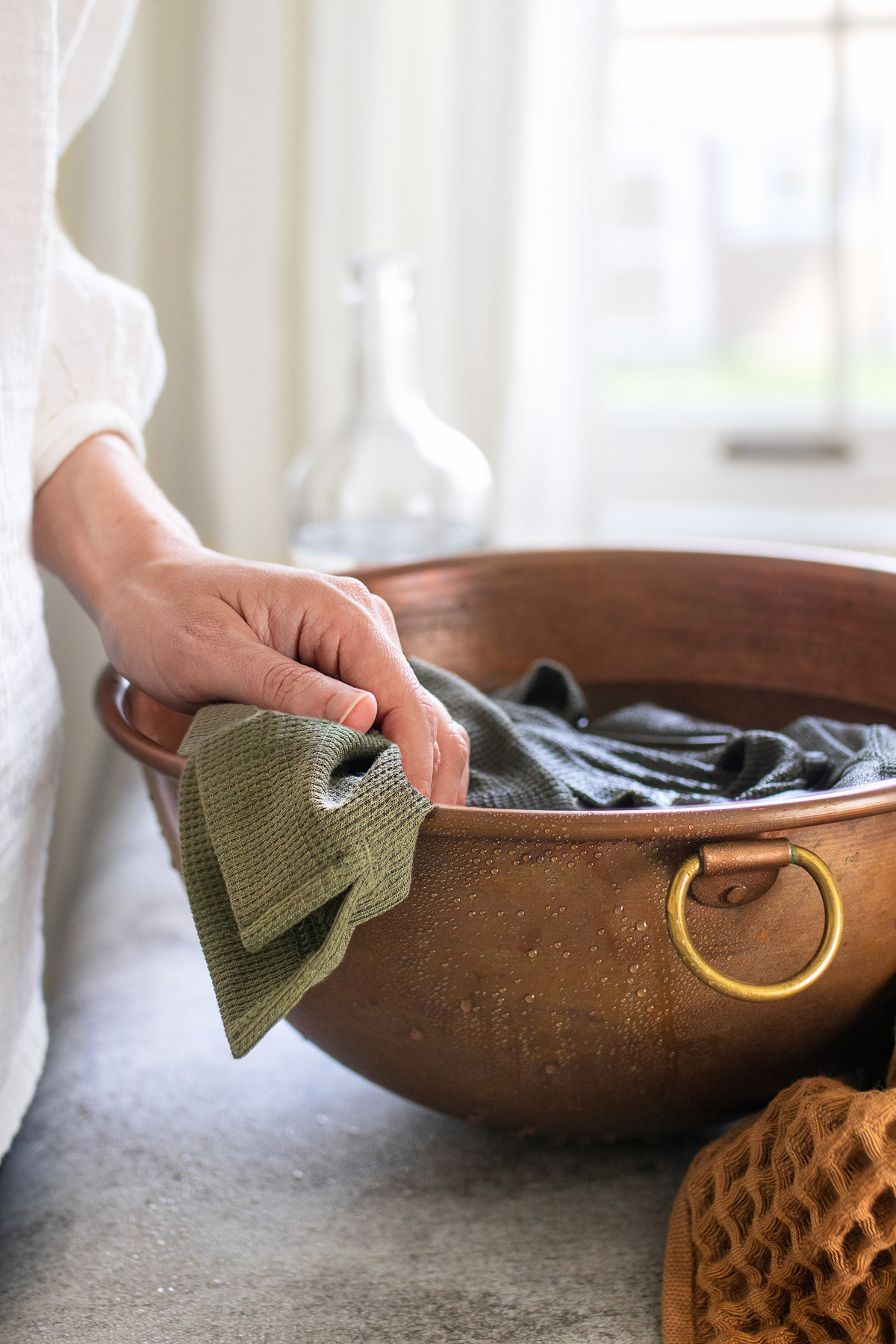 Step 3: Deodorize + Wash
If your workout clothes have an odor that just won't quit, add 1/2 cup baking soda to the washing machine and wash with hot water. Hang dry or tumble dry on low heat.
Cleaning your shoes
Most of us don't think about disinfecting our sneakers, but those sweaty, grimy shoes probably need to be cleaned the most. Since athletic shoes are made with fabrics and materials that can be damaged by machine washing, it's best to wash them by hand and let them air dry.
1. Start by remove the shoelaces and throwing them in the washing machine (or hand wash them, if you prefer).
2. Next, get rid of dirt on the soles of your shoes with the help of a soft toothbrush and a couple drops of liquid laundry detergent. Rinse well.
3. If there are stains on the fabric, use a clean, damp dish towel to wipe away any dirt and grime. Then, tackle stubborn stains using a soft toothbrush and a little bit of watered-down laundry detergent. Rinse well and set shoes aside to dry.
4. Lastly, sprinkle baking soda on the interior of the shoe and let sit for 2-3 hours. Dump baking soda in the trash and wipe with a dry dish towel.
5. Re-thread the laces, and you're done!
Cleaning your gym bag
Because it often sits on the dirty floor or in a damp locker, your gym bag needs to be cleaned too.
1. First up, take everything out of the bag. Unzip all the zippers and shake it upside down over a trashcan to get rid of any crumbs, trash, hair or other dirt hiding the bottom of the bag.
2. If there are any toiletry or food spills, use a damp paper towel clean up sticky messes.
3. Next, use a rag soaked in a bit of white vinegar to disinfect both the interior and exterior. Focus on the bag liner as well as any nooks and crannies, seams, pockets, handles and zippers.
4. Place your bag on a sunny windowsill or in a well-ventilated space so it can air out as it dries.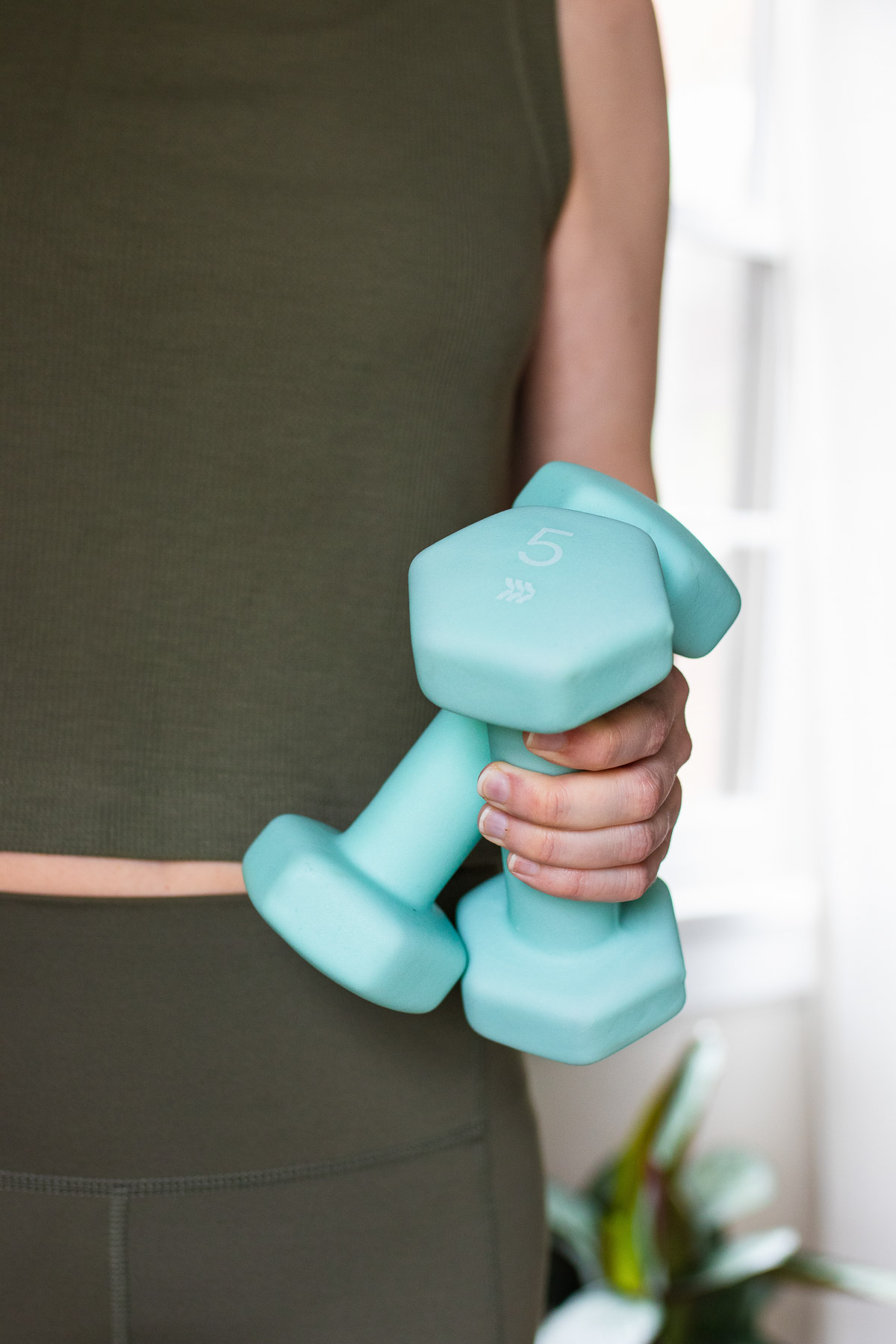 Cleaning exercise equipment
Last but not least, you need to clean everything from your yoga mat and water bottle to dumbbells and treadmill.
Option 1: Wash
Weights, dumbbells and any equipment with an enamel paint or rubbing coating should be gently washed with soap and water to help preserve the finish.
1. In a large bowl or sink basin, mix two drops of dish soap with two quarts of water.
2. Dip a soft dishcloth into the soap solution and wipe down all sides of the weight. If the handles are grimy, spend a little extra time wiping away dirt and oils.
3. Wipe away any soap residue with a fresh, damp cloth. Then dry weights to prevent rust.
Option 2: Sanitizing Spray
To sanitize benches, treadmills, yoga mats and the like, you can use a homemade sanitizing spray.
1. Combine 1 cup water, ½ cup rubbing alcohol, and 3 drops tea tree oil in a small spray bottle.
2. Spritz equipment and let sit for 30 seconds before drying off with a clean rag.
3. For yoga mats, let it airdry for 20 minutes to make sure it's 100% dry before rolling up and putting away.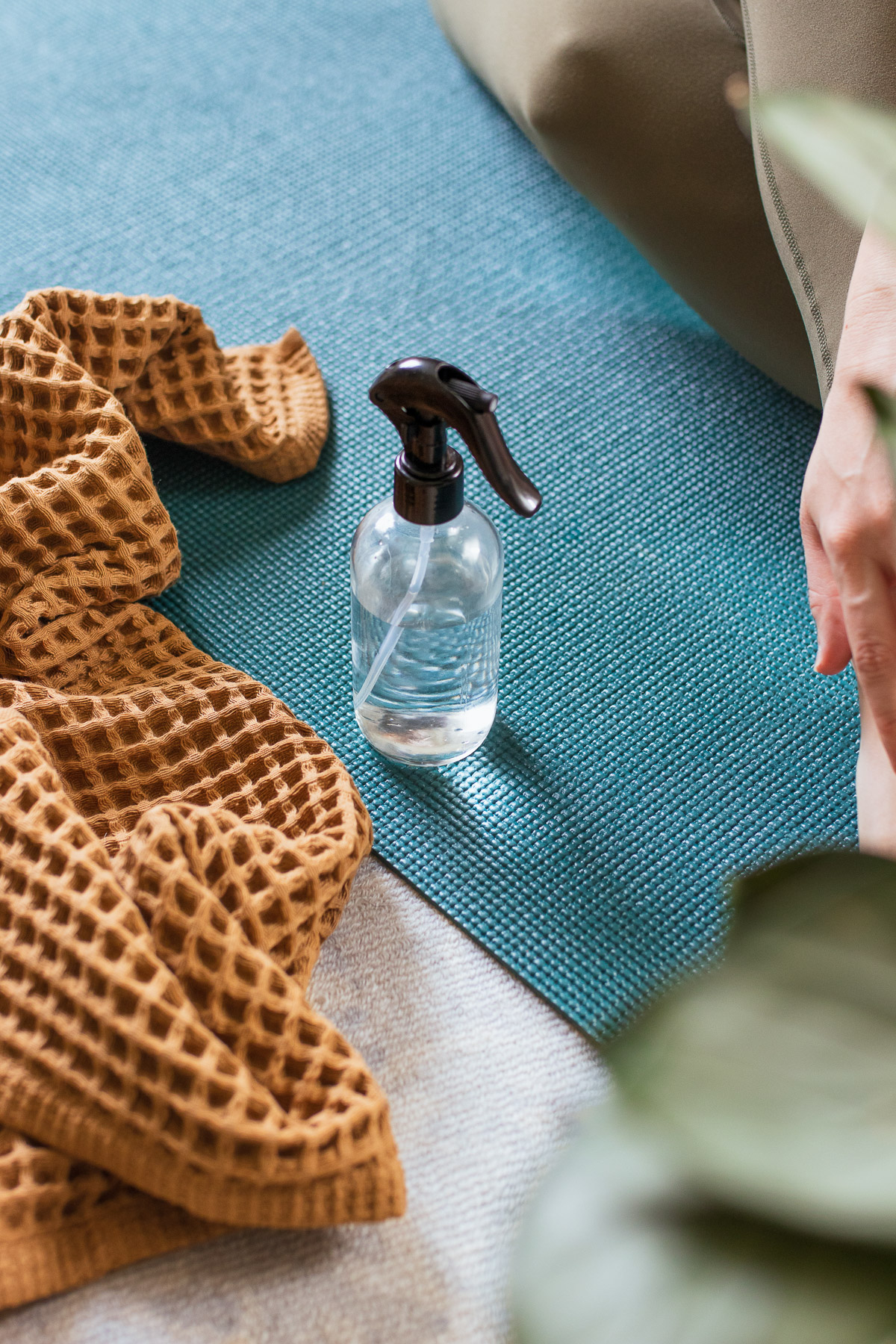 1