Humans have used essential oils since 4500 BC, applying them to cosmetics, making them into perfumes, and even adding them to food.
Essential oils are now as popular as ever, with an endless variety of options to choose from and many different ways of using them. One reliable way of getting the benefits of essential oils is to use them with humidifiers. Learn more about oils and how to use them.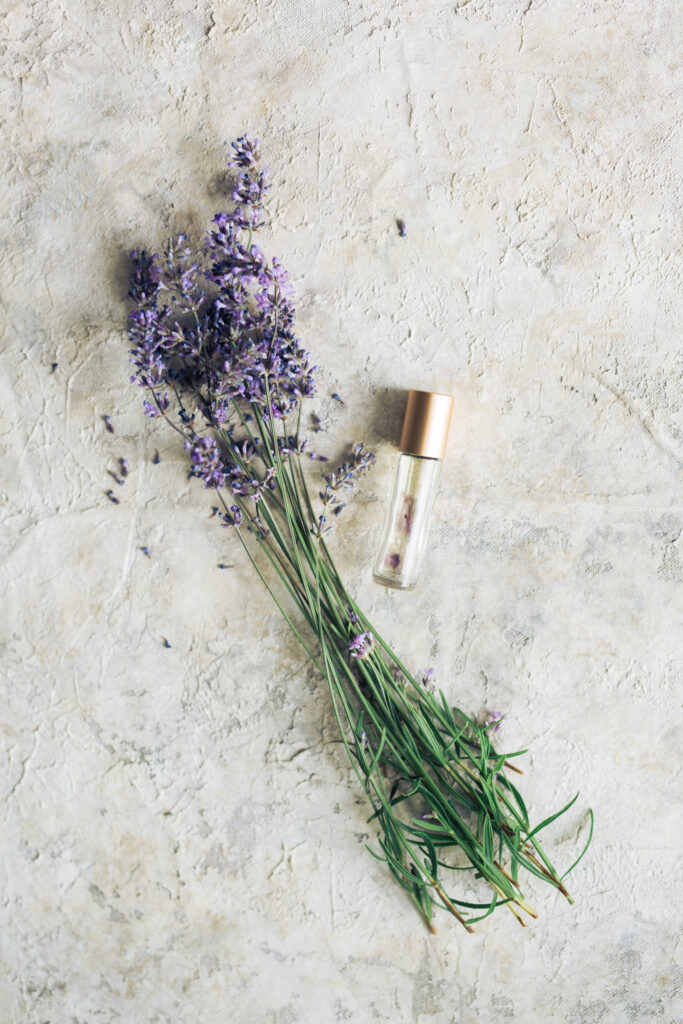 What Are Essential Oils?
Essential oils are highly concentrated extracts made from plants. Essential oils have a much stronger smell than the plants themselves because of this high level of concentration, making the levels of the active ingredients in them much higher as well.
Manufacturers can create essential oils in two main ways — steam or water distillation and cold pressing.
During distillation, water or steam passes through the plants, removing the essential compounds from the plant matter. During cold pressing, manufacturers press plant matter, causing it to release its oil.
There are many medicinal and therapeutic uses for essential oils. Many offer properties that protect against bacteria and fungi, while others can affect your mood, or even help you with your skin care routine.
Some of the most common ways to use essential oils are:
Topical application

Dry evaporation

Humidifier
Lately, people are turning to using essential oils in a humidifier because of how efficient this process can be.
Using Essential Oils in a Humidifier
It is safe and easy to use essential oils in a humidifier. Always read the manufacturer's instructions before using the humidifier.
Add water to the device according to the instructions, and then add a few drops of your chosen oil. Some humidifiers have a tray specifically for essential oils, but most do not.
Remember not to add too many drops since the humidifier can easily disperse just a few around the room. For the best results, try a cool mist spray, and make sure to clean the humidifier's water tank after each use.
You should ensure that you choose high-quality essential oils that are 100% organic and do not contain any additives. You may also want to keep certain essential oils away from pets and children.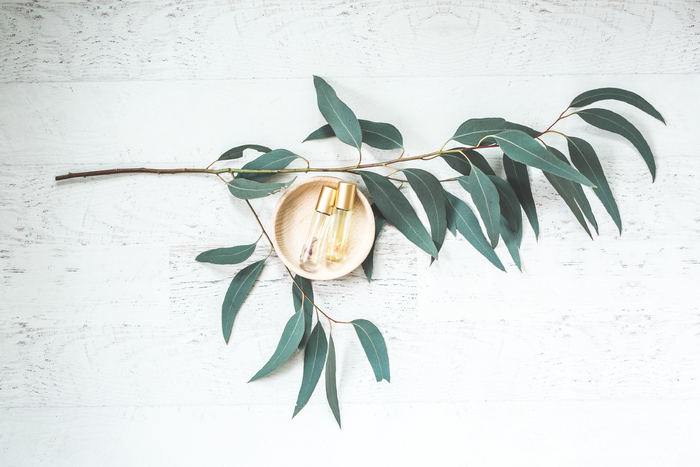 Benefits of Using Essential Oils in a Humidifier
A humidifier not only allows you to receive the benefits of the essential oils you added but also adds moisture to the air. In the winter, this can help keep your respiratory system healthier and help prevent dry, scratchy throats.
Using essential oils in a humidifier can also help make your room or your entire home smell great. The mist the humidifier creates can quickly fill the space with the scent you prefer.
Essential oils themselves offer a variety of benefits, depending on your choice. Some have calming properties that can be perfect after a long day of work, while others can energize you and prepare you for your day.
By using them in a humidifier, you can get their benefits without having to apply them to your skin or sit over a bowl of steaming water.
For people who have sensitive skin and cannot apply the essential oils topically, a humidifier can also be a great solution.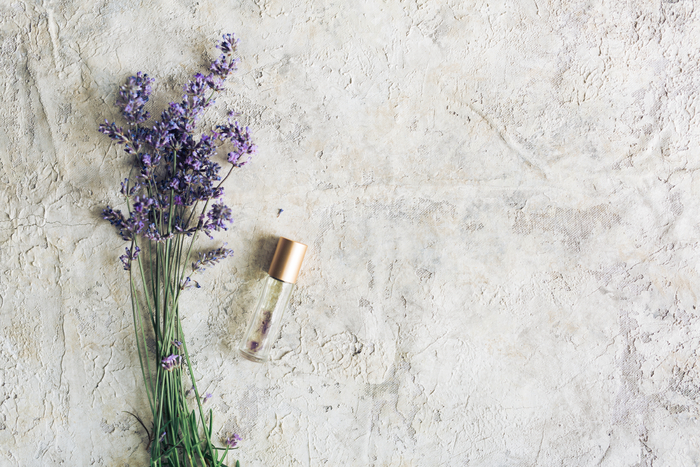 What Essential Oils Can You Use in a Humidifier?
There are many essential oils that can work well in a humidifier.
Lavender
Lavender essential oil is one of the most popular and for a good reason. Lavender can have a calming effect, with studies showing that it can help with restlessness and even sleep complaints.
Lavender also has cleansing properties that can keep your space cleaner when you apply a few drops to the humidifier.
Lemon
Lemon essential oil can add a refreshing and energizing scent to your home. Lemon oil can help with mental performance and concentration levels, making it a good choice for those who work from home.
Eucalyptus
Eucalyptus oil has long been able to help with congestion issues, including alleviating the effects of allergic reactions. It also has pain-alleviating properties, which can be important for those who face conditions that cause chronic discomfort.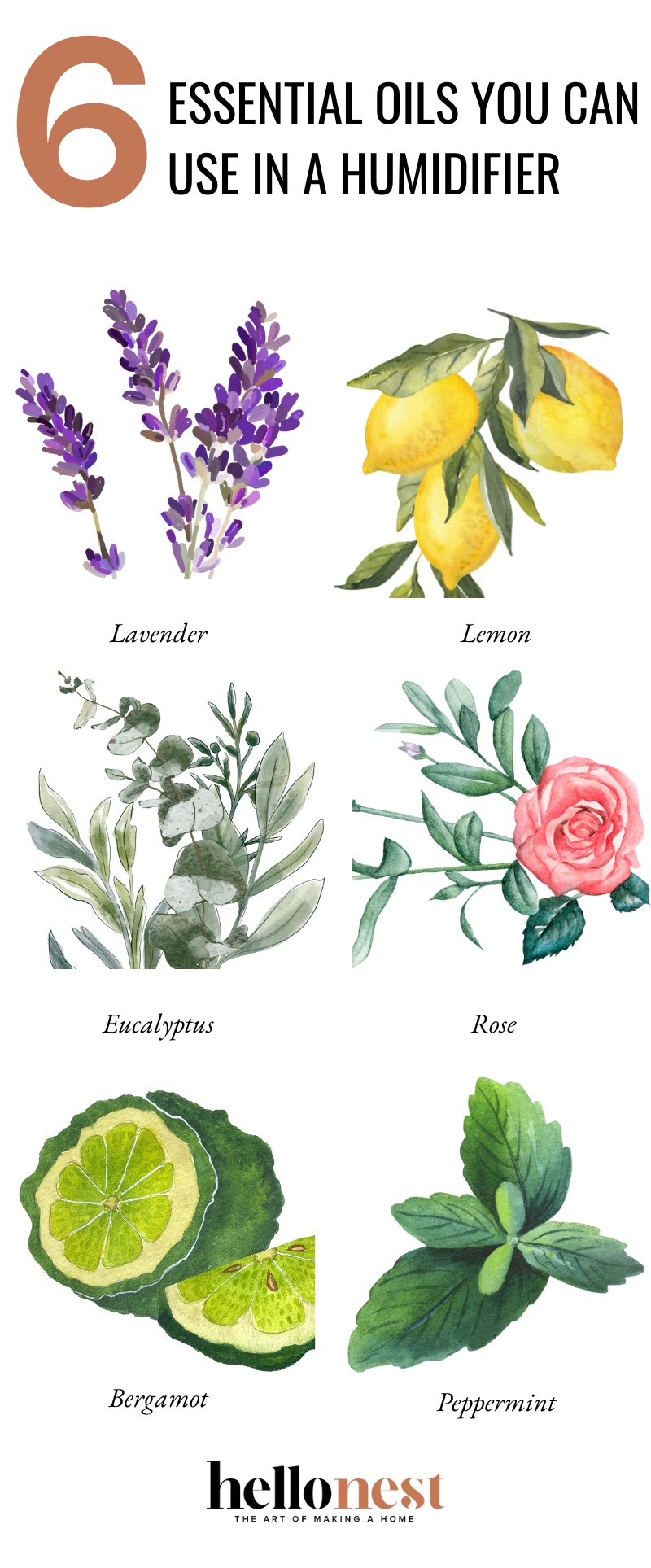 Rose
Rose essential oil can help regulate blood pressure because it offers relaxing properties. It is a good option for those who are often anxious or want to de-stress after a long day.
Bergamot
Bergamot oil offers a citrusy and sweet scent that can increase feelings of positivity while also reducing worry. This oil is also particularly good to use with a humidifier because it vaporizes and spreads more rapidly than other oils.
Peppermint
Peppermint oil has a refreshing effect in any room. Not only can it help you focus while you work or study, but it can also soothe headaches.
Frequently Asked Questions
Get the answers to your questions about essential oils and using them in humidifiers.
Is It Safe to Add Essential Oils to a Humidifier?
Adding essential oils to a humidifier is safe, but always check the manufacturer's instructions before doing so. Some humidifiers have special compartments for essential oils, so check for that as well.
How Many Drops of Essential Oils Should I Add to the Humidifier?
If you add water to the "Full" line, you should use four or five drops of essential oil. This amount keeps the scent from being too powerful while still offering the benefits you want from the oil.
How Do You Clean a Humidifier with Essential Oils?
After each use of the humidifier with essential oils, you should clean it. A good way of doing so is to make a mixture of one part water and one part vinegar to clean the tank and mist vent.
Give Yourself a Boost with Essential Oils
Using essential oils with your humidifier can allow you to reap the benefits of these oils without a lot of work. All you have to do is add a few drops and allow the scent to transform your space. Whether you want to lower your stress levels or get a boost of energy, essential oils can help.
3