Over the past few years, my husband and I have started a new Valentine's Day tradition – we enjoy a special date night in. With three kids, sneaking away for a romantic getaway has reached special ops mission status, and what I crave instead is a simple home-cooked meal just for us. So each year I come up with a special menu that's not too fancy (no slaving away in the kitchen!) but still tastes incredible. In past years we've dined on mini beef wellington and bacon-wrapped pork tenderloin, but this year it's all about salmon. It's worth the extra splurge.
Pesto Baked Salmon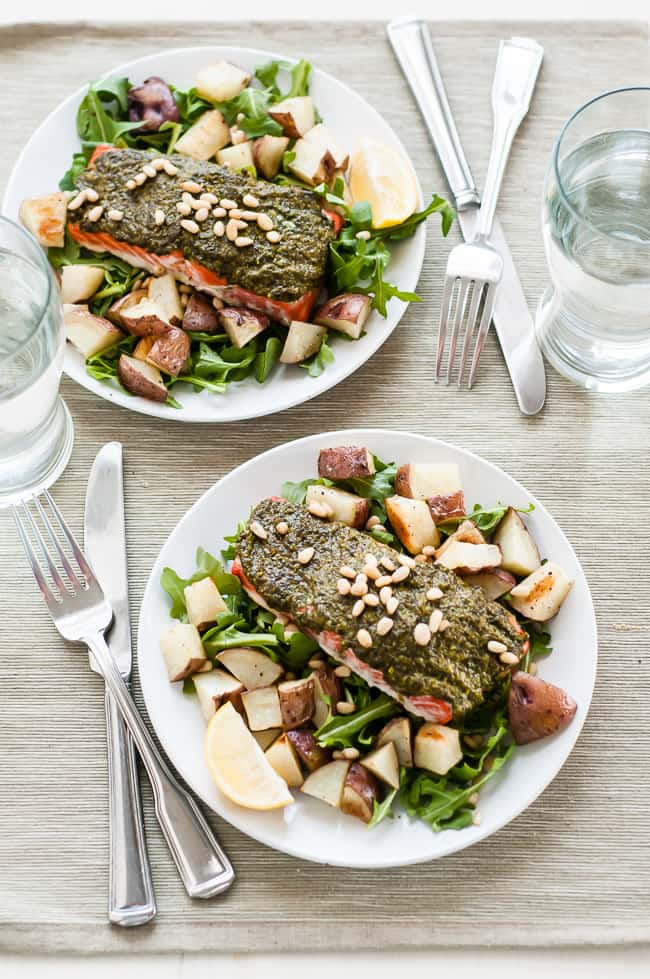 Try to buy wild-caught salmon if you can. It tastes incredible, plus you can't beat the gorgeous color. Or use whatever fish you like. Even chicken would be great here if that's more your speed. Slather the fillets with a little pesto and pop them into a hot oven. It's done in about 20 minutes. Serving it over a bed of baby arugula with roasted potatoes makes it extra filling.
Salted Caramel Coconut Milk Ice Cream Sundaes
And because dinner is so healthy you can totally splurge on dessert. Creamy salted caramel coconut ice cream is drizzled with rich dark chocolate sauce and sprinkled with toasted coconut. This decadent non-dairy ice cream is made with coconut milk, which gives it a rich flavor.
And it's fun to get playful and 'make your own' sundaes together (you can add a dash of rum!). It's the perfect ending for a simple, elegant dinner for two at home.
What are your plans for Valentine's Day? Will you be having a romantic night in?