Over the past few years, my husband and I have started a new Valentine's Day tradition – we enjoy a special date night in. With three kids, sneaking away for a romantic getaway has reached special ops mission status, and what I crave instead is a simple home-cooked meal just for us. So each year I come up with a special menu that's not too fancy (no slaving away in the kitchen!) but still tastes incredible. In past years we've dined on mini beef wellington and bacon-wrapped pork tenderloin, but this year it's all about salmon. It's worth the extra splurge.
Pesto Baked Salmon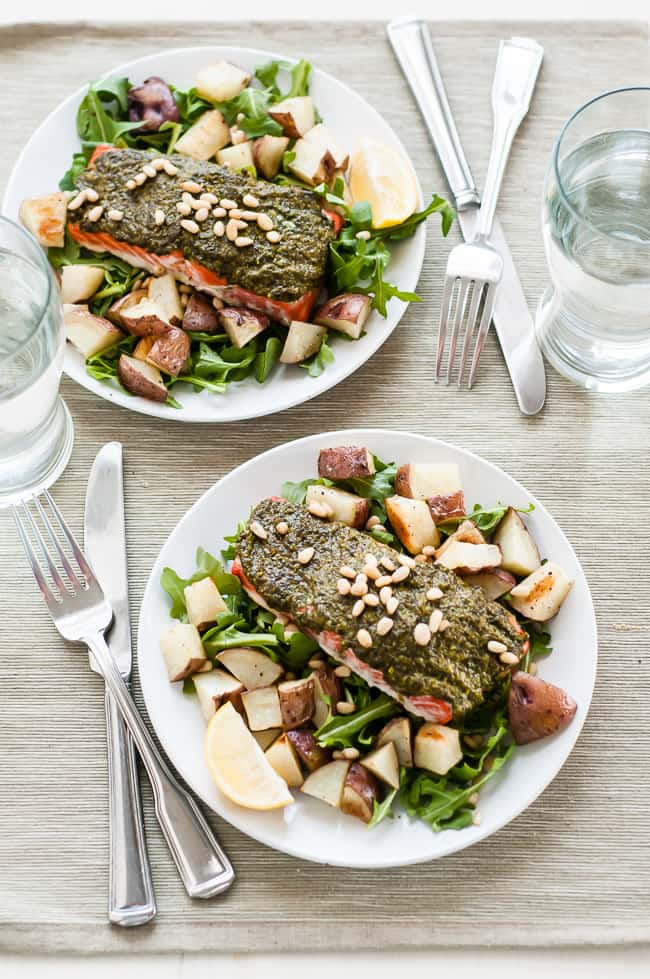 Try to buy wild-caught salmon if you can. It tastes incredible, plus you can't beat the gorgeous color. Or use whatever fish you like. Even chicken would be great here if that's more your speed. Slather the fillets with a little pesto and pop them into a hot oven. It's done in about 20 minutes. Serving it over a bed of baby arugula with roasted potatoes makes it extra filling.
Pesto Baked Salmon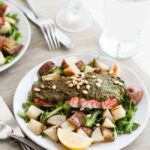 An easy-to-prepare dinner for two that is perfect for a romantic night in.
Two (4 ounce salmon fillets)
3 cups loosely packed basil leaves
1-2 garlic cloves
1/4 cup pine nuts (can substitute any nut)
1 tablespoon fresh lemon juice (plus lemon wedges for serving)
Zest of 1 lemon
1/4 to 1/2 cup extra virgin olive oil (divided)
Sea salt (to taste)
Fresh ground black pepper
4 medium-sized red potatoes (cut into 1″ cubes)
4 cups organic baby arugula
Preheat oven to 400 degrees F. Line a baking sheet with parchment paper. Set aside.
In the bowl of a food processor, place the basil, garlic, pine nuts, lemon juice and zest. Pulse until finely chopped. With motor running, slowly drizzle the olive oil through the feed hole until the pesto is the desired thickness. Stop motor, remove lid and scrape down sides. Taste and add a pinch of salt, if needed. Set aside.
Toss the cubed new potatoes with a little olive oil and season well with sea salt and ground black pepper.
Arrange the salmon and potatoes on the lined baking sheet. Top the each salmon fillet with about 1 Tablespoon of the pesto. (Reserve remaining pesto for another use.) Place in oven and bake for 20-25 minutes, or until salmon is cooked thoroughly.
To serve, divide the arugula between two plates. Top with the salmon fillet and roasted potatoes. Squeeze with a little more fresh lemon juice. Serve.
Salted Caramel Coconut Milk Ice Cream Sundaes
And because dinner is so healthy you can totally splurge on dessert. Creamy salted caramel coconut ice cream is drizzled with rich dark chocolate sauce and sprinkled with toasted coconut. This decadent non-dairy ice cream is made with coconut milk, which gives it a rich flavor.
And it's fun to get playful and 'make your own' sundaes together (you can add a dash of rum!). It's the perfect ending for a simple, elegant dinner for two at home.
Salted Caramel Coconut Ice Cream
A decadent non-dairy salted caramel ice cream made with coconut milk.
1 cup organic evaporated cane juice (divided)
One (14 ounce can unsweetened coconut cream)
One (14 ounce can coconut milk (light is fine))
6 large egg yolks
1 teaspoon pure vanilla extract
1/4 teaspoon sea salt (or more, to taste)
1 Tablespoon rum (optional)
Chocolate sauce (for serving)
Toasted coconut flakes (for serving)
Combine coconut cream and milk in a saucepan. Heat until very hot. Set aside and keep warm.
Place 2/3 cup of the evaporated cane juice evenly in the bottom of a heavy-duty 3-quart saucepan. Turn heat on to medium-high. Let sugar melt without stirring, until a deep amber color. (You can swirl the pan gently for even melting.) Remove from heat and immediately add the hot coconut milk/cream mixture. Stand back, it will bubble up.
Place back over medium heat, and stir to melt the hardened caramel bits.
Meanwhile, in a large bowl, whisk the egg yolks with the remaining 1/3 cup sugar. Pour the warm coconut/caramel mixture into the yolks in a slow, steady stream, while whisking. Add salt. Taste and add more if desired.
Pour the mixture back into the 3-quart saucepan and cook over medium heat until the temperature reaches 160-170 degrees F. (Be careful not to let it get too hot, or the eggs will curdle.)
Quickly pour the custard mixture through a sieve into a clean bowl. Allow to cool slightly, then add the vanilla and rum, if using. Cover with plastic wrap and place in fridge to chill for several hours, or overnight.
Churn chilled custard base in an ice cream maker according to manufacturer directions. Transfer to an airtight container and freeze until firm before serving.
To assemble, place one scoop of ice cream into a serving glass, top with a little chocolate sauce and toasted coconut, repeat with another scoop, chocolate sauce, and coconut flakes. Serve immediately.
What are your plans for Valentine's Day? Will you be having a romantic night in?
0