With all the studies linking the chemicals in food-storage plastics (namely, DIDP and DINP, as well as the now-maligned BPA and DEHP before them) with health problems like high blood pressure, endocrine disruptions and insulin resistance, I've become a little fearful of the plastic lunch containers sitting in my kitchen—especially the cheapie ones that I tend to use for sending leftovers home with guests. Of course there are many other environmental and lifestyle factors that affect us, but I'd rather be safe than sorry. So I've tried to make the switch to non-plastic containers and wraps for everything I possibly can.
Besides some convenience (microwave and dishwasher use is not recommended with plastic, as heat causes chemicals to leech out), safer food storage options are often sturdier, stain-resistant, longer-lasting, better for the planet, and sometimes even prettier! Here are some options:
10 Safer Ways To Store Food
Not only are they a safe and sturdy way to store food, mason jars can also be used for canning, storage, vases and many other uses around the house. They seal tightly and the base can be heated and put through the dishwasher. Their consistent shape means no more digging through piles and piles of lids looking for the right one. I like keeping the 8-ounce size around for making infused booze or storing snacks, and the pint size is perfect for leftovers, salads, infused water and smoothies. They look beautiful on display, too!
Pyrex, Anchor Hocking and a few other companies offer these extremely convenient—and hallelujah, stackable—glass containers that have tight-fitting plastic lids. Yes, the lids are still plastic, but you can still heat your food in the bowl portion and only use the lids when you're storing or transporting. They can be used for salads, easily identifying leftovers, storing extra veggies, or even using as serving bowls in a pinch. While mason jars don't stack well, these shallower bowls lay nice and flat in a lunch tote, and are great if you have limited storage space in the kitchen.
Raise your hand if, even with a tight-fitting lid, you'll find a way to spill a container of leftovers. Just me? Maybe that's why I absolutely adore the set of glass Snapware my mom gave me for Christmas. (Yes, I asked for food storage containers for Christmas.) It's pretty impossible to spill anything with these super-tight lids. I love the small round containers for storing my stashes of roasted chickpeas or trail mix, and the larger ones are excellent for leftover soup or sauces.
Two big drawbacks to glass: one, it's breakable, and two, it gets incredibly hot to the touch. Lifefactory's silicone sleeve protects both your fingers and the container, should you drop it or pack your lunch bag a little too crowded. The lids and sleeve are made from synthetic materials, but they're phthalate and polycarbonate free—and they're not touching your food. Note that the lids are dishwasher and freezer safe, but should not be heated.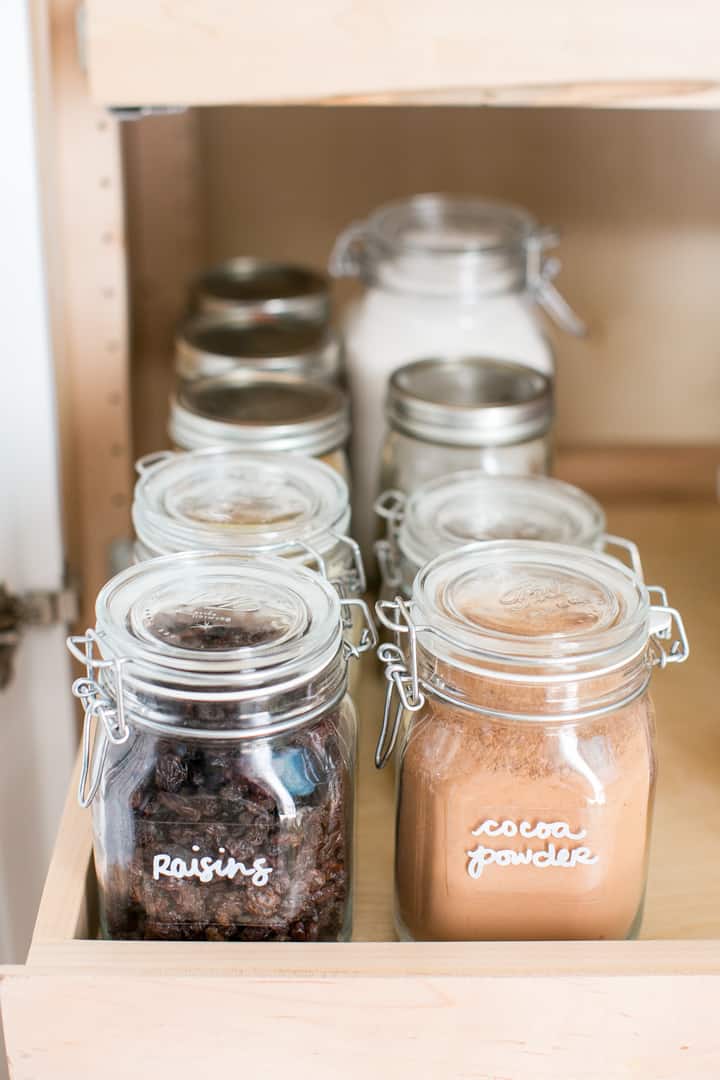 5. Leftover Jars
I remember my great-grandma, a farm wife, would (among many other odd behaviors) reuse glass mayonnaise and peanut butter jars when I was a kid, and I was totally grossed out by it. Years later I lived with a hippie boyfriend who drank water out of what I'm pretty sure was the same reused kombucha bottle for the entire 4 years we dated, and that seemed pretty gross, too. But now I'm the weirdo who saves all her lemonade bottles, spice jars and peanut butter containers, painstakingly peeling off the labels and scrubbing them in order to reuse them—and my roommate and boyfriend are the ones rolling their eyes.
Not only do you save yourself some shopping and glass recycling when you reuse; glass food jars are already the perfect sizes and you can bring the clean ones to the bulk section of the supermarket to save even more money. As always, grandma was right! One note though: I've found jars that contained a tomato or pickled product just don't get clean enough to reuse (especially the bottom of the lids). And be warned that once you pop the safety seal, it may not reseal super tightly in the future.
6. Waxed Paper
Wrap cheeses with waxed paper and keep in the cheese drawer to keep moisture out (and flavor in) for a couple weeks. Natural Value makes an unbleached, eco-friendly waxed paper, as well as waxed paper bags, which are nice for snacks, leftover chunks of ginger, bars or cookies and peeled garlic cloves.
If you have a large chunk of something you're going to freeze—say, a dessert or piece of meat—a foil/waxed paper combo works well. Wrap the food tightly in waxed paper, then again with heavy-duty foil, making sure there is overlap on each side and there are no holes for freezer burn to creep in. For other foods, wrap foil tightly over the tops of bowls (avoid storing anything acidic in foil). Note that foil tears easily, so be gentle and double up with waxed paper if necessary. Look for recycled foil if possible, and rinse and reuse it if you can.
Obviously you can't put these in the microwave. But if you're looking to store snacks, sandwiches, salads or other non-microwaved foods, these are a great, sturdy option. Look for one with a lid that snaps or latches closed. PlanetBox's bento-style stainless lunch boxes are nice if you or the kids are bringing a lunch every day! Avoid storing acidic foods in stainless steel.
Just slap these over whatever container you're using and pop it in the fridge! You can even use them in the oven or microwave. Disinfect them regularly with boiling water.
These malleable flat wraps (made from hemp, organic cotton, jojoba oil and beeswax) can be pressed and sealed onto just about any container, used to store sandwiches and cheeses, or wrapped around the cut ends of veggies. Hand wash them with soap and water like you would your dishes. You can also make your own if you're crafty.
5