A good DIY shower spray is the holy grail of home cleaning products. Find a good recipe and you'll save hours of sweating and scrubbing (and if you're like me, cursing!) every month. But most recipes don't come close to matching the cleaning power of commercial sprays. I went through a bunch of different blends before I found this streak-free shower cleaner spray that melts soap scum and leaves tile looking shiny and new.
The best part is that you can use it as daily spray, rather than a once-a-month deep cleaner, if you want. Simply spritz your shower walls after every use and you may never have to use elbow grease again.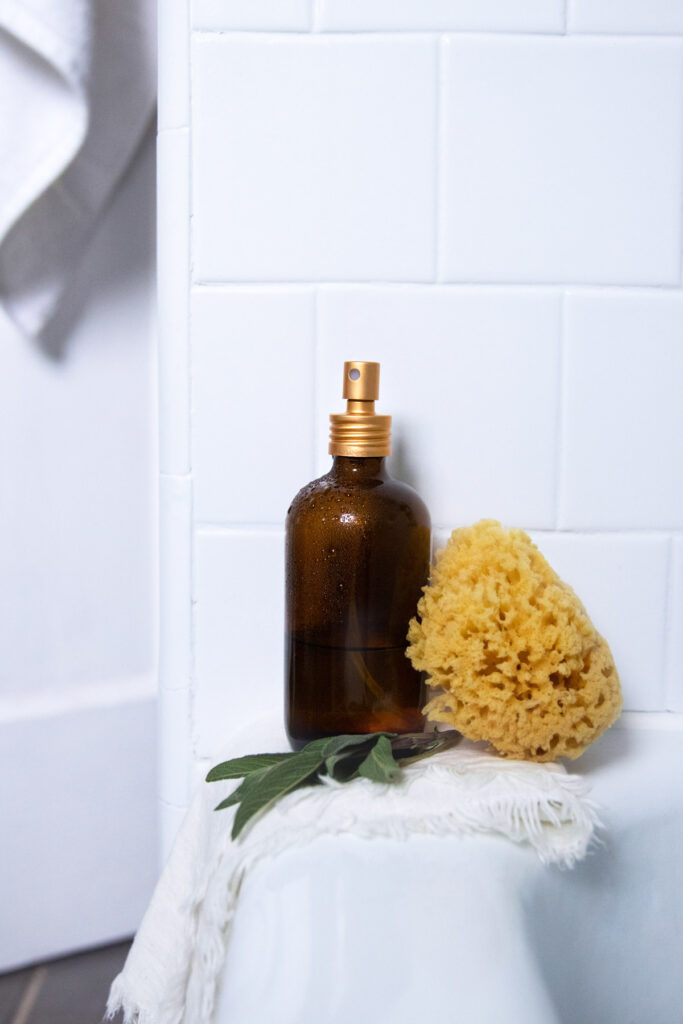 Streak-Free Shower Cleaner Spray
Although I love the idea of a weekly bathroom deep clean, there are some tasks that are just too big tackle that often. Scrubbing the shower is one of 'em. If you hate cleaning the shower as much as I do, then you're going to love this daily shower spray that does most of the hard work for you.
It doesn't have any scrubbing agents, like salt or baking soda, so it's not ideal for loads of grime or mold. But it does deodorize, disinfect, and melt away buildup thanks to things like grain alcohol, hydrogen peroxide and dishwasher rinse aid (spoiler alert: that's the secret ingredient).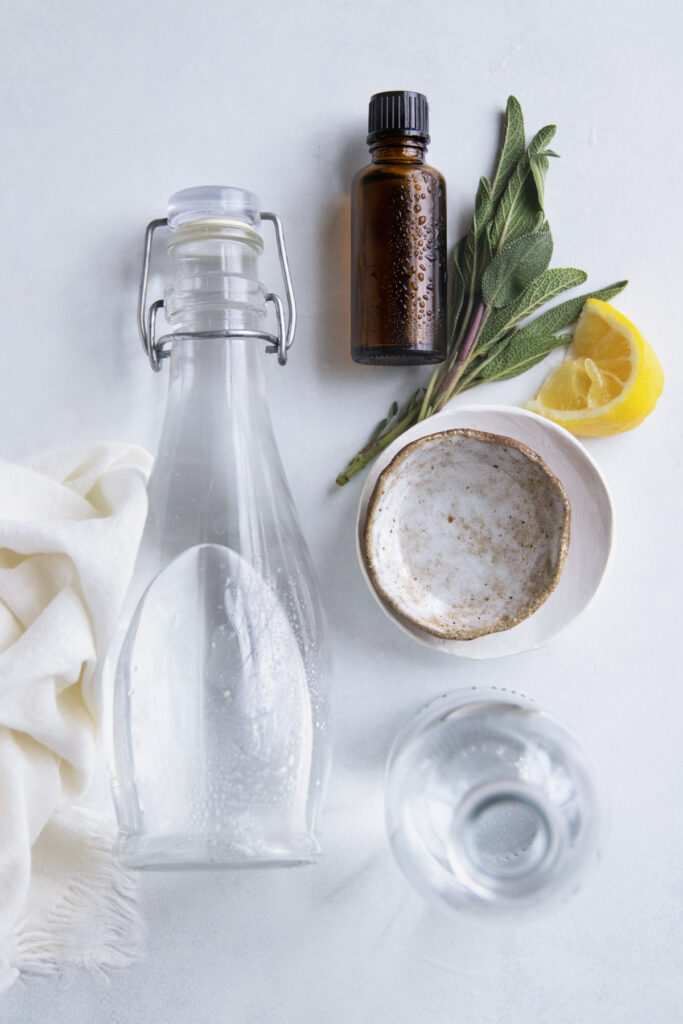 Grain Alcohol
Grain alcohol disinfects, deep cleans and eliminates odors. It also acts as a preservative in this recipe, so you don't have to worry about your spray growing mold while it sits. And since it has such a high proof, grain alcohol also fully dissolves the essential oils, so they don't separate when mixed with water.
Hydrogen Peroxide
An alternative to bleach, hydrogen peroxide helps kill bacteria and tackle stains that may be tarnishing your grout and tile.
Dishwasher Rinse Aid
The real star of this recipe, dishwasher rinse aid helps ensure a streak-free shine without the need for extra scrubbing. Simply add a teaspoon or two to your shower spray to speed up the drying process, prevent hard water stains and keep water spots to a minimum.
Lemon and Sage Essential Oils
You can really use any essential oils you like. But lemon oil is antibacterial and has a clean, fresh scent. Meanwhile, sage essential oil helps alleviate stress and enhances the spa-like shower experience.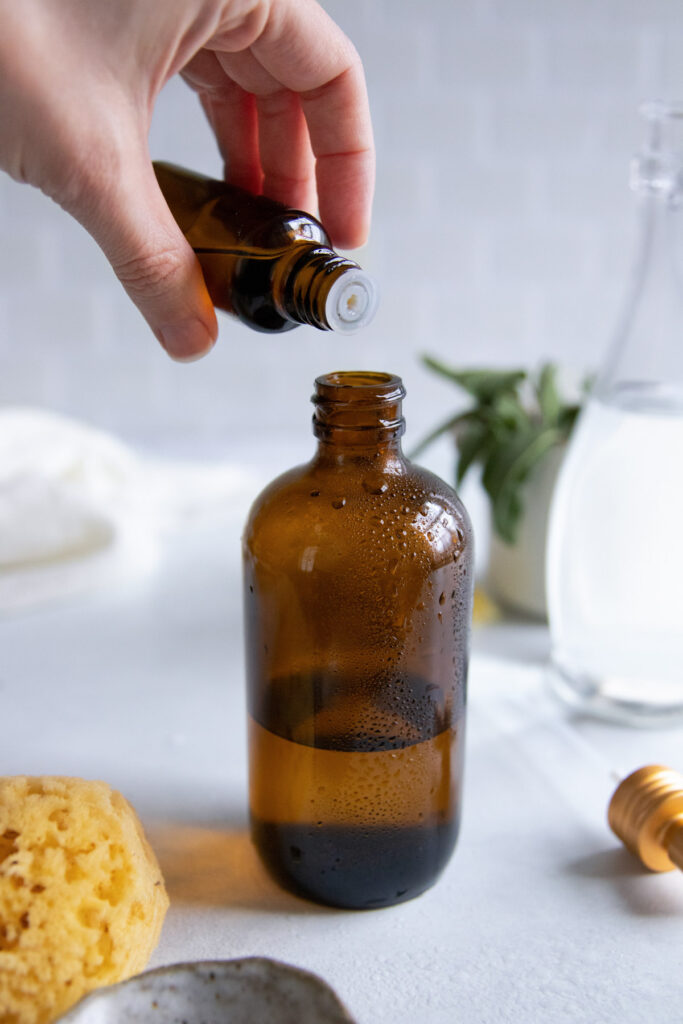 To make it, simply combine the essential oils and alcohol in a spray bottle. Swirl the bottle to dissolve the oils in the alcohol before adding the remaining ingredients.
Spray shower cleaner on walls, windows, shower doors and anywhere else that tends get moldy or scummy.
If needed, use a sponge or brush to get rid of stuck-on grime. Otherwise, just let the shower cleaner spray sit on walls overnight and rinse off the next time you take a shower.
Shower Cleaner FAQ
How often do I need to clean my shower?
Since the shower is always wet, it's not uncommon to find bacteria and mold growing out of control. Usually, I recommend cleaning your shower weekly.
But with the help of this homemade shower cleaning spray, you don't need to clean it quite as often. Spritz daily with this antibacterial shower spray and then do a deep clean every 1-2 months to get rid of stubborn soap scum and mold.
Where should I store homemade shower cleaner?
Because this recipe uses a high concentration of grain alcohol, you don't need to refrigerate your homemade shower cleaner. Instead, I recommend keeping it in the bath so you can reach it at the end of every shower.
When using essential oils, it is best to use a dark-colored glass to prevent the oils from breaking down. And make sure to keep your spray out of direct sunlight.
Will this spray clean tile grout?
This shower spray will help kill bacteria growing on shower walls and in nooks and crannies, but depending on how dirty your grout is, you may need a tub scrub. This DIY soft scrub is perfect for cleaning grout and other hard to reach places.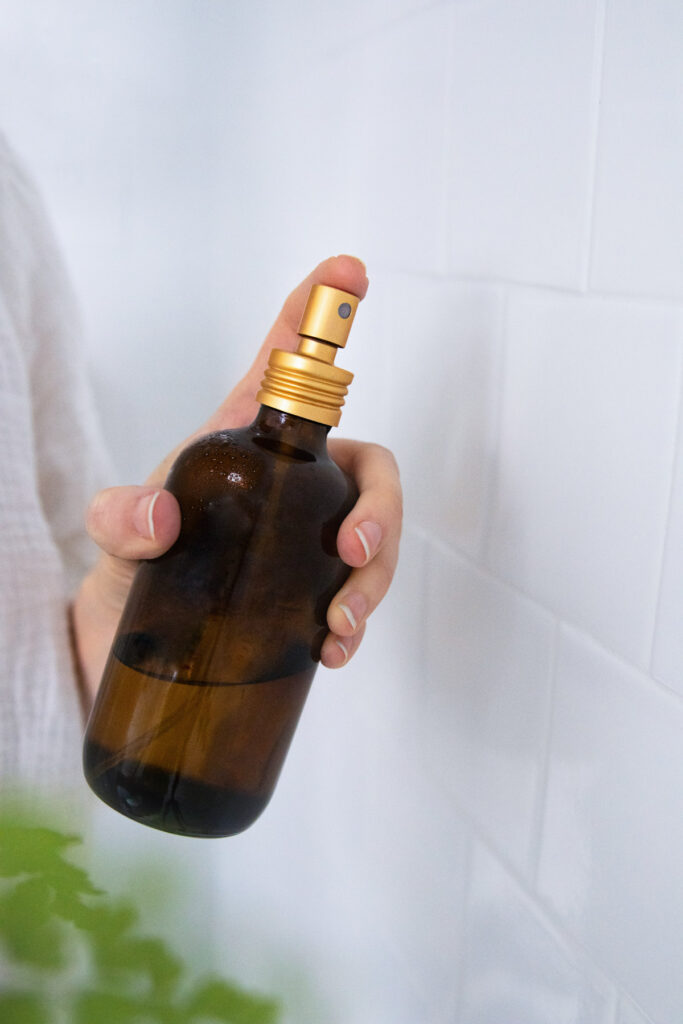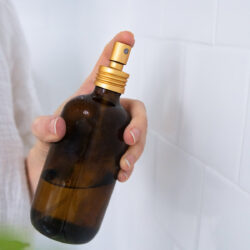 Shower Cleaner Spray
This streak-free shower cleaning spray kills germs and melts soap scum on contact. Just spray it on shower walls after each shower and let the power of grain alcohol, hydrogen peroxide and essentials do the rest.
Instructions
1. Combine the grain alcohol and essential oils in a spray bottle. Swirl to combine.

2. Add the remaining ingredients and swirl again.

3. After showering, spritz shower cleaner on walls and let soak in. If walls are especially dirty, wipe down walls with a sponge. For maintenance, mist walls without rinsing.
Notes
Do not use on natural stone such as marble or granite.
Use within 2-3 months.
1