Every time I go to the hardware store I feel compelled to buy more gold hex nuts. They are so tiny and delicate. And the perfect shade of gold! Does anyone know (or care) what hex nuts are actually used for – other than crafting, that is? Yeah, me neither. Because it turns out that hex nuts – and other hardware store goodies – make lovely holiday decorations. Here are 3 ways to DIY ornaments with hardware supplies.
Hex nut snowflake DIY Ornaments
Supplies
Hex nuts
E-6000 glue
Ribbon
Instructions
Step 1
Arrange hex nuts in snowflake pattern.
Step 2
Glue together with E-6000 glue and let dry overnight. We first made these with hot glue and found that after a couple of days the hex nuts started to fall apart. The metal glue works much better.
Wall plate photo DIY ornaments
Supplies
Wall plate
Photo
Piece of scrap paper
Wing nuts
Ribbon
Instructions
Step 1
Insert the photo into the wall plate and cover the back with the scrap paper.
Step 2
Attach the wing nut to hold the photo in place.
Electrical wire tree and name DIY Ornaments
Supplies
Instructions
Use the pliers to bend the wire into desired shape. For the tree, bend wire into small circles that get a bit wider each time the wire loops around. Then cut excess wire.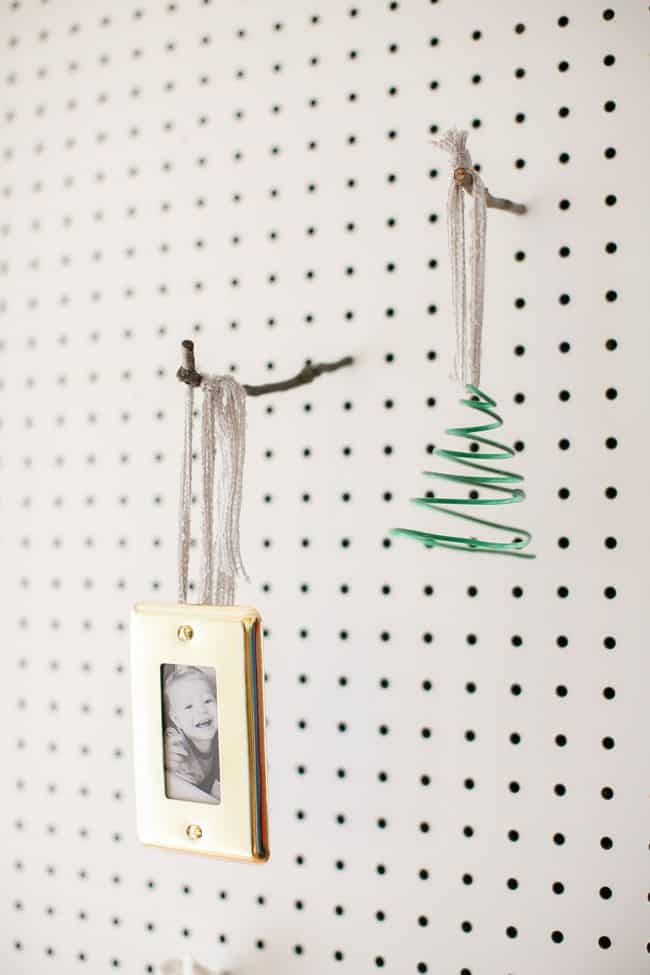 Wouldn't those trees and names make cute gift toppers too? Now I'll be compelled to buy electrical wire every time I pass Home Depot.
8