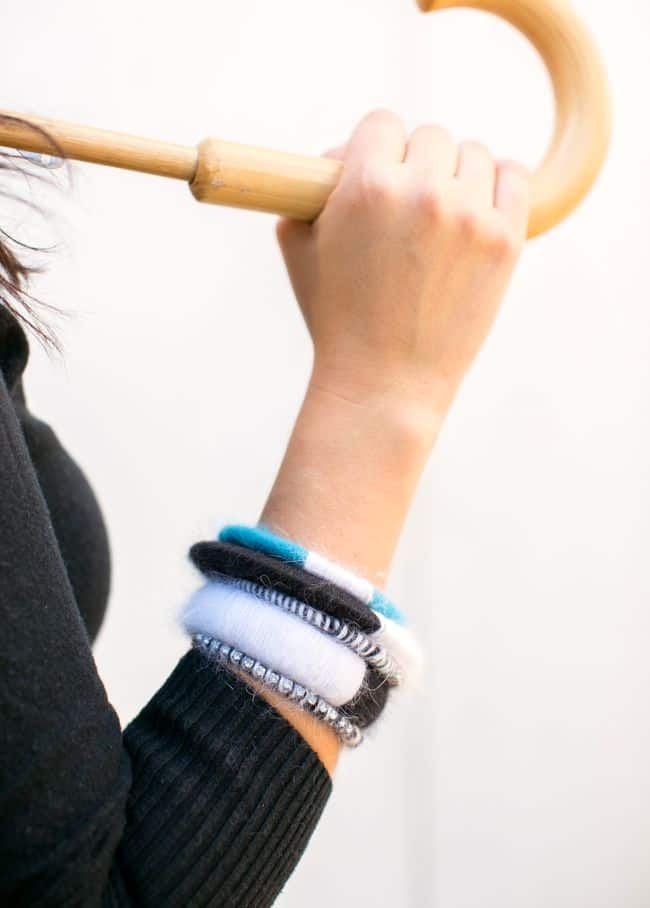 I love going into yarn stores even though, to be honest, I have no patience for knitting. There's so much color and texture – and I'm sure they love people who touch everything! And so many things I could make…. Nashville has this super cute knitting store called Haus of Yarn that I recently discovered. I walked in and found the most amazing yarn ever – cashmere. Wow. Suddenly I had visions of making sweaters, hats and mittens – until I saw the price. Yowza!
But right next to it was the 2nd most amazing yarn ever. Angora! It's soft and fuzzy too, yet way more affordable. Sadly the patience for sweaters, hats and mittens is not for sale. Good news is that you can make angora color block bracelets instead.
Color block Angora Bracelets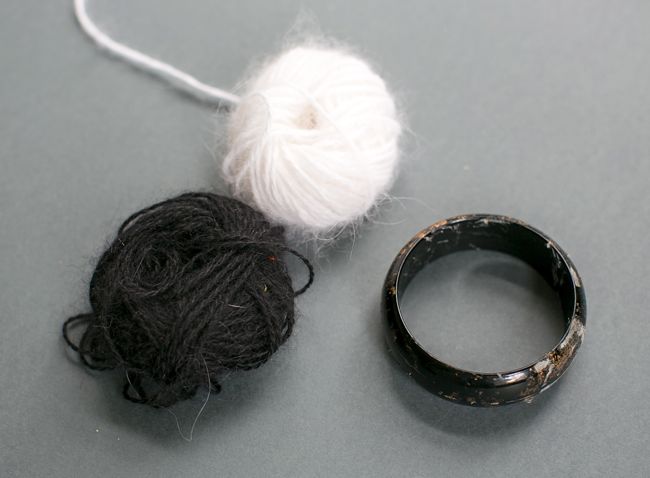 Supplies needed –
Old bangles
At least two colors of angora yarn – black and white is my favorite combination.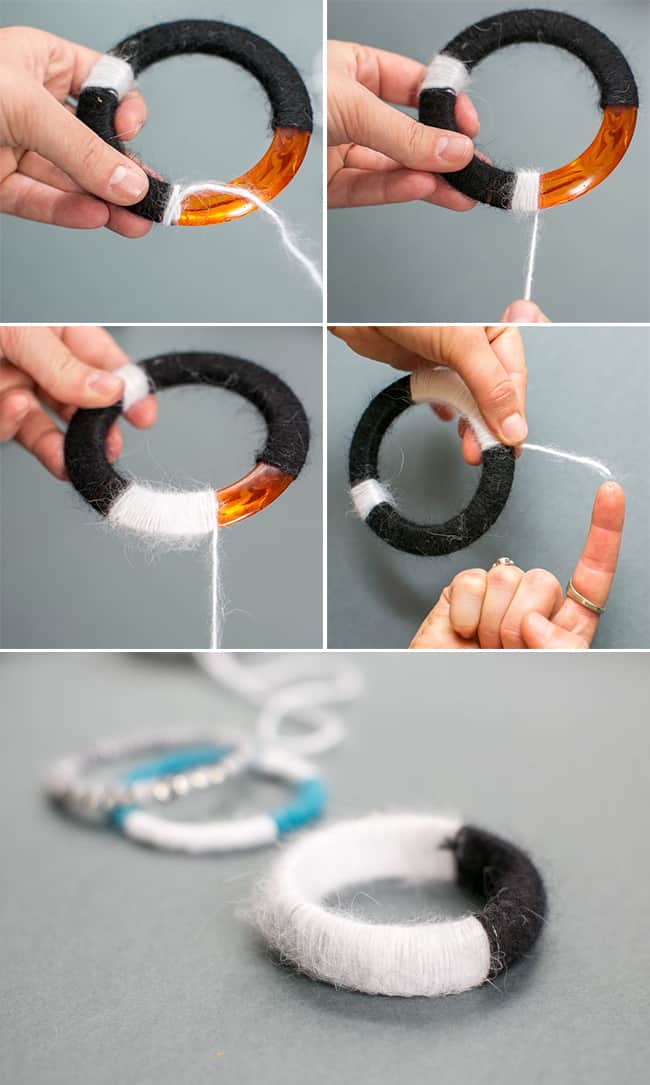 Instructions –
1. Cut and long piece of yarn and start wrapping the bangle. You can dab a bit of glue to hold the first end in place or just wrap over it with the yarn.
2. Wrap the yarn tightly to cover the bangle underneath. When you're ready to change colors snip the yarn and glue the end. Start the new color over the end piece to cover it.
3. When the colors meet, dab another bit of glue and cut any excess yarn.
Rhinestone wrapped Bracelets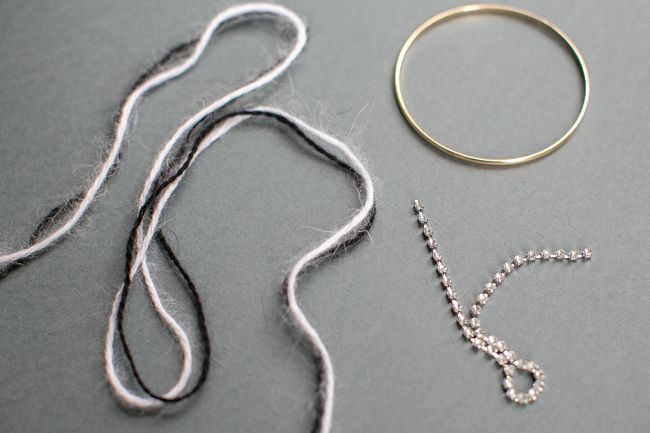 Supplies needed –
Rhinestone trim
Thin bangle (Wal-Mart is great for these!)
Black and white angora yarn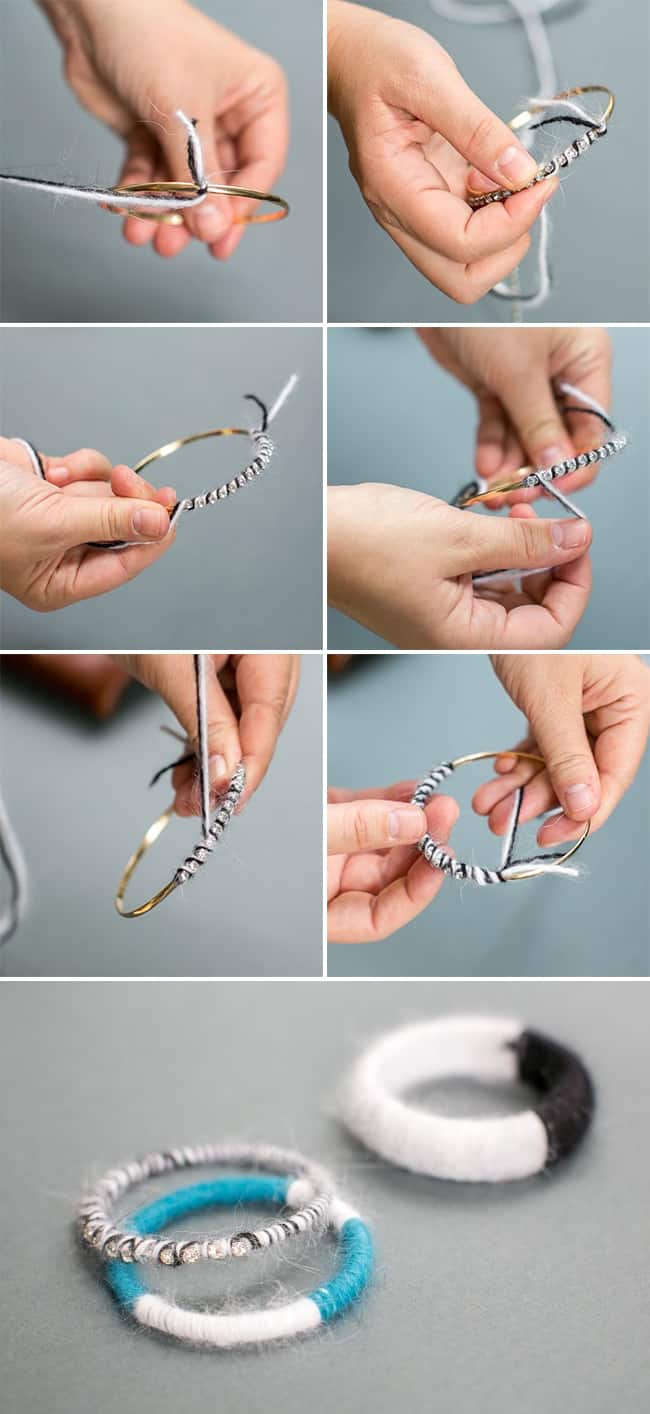 Instructions –
1. Cut a long piece of yarn in both colors. Knot the two pieces of yarn onto the bangle.
2. Cut a piece of rhinestone trim 3-4 inches long. Hold it on the bangle next to the knot with your fingers and wrap it with the yarn.
3. When you reach the end of the trim, turn around and wrap it again going the other directions.
4. When you get back to where you started, wrap over the tails of the yarn knot and keep wrapping the bangle. When you get to the end of the bangle, glue and cut the ends.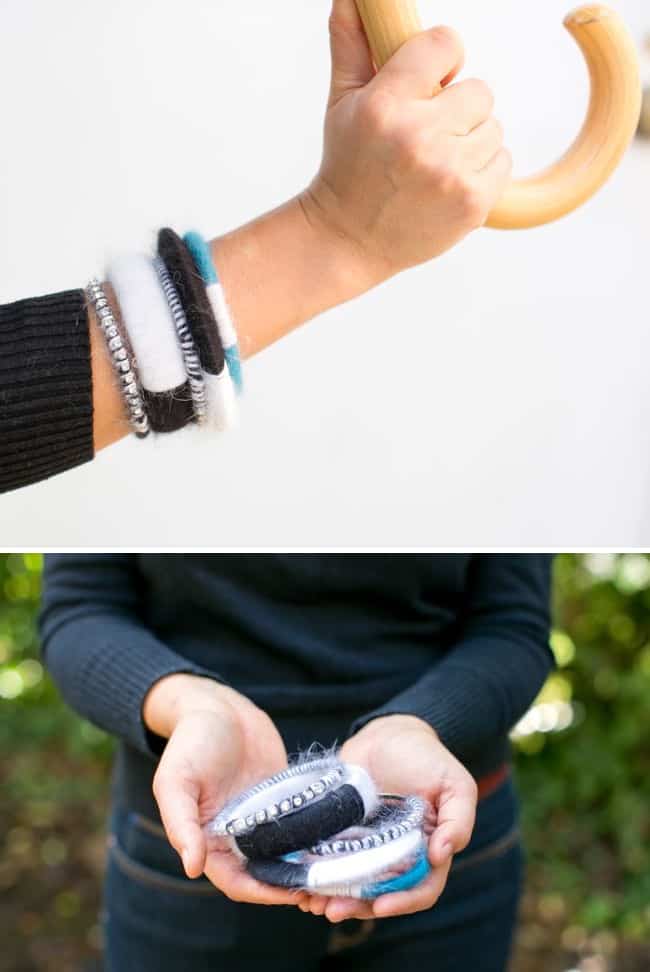 They are so soft! And don't you love how fuzzy they are?