Making your own plant-based dyes is such fun experimentation. Things like tea, turmeric, onions and walnuts make the most amazingly vibrant dyes. And maybe I'm just biased, but the shades are always classic and sophisticated, unlike those man-made dyes you'll find at the craft store. Deep aubergine from blackberries, rusty red from onions, vibrant ocher from turmeric—I love them all.
But my favorite shade is actually the bright pink of beets. Here's how to make gorgeous dip dyed dish clothes with natural beet dye.
How to Dip Dye With Natural Beet Dye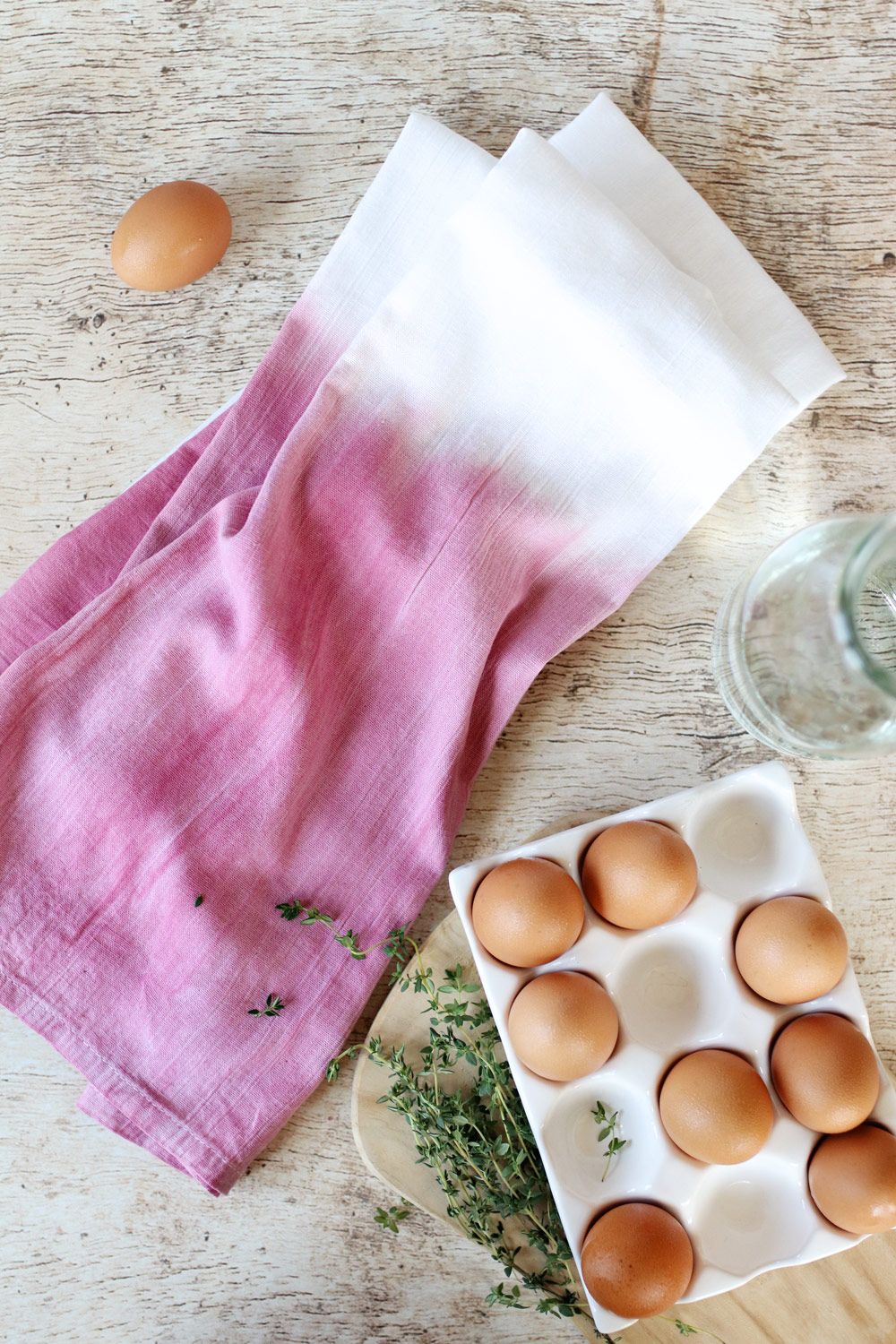 As a kid, my mom was always making homemade dyes from plants. One occasion, especially, stands out in my memory because it was the first time I'd ever really seen her work her magic in a pinch. I was in sixth grade and I was an embarrassingly late bloomer. While all the other girls were wearing bras I was still wearing undershirts. This was before the days of Spanx, so my stark white Hanes tank top showed underneath my clothes like the scarlet letter. And I was mortified.
One day after school mom whipped up a batch of strong black tea and let my shirts soak in it for an hour. I was amazed when she pulled them out, ran them through the wash, and voila. They matched my skin perfectly, therefore becoming invisible under my clothes and making all my adolescent problems go away (ha!).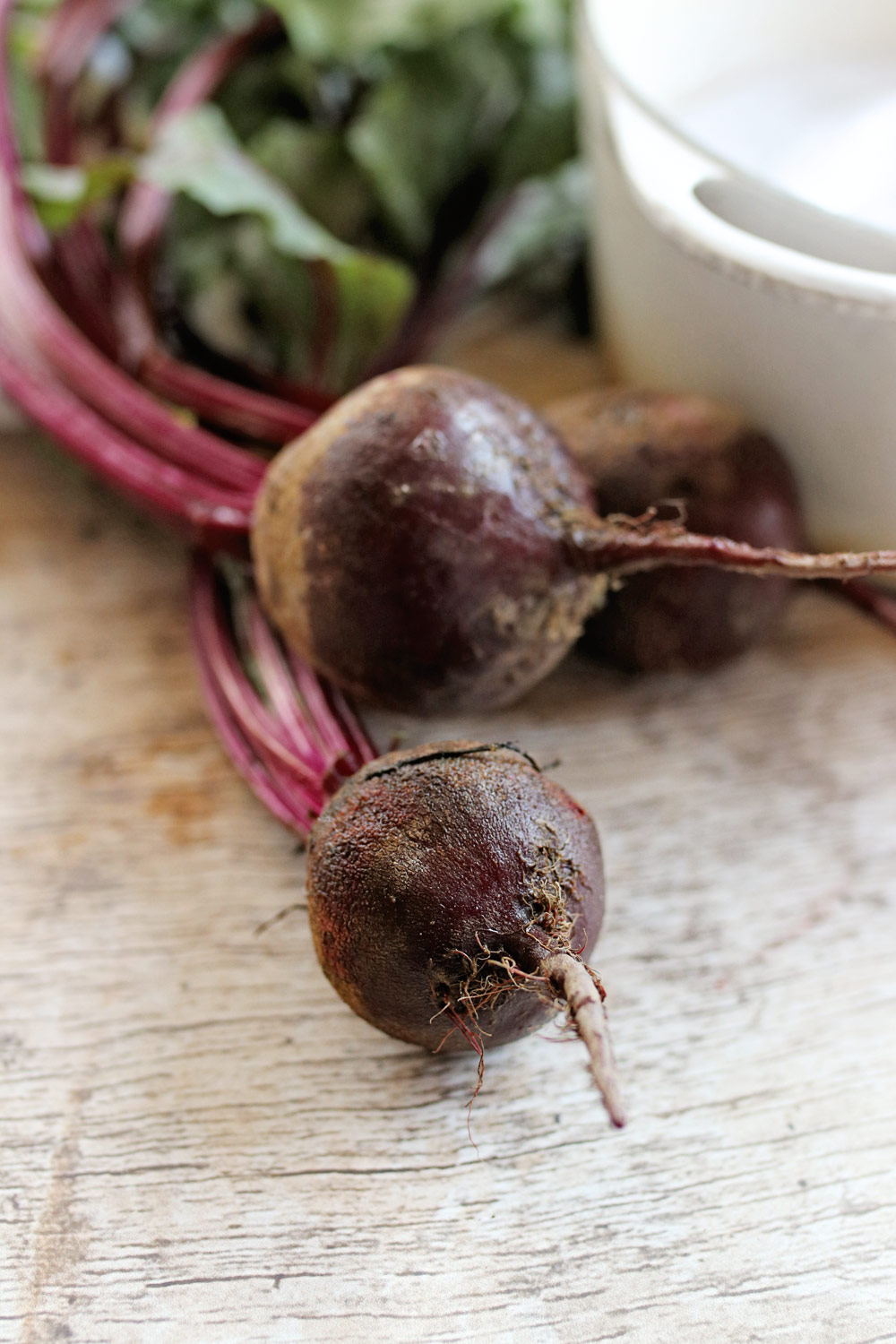 Flash forward 20 years and I'm still obsessed with making my own plant-based dyes. Especially with beets! It's zesty, fun and super uplifting. Plus, since beets are naturally juicy, it's easy to make a lot of dye with just a little money and elbow grease. With just one bunch of red beets and a few cotton dish towels, you can create your own dip dyed towels to stash around your kitchen or give as gifts during the holidays. You can use the same technique with the fabric for DIY aprons or DIY pillows.
And the shade of pink is up to you. Letting your fabric sit for few hours will get you a nice dusty rose color and soaking overnight will get you closer to vibrant magenta. You might notice that the fabric fades somewhat after washing (this depends on your particular fabric), but it should still retain a bit of the vibrancy you had immediately after dying.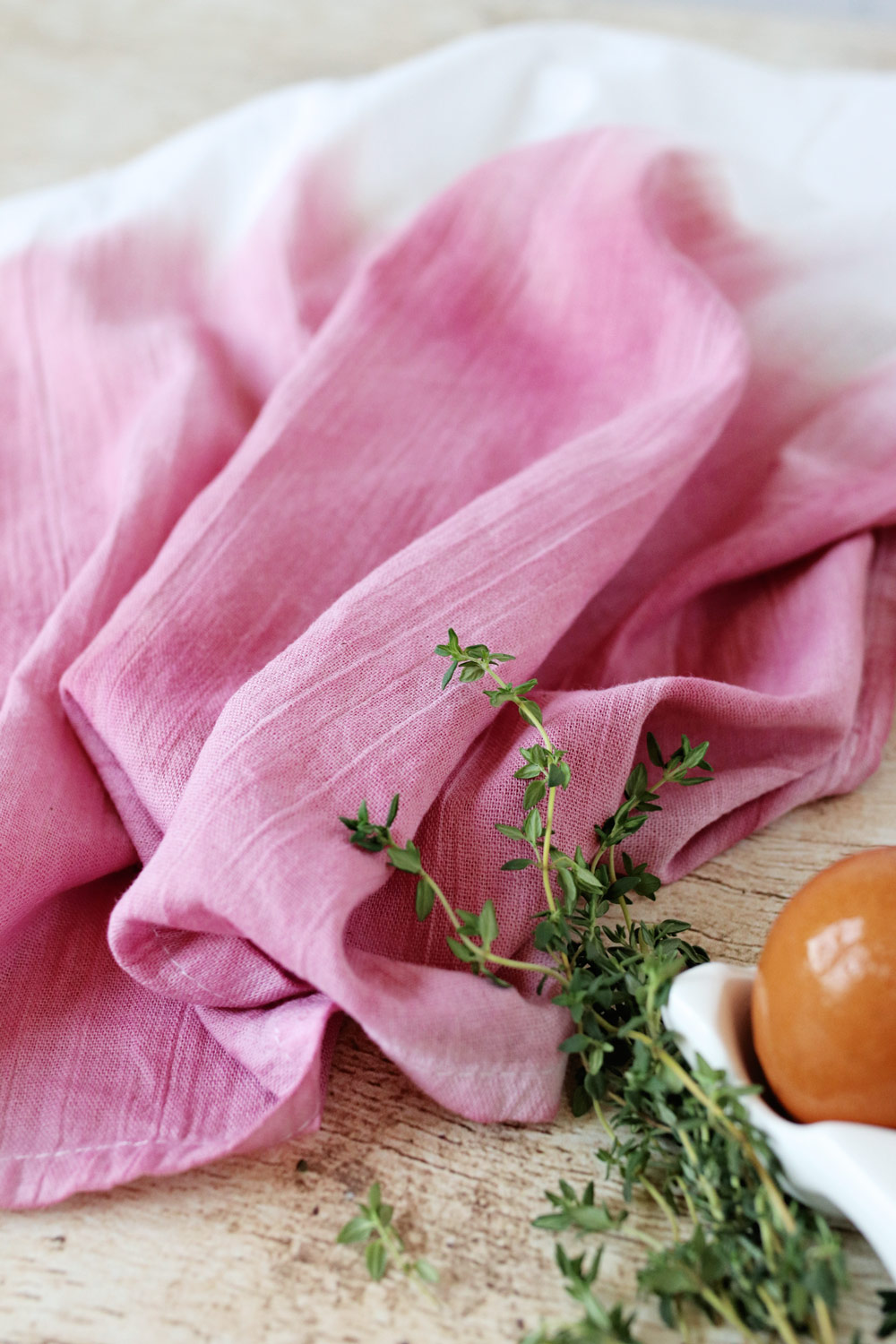 That being said, making your own plant dyes is somewhat different from traditional dyes. When using beets and other vegetables for dye, it's always best to use natural fiber fabric, like 100% cotton or wool. Not only do they take up more dye than synthetic fabrics, but they'll hold on to the color longer as well.
And because plant dyes are less permanent than other dyes, it's recommended that you add a natural fixative like salt or vinegar to help deepen the color and prevent it from fading in the wash.
How to Make Beet Dye Dishtowels
Supplies
1 bunch beets
2 cups vinegar
8 cups water
Large stock pot
Cotton dishtowels
Instructions
1. Prepare your fabric by washing and drying it a couple times to remove dirt and chemicals that might interfere with the uptake of the natural clothing dye.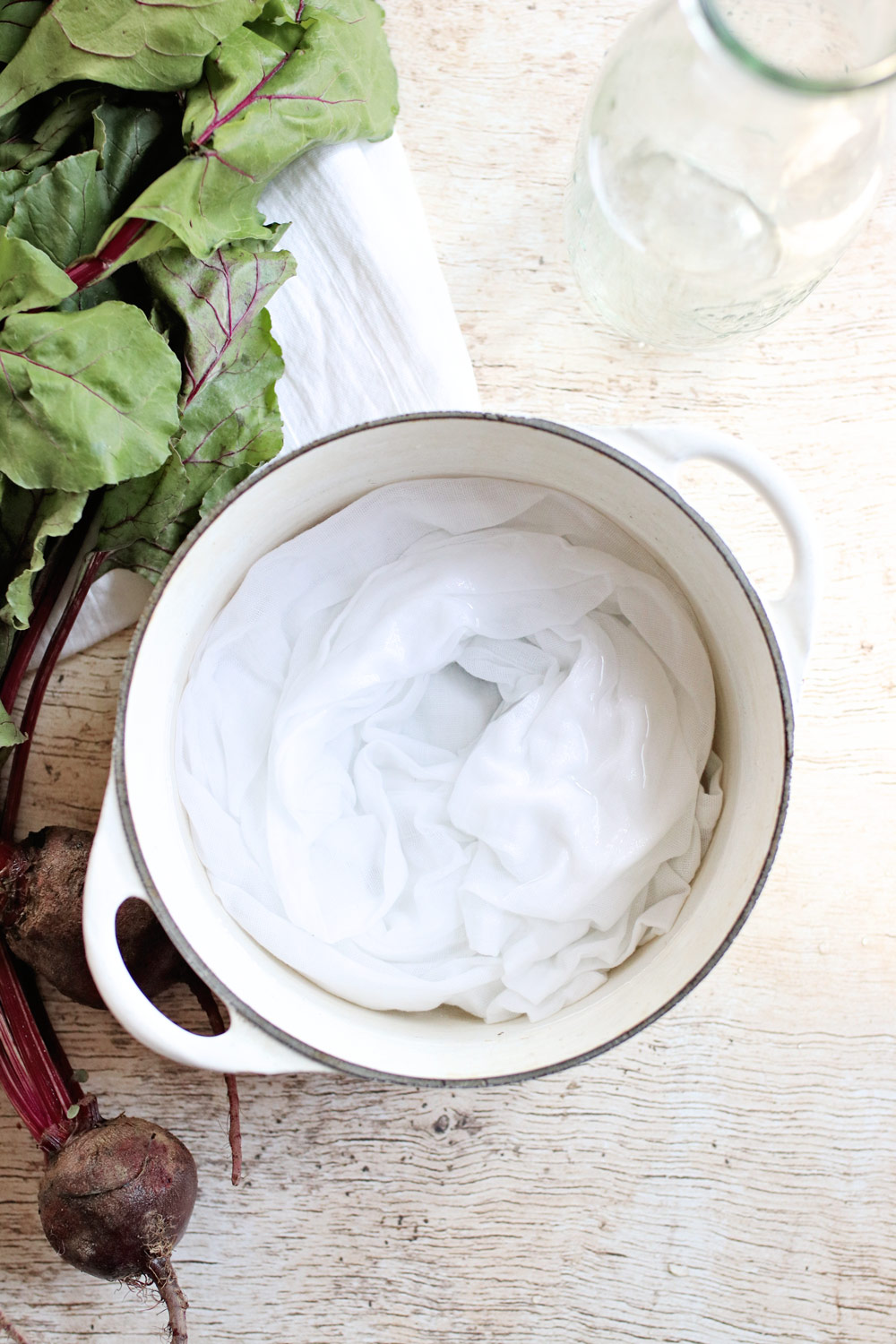 2. In a large pot, create a fixative bath of 2 cups vinegar and 8 cups water (or 1:4 depending on how much water you need). Bring to a boil and let your fabric simmer in this mixture for an hour. If you have an extra pot, you can take this time to create your dye while the fabric simmers.
3. Scrub the beets to remove any dirt and then chop them. I used 3 medium beets (a standard bunch at the grocery store) for my towels, but you might need more depending on how deep you'd like the color and how much fabric you have to dye. If you use more beets and less water, you'll get a deeper rose color, while fewer beets and more water will give you a lighter color.
4. Place the beets in a pot and cover with water so that the water level is about 1 inch above the beets. Simmer on low for an hour. Once the dye is a deep red color, remove the beets with a slotted spoon and let the beet water come to room temperature.
5. Dip one end your wet cotton dish towels into the red dye. I like to drape mine over the pot so one half is soaking in the dye and the other half is hanging loose over the dry side of the pot. Let sit for 3 hours or overnight. The longer you let it set, the more vibrant and color-fast your dye will be.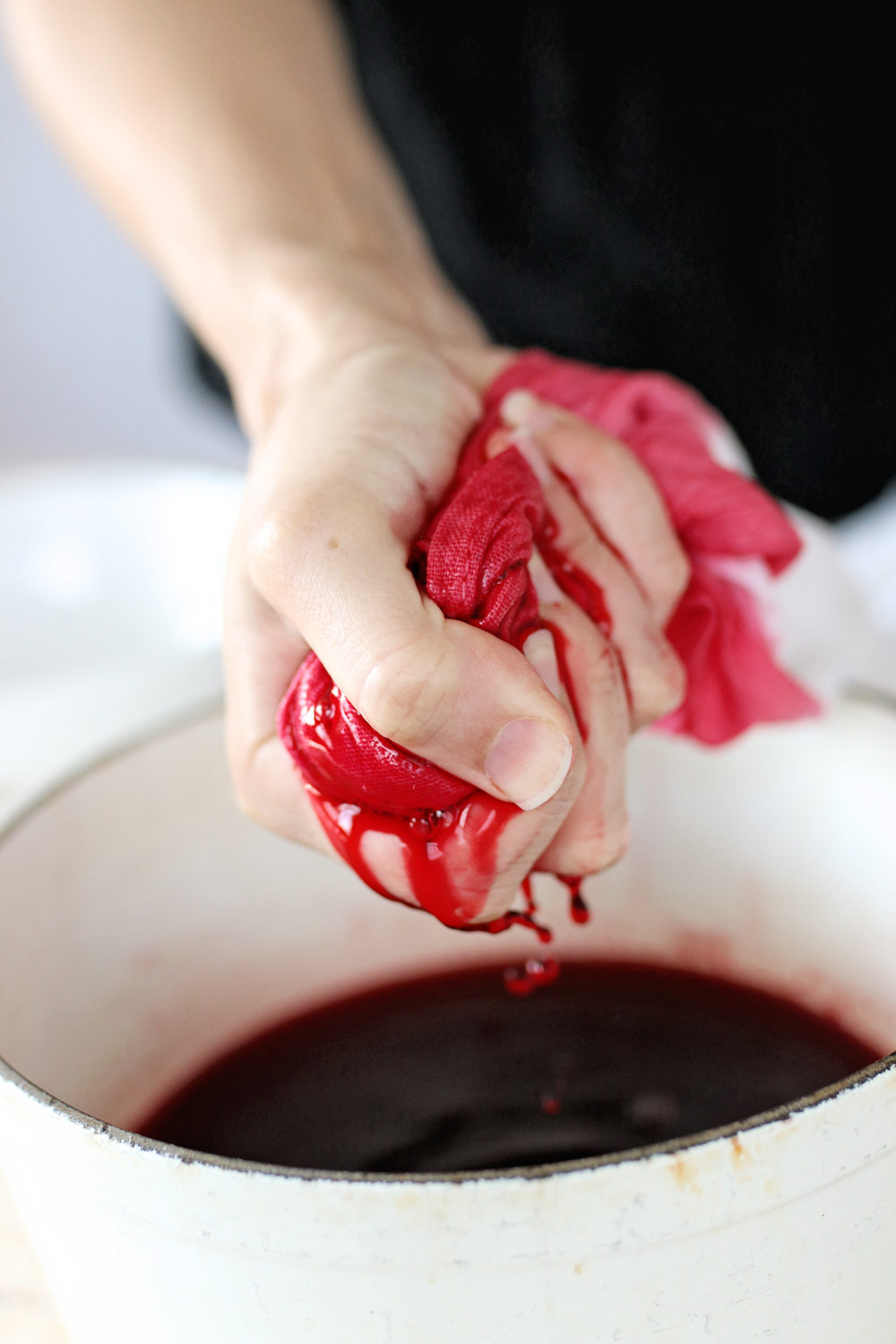 6. Remove your fabric from the dye bath and gently squeeze it to remove the excess dye. Allow your fabric to drip dry overnight (I drape mine over the shower curtain rod in the bathroom so the sides don't touch). Then use a warm iron for five minutes to heat set the dye.
7. Wash and dry on low/gentle to prevent the color from fading too much over time.
165