We can't expect crystals to smooth out all of life's wrinkles or solve all of our problems. But when we're looking for a bit of extra energetic support, crystals can help us align with the intentions of the moment—whether that's emotional healing, deepening our love relationships, or in this case, looking for a bit of protective backup.
Artifacts such as talismans, amulets, and armor from the ancient Sumerians, Romans, and Egyptians demonstrate the ways in which crystals have been used for protection for thousands of years. In more modern times, crystals are still being used to offer physical and spiritual protection. I reached out to Lady Samantha (Astrologer, Crystal Therapist, Wiccan, and owner of one of Toronto's top crystal shops, The Rock Store) to find out more about how we might use crystals to aid and shield us in our daily lives.
First, take time to connect
Before using any crystals for protection—or any other intention—Samantha recommends that her clients take time to connect with their stones. A communication channel needs to be created to activate their energy and establish a resonant field between the user and the crystal.
Since the physical heart is the electromagnetic powerhouse of the body, she recommends placing the crystals on the heart center or holding them close and spending time feeling their vibration and setting a clear intention. Once the crystal has been synced with the heart, they are active and ready for use.
She also points out that the sensitivity level of each person is different, and so while some of us may be comfortable working with strong/heavy energy stones, others may find they are just too much and feel depleted when using them. Finding the right crystals to work with can be personal and subjective, so here are a few suggestions to get you started.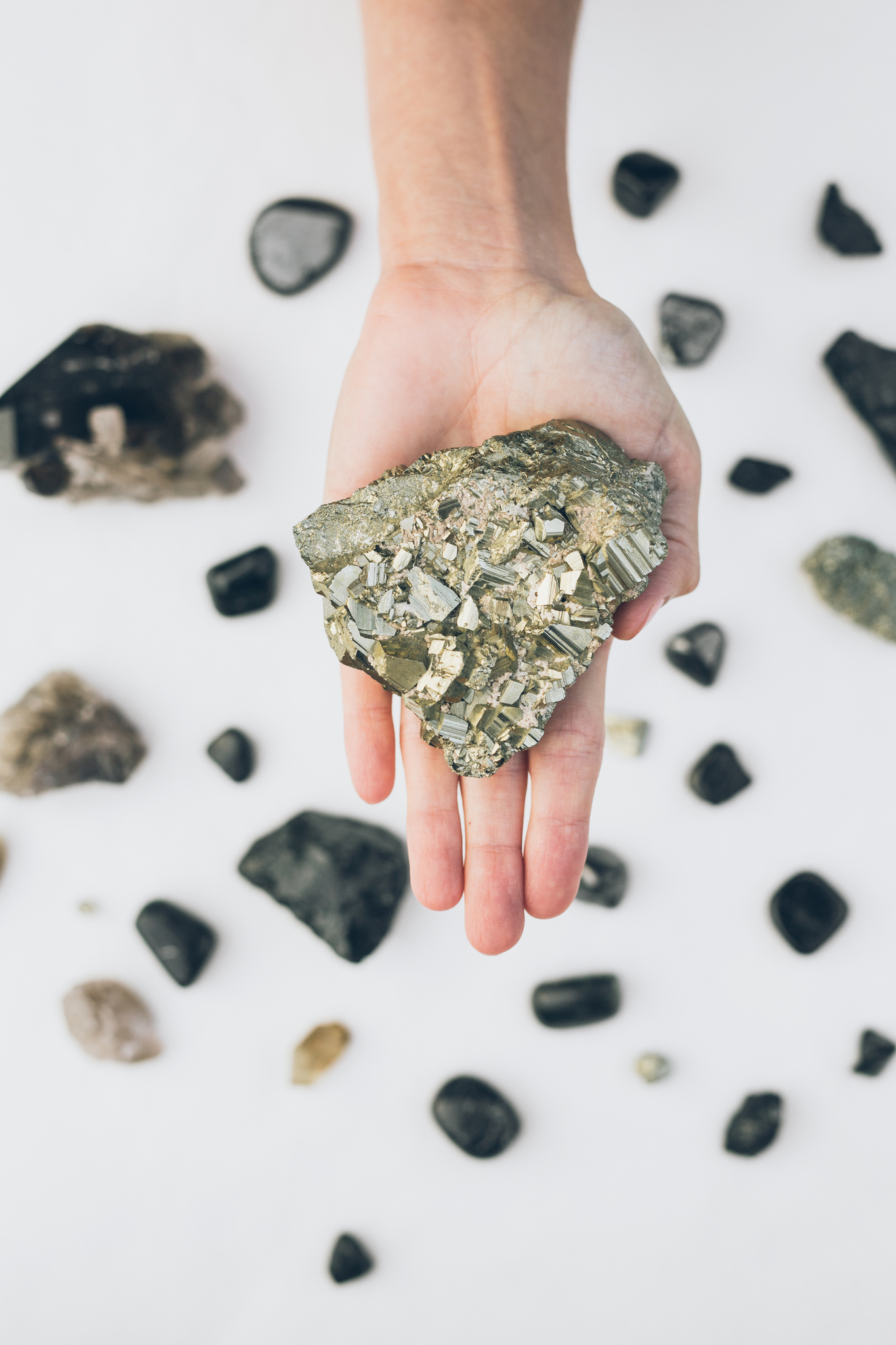 The Best Crystals for Protection
2. Pyrite
3. Smoky quartz
4. Galena
5. Shungite
9. Clear quartz
For heavy-duty protection
black tourmaline, black obsidian, pyrite
The most effective crystal to use for protective purposes is black tourmaline. This is a heavy, dense, powerful repelling stone, which Samantha recommends for physical protection, injury prevention, shielding evil eye energy, or to help buffer heavy emotional projections sent in your direction. While this is the most effective protective crystal, the intensity of its power can also mean that those who are more sensitive may find it too intense to use.
Samantha points out that we must understand that crystals are non-discriminant about which energy they deflect. That means, when you carry stones that repel energy away from your resonant field, you are sending it all away—positive and negative. She suggests that, when using stones as strong as black tourmaline, you also carry a crystal that welcomes positive energy into your field.
And isn't this such good advice in general? Rather than simply focusing on all that we don't want, we can find a way to balance this with a clarity around what we want to invoke. Clear quartz or rose quartz can accompany black tourmaline to keep a line of energy open for peaceful and loving vibrations. And pyrite helps to awaken your own power to compliment any energy-shielding effect.
If you use black tourmaline and notice you feel withdrawn, cut off, depressed, or isolated, try a smaller stone or another crystal such as black obsidian, which is lighter and less intense but still offers protective properties.
For amplifying your boundaries and inner power
pyrite, gold sheen obsidian
Pyrite is an excellent protective stone that can be used effectively in combination with black tourmaline and crystal quartz. Also known as iron sulfide, pyrite is a great crystal for blocking out negative energy and can be most effective for people looking to overcome fears, establish boundaries, or stand more confidently in their power.
Samantha recommends carrying this stone when working through situations of power imbalance, when you feel powerless in work or relationships, or for amplifying your inner power when you need it most. Gold sheen obsidian is also a good choice here.
For EMF protection
For those of us who are more sensitive, we may also be seeking protection and relief from the ill effects of electromagnetic radiation. Samantha recommends galena but says that, since it is a form of lead, it is not meant to be carried but rather placed between you and your computer screen.
In addition to our go-to black tourmaline, shungite is another great option. Pick up some shungite stickers and place them on your cell phone to help balance out any emissions. Shungite can also be worn, but it can leave black smudges, so be sure to clean off your stone before it gets near your clothing.
For home
/
entryway protection
When we're looking to protect our homes, there are a few things to consider. The first most obvious thing is that larger spaces need larger (or more) crystals, and the second is that placement matters.
If you're looking for front door/threshold protection, Samantha recommends opting for smoky quartz as an inconspicuous but helpful doorway talisman. Black tourmaline is another option here, though remember to keep a complimentary crystal by its side, such as raw quartz, so that good vibes can still make their way in. It also helps to boost the effects of any nearby stones. She adds that, for an additional protective magical touch, you can sprinkle powdered sulfur along the outer perimeter of your doorway.
Inside the home, you'll need to consider the size of the room you're looking to charge. For rooms smaller than 14 sq ft, Samantha recommends placing six 2-inch pieces of black tourmaline and six of clear quartz around the perimeter of your room to create a hexagonal grid formation.
This setup mimics the atomic crystalline structure of tourmaline and allows them to "talk to each other" as if they were one stone. The quartz helps to amplify their power further. Be sure to set clear intentions with your stones any time you place them around your space.
For psychic
/
metaphysical protection
obsidian and tourmaline paired with moonstone, astrophyllite
While not everyone frets about the evil eye, psychic attacks, or meddling entities from other realms, we can all relate to the feeling of being on the receiving end of negative vibes. In times when we've found ourselves carrying the weight of other people's projections and negative emotions such as envy or jealousy, crystals can help us to block that energy.
Whenever I feel that unexplained "under attack" feeling, I instinctively reach for my black stones, such as obsidian and tourmaline. Samantha suggests pairing those energy-repelling stones with peaceful moonstone. For those looking for that evil eye/psychic attack barrier, she recommends astrophyllite.
Remember to care for your crystals
Keep an eye on the condition of your crystals, and if they crumble, shatter, or break, they're worn out and need to be put to rest. If you've been using them for heavy energy work and they've really been put to task, you can cleanse them with smoke or use clear quartz points to recharge them.
Remember to choose the right size and number of stones for your purpose. Activate your crystals through intention setting and establishing a resonant field with your heart center. It's important to find a balance between the energy you're repelling and that which you're inviting in. And since we all have different sensitivity levels, don't be afraid to switch up your stones or follow your gut when you find something that works best for you.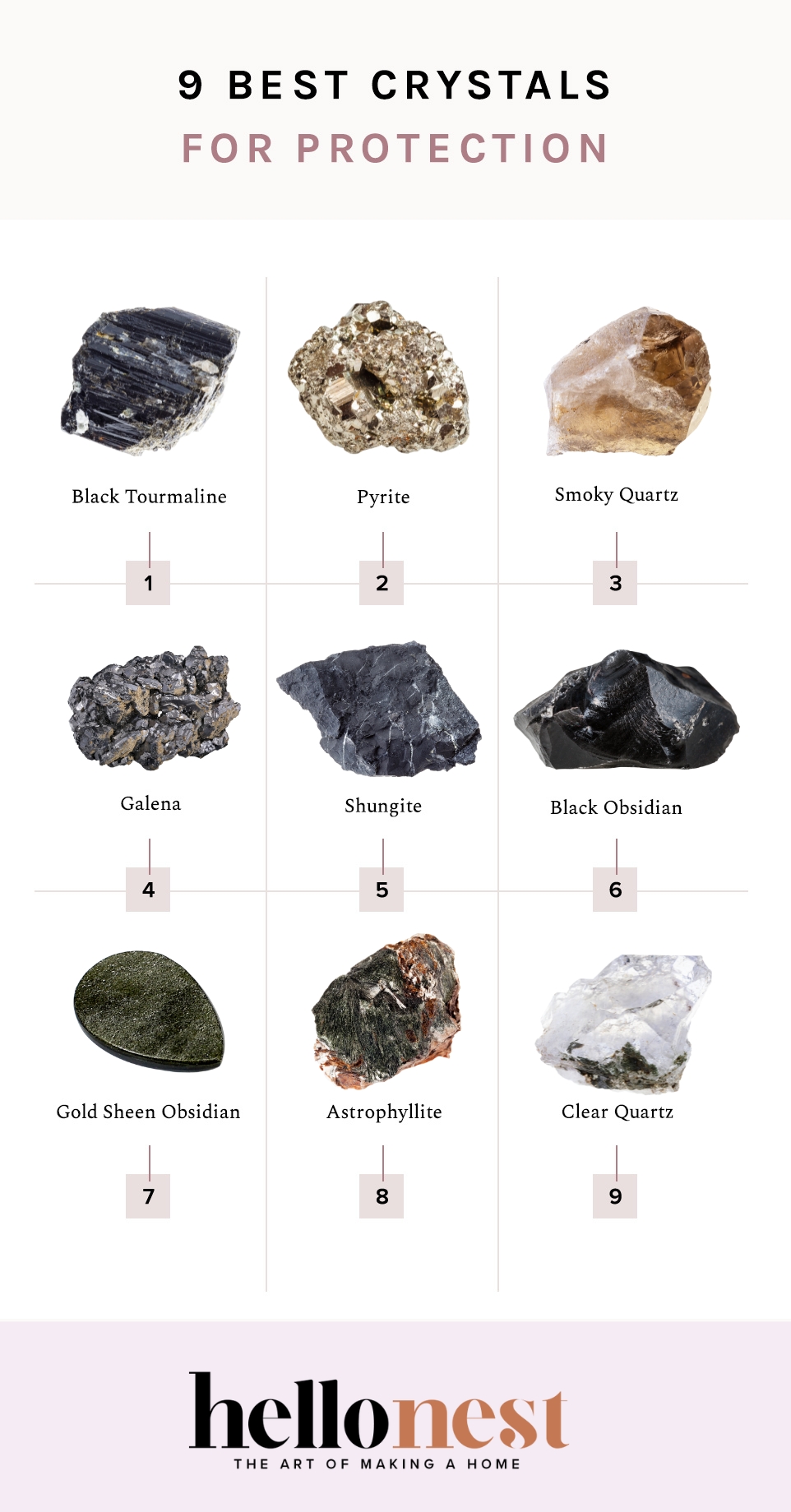 0