One simple and relatively inexpensive way to give your home an energetic boost is to gather together an arsenal of crystals with all the right vibes and place them strategically around your living space. Each room in your home will benefit from a different kind of crystal, as each holds a distinctive energetic property—whether you are looking to make each zone more relaxing, positive, protected, or creative, crystals have you covered.
How to Use Crystals at Home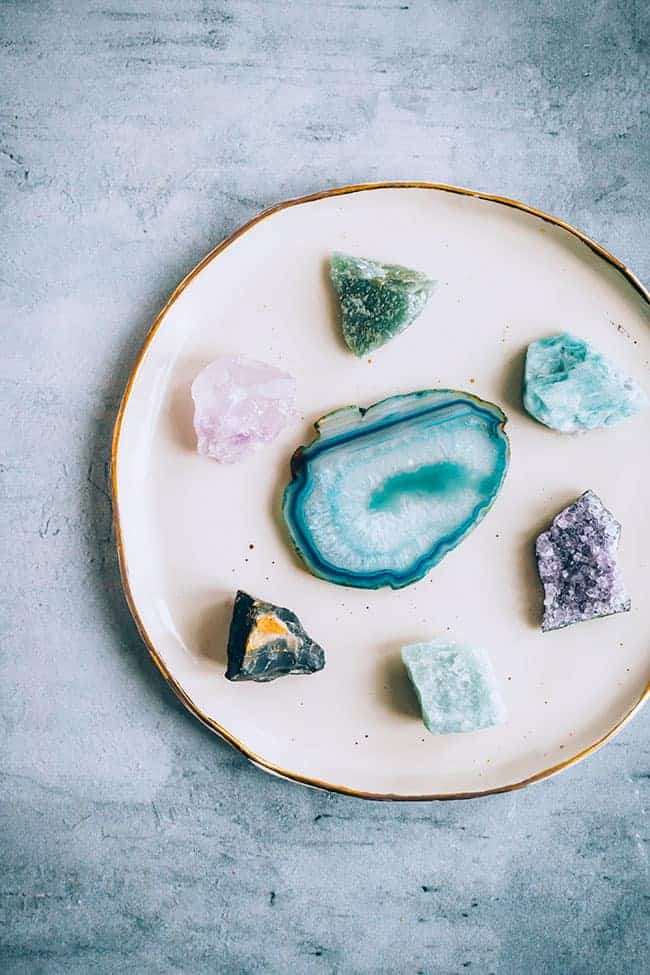 Main living space
Since this is the part of your environment where you'll tend to spend much of your down time, and likely also where others get an overall feel for your home's energy, choose crystals that amplify positivity and lend an inviting sense of lightness.
Selenite: healing, purifying, clarifying, and clearing. Selenite is like a vacuum for negative vibes, and energetically it's like turning on the light in your space.
Amethyst: calming, balancing, protection, purifying negative energies.
Bedroom
Depending on what you're looking for in terms of bedroom energy, crystals can lend a relaxing, meditative quality to help with sleep, or they can pump those love and passion vibes up a notch.
Celestite: relaxing, calming, eases anxiety. This is a great stone to place in nurseries or children's rooms to help encourage a peaceful night's sleep; also good by your bed if you're a night-worrier.
Rose Quartz: love, emotional health, heart healing, heart connections, self-love.
Carnelian: passion, expression, confidence.
Office / workspace
In our work environment, we may be looking for more confidence, abundance, a better flow of ideas, or creativity. Choose a stone, or a combination of crystals, that talk to the particular needs of your line of work.
Citrine: creativity, motivation, self-expression, energizing.
Pyrite: wealth, abundance, clear and grounded thinking in terms of career and material goods.
Lapis lazuli: clarity of thought, objectivity, speaking your truth, perspective, decision-making.

Dining room
In whichever space you typically eat your meals, consider placing a crystal that offers a feeling of positivity and balance, especially if you struggle at all with diet or food issues.
Amethyst: clears energy, encourages moderation, and temperance. If you're seeking dietary balance, this is a great choice. (You might place this stone in any room where there is a pattern of excess–in the office if you're a workaholic!)
Turquoise: supports health and digestion, eases stress, good for emotional balance–great for those of us that are emotional eaters!
Kitchen
For some of us, cooking is a banal but necessary activity. We may feel uninspired, and end up making the same dishes over and over. This is a great room to add stones that encourage creativity, exploration, and confidence.
Calcite: warming, welcoming, nurturing… this one will make your kitchen the hub of the home.
Apatite: creativity, self-expression, guidance, clarity.
Entryway
It's generally recommended that a strong protection stone be placed just outside of the door to your home, so that it washes the negative energy off of you before you even step inside, and adding a clear cleansing crystal on the inside of the entryway. If this isn't possible, placing both above (or near) the inner frame of your door is an option.
Black tourmaline: protection, absorbs negative energies/heavy energetic toxins.
Clear Quartz: cleansing, positivity, purification, clarity.
Other possibilities
If there is a place in the home where you tend to feel more anxious or ungrounded, add smoky quartz to encourage stability.
Wherever you sit to meditate, read quietly, or have your chill time (which might mean near your bathtub!), add a moonstone. This is a great healing crystal for women, and it also encourages a soothing, balancing energy.
If there's a place in the home where you could use more confidence, tiger's eye would be a great choice.
When in doubt, add quartz: crystal quartz sends a "good vibes only" message into your home, and also turns up the volume on any other crystals you may have nearby.
If you need any of these energies to be stronger or present with you as you move around your home, pick up a few smaller crystals that you can carry around in your pocket or, as I often do, tuck into your bra!
How to use your crystals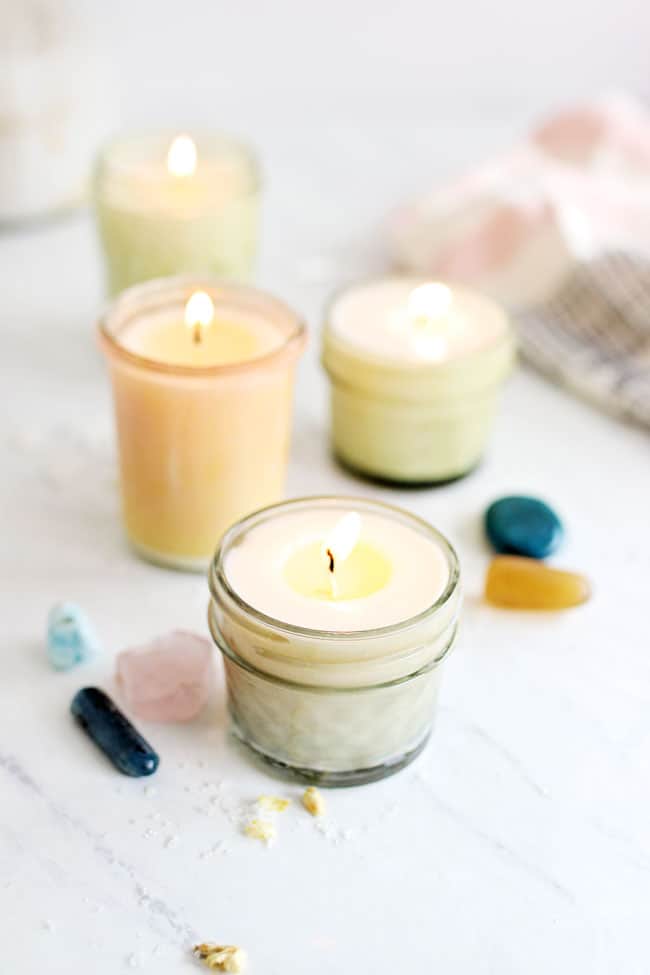 When you're choosing your crystals, go ahead and mix up shapes, textures, and colors. Cluster them together if you want to build combined energetic themes, and be sure to keep them clean from dust and debris. When you first bring home your stones, wash them in warm water and set them aside to air dry, or smudge them with sage smoke to cleanse away any heaviness they may have accumulated. Consider giving them a moon bath a few times a year—setting your stones out beneath a full moon is a powerful way to clear and recharge their energy.
Pay attention to how you feel—and to the kinds of thoughts you have—as you spend time in each area of your home, as this will help you tune into what kinds of changes you may want to make in terms of your crystal choices and placement. Crystals are not only beautiful additions to a space, they can help to create that subtle shift you may be looking for, allowing you to align more closely with the particular energies you are seeking.
32