We might be just a little obsessed with making our houses smell good this time of year. It's hard to resist when the scents of fall are so warm and cozy. There's nothing like walking into a home filled with the comforting aroma of cinnamon and citrus. A pot simmer recipe filled with herbs and spices will sweeten the air just as well as any artificial room freshener. Plus you'll help purify the air and detox your home.
7 pot simmer recipes for fall & the holidays
The best thing about pot simmers? They're endlessly customizable. Build one around your favorite essential oils or just use up what's hiding in the spice cabinet. Here are a few ideas:
1. Walk in the woods
2-3 sprigs rosemary
1 tablespoon juniper berries
pine or other evergreen twig
2. Sandalwood-Vanilla
1 vanilla bean
2 drops sandalwood essential oil
2 drops vanilla essential oil
1 drop clove bud essential oil
3. Citrus spice
1 whole orange peel
1 tablespoon black peppercorns
2-3 cloves
4. Gingerbread
5-7 slices of fresh ginger
1 vanilla bean
1 clove
5. Pumpkin spice latte
1/4 cup whole roasted coffee beans (or 3-5 drops coffee essential oil)
1 teaspoon pumpkin pie spice
cardamom
all spice berries
6. Apple cider
1-2 apple peels
2 cinnamon sticks
7. Peppermint-Rosemary
1 large sprig fresh rosemary
3 drops peppermint essential oil
2 drops rosemary essential oil
1 drop eucalyptus essential oil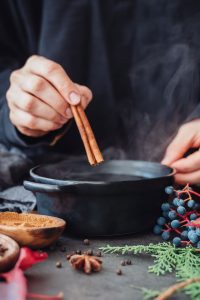 Print
How to Make a Pot Simmer
Ingredients
Blend of dried herbs, spices, fruit peels and essential oils
Instructions
Bring a pot of water to a boil, add spices, peels, herbs or essential oils into the water.
Reduce temperature to a low simmer.
Make sure to check the pot of simmering water every half an hour to make sure the pot does not run out of the water. Add additional water to the pot as needed.
Photos by Ana Stanciu
15