One of the best things about summer? An abundance of fresh fruit and veggies. One of the worst? Fruit flies. With cantaloupes, tomatoes and the occasional overripe banana on the counter the tiny little pests inevitably come to inhabit my kitchen all summer. This year, I'm determined to get rid of the pesky creatures! And a simple apple cider vinegar fruit fly trap totally does the trick.
But if you're not a fan of apple cider vinegar, or you just don't have any hand, we've got two other fruit fly traps to help you get rid of those buggers once and for all.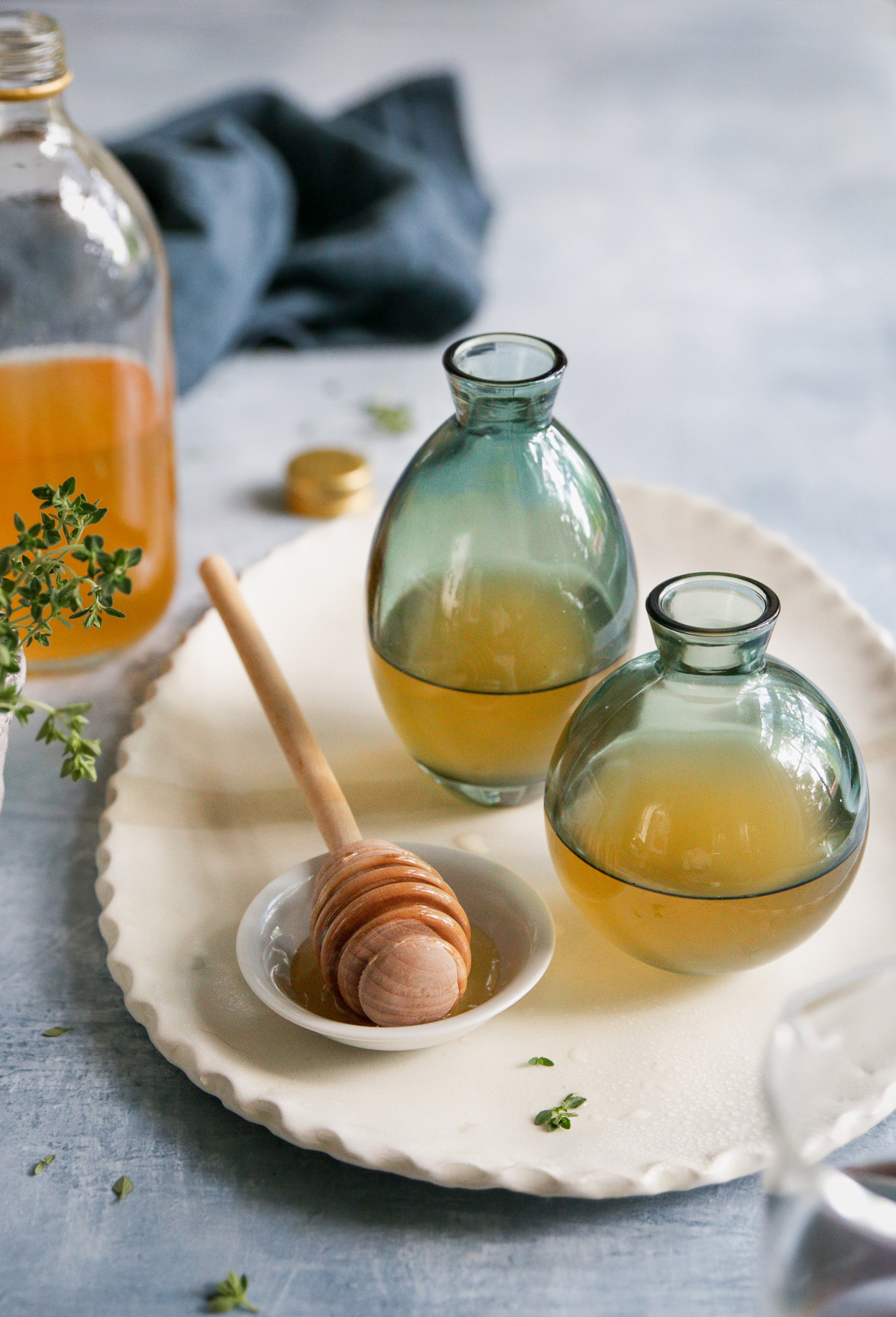 3 Homemade Fruit Fly Traps
This simply ACV fruit fly trap is my go-to. But if you don't have a small bud vase on hand or you just can't stand the smell of apple cider vinegar, don't worry. We've got options.
1. Apple Cider Vinegar Fruit Fly Trap
Apple cider vinegar is, in my opinion, the only bait you really need for fruit flies. While wine, honey, and too-ripe bananas can lure fruit flies, nothing beats the potent, smack-you-in-the-face scent of apple cider vinegar for attracting fruit flies. Once in the vicinity of the vinegar, they can't help but crawl inside the jar and go for a swim. And, well, that's the end of that.
While they sell fruit fly traps at the store, you can make your own with just a narrow-mouthed container, like a bud vase, some apple cider vinegar and a little bit of water. When the smell dissipates and the trap loses its effectiveness, simply rinse it out, add some fresh ACV and you're back in business.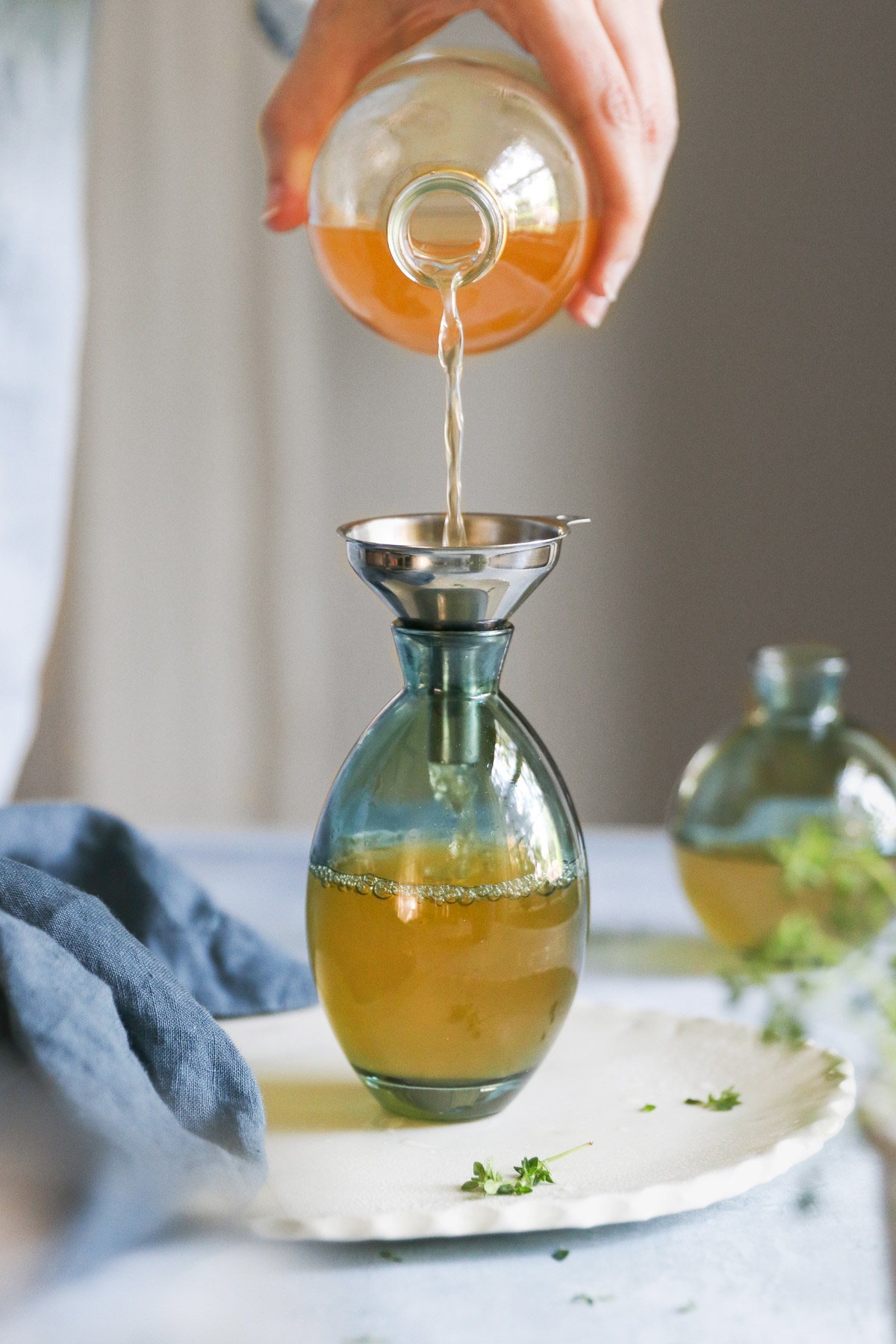 What you need
Container with a narrow opening. I use a bud vase. You could also use a wine bottle or even just an open bowl.
Apple cider vinegar
Water
Honey (optional)
Instructions
1. Fill your vase with roughly equal parts water and ACV.
2. If you're getting lackluster results from your trap, try adding some honey for extra oomph. The first couple of times I added a spoonful of sugar to make it extra attractive, but the the water/ACV by itself seems to work better at my house. Experiment to see what works best for you.
3. Set out your trap wherever the flies are the worst. For me, it's right by the sink. They love to get in the faucet. Ew.
Give the trap a couple of days to start working. I noticed that in the first 24-48 hours the flies were hanging out in the trap but not really 'trapped.' Yes, the flies can get out of the vase but they seem to love ACV. Maybe the overindulge or maybe it doesn't agree with their system because soon you'll have lots of dead flies in the water. And that's really all that matters to me!
4. Change out the water/ACV mixture every week or as soon as it starts looking too gross.
2. Alcohol and Dish Soap Trap
If you've ever left a glass of wine sitting out unattended during the summer months, you know how much fruit flies love alcohol. Without fail, I usually find one or two of those little devils floating in my glass by the end of the night. Gross.
In this recipe, alcohol attracts the fruit flies and dish soap helps kill them. While you may have good results with just one or the other, I recommend using both ingredients in tandem to make sure those pesky flies never see the light of day.
As for the trap itself, this one uses plastic wrap with small holes punched in it to make help make sure fruit flies can get into the trap, but not out.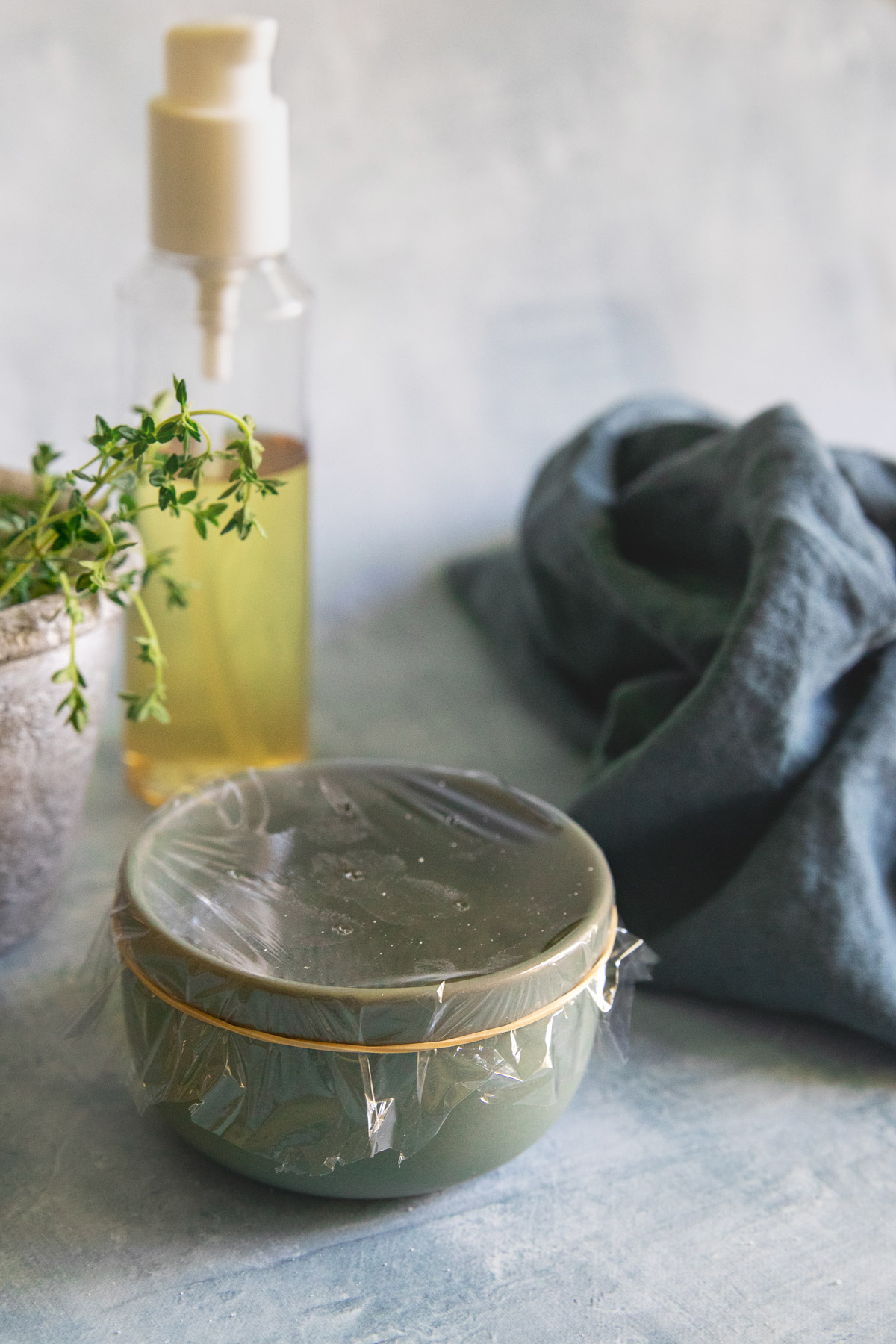 What you need
Beer, hard cider or wine (red or white is fine)
Dish soap
Small bowl or dish
Plastic wrap
Rubber band
Instructions
1. Squirt a little bit of dish soap into a small bowl, cup or glass. Then add the alcohol and mix well. If you're using a tall glass, you don't need to fill it all the way. An inch or two of alcohol should be enough to attract fruit flies.
2. Take a small piece of plastic wrap and spread it over the top of the bowl. Use a rubber band to hold it in place.
3. Next, take the tip of a sharp knife to punch 5-6 holes in the plastic wrap that are large enough for fruit flies to pass through, but not so large they can climb out easily.
As it sits, the smell of alcohol should attract flies to the area. They'll then crawl through the holes in the plastic and, if all goes to plan, be unable to get back out.
3. Milk and Sugar Fruit Fly Trap
If you don't have alcohol or ACV on hand, then a simple mixture of milk and sugar should do the trick. Full transparency: the real beauty of this trap lies in the paper funnel. Essentially, fruit flies fly through the hole in the center of the funnel, and then find themselves stuck inside the jar, unable to get out when they try to fly back up.
What you need
A tall glass
Piece of paper (I use standard printer paper)
Tape
Milk
Hot water
Sugar
Instructions
1. You want to start by creating a very basic simple syrup. I simply turn on the faucet and let it run for a minute until the water is as hot as it can get. In my glass, I then combine roughly 1 tablespoon hot water with 1 tablespoon white sugar and swirl the glass until the sugar dissolves.
2. Let the water cool for a few minutes, then add approximately 1/2 cup milk to the glass. Swirl again.
3. Roll the piece of paper to create a funnel and secure the sides together with tape. I cut my funnel straight across at the top thinking it may encourage bugs to actually enter the trap, but you don't have to do this.
4. Place the funnel so it sits in the glass. Ideally, you want the funnel to be wide enough at the top that the base sits 1-2 inches above the milk. Too low and the fruit flies may not enter the trap at all. Too high and they'll find it easy to get out.
Make sure to replace the milk mixture ever couple of days.
It goes without saying but you're free to mix and match your fruit fly trap and your choice of bait. If milk and sugar work better at attracting fruit flies but you love the bud vase idea, then go ahead and test it out. Keep what works and get rid of the rest.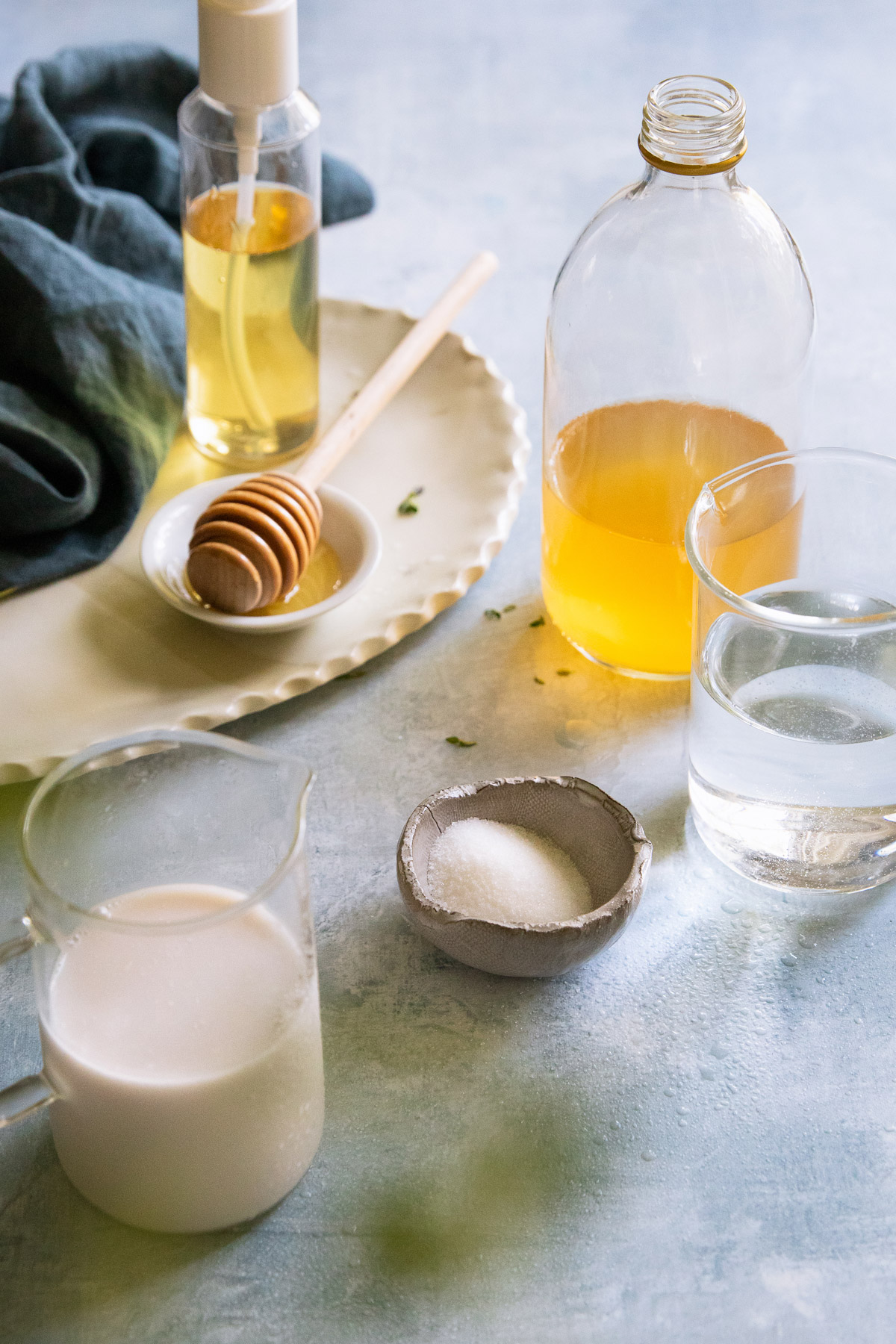 7