Like it or not, we spend the majority of our lives at work (10.3 years to be exact). The Chalkboard Magazine has kindly agreed to show you how to detox your office so that those years are healthful, more vibrant and quite possibly more fun.
Whether your office is in a downtown high-rise, an hourly rental space, or a room in your home, it's important to be mindful of how your space is affecting your health – both mentally and physically. From the air we breathe and the office snacks we indulge in, to the computer screens we glare at and fluorescent lights we sit under, there are a multitude of factors influencing not only how we feel, but more relevantly, how we work.
A toxic environment can lead to chronic fatigue, poor eyesight, migraines and anxiety, making the work day more harmful and less productive than desired.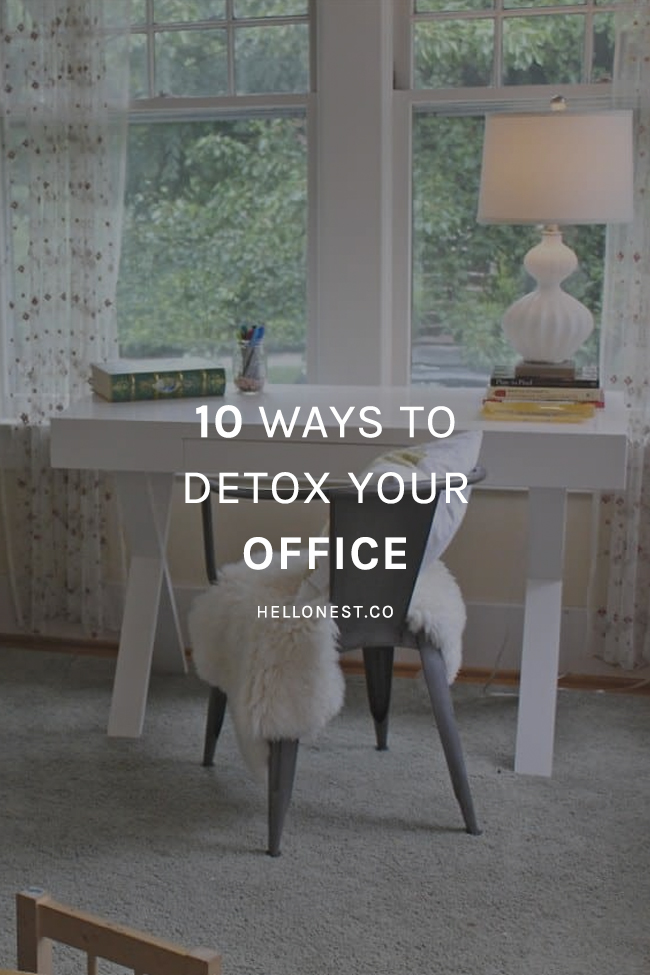 There are actually plenty of things we can do to detox our offices. Here's how to quickly transform your workspace into a healthy and happy one.
10 Ways to Detox Your Office
1. Air Purifying Plants
Office air contains toxic chemicals released from carpeting, paint, furniture glues, water repellents and other sources. These stress the liver, impairing development, reproduction and the immune system, while raising cholesterol levels.
Try: One way to clear these chemicals is with plants, like these 10 Fuss-Free Air-Cleaning plants.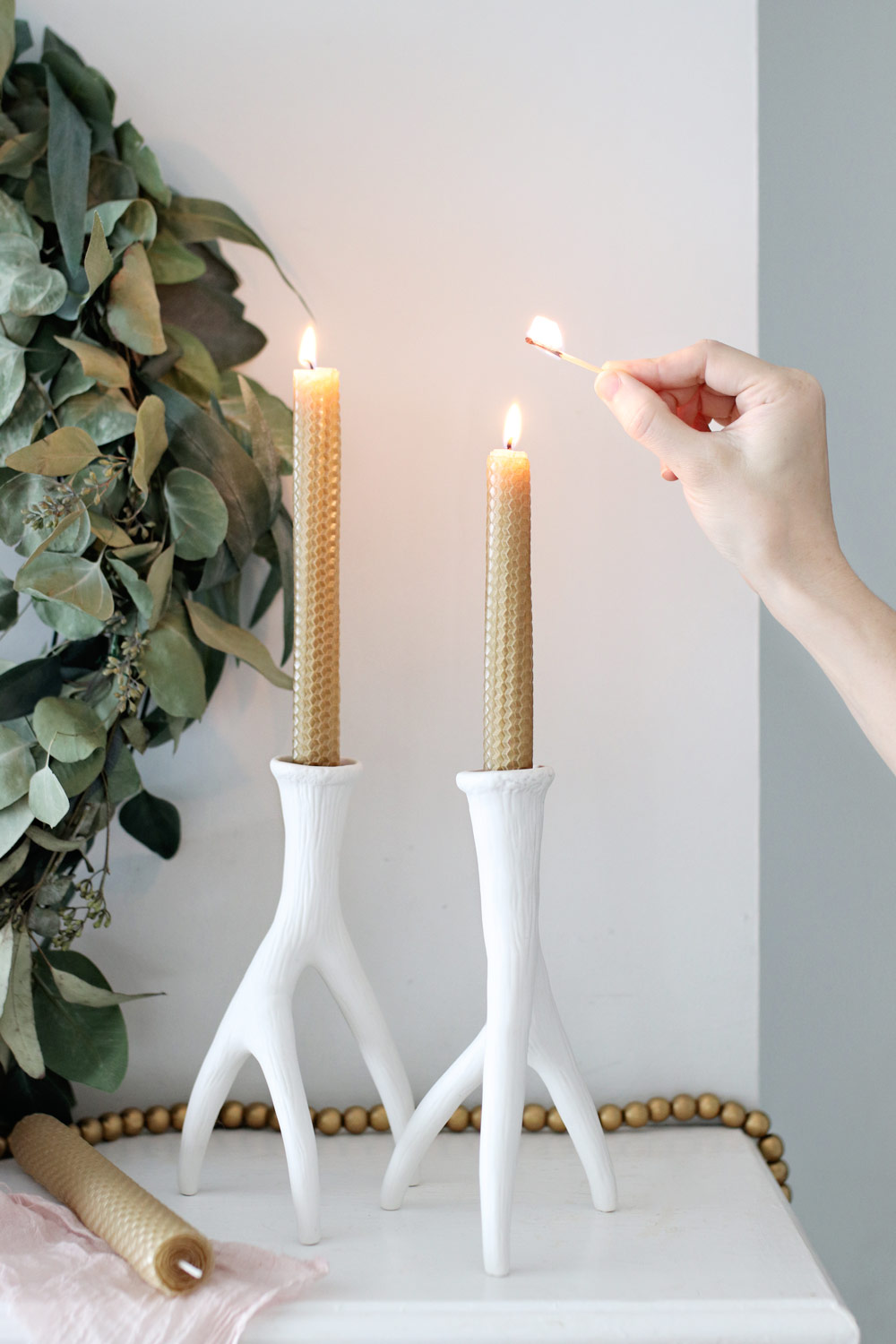 2. Beeswax Candles
Most candles release benzene, toluene, soot and other chemicals into the air, which can do more harm than good—so opt for a beeswax one. Unscented pure-beeswax candles are not only free of toxins, but clean the air as well. They release negative ions, which bind to toxins, removing them from the air. They may also help to clear common allergens like dust and dander, making them excellent for those people who suffer from asthma and allergies.
Try: Use beeswax pellets to make these pretty Chai Candles in Canning Jars, or make a DIY Beeswax Candle right in the oven. Your office will be detoxified and smell amazing.
3. Salt lamp
A natural air purifier, salt lamps emits negative ions, clearing the air of allergens like smoke, pet dander, pollens, and other pollutants. Salt lamps can also help to neutralize the elecotromagnetic fields of electronics, improving concentration and lowering stress. Finally, salt lamps emit a beautiful soft light that has been found to be calming, which is essential to making it through a busy work day.
Try: This modern-looking Pyramid Salt Lamp would be the perfect addition to any office.
4. Support Your Eyes
Constant use of electronic devices and countless hours of glaring at screens has a detrimental effect on our eyes, so much so it has been termed "Computer Vision Syndrome." Between 50% and 90% of people who work at a computer screen have at least some symptoms of eye trouble, which makes it imperative to support the eyes through diet and/or supplements.
Make sure to load up on green, leafy veggies (they contain lutein and zeaxanthin, which may decrease the risk for age-related macular degeneration), beta carotene-rich carrots and omega-3 fatty acids.
Try: Work a green smoothie (made with avocado and carrot juice) into your routine, or make sure these nutrients are in the supplements you're taking.
5. Full Spectrum Light Bulbs
Many common light bulbs used in offices, such as fluorescent ones, are known to increase stress and mental fatigue. They can also lead to watery, irritated eyes and even migraines.
Try: Simply switching to full-spectrum light bulbs (like these ones from Chromalux) can remedy this, increasing mental awareness, concentration and visual clarity, while also reducing eye strain.
6. Essential Oils
Work always seems to keep us in a fight-or-flight stress response. This is why it is so important to implement anxiety-reducing practices to keep us sane throughout the day. Essential oils like lavender, frankincense and juniper are perfect for this.
Try: Use a detox-friendly oil in a diffuser or make your own essential oil-based air freshener.
7. Non-toxic hand sanitizer
Unfortunately, offices are breeding grounds for the latest cold or flu, making the use of antibacterials essential. The problem is that most conventional soap and hand sanitizers contain toxic chemicals that have been proven to be dangerous to the body, so look for a natural alternative instead.
Many herbs have innate antibacterial properties, making them just as effective and easy to use as their chemical-laden alternatives.
Try: Whip up a batch of lavender-based or oil of oregano DIY hand sanitizer to avoid the cold that keeps circling around the office.
8. Superfood snacks
Even the strongest, most disciplined of us will break at some point and indulge in an office treat. We are most vulnerable at the office, subject to crashing blood-sugar levels, which makes those donuts, bagels and muffins all the more tempting.
So amp up your defense by planning ahead. Always have your desk stocked with nourishing snacks that have a combination of natural sugars, protein, fiber and healthy fats.
Try: Think carrots and hummus, a nut mix with dried fruit, or homemade granola bars. Better yet, pack them in a mason jar!
9. Crystals
Even if we have the most healthy workplace, sometimes we are forced to work with some very unpleasant energies. These "bad" energies always seem to linger, ruining our mood for the day or even the week, keeping us from working with the vigor and happy disposition we are used to.
Our favorite way to remedy this, and to clear any invading negative energy, is by placing healing crystals around our work space.
Try: Consult our Guide to Healing Crystals, and keep quartz, opal or jade on hand to combat bad vibes.
10. Rethink Energy Boosters
As alluring as a can of Diet Coke or a Frappuccino may seem as the afternoon drags on, resist the urge to grab one of these drinks. Loaded with artificial and refined sugars, trans fats and mineral-leaching preservatives, each drink consumed leads you closer to aging skin and unexpected weight gain. Instead look for a natural energy booster, one that contains real vitamins, minerals, antioxidants and stimulants.
Try: Fresh-pressed green juice, iced green tea or a homemade energy drink is a much better choice, or opt for a cold-pressed coffee mixed with almond milk if you're dying for some coffee.
3