Scouring powder is one of those cleaning staples you don't know you need until you really need it. Dirty dishes? Cruddy sink? Scummy bath tub? There's a scouring powder for that. And I guarantee it will save you a toooon of elbow grease. Just sprinkle one of these homemade baking soda scouring powders on dingy surfaces and use a sponge to gently rub it in, then rinse it (and all that dried on gunk) down the drain.
And voila! You've got yourself a sparkly clean home in seconds.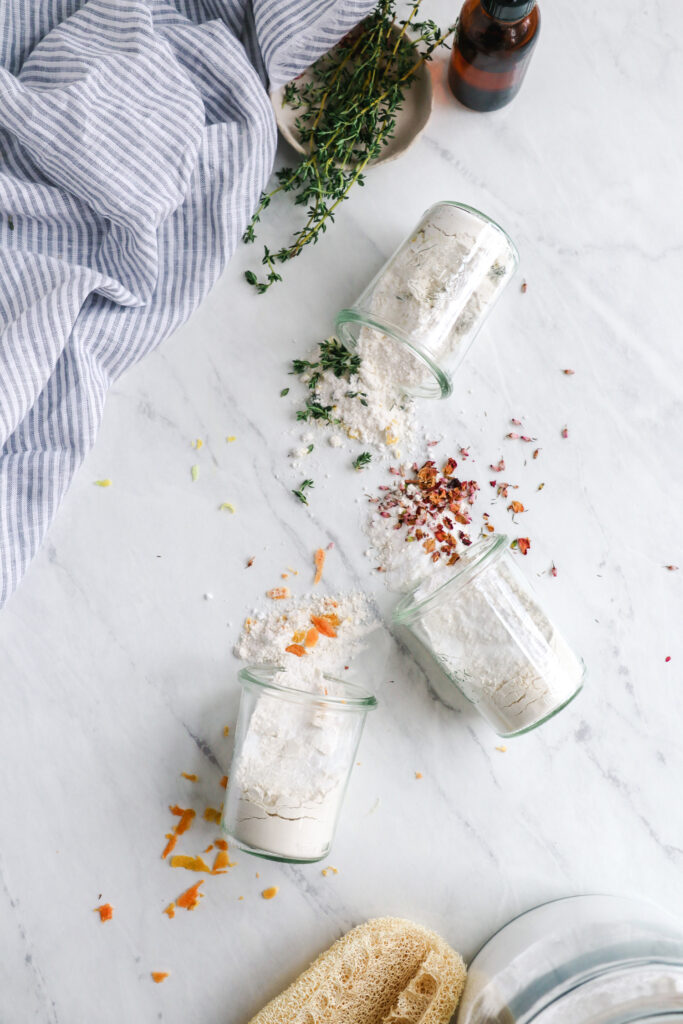 DIY Baking Soda Scouring Powder 3 Ways
Scouring powder has long been used to clean stuck-on food and dirt from hard surfaces such as ceramic, pots and pans, baking trays, sinks, showers and metal fixtures. Like an exfoliating scrub for your home, just combine your baking soda scouring powder with a little water and gently rub it over surfaces to buff away dirt and make 'em sparkle.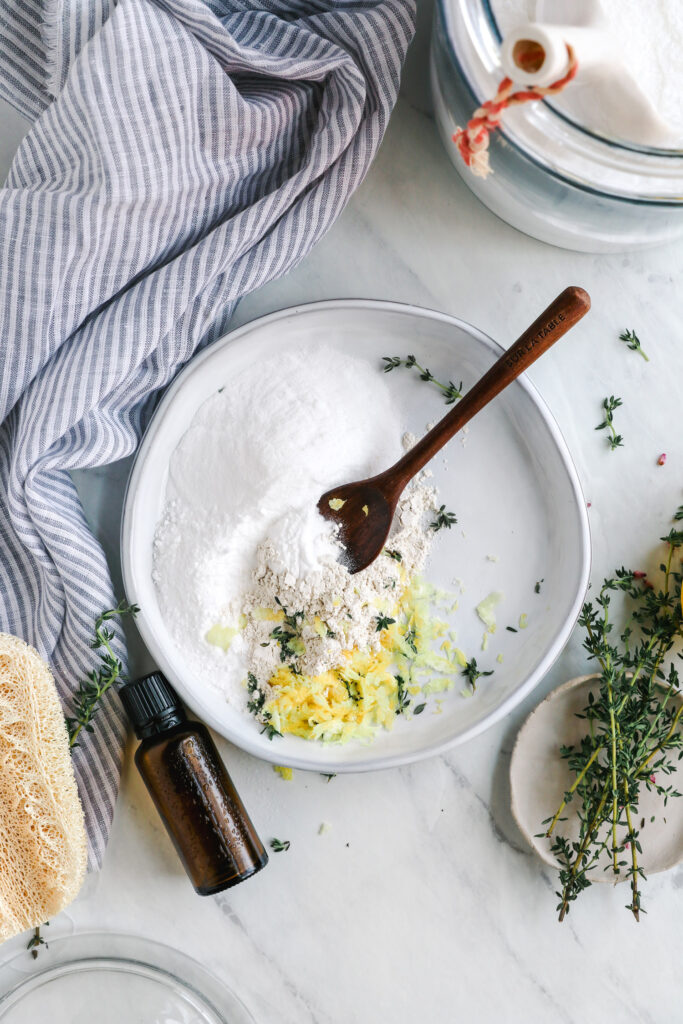 Most store-bought brands of scouring powder contain calcium carbonate, but you can get the same effect with easy-to-find ingredients like baking soda, washing soda and diatomaceous earth. This homemade scouring powder will naturally take care of odor, but you can always add ingredients like herbs, essential oils and citrus rinds to give it a fresh scent of its own. Some of my favorite add-ins are:
1 teaspoon of dried herbs like rosemary, thyme and sage
2 tablespoons finely grated orange, lemon or grapefruit rinds
1 tablespoon coffee grounds
2 teaspoons dried rose or lavender petals
5-10 drops essential oil, such as lavender, sweet orange, rosemary and lemongrass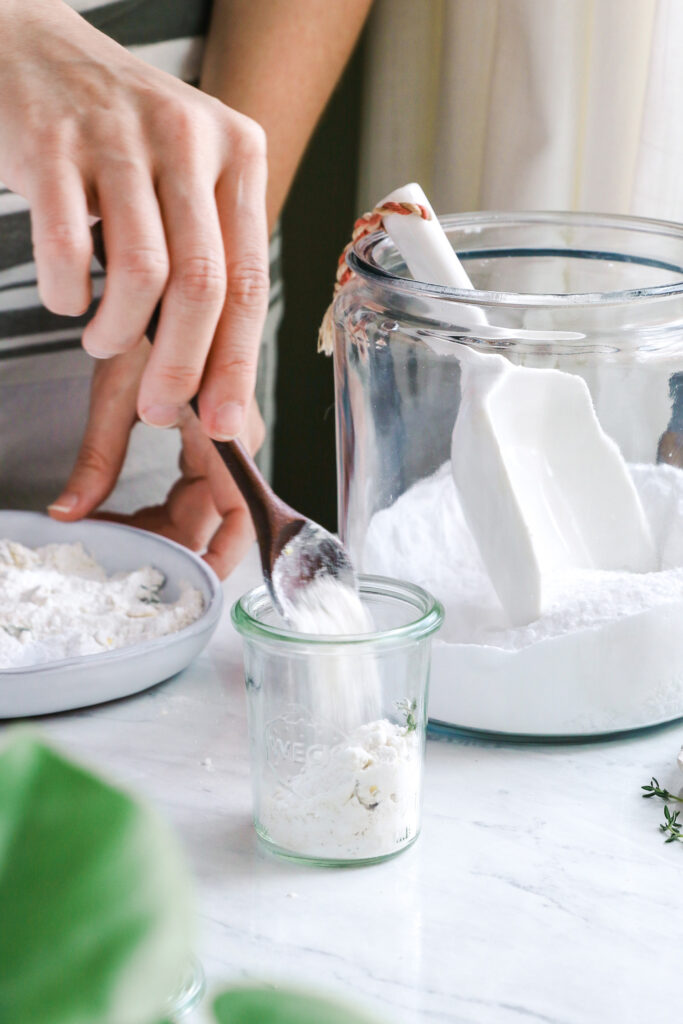 Feel free to use any combination of scents that you like and switch them up depending on your mood or the season. Same goes for the ingredients themselves. Baking soda is the main ingredient in my homemade scouring powder, but I've used everything from caster sugar to bentonite clay to take care of tough messes and filmy surfaces.
To boost the effectiveness of your baking soda scouring powder, try:
Combining scouring powder with a teaspoon of water and applying the paste directly to surfaces. As the baking soda sits it will help soften the grime so you won't need to scrub nearly as hard.
Adding ¼ cup borax to your scouring powder for extra cleaning action.
Using in combination with ½ teaspoon dish soap.
Swapping out the water for distilled white vinegar to help loosen tough dirt and get rid of odors. Follow up with a second vinegar rinse if you notice water spots or a filmy residue.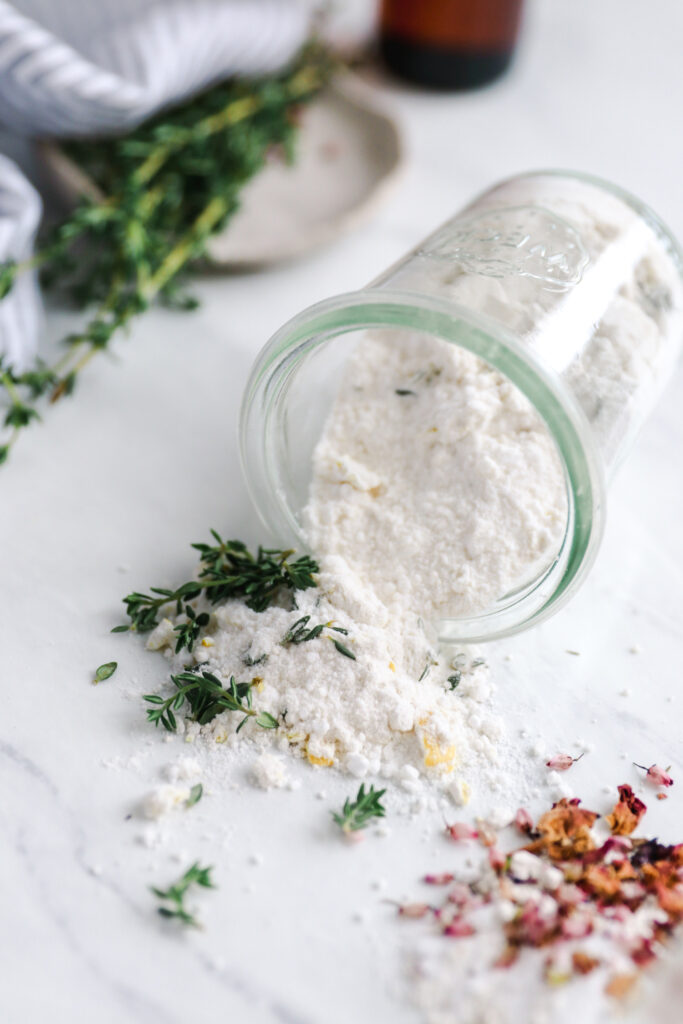 Ingredients
Optional Ingredients (choose 1 or make all 3)
Lemon + Thyme: 1 tablespoon lemon peel (finely grated) and 1 teaspoon ground thyme
Grapefruit: 2 tablespoons grapefruit peel (finely grated)
Rose + Heather: 1 teaspoon each rose petals and heather blossoms (dried, preferably)
Instructions
1. Mix ingredients in a small bowl until well combined, then pour into a clean container. If using herbs in your mixture, I recommend grinding them in a coffee grinder before mixing them in. If you don't have a clean coffee grinder, just adding them whole shouldn't hurt anything.
2. Store in an airtight jar or spice shaker.
3. To use, simply sprinkle on surface and scour with a moist sponge. For added cleaning power, add enough water or white vinegar to make a paste. Rinse thoroughly with warm water.
Use scouring powder within 2 weeks.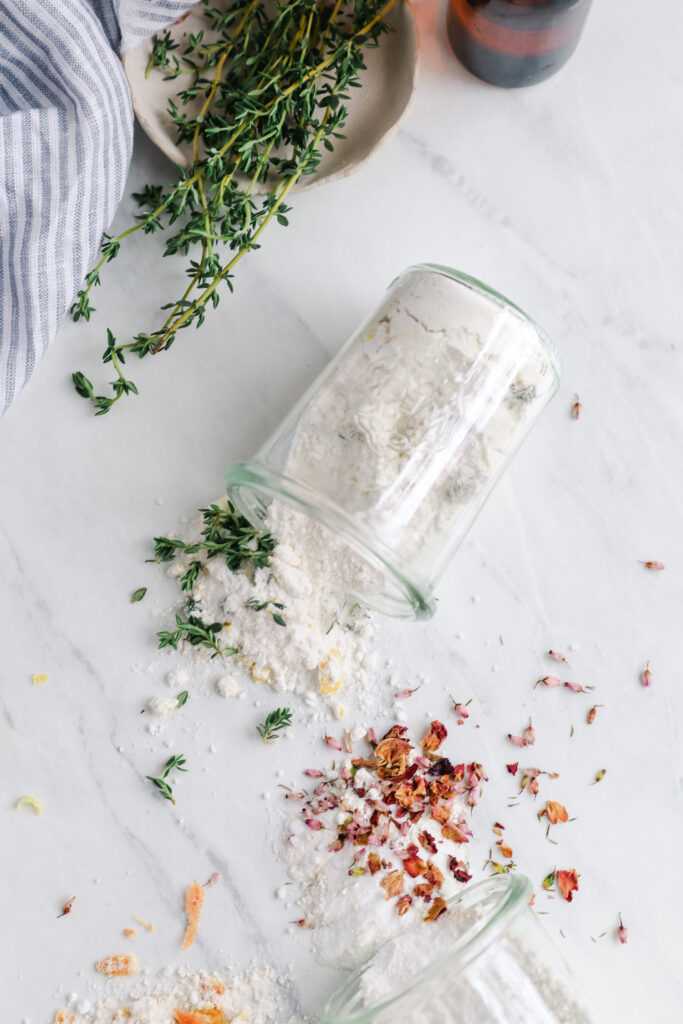 15