Ready to clean out your fridge this weekend? Nah, me neither, but sometimes you gotta do what you gotta do. When you do finally tackle the refrigerator, take a few minutes to rearrange where things go. Most of us just put food in the fridge wherever it fits best, but there is a science to refrigerator storage—your food will keep better and for longer if stored in the proper place!
The temperature changes according to shelf and placement. So here's our handy guide to refrigerator storage – let's break it down food by food!
The Ultimate Guide to Refrigerator Storage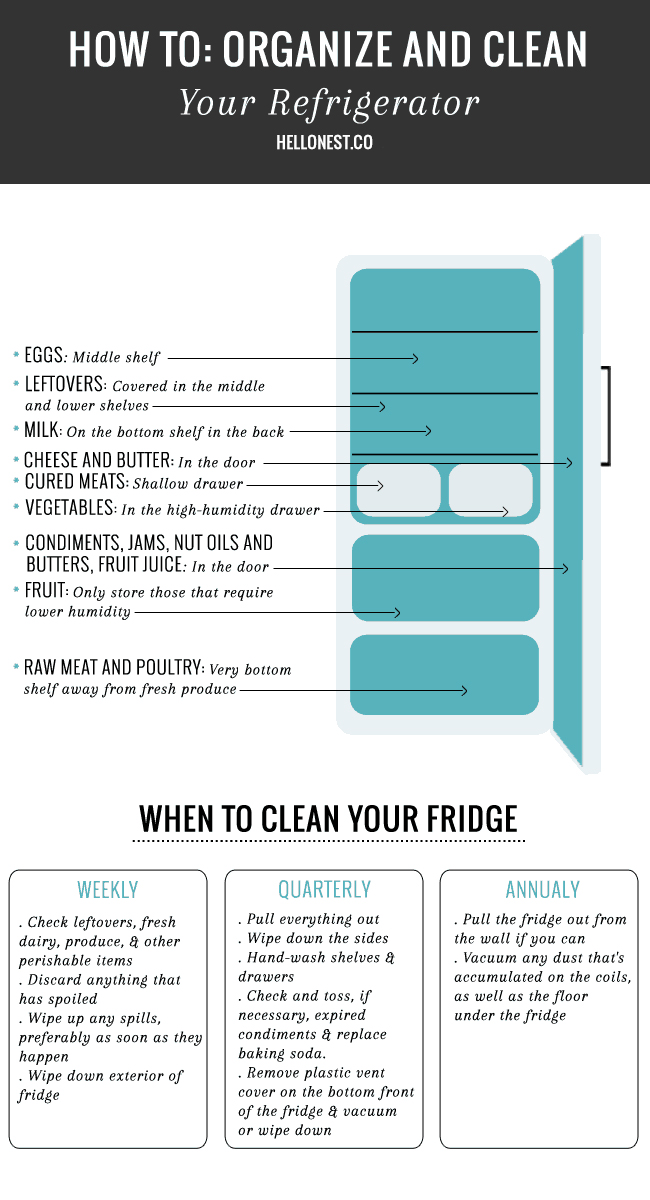 How to Organize Your Fridge
Milk and dairy: On the bottom shelf in the back. It's the coldest part of the fridge, and it's also darker there so it will keep longer
Eggs: Middle shelf, not too cold or warm
Cheese and butter: In the door; these don't need super-cold temps to stay fresh and small blocks are easy to lose if they're just floating, so it's best to keep them front and center
Cured meats: Shallow drawer
Raw meat and poultry: Very bottom shelf away from fresh produce and on a tray to catch any escaping juices (that may contaminate your produce)
Condiments, jams, nut oils and butters, fruit juice: In the door; the temperature isn't as cold and these foods are already more preserved due to higher levels of vinegar, sugar, salt and fat. Since they don't go bad as fast, we're prone to forget about them and they can easily grow out of control. Go through them every 2 months and get rid of anything that has expired.
Vegetables: It's best not to wash before storing because water can make them go bad faster. Vegetables need to be stored in the high-humidity drawer in plastic or perforated bags (the greenest choice is reusable produce bags).
I line the drawers with a few paper towels to prevent it from getting too damp and to collect any juice if I accidentally leave things in the drawer too long.
Fruit: Not all fruit needs to be refrigerated, but those that do require lower humidity. Store fruits and vegetables separately – like with like – since vegetables can make some fruits quick to rot. And excess moisture leads to mold (fruit is more susceptible to spoilage) so line the bottom of the drawer with paper towels, just like with vegetables.
Leftovers: Covered in the middle and lower shelves. Allow food to cool a bit before refrigerating. Piping hot foods in the fridge raise the temperature too much and the fridge has to work harder to stay cool. Don't store food in cans; use proper glass or plastic containers with lids or seals.
Also, label the containers so you know what they are at a glance. If you're like me, you should also set a reminder in your phone to transfer any un-eaten leftovers to the freezer before they go bad. It will help keep ripe odors to a minimum.
10