Apparently, I am really into thrift store belts. Did you guys catch my DIY on how to upcycle a belt into a bracelet? Or this one on giving a 90s belt new life? Well, I have another idea to save a 90s belt from the thrift store graveyard. You all remember wearing those thin braided belts, right? When I picked this belt up, I wasn't sure if it was a moment of nostalgia or DIY vision. Turns out, maybe a little of both.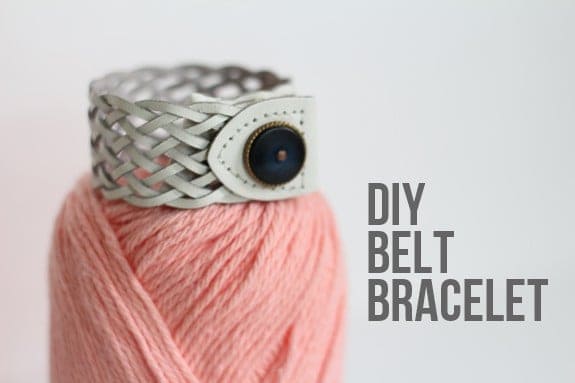 Click 'Read more..' to see how I reworked a 90s braided belt into a fashion-forward bracelet!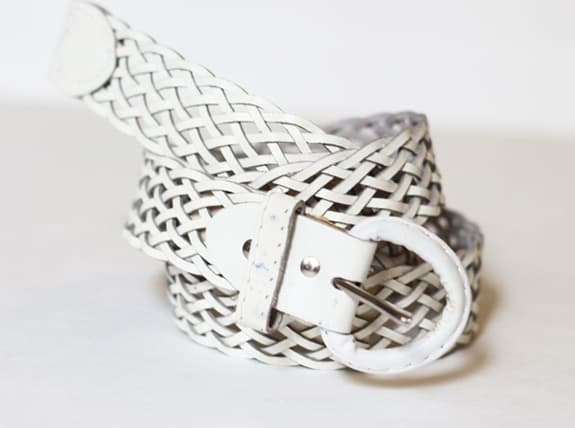 This is it. Just the way you remembered your 90s braided belt, right?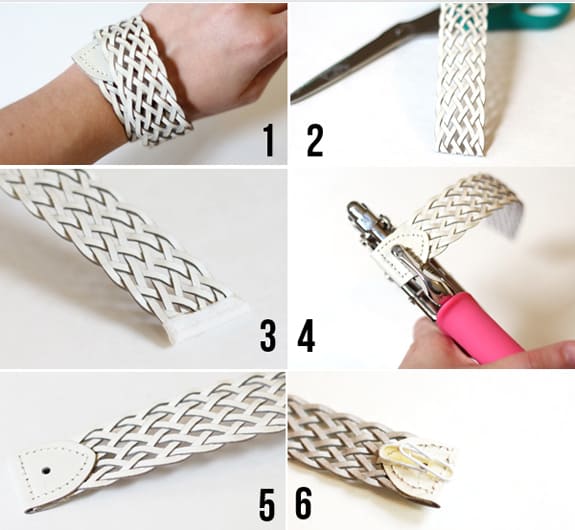 Step 1: Measure the length you want your bracelet.
Step 2: I cut the belt to the length I measured in Step 1. You are working from the finished end of the belt (not the buckle end), as shown in the photos.
Step 3: I finished the loose end of my bracelet with some vintage bias tape I had lying around. You could glue ribbon or a small piece of fabric – anything to hold the braid together and give it a clean look.
Steps 4 & 5 (optional): I used a Crop-a-dile to punch a small hole in the end of the bracelet. If you don't have a Crop-a-dile or leather punch, a hammer and nail will work to make a hole! I have a very specific use for this hole that I cover in Step 9, which is optional.
Step 6: I used hot glue to attach a paperclip (with the small end bent up) to the underside of my bracelet. There may be more elegant ways to attach a hidden clasp on this bracelet but this works and we all have paperclips!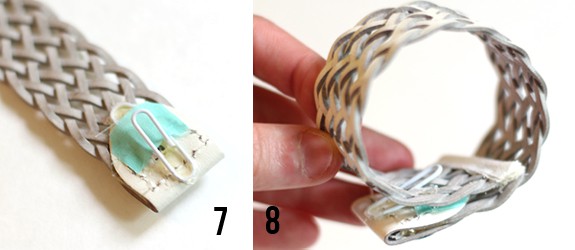 Steps 7 & 8: I covered my paperclip to make it look a little prettier, even though I am the only one who will see it. This is your clasp – see how it slides right through the braided part? You can tighten/loosen it as you like.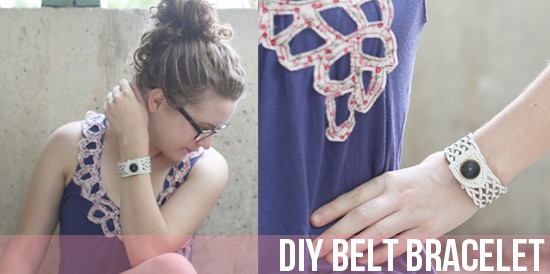 Step 9: This is the best part! Decorate the front of your bracelet. I recommended punching a hole in Steps 4 & 5 because it is the perfect way to secure a button shank. I did not even use glue – it's the perfect, snug fit for my Grandma's vintage button! You could just glue any decorative item to the front, though.
What do you think? Have you passed up some 90s belts that need a makeover?