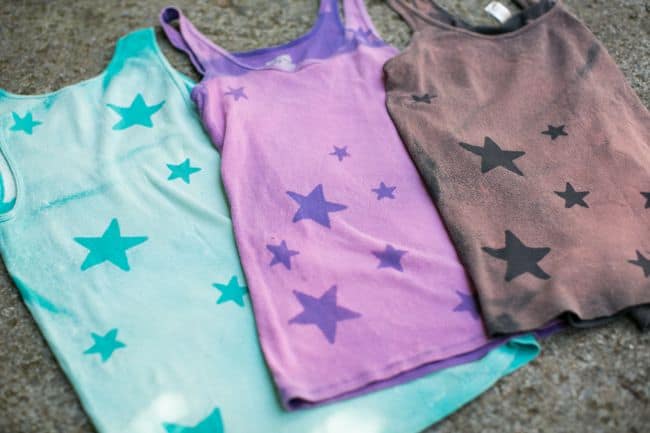 If I had a nickel for every shirt that I've ruined with stains, well, let's just say I could probably buy a few new shirts. And it's always my favorite shirt that Henry wipes his dirty face on (am I a towel?) or Sam grabs with his blueberry-stained hands. And if you've ever ruined a shirt with a drop of bleach (I did this recently, grr!) here's a cool – and patriotic – way to give it new life.
I was inspired by this tutorial to get out the ol' bleach. And it's the perfect time of year to sport some stars, right?
Supplies needed:
And old t-shirt or tank top
Star shaped stickers
Bleach
Spray bottle

Lay out your tank top with a piece of cardboard on the inside. Then arrange star stickers in whatever pattern floats your boat (don't forget the back!). Spritz the shirt with a solution of 1/2 water and 1/2 bleach. Flip it over and spritz the back too. The bleach took effect pretty immediately so I didn't let it sit at all. To stop the bleaching, rinse the shirt in cold water and throw it in the dryer.
I'm loving how these turned out! It's fun to think about other designs you could make on a shirt.
0