It might sound strange, but of all the homemade cleaning supplies in my pantry, I make and use this DIY dusting spray the most. A gentle, all-purpose dusting spray made with grain alcohol, lemon juice and oil is such a simple way to keep your home clean and furniture happy.
Not only does it magnetize dust and nourish wood, it also disinfects, freshens odors and melts away grimy fingerprints. Because it's so versatile, I find myself reaching for it to clean everything from kitchen counters and furniture to baseboards and tabletops.
Just note that lemon juice is acidic and shouldn't be used on marble or stone. For a fresh lemon-y scent, use lemon essential oil instead, which is pH neutral and perfectly safe for stone or delicate surfaces.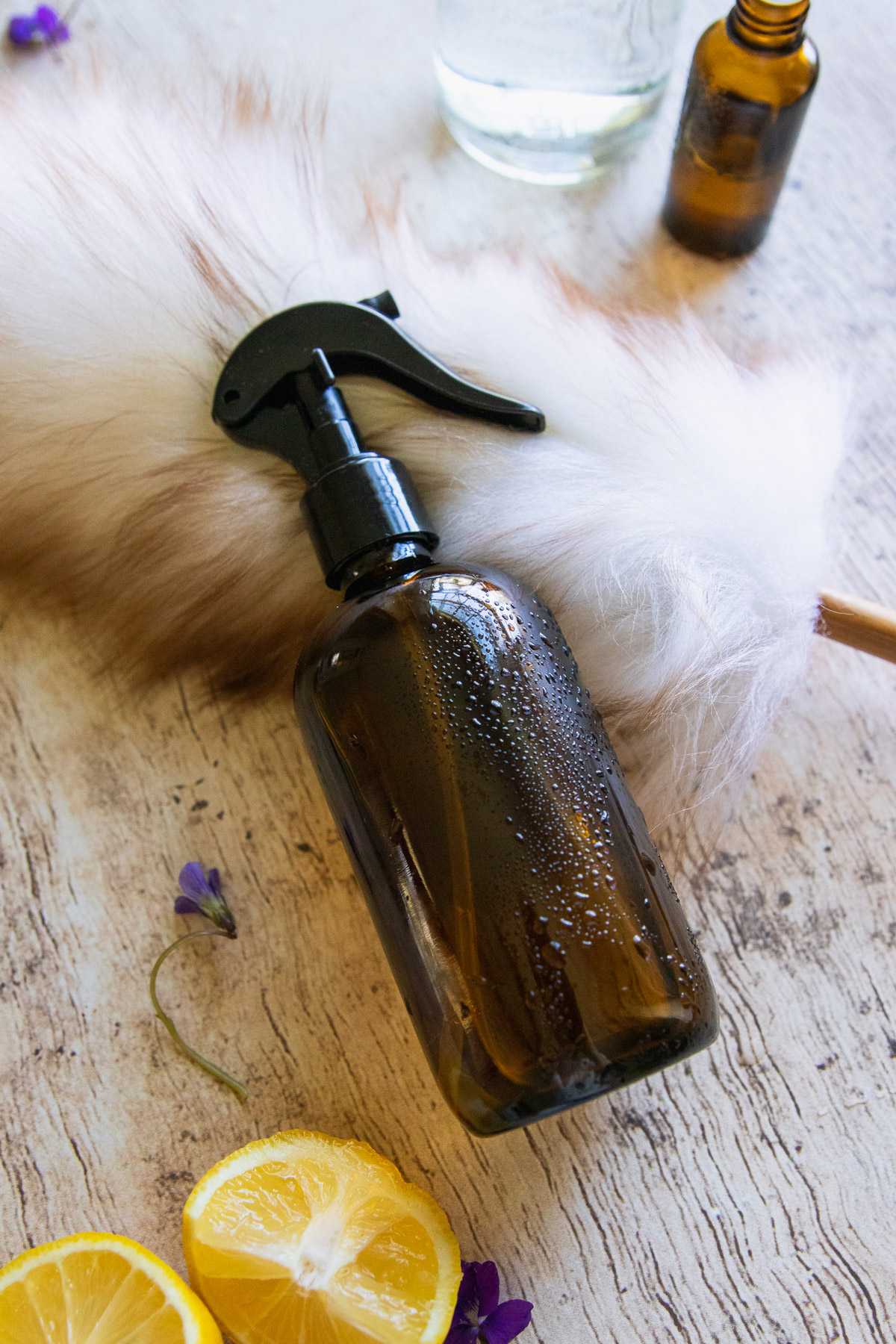 DIY Dusting Spray
This dusting spray recipe is pretty foolproof. While I like to use some harder to find ingredients, like grain alcohol and linseed oil, I also list alternatives you probably have on hand. Keep it simple and feel free to play around with the ingredients you already have.
Grain alcohol
This powerful astringent cuts through grease and dissolve grime. Because it has such a high alcohol content, grain alcohol helps this dusting solution dry more quickly, which in turn protects your furniture from rings and water spots.
It also encourages the oil to dissolve into the water, rather than coating the side of the bottle and clogging the spray nozzle. But if you don't have any grain alcohol on hand, you can use white vinegar instead. It won't have the same quick-drying properties as an alcohol-based cleaner, but it'll still do the trick.
Linseed oil
Also known as flaxseed oil, this is one of the most highly recommended oils for wood. Not only does it grab hold of dust and whisk it away, but it also sinks deeply into the wood grain, decreasing the appearance of scratches, enhancing the wood's natural color and protecting wood from moisture and humidity.
But it's not just for use on wood furniture. Linseed oil will leave behind a clean, dust free shine no matter what you use it on. If you don't have linseed oil, you can try olive, walnut, or mineral oil instead.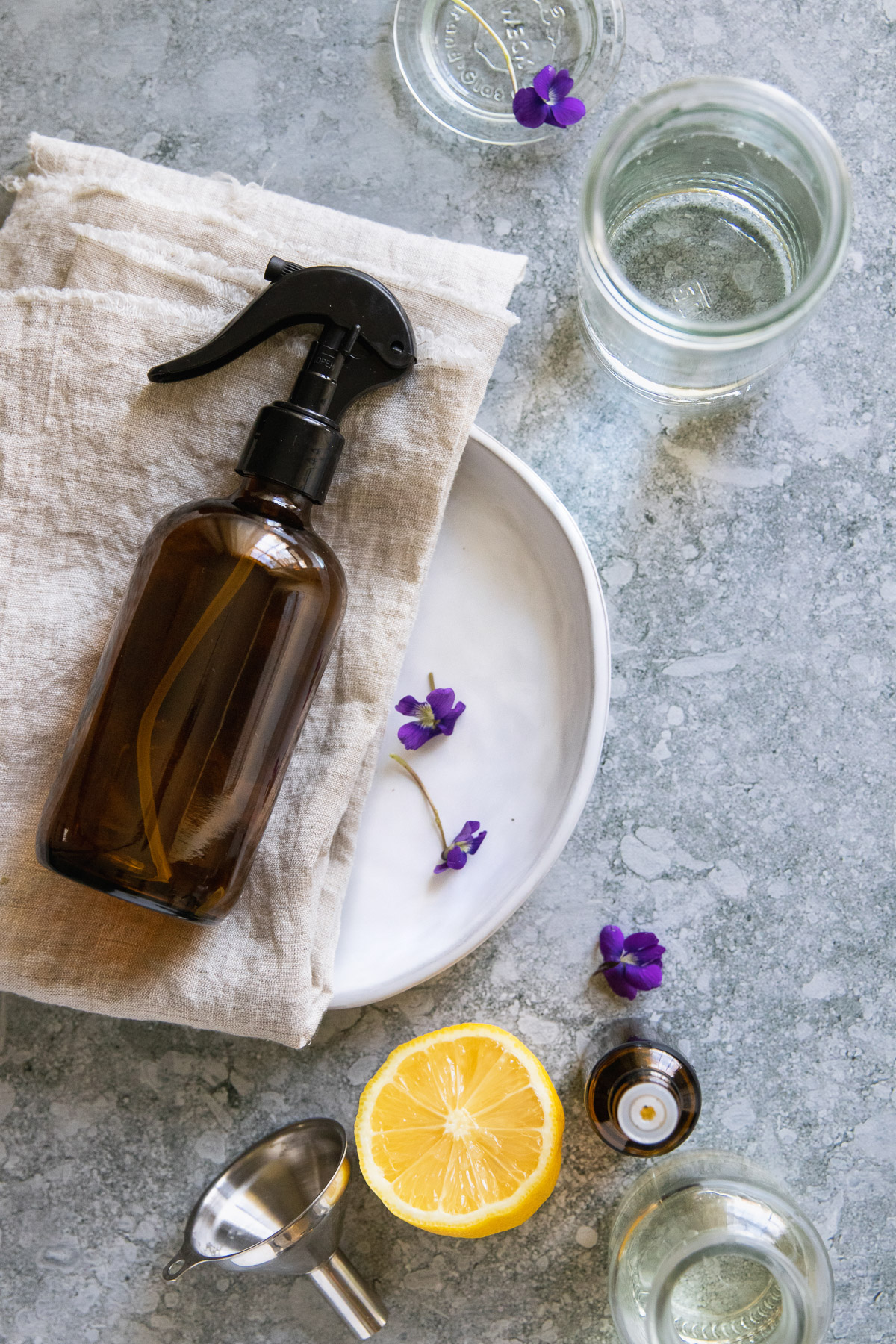 Fresh lemon juice adds grease-fighting powers to your dusting spray, ensuring that thick dust gets wiped away easily. It also smells good, which is a bonus.
Lastly, thyme essential oil is a potent germ fighter, thanks to the phenolic compound thymol. Adding a few drops to your DIY dusting spray boosts the scent and helps tackle germs on surfaces. There are other antibacterial essential oils you can use in thyme's place, however, like cinnamon, rosemary, tea tree, eucalyptus and lemongrass.
How to Dust the Right Way
Fact: dusting isn't as easy as it looks. Rather than spreading the dust around or dispersing it into the air, which can happen if you're not careful, you need to trap the dust and then throw it away. Here's how to do it:
Grab a microfiber cloth or duster. The tiny fibers in microfiber towels attract dirt, dust and food particles better than other types of fabric. That means you're not pushing dust around so much as picking it up and carrying it away.
Wet the cloth. If you spray the furniture directly, there's a high likelihood you'll end up disturbing the dust and launching it into the air. Instead, wet the microfiber cloth itself.
Wipe down furniture. Take your damp cloth and give the furniture a good wipe down. When you're done, go ahead and dust ceiling fans, chair railings, bannisters, electronics, window frames, baseboards, lamps, and anything else that attracts dust. Since dust settles on lower surfaces, it helps if you start with higher surfaces and finish with lower ones.
Vacuum. No matter how careful you are, some dust will always end up in the air and on the floor. When you're done dusting, vacuum the floor to pick up any lingering dust bunnies you may have missed.
Repeat once a month. A basic once-a-month dusting can reduce allergens and keep your house guest-ready. Every three months or so, you may want to do a more thorough dusting, which requires moving furniture and getting into those hard-to-reach places.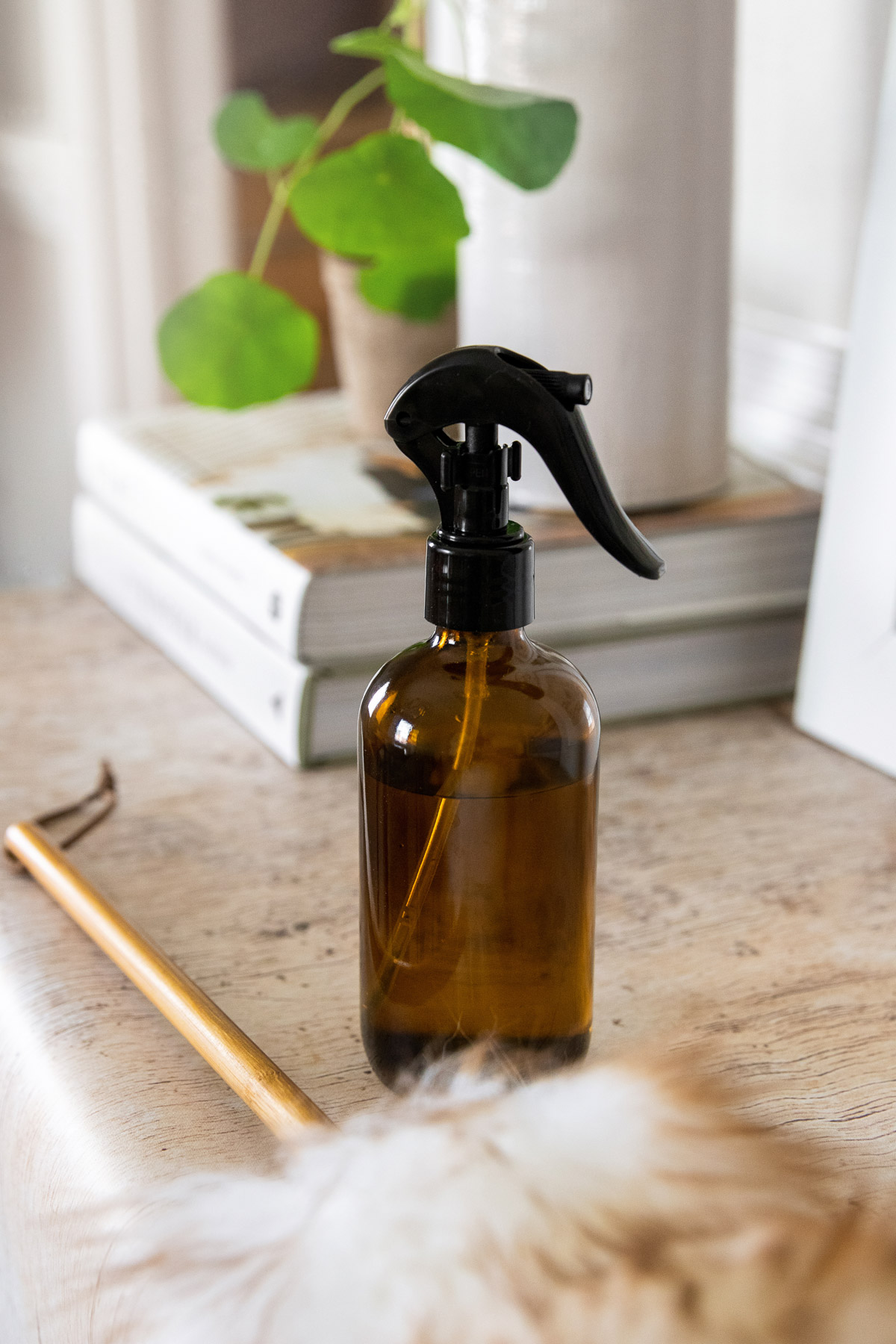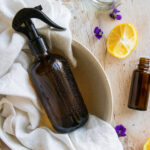 Print
Homemade Dusting Spray
Made with just 5 ingredients, this homemade dusting spray tackles dust, nourishes wood, and leaves surfaces looking shiny and new.
Equipment
16-ounce spray bottle
Materials
¼

cup

grain alcohol

or white vinegar

1 ½

cups

filtered water

1 ½

teaspoons

linseed oil

or olive oil

1

tablespoon

lemon juice

10

drops

thyme essential oil
Instructions
Pour the grain alcohol into a glass jar and add the linseed oil and essential oil. Swirl the bottle to dissolve and disperse the oils.

Next, add the filtered water and lemon juice. Swirl the bottle again to combine.
Notes
Store your dusting spray in a cool, dry place and use within 2 months.
2