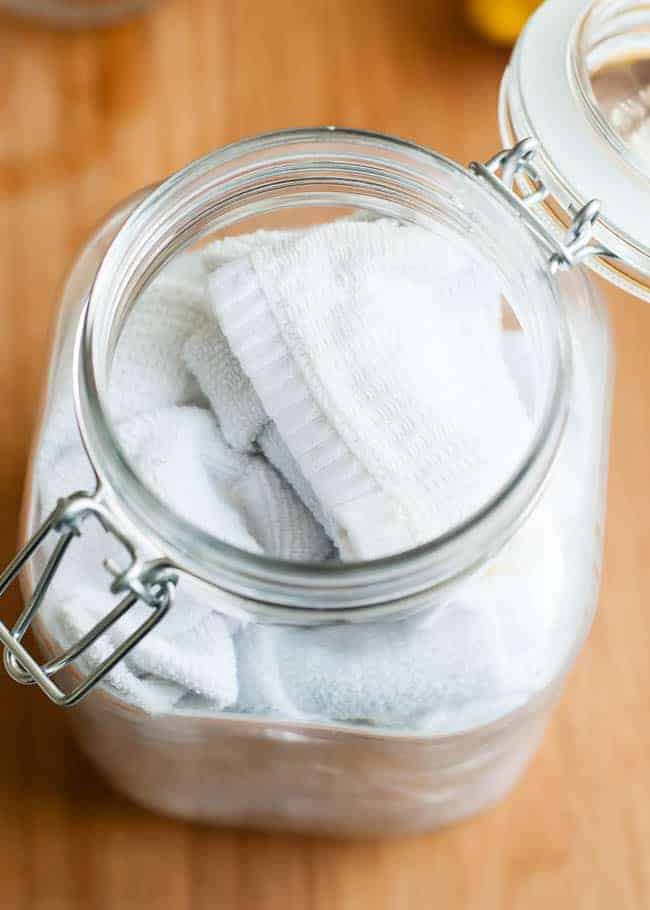 When I was growing up, one of my favorite chores was dusting. (Seriously? Who was I?!) Now, not so much. It's something I'd rather assign to someone else … like my kids!
And it is so much easier with a little trick I learned from a friend – repurpose old socks. It's brilliant really, and you might have already used this tip in your home. Slip a sock over your hand, and it's easy as can be to wipe the dust away.
I turn them inside out for better dust-grabbing. But recently I started using another tip I learned. It takes those ordinary socks and gives them dusting super powers. I'll show you how easy it is – plus they work splendidly!
Supplies needed
Clean socks – start collecting orphan socks! Any color is fine, I have white ones.
Strips of fresh lemon peel
A few drops pure lemon or orange essential oil
Equal parts water and white vinegar
A big glass jar
I did about 6 pairs of socks and used 1 cup vinegar, 1 cup water, and the peels of about 3-4 small lemons and stored in a 2 liter jar.
Instructions
Mix the water and vinegar together and add a few drops of the lemon/orange oil. Lightly dampen the socks. Don't get them too wet. I dip the toes in and scrunch up the socks so the dry part absorbs some of the liquid.
You might want to add a few more drops of essential oil to the water/vinegar because the oil does float on the surface. I added a few drops each time I dipped.

Lay the socks flat and place a few strips of the lemon peel on the sock, then roll it up, and put it into the jar. Repeat with the remaining socks. Pull one out, discard the lemon peel, and dust! The socks can be washed in warm soapy water, dried, and then the process repeated with fresh ingredients.
It smells wonderful and gets the job done.
33